Rogers Centre
Toronto

,

Canada
Toronto
Monster Energy AMA Supercross Championship
Welcome to Racerhead. Been a long couple of days here at the office, trying to get anything done for a magazine deadline while also keeping an eye on March Madness. (Who else had Harvard winning and Duke losing?!) Meanwhile, out on the road, both Chase Stallo and Jason Weigandt are headed to Toronto for tomorrow night's Monster Energy AMA Supercross at the Rogers Centre. Matthes is also going—it's his one and only home race—and we should have all kinds of updates and information from the event throughout the weekend.
Fortunately, we're back to live TV as tomorrow night's race will air live on Fox Sports 1 at 7:30 p.m. (Eastern Time). Live coverage is also available on the authenticated Fox Sports Go app. And the race will re-air on Fox Sports 1 on Sunday at 4:00 p.m. ET.
Last week in Detroit, while James Stewart was putting in a solid win over series points leader and defending three-time champion Ryan Villopoto and former champ Ryan Dungey, Simon Cudby was down on the stadium floor uploading photos to the @racerxonline Instagram feed and Facebook and Twitter. No news there—he's been doing it all year long. However, because the race wasn't airing live, people were getting upset at him and our social-media outlets because they didn't want to know or see the results because they were going to watch it four hours later when it aired (the races were bumped back for previous commitments to the basketball tournaments). Thankfully, we won't have that dilemma this week because the race is live.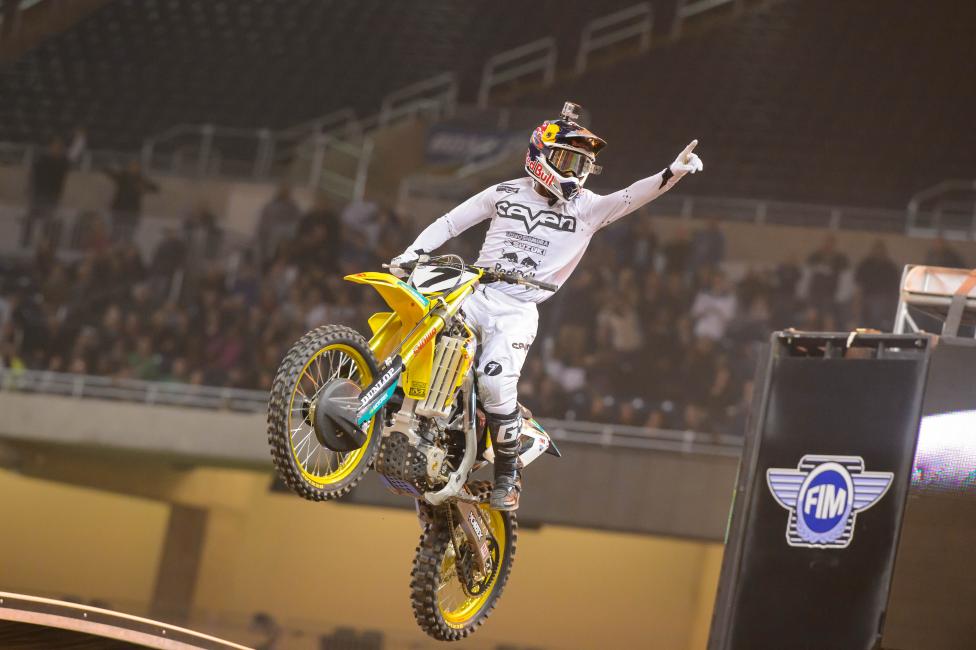 But here's the point: It's getting harder and harder to not see results or updates from any tape-delayed sporting event as things like Twitter and Instagram and Facebook proliferate. But when you don't want to see the results, it would probably be wise not to look around Instagram or Facebook, because you're bound to see something, and we are committed to covering the races as best—and as quickly—as we can.
Okay, on to the rest of Racerhead, which is on a diet and skinny this week because we all had so much to do!
MY HOME RACE (Steve Matthes)
Yeah, Toronto! Being the lone Canadian on the Racer X staff, I'm here to spray pump onto this weekend's race at the Rogers Centre, right downtown in Toronto, Ontario. When the series first started hitting Toronto the attendance wasn't very good, but here we are nine years later and it's a solid stop on the tour. Lots of fans, some real hype, and to make it even better, Ross "Rollerball" Pederson will be here!
This past week on the Fly Racing Moto: 60 Show presented by N-Fab, Weege and I had a discussion about Mike Alessi of the MotoConcepts team. Take away his move on Broc Tickle that may cloud any of your thoughts on the #800 and ask yourself this: Has Mike had a good 2014 supercross season?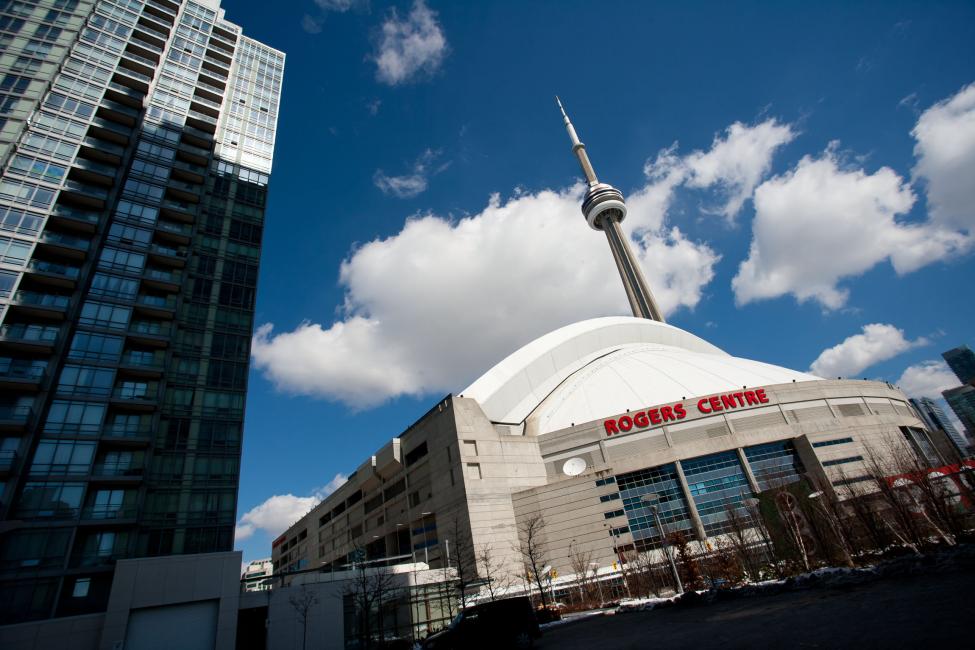 Weege and I discussed this at length and I'm not sure if we reached a conclusion or not. Here's the deal: Mike's only fourteenth in the points and has only one top-ten finish on the year. That's the bad. The good is that for the first time in his career, Mike has won not one but two heat races. That's impressive, no doubt about it. He's working with Michael Byrne this year, you can see that his whoop speed and technique are better. So there have been improvements in supercross but it's not really showing up in the bottom line: main-event results.
Two years ago Mike finished sixth in the points and finished inside the top ten eleven times, but I dare to say that he's ridden better this year. It's got to be frustrating for Alessi and his team, but I suppose they can stay firm in the belief that Mike is better in supercross (perhaps better than he's ever been), and you just hope that with six rounds left things can turn around.
ROOKIE MISTAKES (DC)
Last Saturday night the results reflected well on the veterans—Stewart, Villopoto, and Dungey on the box, BTOSports.com KTM's Andrew Short having his best race of the year for fourth—but not so much for the rookies in the 450 class. Red Bull KTM's Ken Roczen went down early and then had brake problems and finished twentieth, GEICO Honda's Wil Hahn only mustered fourteenth after a fall, and Discount Tire/TwoTwo Motorsports' Dean Wilson got tangled up with Mike Alessi on the last lap with a very aggressive pass that would have brought the roof down had it been the other way around. Wilson finished twelfth, making him the top 450SX rookie in this race.
And then there's Eli Tomac, who wasn't even there. Eli has simply had rotten luck getting healthy and staying that way (though he's not quite at the level of Trey Canard, who is hopefully back soon). Tomac is a hardworking young professional who had big hopes for 2014 and probably planned on being up front in the same general stratosphere as the terrific Ken Roczen. Now I just hope he stays healthy for the outdoors, because this stadium tour has been snakebit from the moment he went down with Jake Weimer in his heat race at Anaheim. Come to think of it, maybe that snake bit Weimer too.
When it's time to step outside at Glen Helen on May 24, I really hope Canard, Weimer, Tomac, and more are ready to start 2014 all over again.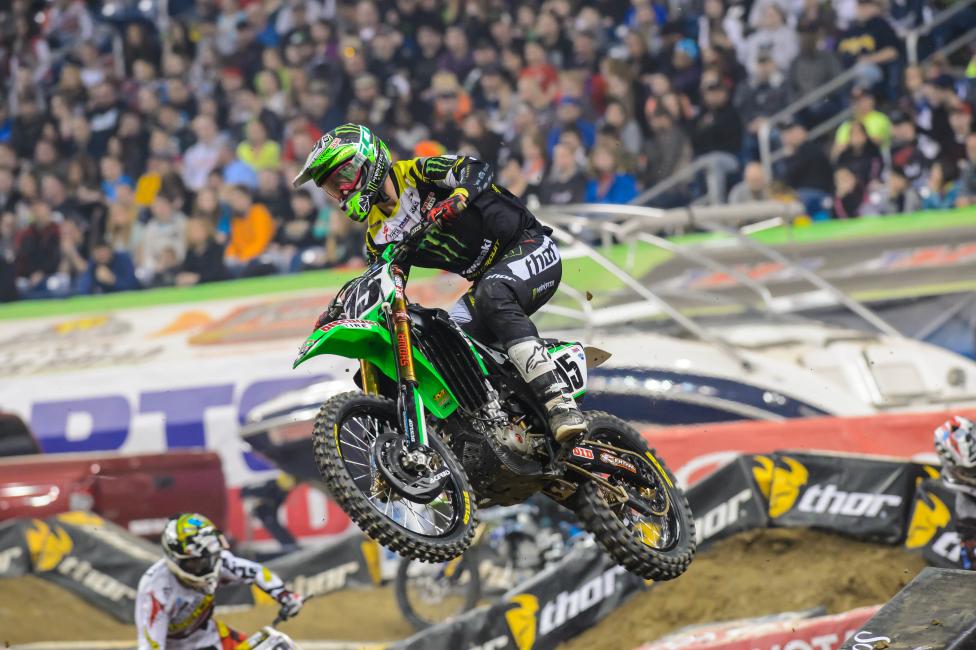 JAMES VS. RICKY (Matthes)
Although he trails Ricky Carmichael in supercross titles by three, Yoshimura Suzuki's James Stewart can pass RC in career supercross wins in fewer races if he wins this weekend. Stewart has two fewer supercross races in his career than Carmichael did and can have a better winning percentage (although fewer titles) if he wins this weekend. I'm sure this isn't exactly riveting stuff for James and his fans, but hey, for a sport that lacks in stats, I think it's fascinating to see if he can do it.
Stewart's most likely out of this title, but he's gotten his most wins in two years and still has some of that old magic here and there. Nice to see a veteran rebound like that, and I think he and Chad Reed (before he got hurt) were doing their best to make sure that the kids didn't claim the throne just yet.
PRO PERSPECTIVE (David Pingree and Jason Thomas)
Ping: One of the common themes from the riders' comments this year is how slick the racing surfaces have been. That isn't a big surprise when the series is out west, but the first round of the East Region typically marks the first race where the dirt gets "good." For the past couple decades the tracks on the East Coast were synonymous with sticky clay, ruts, and all the traction you could handle. If you didn't like rutted tracks, you were in trouble back east.
In recent years, 2014 in particular, that seems to be changing. This could be due to a couple things: The track builders have gotten really good at taking the moisture out of soil when they need to. They add lime and other ingredients to dry it up if it's too wet. They also run ventilation inside the stadium as they're spreading the dirt out, and they've found good places to store the dirt when they aren't using it.
Of course seasonal weather plays a big part in the dirt's condition as well. If the dirt gets really wet and then freezes, it's going to be a sticky mess when they bring it inside and it thaws out. If the dirt stays dry and weather is unseasonably warm, the dirt will likely be more hard-packed. So where is that sweet spot? I think riders want what we all want: perfect traction. Tacky soil allows the riders to push harder and go faster. That makes the race more physical and riders with more fitness will be up front at the end. Still, there is technique required for any type of racing surface. Now that I'm not racing anymore I like to see some variance.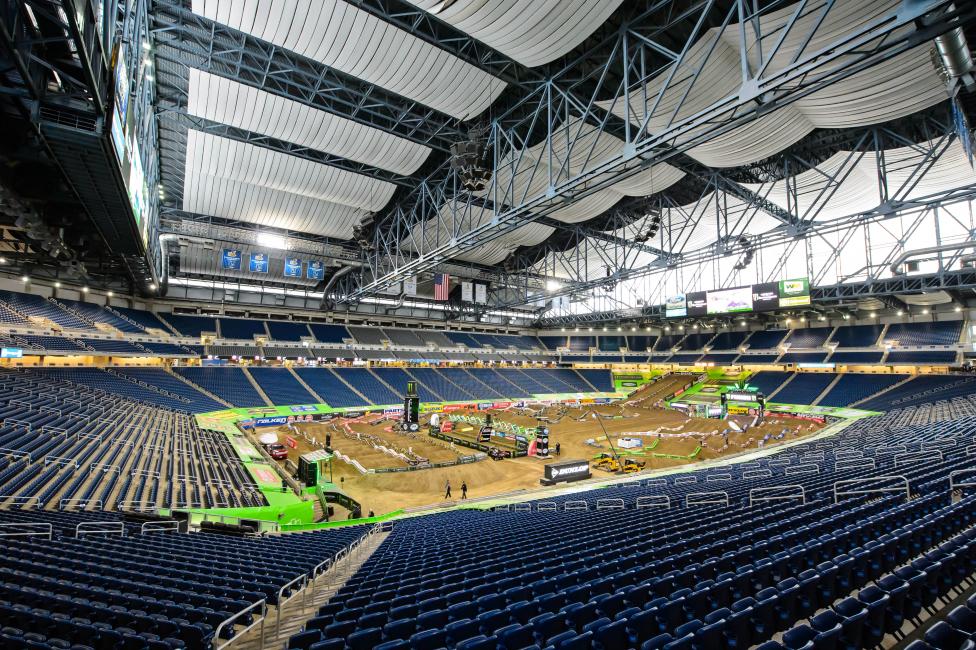 JT: Traction, traction, traction. It is always one of the most popular topics on race weekends. The dirt varies each weekend as we wander around the country. In my early years of racing, you could count on several rounds of the series being soft and rutty. So rutty, in fact, that I personally witnessed Jeremy McGrath rolling all three jumps of a triple on press day of the 1996 Atlanta Supercross. Those days led to the Dirt Wurx crew looking for ways to firm up the soil, making it more presentable on race day. They have found better storage areas and improved their ways of covering the dirt in inclement weather. They use covered overpasses when available and will use tarps to try to keep the moisture out.
Also, the monster trucks are either preceding or following many a supercross weekend, making it economical for Feld to keep the dirt inside the stadium as they rent it for consecutive weekends. When the dirt sits inside for a week or two, of course it will firm up and lose moisture. This is certainly a contributing factor on particular weekends as it has been packed down and dried to the point of no return. The Dirt Wurx crew also "ices over" the track with their equipment after they finish building it, in essence sealing it and making the transitions smoother and safer. This also tends to dry out the top layer of the track, leaving it crusty.
All of these changes were to correct the issue with the tracks being too soft and too rutty. I think what we are seeing now is that we have crossed that happy medium at many rounds and are on the opposite end of the spectrum. The dirt is coming in far harder and drier than what most would consider ideal, and that leads to very slippery conditions. The efforts to fix a problem have led to a different problem. Feld and Dirt Wurx definitely are aware of the situation and are constantly evaluating ways to perfect the dirt. They want happy riders and great, safe racing. Hopefully as we move forward, that ideal scenario can be calculated and the track will be suitable for both riders and race fans.
BENCH RACING AMMO
Our man in Hungary, Andras Hegyi, has some cool info for us on the growing list of accomplishments for the rookie Adam Cianciarulo, riding in his first Monster Energy AMA Supercross Championship: Cianciarulo has the second-best rookie 125/Lites SX season after five rounds, with five podiums and three wins. Only Ernesto Fonseca had better rookie results, back in 1999 when he was a Yamaha of Troy rookie. The Costa Rican rider had five podiums and four wins after five rounds.
Cianciarulo is also the seventh rider to win at least three races during his first five starts in SX. Chad Reed, like Fonseca, had four wins, but he also raced in the premier class several times. Kyle Lewis, Brian Swink, Christophe Pourcel, and Trey Canard had three wins like Cianciarulo.
More from Andras:
With his Detroit win, James Stewart is now only the second SX rider to win at least three races in six different seasons. Stewart won three or more times in 2005, '06, '07, '09, '11, and this year. The only rider with better numbers there is Jeremy McGrath. The King won at least three races in seven different seasons: 1993, '94, '95, '96, '98, '99, and 2000. In other words, every time he won the AMA Supercross title!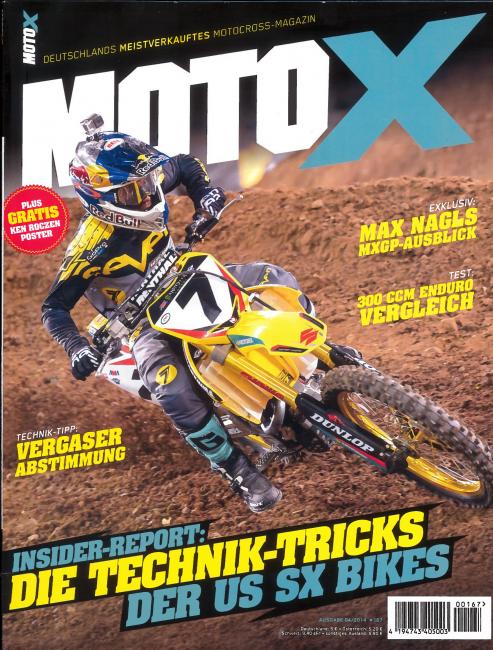 HEY, WATCH IT!
In case you missed it, KTM factory rider Jonny Walker has an amazing ride in the Red Bull Romaniacs event.
MTPTV caught up with Supermini star Hannah Hodges.
Here's a fast kid named Mason Gonzalez's GoPro footage from the 85cc (9-13) main event at the Ricky Carmichael Amateur Supercross at Daytona, produced by Vurb.
Funny Dirt Shark video "Compound22" featuring Chad Reed and Dean Wilson.
Here's some other links you might enjoy:
Steve Matthes got Ryan Villopoto and Nick Wey to sit down and watch the 2006 Dallas SX with me in this Pulpmx Classic Commentary right here.
Jason Thomas takes a look at the impending return of Trey Canard in this Hammerhead Designs column here.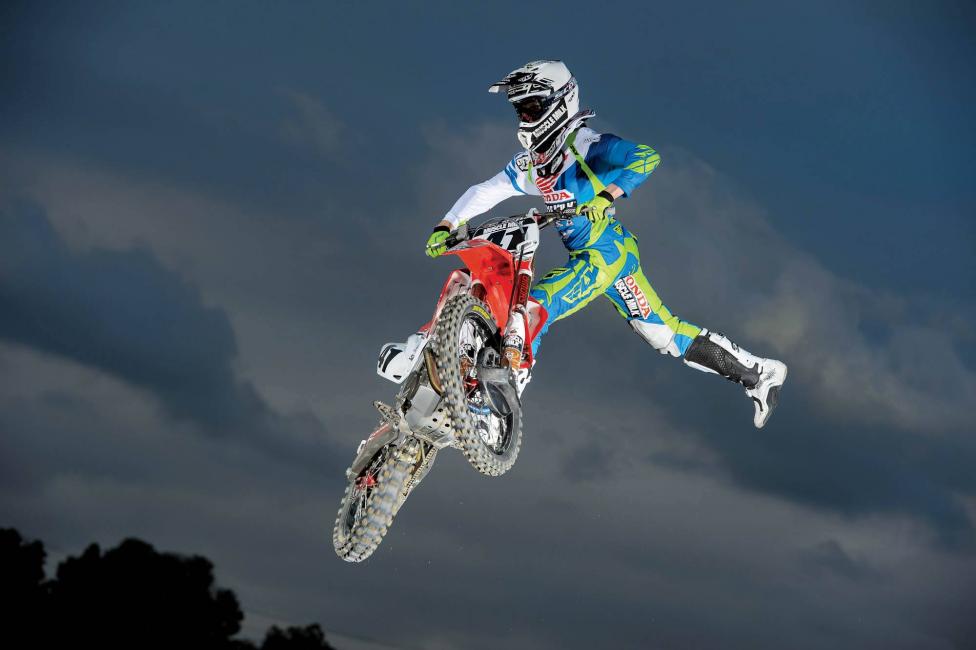 Can't get enough motocross-related content? Check out longtime reader and race enthusiast Billy Disney's blogs on the sport right here.
Privateer Adam Enticknap raps about his week before Detroit right here.
David Vuillemin answers some burning questions from Detroit in this Scott Motorsports column.
For the latest from Canada, check out DMX Frid'EH Update #12.
Remember the Pontiac Silverdome? Last weekend's run up into the stands at Ford Field was a nod to the old home of supercross in Michigan. Now the former home of SX and the Detroit Lions is being gutted, and all 80,000 of them are being sold at auction.
That's it for Racerhead. Thanks for stopping by—see you at the races!