Rogers Centre
Toronto

,

Canada
Toronto
Monster Energy AMA Supercross Championship
Hello, everyone, and welcome to the Rev Up. We're heading to Canada for Round 12 of the 2014 Monster Energy Supercross Championship! With today marking the first official day of Spring warmer weather is on tap, but the climate won't be a factor inside the Rogers Centre in Toronto. However, the dirt that they bring inside the facility always presents a challenge. The soil composition of the race tracks this year has been a hot topic with most of the events thus far being hard pack and slick. The lone exceptions are Oakland, Indy and Daytona. This weekend we can expect to see something of an Indy/Daytona hybrid with the frozen terrafirma they bring in thawing out over the course of Friday and Saturday, which should produce another rutted, technical track. It will be better than it was in the earlier days of this race, though, as they've stored the dirt in a drier location so at least there's not as much moisture to deal with.
While the design looks pretty basic on the Kawasaki animated track map, I think the elaborate straight line rhythm sections and the lengthy whoop set will get dug out and create another grueling challenge. This element should spice up the racing action and passing opportunities, which is needed with yet another simple design. This track has five right-handed corners, four consecutively and only two lefts. I'm always critical of designs with more rights than lefts, and 90-degree right turns, especially consecutively, produce one-line situations. That said, its hard to tell exactly how things will shape up until practice rolls out so let's hope for the best!
Another theme associated with this season has been aggressive riding. I can personally attest that I've never seen it this rowdy before. The 250 class historically has its fair share of slam passes and take outs, mostly associated with young rookie verve, but this season the lion's share of bar banging has taken place with the big boys. I think the mechanics are still scraping red, orange, green, blue and yellow paint off the swingarms after Detroit! The bee-line block passes, brake checks and late main event blocking is at an all-time high and it has made things interesting in lieu of a breakout in series points. Ryan Villopoto has gotten away.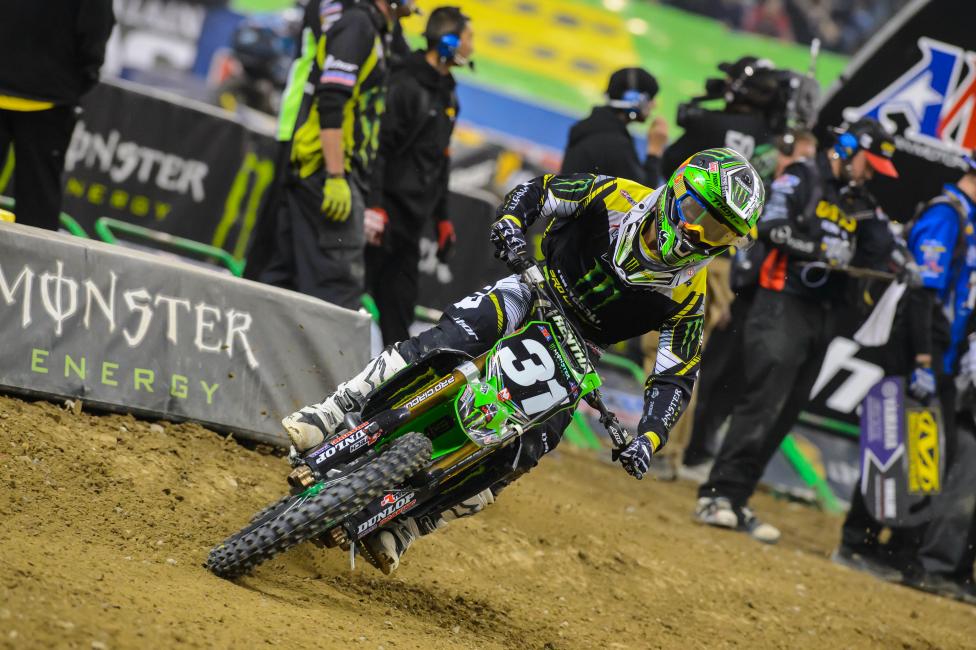 Coming into round nine at Indy the Monster Energy Kawasaki ace had a nine-point lead, but it has exploded to 30 in only three events. There have been four different winners in the past four events, but the three-time champ's consistency has reigned supreme. A similar strategy has been used in the 250E division where Monster Energy/Pro Circuit Kawasaki's sensational rookie Adam Cianciarulo has now gone 1-2-1-2-1 to establish a 17-point cushion.
The Canadian round of the series always brings out some wild ketchup chip eating fans, and we're back to live coverage on FS1. Let's get Revved Up for Toronto!
250 Class
I always like to look at the notes package the folks at Monster Energy Supercross Media post. This week one fact really stood out: Martin Davalos has led the first lap of all five main events in the 250E thus far. The sad part is, he has crashed out of four out of those five instances. Many had predicted this banter would subside after his win in Atlanta, but the song remains the same.
GEICO Honda's Justin Bogle is making things interesting by building his speed every weekend, and after a strong runner up in Detroit he is still alive in the title hunt. Cianciarulo has a nice lead and is riding stronger than garlic bubble gum, but one mistake could manifest a four-rider fight down the stretch.
The Pro Circuit win streak (the only streak in 2014) is now at seven. I'm not a day trader, but if you look at the market for Coors Light since February 1, I believe you will see a spike. These are very good days for Mitch Payton and his crew.
450 Class
Villopoto is racing away with the championship, but there is a crazy amount of action taking place here! Like I mentioned above, the gloves have come off and we're seeing a lot of contact in the mighty 450 class. There are four riders—Andrew Short, Justin Barcia, Dean Wilson and Mike Alessi—who you better be ready for while entering corners. Especially late in the main event when arm pump and fatigue seems to lead to desperate aggression. While the track design largely attributed to contact last week in Detroit, we've seen "pick up passes" all season. There has been a lot of helmet talk after the checkered flags, and I don't think we have seen the last fine be handed out by the AMA.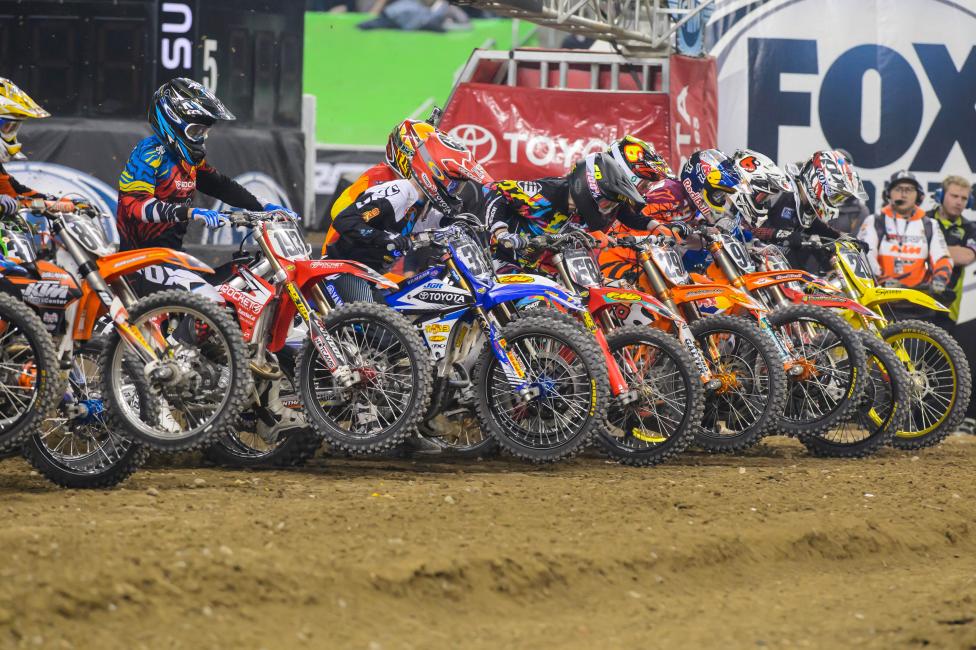 Rough riding is a polarizing subject. Team managers hate it, fans love it and the riders usually police the antics themselves. Has it gone too far, or is this aspect of racing just an acceptable part of the trade? There is a lot of debate about that question heading into the twelfth consecutive weekend of racing.
Its a great Thursday for motocrossers, as we always look forward to Spring and if you have downloaded Mad Skills 2 there are two fresh Jam Session tracks that dropped this morning. It's been an outstanding season so far, and as we prepare to leave the country for a weekend in Toronto, we can expect another wild night of supercross racing. Will we see a new face on the podium in the 450 class? Can young Cianciarulo race another smart, fast main event? Will Pro Circuit keep their streak alive, and will Yoshimura Suzuki's James Stewart win again?
Two days until the gates drop, so let's get fired up for Toronto!