It might seem odd to run an Unsung Hero on Kyle Cunningham following his fourth place finish in Detroit. After all, he was in the top five multiple times last year, including a second place in the Dave Coombs Sr. East/West Shootout, so really, a fourth place should be nothing more than business as usual for the SmarTop MotoConcepts rider. But that hasn't been the case at the first four rounds of the Eastern Regional 250SX Championship this year, as bad starts have plagued Cunningham, resulting in a season best of eighth place before Detroit. We got in touch with KC to find out what helped him get back in form at Ford Field.
Racer x: Best night of the year by far. What changed for you?
Kyle Cunninham: Really just a couple of decent starts are what probably helped me the most. We also started off by trying out a shock I hadn't ridden on and made a few mapping changes that we thought would be better and I felt pretty good. My lap times didn't really show it because I kept messing up my fast laps, but I felt pretty good on the track. It was definitely difficult, and some of the rhythms were pretty tough, but I felt like I was riding good. I actually had an off-week last week. I went to Florida and was supposed to do some testing but ended up having to send my bike early for press day. I rode one day outdoors on my 250 and a day on the 450, and about twenty minutes on press day. That was it all week. Maybe I just need to take it easier on myself during the week and I'll be good!
Yeah, just sit on the couch like I do all week! Your start in the main wasn't horrible, but you still had to come through some guys to get to fourth.
Yeah, I went back and watched the race and I thought I had come out of the gate a little better. I didn't realize I was back in about tenth or eleventh in the first rhythm actually. Jumping onto that first table, I thought I was going to land on the Tuff Blocks! But I managed to make some quick passes there in that first three to four laps and kind of got a good flow going and got myself up there quick. The whole main went pretty well. I made a few mistakes toward the end though, and I don't feel like the last three or four laps I rode quite that great. But it's a step in the right direction and it's the most comfortable I've felt on the bike so far.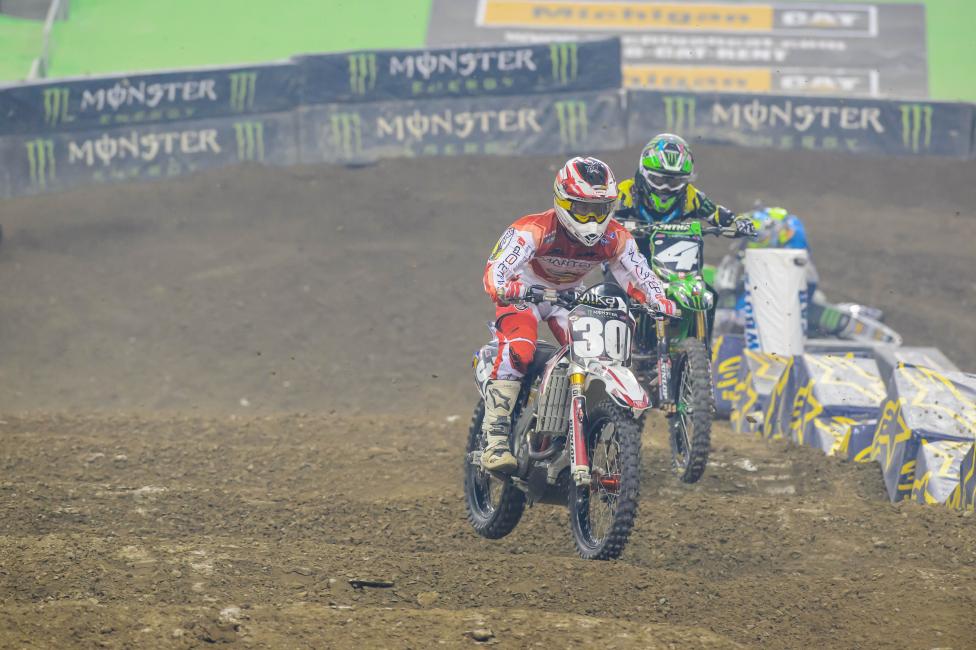 Talk about that battle you had with Jimmy Decotis.
That was a fun race. I think about lap four I was behind him and Gavin Faith, and Blake Baggett was right behind me. We had a freight train going, and I managed to work my way around Faith and had a battle going with Jimmy D. I messed up the rhythm after I got by him and he got back by me, and then Baggett ended up getting around me in that corner and Jimmy in the next. It was a fun race, but unfortunately Jimmy and I were going for the same line and we got together. He got the bad end of the stick, which was a bummer. I talked to him after the race, and it wasn't anything intentional. It definitely was a fun race with those guys, and they were riding really well. It was fun to be in that battle.
What's been your biggest hurdle this season?
I think the biggest hurdle for me has been bad starts, and coming back from breaking my foot at Lake Elsinore at the last round. The foot set me back more than I expected. I got released after twelve weeks, but it took me another four weeks of therapy before I could even ride. I was sixteen weeks in with that and I would have liked to have gotten more riding in. I felt good on the bike at round one, but I needed to be more comfortable on it. Sometimes things work that way and you have to work and take steps on race weekends to try to make it better. I'm happy with my mechanic, Aaron, and I'm happy that everyone on the team is on the same page. It helped in Detroit. We were so close to that podium, and I wish I could have put the last four or five laps together better, but like I said, fourth place is great and we know we went the right direction with the bike. We'll keep trying to better those results every weekend.