BTO Sports is your number one source for all of your motocross parts, gear, accessories and apparel. BTOSports.com is a motocross company who is truly dedicated to the sport and to the customer. Proud sponsor of your Racer X Podcasts and the BTO Sports race team.
For the first time since 2008, Monster Energy Supercross visited Detroit, Michigan for a race inside the very-nice Ford Field in downtown Detroit. I stayed right downtown and was sort of shocked by the emptiness of the downtown core. I remember it sort of being that way the last time I was in town, but the last few years have not been kind to the Motor City. That Eminem Super Bowl commercial from a couple of years ago was nowhere to be found from my experience. But it is what it is and I think the attendance was pretty strong in this comeback race.
They also announced during the race that supercross will be back to Detroit in 2015, which was nice to see. The Michigan fans have a long history of supporting the old Pontiac Silverdome race, but the spectator count in Ford Field has been up and down. It looked pretty good this year despite a poor pit set-up. There's nothing that can be done really, these downtown stadiums don't have massive parking lots needed to let all the trucks open up in one place, so the teams get scattered into different small lots, and some set up inside the stadium. With the Michigan fans being so hard-core, I bet many would have liked the experience of walking around the trucks and seeing the bikes up close.
How do I know? Well, back in the day when it was freezing cold and there was snow everywhere in Pontiac, I was a janky privateer mechanic, and I remember tons of people standing outside just to watch me change a clutch!
First the good with the track: it went into the stands like the old days of Pontiac, and uh, um, that's about it. The dirt was terrible, hard packed and slick with a light layer of silt on top of it. What's going on here? There was a Feld-produced Monster Jam in Detroit March 1 so I suppose that the dirt that was used for that was just left in the building, hence the dry, dusty base. Too many tracks this year have had slippery dirt, and that makes it hard to push and take chances. The riders know their 55 horsepower 450's will break loose if they turn the throttle any more and in my opinion, that makes for follow the leader racing. No one I spoke to (including the winners, which is rare because usually if you win, you like the track even if it's a circle) liked what was going on under the dome at Ford Field.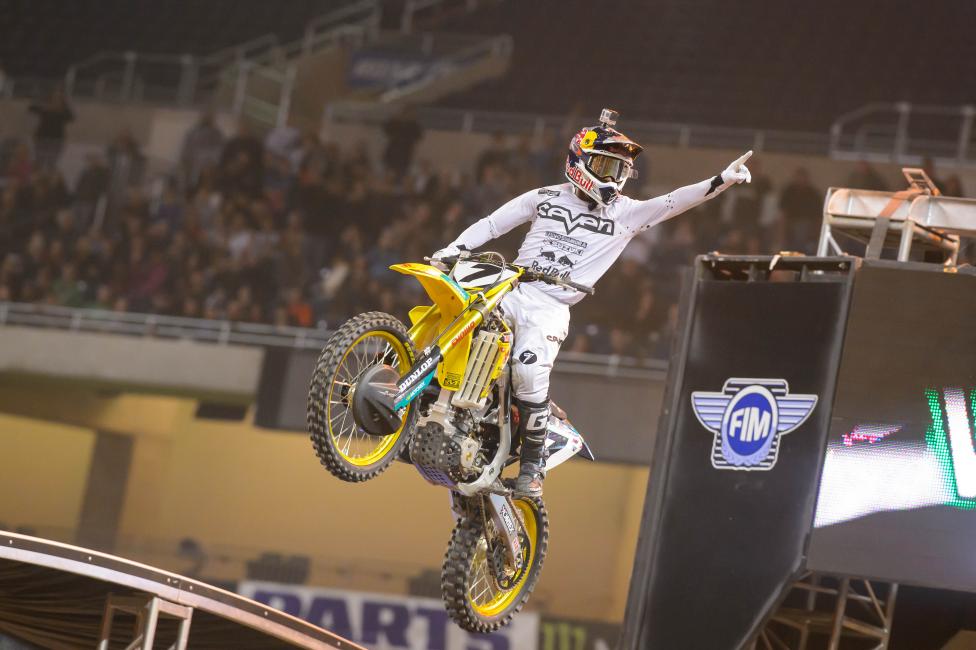 After a real crappy three-week run (something Magic Johnson's talk show had, as well) James Stewart put on a clinic in Detroit. The number 7 overcame a shaky practice on a track that "sucked" (his words) to ride away with his third main event win on the season. This one was well-earned as he was 1.3 seconds ahead when RV got into second and at one point, I think he stretched his lead to about six seconds. Stewart looked like he was barely moving on the dry and slick track but yet he was just pulling away. He was that smooth. Stewart admitted after the race that he's out of the title fight (and I agree with him) but I suppose if he finishes second in the points and has the most wins (it's been two years since James won this many races- he won five races in 2011) then that's something he and his team can hang their hat on, right?
This race really shows the difference in riding styles between Villopoto and Stewart. Stewart was smooth, in control and gentle on the throttle while Villopoto was doing his rear-end steering and searching for some berms. It was quite a contrast. In the main event Stewart went in a slightly different direction than Villopoto with his rear tire choice but they used the same front tire. Yet watching them, it looked like one guy was spinning and the other had traction galore.
Stewart is now tied with Ricky Carmichael for second most supercross wins all-time (48) and it's interesting to note that Stewart achieved this in basically the same amount of races as RC (115 starts for Carmichael and 113 for Stewart). That's pretty amazing. I would have bet a lot of money back in 2008 that Stewart would zoom past RC pretty quickly and even challenge Jeremy McGrath's 72 wins but some injuries, some crashes, and not gelling with a Yamaha have all conspired to hurt Stewart in his quest to get to 72. Most likely he won't reach McGrath's record but in this author's eyes, there has never been a more talented (remember I'm just saying "talented") indoor rider ever. Soon, he'll be second all-time.
Hey, lookie here… Ryan Dungey is second in the points and realistically the only rider with a chance at catching Villopoto. Yeah he's only won one race this year (and was third in Detroit) but he's also DNF'd one race with a broken motorcycle. Give him some 15 points from that and we have ourselves a series! Yeah, yeah I know, ifs and buts and candies and nuts, but credit to Dungey. He's just a steam engine out there. Some may not always like his lack of pizazz but he's there at the end of a series every time. Although "there" right now is 30 points down, but I thought in Detroit he could've caught and passed Villopoto had he stopped trying to do this "perfect" rhythm after coming down from the part in the stands.
Dungey told Chase Stallo this about his unusual line in that section after the race:
"We lined it up on the Dartfish [video software program] today and they took Kenny, one lap he wheelied it and went over the table, and then another lap he kind of blitzed it and hit it like a whoop and jumped onto the table and off. It was really fast. I think I wasn't maximizing how much time I could make up on it because I was just trying to do it clean every lap. I didn't want to mess it up. It just felt pretty good through the whole race. I'd come down the hill and I'd actually get close. I'd make up a little bit of time and then it would stay about even through the rhythm. And then at the end there I just kind of double-singled out and went to the inside because that outside was so blown out."
So I see what he was trying to do but it wasn't working. I timed it myself (granted I have some sausage fingers) and Dungey's attempt at doing that rhythm was .3 to .5 seconds slower because he wasn't tripling out like he said. Andrew Short was also trying to do the same thing because he said it was more consistent to do but Shorty was tripling out. Dungey not tripling out was crippling him. He would lose time there every lap to Villopoto and then proceed to make it up the rest of the lap. As Dungey said, he definitely wasn't "maximizing" that section but he still rode well on the rest of the track.
Adam Cianciarulo won Detroit, and we knew he would win because so far in this 250SX East Region, he's gone 1-2-1-2. So this was "scheduled" to be a win, right? Cianciarulo took advantage of Martin Davalos crashing early in the race and held off Justin Bogle the rest of the way. And with the Davalos' crash, AC now has a 17-point lead in the series. Unbelievable, right?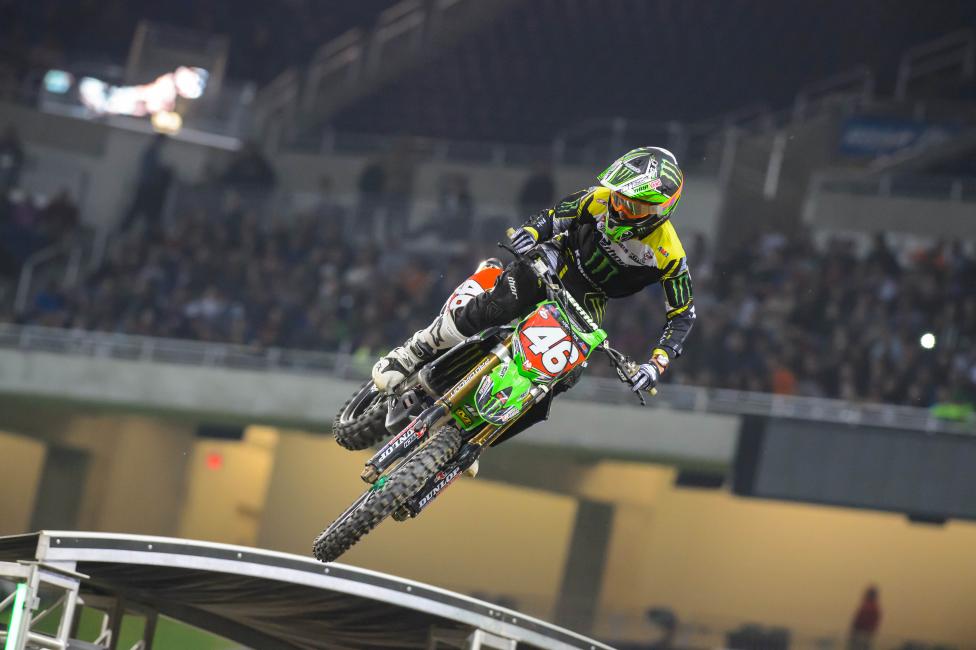 Adam's been better than most people though he could, or would be, because as chronicled over and over, his introduction to the pros last summer was rough. Detroit was just another check in the box for Adam. We've done the "Can he crash bad and still do well?" the "Can he do well from the LCQ?" and now we have the "How does he handle pressure?" box checked. Bogle was all over him most of the way.
On that note, some people threw dirt on the grave of the Pro Circuit team as they struggled last year to win races at their usual pace. Now the team is on a seven-race win streak going back to the last two 250SX West Region. Meet the new boss, same as the old boss.
Let's take a look at the results shall we?
250SX Results
1 46 Adam Cianciarulo Port Orange, FL Kawasaki KX 250F- I asked Adam why he wears orange goggles all the time and he replied with "Why do you own basset hounds?" So I guess Adam's orange Scott goggles are loyal, loving and cute then.
2 32 Justin Bogle Cushing, OK Honda CRF 250- Bogle had his career best finish in Detroit and if AC made just one mistake he would have gotten the win. Quietly Bogle's been pretty good this year and, sure, the green guys appear to be a tad bit better, but this ride in Detroit has to give him confidence for the rest of the series, right? Bogle's got a really nice riding style and I hope he does get a win before the series is over. Maybe Mitch can help make this happen? No?
3 4 Blake Baggett Grand Terrace, CA Kawasaki KX 250F- Baggett crushed it in Daytona and afterwards gave props to his new riding coach Kurt Hendrickson for helping him with his starts. Annnd then he goes out in Detroit and blows chunks on the start like he's done at every other race that has a roof on it. Ah-Ha! That's it folks, Blake Baggett is unstoppable if you take the roof off! Unfortunately for Baggett there's only two supercross races left this year for him without a roof. He's an awesome rider but… He. Just. Can't. Keep. Getting. These. Starts. And I don't need to be Kurt Hendrickson to tell you that.
4 30 Kyle Cunningham Aledo, TX Honda CRF 250- Here is my Tweet in the middle of the very first untimed 250SX practice: "Kyle Cunningham looks really good here in first practice...fantasy SX dorks consider yourself warned" and then he goes and gets this finish and makes me look good. Kyle hasn't had his usual supercross season up to this point but he looked frisky right from the start of day. He was just feeling it I guess. He needs more of these types of races.
5 78 Matthew Lemoine Pilot Point, TX Kawasaki KX 250F- Great ride for Lemoine, who was steady the whole main event. A top five finish is something to be pumped on. I was going to go with "Lemoine did well in front of his sort-of hometown crowd" because I thought the Texan had some sort of tie-in with Michigan but my Michigan buddy Swizcore told me no.
6 31 Martin Davalos Cairo, GA Kawasaki KX 250F- I'm so on the fence about Davalos's ride. On one hand he absolutely grenade himself in practice and he was lucky to race at all. Full props to him for being tough and getting back out there. So there's that. But then there's the part where he once again shredded his heat race so he must have been feeling like normal (or pretty close to it, right?). And then in the main he was leading when, wait for it, he lost his front end and washed out. That was followed by another crash and a sixth is what you get. So yeah, I'm an A-hole for saying that he threw this race away but he won the heat! He had to have been feeling pretty good, right? But yeah, props again for even racing at all. Oh god, I'm so confused.
7 42 Vince Friese Cape Girardeau, MO Honda CRF 250- A good night for Friese, whose starts have sort of gone away lately. Starts are always something that Vince can usually depend on and his number one asset.
8 19 Jeremy Martin Millville, MN Yamaha YZ250F- Oh man, J Mart likes to toy with his fans and his teams emotions doesn't he? Jeremy crashed in the heat and had to go to the LCQ for the third time this year. Once there he was leading easily before tipping over in a corner on the last lap. Luckily he held on for third and made the main. That's one giant bullet dodged. But once in the main he went down (or perhaps just got a terrible start) and was forced to come back from nearly last. So with all that in mind, this eighth isn't so bad. He did pass his brother on the last lap in the last corner so there's that.
9 55 Alex Martin Millville, MN Yamaha YZ250F- Alex had a huge save in the whoops and told me he could barely hold on by the end. And it showed as he rode to the outside in the last turn and left the door open for his brother enough that a Mac truck could've driven through. Who had Alex with 16 more points than his brother after five rounds? Anyone? Bueller?
10 56 James Decotis Peabody, MA Honda CRF 250- Oh what could have been for Jimmy DEEEEEEEEEEE as he ran as high as third until late in the race. He was riding great, and the week in Florida riding at Villopoto's was working its magic, but then it appeared he got a bit tired and got caught from behind. In what I think was a racing incident (Jimmy also said it was in his post race interview here on Racer X) he went down when Cunningham hit his front wheel. Bummer bro.
11 52 Cole Thompson BRIGDEN, Canada KTM 350 SX-F- Cole pretty much has the exact same bike as Jason Anderson and so it mystifies me why he can't get better starts. We've seen what the bike can do and one of the things I thought we would see from Thompson is, no matter what, some good starts. But he can't seem to make it happen lately. I was bemoaning the fact that I just want to see a Canadian do well in supercross on a podcast lately when someone brought up that I forgot about Darcy Lange in 2007. And yes I did. My bad, that was glorious. But that was ONE YEAR OUT OF FORTY THAT A CANADIAN MADE A PODIUM IN A SUPERCROSS. Even Ecuador has more wins than Canada in supercross.
12 47 Kyle Peters Greensboro, NC Honda CRF 250
13 49 Gavin Faith Fort Dodge, IA Honda CRF 250- The good news: Faith won his heat race and looked as good as he has at any point this year. The bad news: he faded pretty badly in the main event while up front. Someone told me he's battling an illness or something like that.
14 62 Mitchell Oldenburg Alvord, TX Honda CRF 250
15 57 A J Catanzaro Portland, CT Honda CRF 250- The "Cat" and I spoke before the race and he told me that he's changing his training up a bit to avoid the arm pump that he's been struggling with. You can see at times that he's got speed and he's up there but then once arm pump strikes, you're done. Ask Dean Wilson about this…
16 88 Jesse Wentland Elk River, MN Honda CRF 250
17 60 Jackson Richardson Wildomar, CA Honda CRF 250
18 854 Landen Powell South Jordan, UT KTM 250 SX-F
19 96 Matthew Bisceglia Weatherford, TX Honda CRF 250- This result was caused by some crashes in the heat which led to "Mike" having to go to the LCQ which he won. But then he crashed in the first turn and it was pretty much downhill from there. Talk about an up and down rookie season for The Bisc.
20 659 Justin Freund DE Soto, MO Yamaha YZ250F
21 72 Daniel Herrlein Bethesda, OH Honda CRF 250
22 79 Ryan Zimmer Fuquay Varina, NC Honda CRF 250- I read right here on this website that Zimmer's got a real-life weekly job and that he doesn't get to ride during the week. And let's not forget his no-shroud-graphics policy. All in all, someone to cheer for.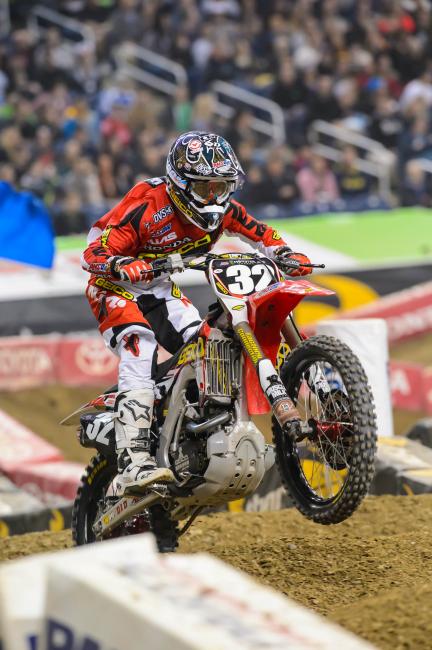 450SX Results
1 7 James Stewart Haines City, FL Suzuki RM-Z450
2 1 Ryan Villopoto Seattle, WA Kawasaki KX 450F- Ryan gave this epic interview with Jim Holley after the race. Real smooth ending if you ask me…
3 5 Ryan Dungey Belle Plaine, MN KTM 450 SX-F
4 29 Andrew Short Smithville, TX KTM 450 SX-F- I talked to Short on track walk and he told me that the start was good for the third gear starts that he's been doing lately. But I beg to differ because sure the third-gear start was good for him but then the rest of the track was also very, very good for him. Short had a season best finish and he's been a bit underrated this year in my eyes. Yes he was aggressive out there but that's Andrew Short—at this point everyone has got to know that when you're racing with him.
5 51 Justin Barcia Pinetta, FL Honda CRF 450- And Barcia knows that as well because he was playing the ram game with Short for pretty much the whole main event. It had the potential to get ugly except after the main the two talked it out and agreed that some ramming is fine. Only Andrew Short and Justin Barcia could be 100 percent fine with what this, and for that, every top racer from the 80s just smiled and nodded.
6 20 Broc Tickle Holly, MI Suzuki RM-Z450- Another good ride by Tickle, he was right there for fourth if Short and Barcia ended up in a pile, and with the way those two were riding, there was a better than a 20 percent chance that was going to happen.
7 40 Weston Peick Wildomar, CA Suzuki RM-Z450- Peick's struggled a bit lately—he didn't race Daytona and crashed out of Indy—but he's right back to his usual form with this finish. Man, I like watching him ride, he's so aggressive and so full of rage out there. The entire time he's behind you he is looking for a way around even when there is none. For example, there was absolutely no way to make passes in that 180 turn up in the stands, but he was still trying it. Peick does not care who you are, how much money you make or what you've done in the past. He just wants to get by you ASAP. In short, he is the Nihilist, goo goo joob.
8 75 Joshua Hill Yoncalla, OR Suzuki RM-Z450
9 10 Justin Brayton Cornelius, NC Yamaha YZ450F- I don't want to harp on the negative here but folks you had to be there to see Brayton go from first to sixth in about two laps in the heat race. And I bring it up because JB10 is an amazing rider and it was very weird to see. It could possibly have been the worst opening laps to a race I've ever seen since Marty Smith didn't make it past the first turn in that horrific endo years ago.
10 33 Joshua Grant Corona, CA Yamaha YZ450F- I feel like if there's one thing we can count on with Grant is some spectacular flashes of speed every now and then. As we all know, this dude is very talented. But lately, and probably because he's trying to not get hurt, we have a new smooth, steady (and a little bit invisible) Josh Grant. It's not good or bad, because 10th is a good finish, but it's weird.
11 44 Matthew Goerke Temecula, CA KTM 450 SX-F- Beef is out in Texas right now with Shorty practicing, training and probably being very scared of Jacki Short by the end of the visit.
12 15 Dean Wilson Wesley Chapel, FL Kawasaki KX 450F- This has been such an up and down year for Wilson it's not even funny. The speed is there, no matter what bike he's on he's very, very fast. But he can't seem to shake this arm pump issue he's been having. But wait Steve, he won one 250SX race on the west side didn't he? Yeah he did, and he led another and he was super fast over there at times before the arm pump got him. Now on Reed's bike, if you thought the second to seventh in the last five laps at Daytona was bad, then the fourth to twelfth in Detroit will REALLY scare you. Arm pump can be a simple thing (hold on with your legs more) or more difficult to solve (training methods, supplements/diet) but one thing for sure is that no one really knows how to fix it. But like a supermodel getting a massive zit, isn't it nice to see one of the world's best riders struggle with something that all of us s have had also? See, they ARE human!
13 800 Mike Alessi Hilliard, FL Suzuki RM-Z450- Mike has only broken into the top ten one time this year and yet it seems like he's riding pretty well. A couple of heat race wins and some speed here and there but in the end, he's not ending up with much in terms of points.
14 23 William Hahn Menifee, CA Honda CRF 450- Hahn was not happy after the main for his so-so ride. But here's the thing, he was dead last after one lap so this isn't that bad, right? Wil needs to be happier, he's got at least ten more years left in this class and no one is going to remember Detroit 2014 450SX main event in a month. No matter where he places, he's going to give you maximum effort.
15 21 Cole Seely Lake Elsinore, CA Honda CRF 450- Cole was running third for a while and looking great when he started to slip backwards a bit. Then he clipped Short's back tire in a right hand turn and went down. He was not happy.
16 68 Chris Blose Phoenix, AZ Honda CRF 450- Blose missed two out of the first four main events but he's on a seven-in-a-row streak now! Wonder who will be his mechanic this weekend? A local Pizza-Pizza delivery guy?
17 27 Nicholas Wey Dewitt, MI Kawasaki KX 450F- Off night for Wey but in the good news department Feld brought out the Michigan native for opening ceremonies. That's a classy move by the guys because you never know this could be the last Detroit Supercross for Wey.
18 77 Jimmy Albertson Shawnee, OK Honda CRF 450- At one point Albertson was behind Wey and battling pretty intensely when Stewart came up to lap them. It was pretty comical to see both guys check up and let Stew split them. They totally relaxed and then once Stew was by it was totally back to the attack position again! Pretty funny really, like these two guys care about the one point and $40 buck difference between 17th and 18th.
19 606 Ronnie Stewart Easton, PA Suzuki RM-Z450- We're going to have to talk about "James" and "Ronnie" Stewart in the main real soon. You no longer are going to be able to say "Stewart quadded!" or "Stewart went down" now without the person next to you asking "Which Stewart?" because Ol' Ronnie is on fire right now and making mains on the regular.
20 94 Ken Roczen Murrieta, CA KTM 450 SX-F- Man, sucks for Roczen, that's two out of the last three races he's collected one point and has gone from second to fourth in the points. And effectively, he's out of this championship now. Kenny got a rock caught in his rear brake caliper and I'm not sure what the German was thinking when he was looking down at his bike for so long. ROLL IT BACKWARDS KENNY!!!!
21 374 Cody Gilmore Blair, NE Kawasaki KX 450F- I was so conflicted in the 450SX LCQ because the #722 of Adam Enticknap was in 5th and looking good to get in. And I'm a fan of Enticknap (aka The Subway Man) as lots of people know. But then here comes Gilmore (who's also a good dude but he's never rapped about Subway and made me laugh before) and he blew by both Enticknap and the fourth place guy (Augie Lieber) and in the process Lieber went down and took down the #722. It was high drama folks, but props to "Happy" because he deserved it.
22 415 Nicholas Schmidt Riverside, CA Honda CRF 450- Schmidt caught and passed Wey in the semi to get into the main so he earned this one. Once in the main I have no idea what happened to him but after a mid-season slump, the Milestone Assassin is back like never before.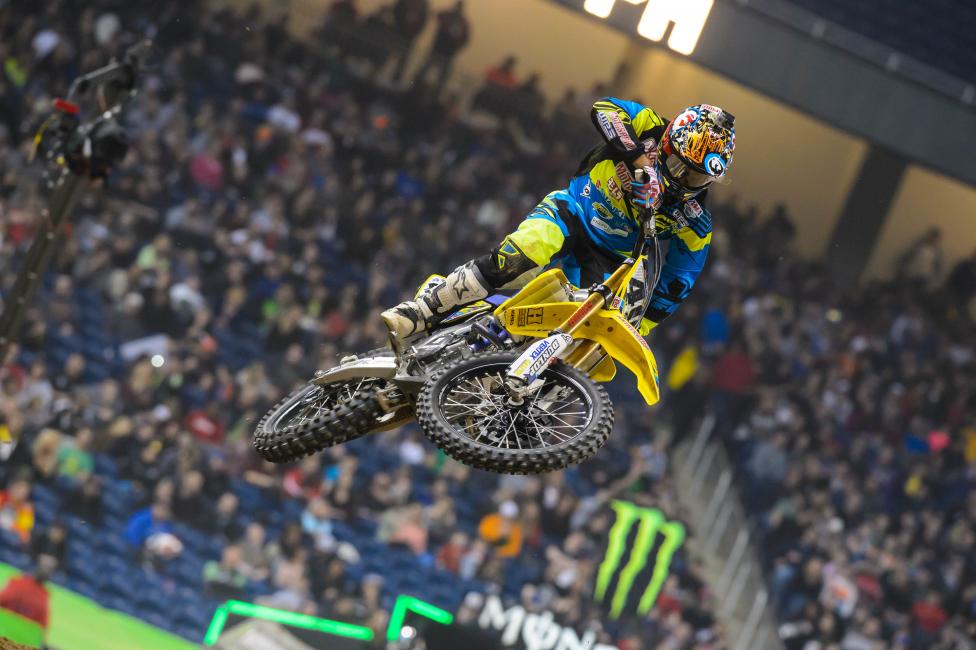 Some other news and notes:
- One of the managers that was going after Jeremy Martin for 2015 informed me that Martin went ahead and signed a new two-year deal with Yamalube/Star Yamaha recently. This guy was a bit perplexed that he didn't even get a chance to get a bidding war going for the talented Minnesota kid. I find that very strange in this day and age as well. Who's his agent, McGruff the Crime Dog?
- SmartTop MotoConcepts Racing was rightfully pretty perturbed that Dean Wilson was not penalized or anything by the AMA for his move on Alessi in the last turn of the last lap. They were literally the last two racers on the track and I was packing up my stuff when I caught the end of it. Upon watching the film of it, I think they have a case. Wilson was basically frustrated at going backwards in the main event and do you think that one point/position was really something that the part-time 450 rider (Wilson) really, really was willing to die for? No. He was mad because Mike Alessi (!!) had passed him and he was taking his frustration out on the #800. And again, if you want any more indication of Mike's popularity among other racers, look at this incident and the Tickle one. The difference in the reaction is astounding. The way this is shaping up, Mike's going to need therapy for his 2014 season. I didn't think Dean's move on Mike was anywhere near what Alessi did to Tickle but it was worth a small fine in my eyes.
- Remember when Ivan Tedesco came back after a year off and we were all cheering for him? Well, we're still cheering for him to do well but he's now missed three straight main events and in the last two races he's been there but hasn't made it out of practice. Oh, in Indianapolis we saw him dragged in-between a rear tire and fender and that's pretty self-explanatory, right? In Daytona he crashed in practice and hit his head so the #9 was done there. He also smashed his finger in that crash and it was too much for him to line up in Detroit. Tedesco's comeback is a nice story but I bet right about now he's wondering why he bothered as the meat grinder that is supercross catches up to him.
- Privateer Austin Howell had a pretty cool moment in Detroit. No he didn't win the race or qualify for the main event but he did have his sister do a superb job singing the national anthem before the night show began. Yeah, sure, the Stewarts, Hahns, and Vohlands have both made the podium before at a pro race, but who's done the rider/sister sing the anthem deal before?
Thanks for reading, appreciate the time you spent each and every week checking this column out and email me matthes@racerxonline.com if you have something to say.