Ford Field
Detroit

,

MI
Detroit
Monster Energy AMA Supercross Championship
Racing is an ever-evolving enterprise. New technology, techniques, and innovations have changed the landscape for decades and will continue to as we move forward. Some of these have been ground breaking changes, such as the four-stroke revolution, while others are a touch more subtle but still have far reaching effects. Fuel injection, air forks and shocks, and sound restrictions all come to mind as technical changes we've seen in the last several years. One new advance is a bit different. It's strictly used to improve results and make riders faster. It is called the Dartfish software and for those that use it, it is invaluable.
Dartfish is used by all sorts of athletes and sports teams. In essence, it is a video software program that allows users to overlay multiple videos into one sequence. For the motocross/supercross application, the user can take his practice video and the video of another competitor and mesh them into one. For anyone who has ever played Super Mario Kart, think of the ghost that you race against after you set your fast lap. It's basically the same idea. On every jump and in every turn, riders can compare their line and rhythm versus the ghost rider of their choosing provided they have a video of both. This completely eliminates the guessing game as to which line is faster or which is the quickest way to execute a rhythm lane. As someone who has had endless debates in semi lounges about line choice, I can tell you that this would have been an incredible tool to use as a racer! I watch the Dartfish in action now and drool over the prospect of being able to use this in my racing days. Of course, every rider still has to go out there and execute what they see on the computer screen, but it's still a huge advantage to those who have this capability.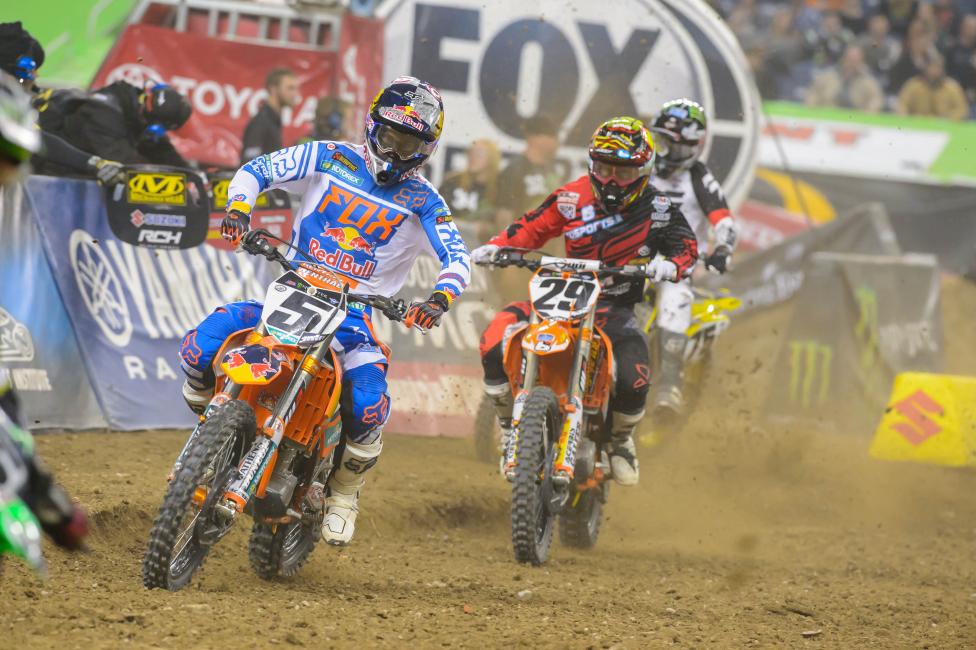 I have an example of this in action from this past weekend in Detroit. The rhythm lane after the uphill/downhill section from the stands was critical. Andrew Short was able to deduce that there was a different rhythm option after the downhill, and as the track deteriorated, he switched to the new line and was able to gap Justin Barcia lap after lap, as Barcia was struggling in the main line. Ryan Dungey also alluded to the fact that he had seen Ken Roczen (on the Dartfish) use a different line down the rhythm lane and it was faster. We saw Ryan struggle to make that line work in the main event but his willingness to stick to it was due to the data shown on this Dartfish program. He knew it would be significantly faster if he could make it work. In a world of seemingly meaningless analysis, this software is directly affecting what choices riders make on the track.
No, I don't think that riders are winning or losing because of a software program. I do, however, think that it can be a huge advantage for some. Knowing exactly where Ryan Villopoto or James Stewart are apexing a turn or entering the whoops used to be something that riders would ponder in hopes of lowering their lap time. Now, they can simply watch themselves in comparison, right next to (or most likely behind) the ghost leaders. The guessing is gone. For now, this is expensive, leading edge technology, but like everything else, access to the technology will surely grow. For now, teams are being very secretive about it, because they know what an advantage it can bring. One day all of the teams will have this capability and it will become old hat. For now, though, it's a strong weapon in the racing repertoire. Just another step in the evolution of the sport, and an effective one at that.