Ford Field
Detroit

,

MI
Detroit
Monster Energy AMA Supercross Championship
BTOSports.com KTM's Andrew Short is on a roll right now, logging top ten finishes in every race this year, and really stepping up in recent weeks to jump into the top five, and then top four in Detroit. We called the well-spoken Short this morning to talk about his performance.

Racer X: So are you up at 5 a.m. working the farm?
Andrew Short: No, I'm pretty much a city boy. The wife does all that. She takes care of the chickens, the cow, and I'm pretty much worthless on the farm.
I've seen photos on Twitter and Instagram, she's gnarly!
Yeah, she is. You know what's funny? If you hear something on the farm at night, the cows might make some noise, usually just from someone driving by or something. So I always tell her, "Hey, go get your gun!" The roles are probably reversed a little bit there—she'll get her gun and go check it out.
[Laughs] Is it a full on deal running that farm or is it just something fun on the side.
Oh, it's a lot of work. The cows are a lot of work, you have to bale hay, fix the fences, there's always something.
So at least you have this convenient excuse, having to go ride and train and recover.
Exactly, but my day is coming.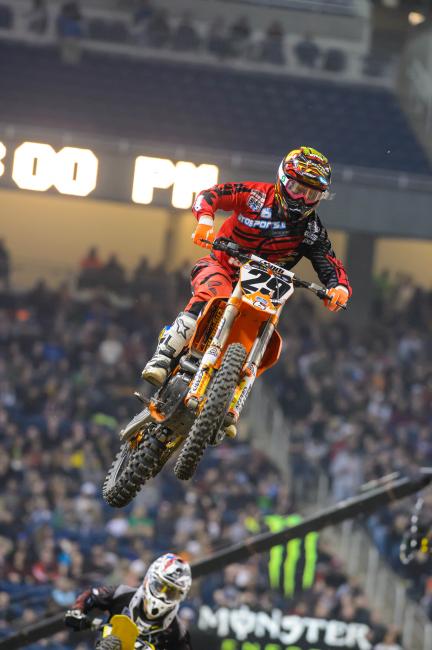 Maybe this is the secret to longevity as a racer!
[Laughs] Yes!
Hey, are you happy with your season?
Yeah I think it's gone really well! At the beginning of the season I had trouble putting together 20 solid laps. I think my head was in the way. I felt like my speed was decent, but I was thinking too much. The last few weekends have been huge improvements, I finished sixth, fifth, and fourth at Detroit. So I'd say it's successful for myself and my team.
Yeah, that's interesting, you started out the year well within the top ten, then it was back to tenth, which for you is a drop back, now you're on the rise again. Is it really is all upstairs? Not a huge change to the bike, or some nagging injury you were dealing with?
Yeah, we haven't made any groundbreaking changes to the bike. It's really similar to what we had at the first race. It's the easiest thing to change. You can pull into the mechanic's area during practice and they could say that they changed a few clickers or something here and there, and honestly if you believe it in your head, it's pretty amazing what that can do for a rider. So I feel more confident going to the line, I feel like I'm in a better spot, mentally. I feel like I can put in a good twenty laps. That's been the biggest change for me the last few weeks.
So it's not anything someone on the outside can see. It just comes down to you. Even with all of your experience, it's not something you can just turn it on and off? I mean, I'm sure you wish you were feeling this way from the very start of the season. Is it something that just sort of happens?
No, it didn't just happen. We're always evolving and looking at strengths and weaknesses. Mentally I was off a little bit. [Short's trainer, Coach] Seiji [Ishii], he helps me with training and in a lot of areas, and I think he and I were off in a couple of areas. We were really trying to focus on the mental aspect. We all work hard during the week, but it's where you put that effort in. That's where I say mentally we've made big efforts, because we've been studying the races and lap times and all of that stuff. Before, when I said my head was in the way, I meant that I was thinking too much. If you're thinking, you're slowing your mind down. Any athlete knows you need to be in the zone, when things come natural, that's when you perform your best. This weekend I had no choice. I had guys dive bombing me, I was around guys the whole way. I didn't have clear track where my mind could get lost. This weekend I was totally focused on just trying to make it to the checkered flag as quick as I could. That's how it should be.
Let's talk about those 20 laps a little bit. First, Barcia was just placing his bike in front of others and banging into people, which is always fun to watch, but maybe not so much fun it be in! On TV they showed you guys talking about it after the race. Was it a bad thing or was it friendly?
No we're cool, and he was just making sure we were cool. I expect it from Barcia. I know who he is and how he races. If he's behind me, I know he's going to throw it in on me. You just have to be ready for it. I'm cool with it, and I want to race people the way I want to be raced. He's the future of the sport, and when he's behind you, you can't leave the inside open. If you do, he's probably going to be there. I like Justin and I think he's a good kid.
What about Seely? He felt you took his front wheel out. Earlier in the race, we saw you make a similar move on Wilson, and he didn't go down. How do you see it?
I think you nailed it on the head. The first time I tried it on Wilson, he was smarter than me. He checked up, dove underneath me, and I didn't make the pass. The next time I had to make sure I really put it in there and covered the line so he couldn't cut under me again. I saw the gap with Seely as well and I took it. I think any racer, be it on four wheels or two, you see that gap and you have to take it. Especially on a track like Detroit where there are a lot of 90 degree turns. There wasn't a lot of passing options. Understandably, he's upset because he went down. I respect him a lot as a racer, he's another one of those guys who is the future of our sport. It's never good when someone goes down, but I felt like I had to take that chance in the moment. I think if you don't take it you're not exactly a racer. Sometimes I feel like I need to be a little bit smarter and control my passes, but at the time and the moment—when everything is going so fast—I thought it was an opportunity I had to take. I read the interview with him on Racer X last night where he says our sport's dangerous enough, and I agree with a lot of his comments, and I respect his feelings. But at the same time you've got to race and try to move forward, especially when you have Barcia on your heels. You know if you hesitate you're going get it yourself. That's why I love racing. It's fun, it's always a battle and a fight, and that's what we get paid to do.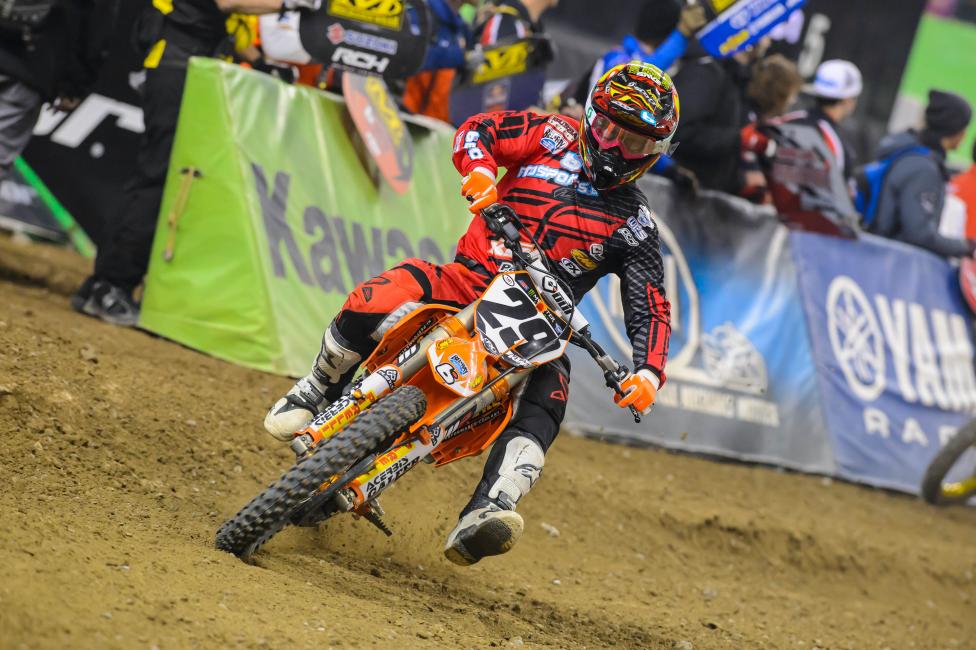 There is never a question about why you race, and why you work so hard. This is what you like to do. You're not racing because it's a job.
Yeah. I've been blessed to live my dream, which is not something everyone gets to do. I'll always race, but not on the platform or stage that I get to do it on now, with amazing bikes, and around the best of the best. Times like Detroit on Saturday night, where I had my best ride in a couple of years, makes it all worth it. I love to work hard, I love the bikes, I love being in the paddock with all the mechanics and technicians. It's been a good ride and I'm looking forward to trying to keep this momentum going.
You talked about your work with Seiji, trying to figure this out. How important is it to just be honest with yourself and others? Because the only way anyone knows you are, as you say, thinking too much, is that you have to tell them that. You have to be honest, and I think some riders struggle doing that. You could also just come off the track and blame other things.
Yeah, but I think that is a weakness of mine, because I'm maybe too honest. Maybe I need to believe in myself a little more, stop thinking so much. Because I love racing and I love analyzing it. But there's a time and place for it. Seiji did a good job recognizing that, and some others, too, like Forrest [Butler]. We put it all together. But during the week it's just me and Seiji, and we put a lot of work into replicating situations.
Hey, how about the rise of this team you're on.
I think it's a testament to the team and who they have aligned themselves with. It's exciting for all of us, because I feel we have some momentum building and I think we're on the verge of something good. If we can stay competitive, it's going to be a great year for all of us, and some building blocks for the team for years to come.