Mullins Leads as GNCC Heads to GA
MORGANTOWN, W. Va. - Grand National Cross Country racing presents some of the most challenging terrain in off-road racing. With three hours of competition each round and thirteen races per season, anything could happen when it comes to the National Championship chase. This weekend, March 15 and 16, the series heads to Washington, Ga., for Round 2 of the 2014 AMSOIL Grand National Cross Country Series presented by Maxxis and sanctioned by AMA.
Mullins will wear the white background this weekend to indicate that he is the points leader. Photo: Ken Hill
Last Sunday's season opener was full of surprises, beginning with a multi-rider first corner pileup that included the defending champion Kailub Russell and last year's runner up, Charlie Mullins. While the Factory FMF/KTM teammates began way behind, both riders fought back to the front of the pack quickly. Mullins rode a flawless race from there to take the win, while Russell struggled to stay on two wheels at times, and eventually ran into major mechanical issues. Mullins heads into this Sunday's Maxxis General GNCC as the coveted points leader, while his teammate Russell is forced to bounce back from fourteenth overall.
AmPro Yamaha's Paul Whibley began the season in a favorable position after securing second overall at the opener. Whibley, the two-time GNCC Champion, is one of the most fierce competitors in the XC1 Pro Class and looks to be as tough of a contender as any.
The XC1 Class is unpredictible this season with such a deep field of talent. Photo: Ken Hill
While riders like Whibley, Mullins and Russell are returning to the same championship programs that have been successful in the past, many on pro row used the opener to develop new equipment, seeking the right combination to fully contest the GNCC National Championship.
Team Rocky Mountain ATV/MC's Josh Strang enters the season aboard an all-new AmPro Yamaha bike, after riding a Kawasaki last year and taking a Suzuki to the GNCC title in 2010. He grabbed third at the opener, after an exciting battle with RideMPS.com/AMSOIL/Honda's Thad DuVall, who took fourth.
DuVall, who rode a 250F at the first round, just missed the podium as he finished less than one second behind Strang in fourth. The West Virginia native commented that he plans to compete aboard the CRF250R against 350 and 450 machines for a majority of this season.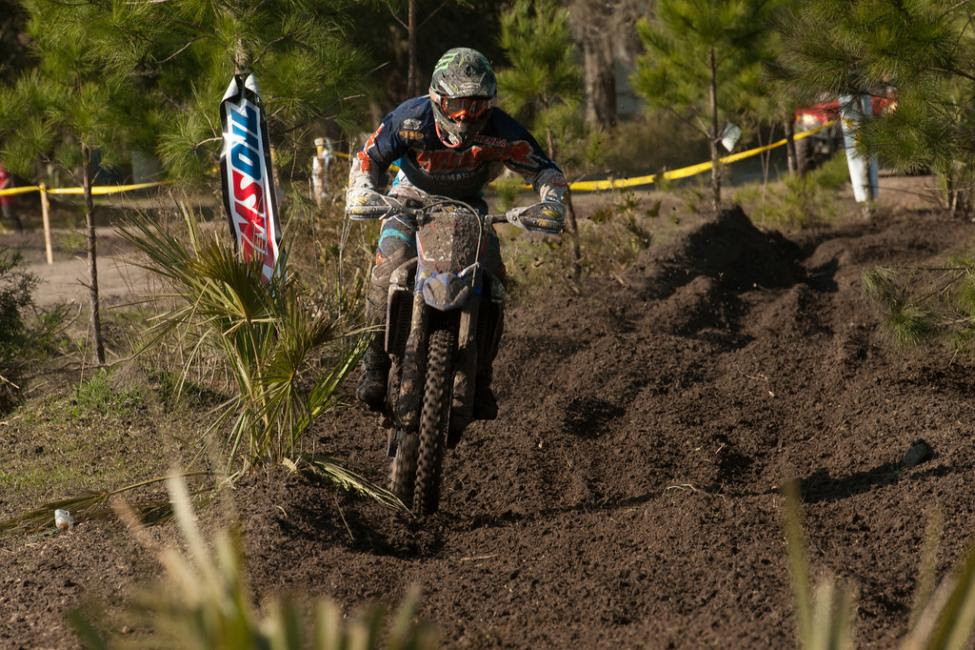 Whibley holds second overall heading into the second round. Photo: Ken Hill
Rockstar Energy Racing/WMR/KTM's Ryan Sipes put in a valiant ride for his GNCC Racing debut, finishing eighth in the XC1 Pro Class. A former supercross race winner, Sipes showed that he has the speed and talent to run up front but quickly learned that GNCC requires three-hours of endurance as well. He appears up for the challenge and is expected to improve as the season wears on. Johnny Campbell Racing (JCR) Honda's Chris Bach experienced a mechanical issue and looks to bounce back with a podium finish this weekend in Georgia.
There's plenty of other talent in the ranks. Factory Husqvarna's Andrew DeLong and Factory FMF/KTM's Stu Baylor are both welcomed additions to the XC1 Pro Class this season. DeLong is joining the front row from the XC2 Class, while Baylor is returning from injury that kept him out of the majority of 2013. AmPro Yamaha's Jordan Ashburn carries a top ten overall finish into the second round this Sunday.
The XC2 Pro Lites field is stacked. Photo: Ken Hill
While a couple of the heavy hitters moved up to the front row, the XC2 Pro Lites Class gained many new faces in 2014. Maxxis/KLIM/DirtWise KTM's Rory Mead scored outside of the top ten during his XC1 run in 2013, thus making the New Zealand native eligible for the Pro Lites division this season. Mead capitalized on his knowledge and experience in the pro ranks to win the opener and carry the XC2 points lead into the second round.
Raines Riding University/Yamaha-backed Ricky Russell, who also made the jump from the front row, put in a solid ride at the opening round and is expected to be another title contender this season. KR4 Performance's Shane Hufford Jr. is a returning XC2 rider who earned three podium finishes last season. Hufford's third place at the opening round is a solid foundation for Round 2 and beyond.
Shane Hufford has his hands full this year with the new XC2 competitors. Photo: Ken Hill
One rider entering the second round outside the top five is defending XC2 Champion Grant Baylor, who finished sixth in the class at Round 1. While it wasn't the podium position he was expecting, the Factory KTM rider still salvaged points towards another potential championship.
Factory FMF/KTM's Kacy Martinez holds the WXC points lead heading into the second round, with riders like Mandi Mastin, N-Fab/AmPro Yamaha's Jessica Patterson and her teammate Becca Sheets all vying for the class championship.
Youth bike racing will take place Sunday at 8 a.m., followed by amateurs and Women at 10 a.m., while the top amateurs and pros at 1 p.m. Local racers are invited to compete at this event, as GNCC Racing offers classes for riders of all skill and experience levels. The amateur racer entry fee is $40 and riders can sign up at the track.
Adult (12+) gate admission is $20 for the full weekend and $10 for kids (6-11). Kids five and under are free. All admission includes pro pit access.
Tune into RacerTV.com on Sunday at 1 p.m. Eastern to catch LIVE coverage of the Pro bike race at Round 2. For more information on GNCC Live coverage, visit www.racertv.com.
The 2014 AMSOIL Grand National Cross Country Series resume this weekend, March 15 and 16, with The Maxxis General GNCC. For more information on the series, visit www.gnccracing.com.
Stay up-to-date with exclusive content from the AMSOIL GNCC Series by following the series Facebook, Twitter and Instagram.
Previous Round Results:
Moose Racing Mud Mucker GNCC
Bunnell, Fla.
Round 1 of 13
Sunday, March 9

XC1 Event Results:
Charlie Mullins (KTM)
Paul Whibley (YAM)
Josh Strang (YAM)
Thad DuVall (HON)
Andrew Delong (HSQ)
Steward Baylor (KTM)
Jordan Ashburn (YAM)
Ryan Sipes (KTM)
Kailub Russell (KTM)
Takeshi Koikeda (HON)
*Overall National Championship Standings:
Charlie Mullins (30)
Paul Whibley (25)
Josh Strang (21)
Thad DuVall (18)
Andrew Delong (16)
Steward Baylor (15)
Jordan Ashburn (14)
Rory Mead (13)
Ricky Russell (12)
Shane Hufford (11)
*Indicates that the Overall National Championship Standings will determine the 2014 National Champion.
XC2 Event Results:
Rory Mead (KTM)
Ricky Russell (YAM)
Shane Hufford Jr (KTM)
Trevor Bollinger (HON)
Chris Douglas (KTM)
Grant Baylor (KTM)
Callan May (YAM)
Garrett Edmisten (KAW)
Kyle Hangos (KTM)
Michael McGinnis (KTM)
XC2 Series Standings:
Rory Mead (30)
Ricky Russell (25)
Shane Hufford Jr (21)
Trevor Bollinger (18)
Chris Douglas (16)
Grant Baylor (15)
Callan May (14)
Garrett Edmisten (13)
Kyle Hangos (12)
Michael McGinnis (11)