Ford Field
Detroit

,

MI
Detroit
Monster Energy AMA Supercross Championship
The best race of the night on Saturday in Daytona took place in the 250SX LCQ. In a flashback to Weston Peick and Bobby Kiniry's 450SX LCQ drag race to the finish last year, privateers Jacob Baumert and Ryan Zimmer had an identical scenario—with Baumert edging Zimmer by a few inches. We called Baumert and Zimmer earlier this week to get their take on the last lap and find out more about their efforts this season.
On the LCQ battle….
Racer X: Tell us about the last lap in the LCQ. What was going through your head?

Jacob Baumert: Well, I knew he [Ryan Zimmer] was in fourth and I needed that position to get into the main and I told myself, "I'm getting that spot. I can't just let him have it." I pushed it as hard as I could to get up to him and then tried to time my pass good to where I could get it done and make it stick. There were a couple times were we bumped a little bit in the turn. I was trying to get around in some spots, but it was tough. I don't even really remember going down that straight. I was just looking straight at the finish line and I knew he was next to me, so I just went all in. I didn't really care about anything, I was just wide open through those whoops. I just tried to get there first.
Ryan Zimmer: Well, I was just happy to be in the position I was. I actually thought Baumert was a lot closer throughout the race and then he really got on me the last lap. I started getting really tight and was messing up in my corners. I clipped a hay bale and he almost got around me there and then we went over the rhythm section before the last straight and he was right beside me and I just pinned it through the first set of whoops and got kind of squirrely on the way out and messed up in the corner and he got back by me. We were just going side-by-side down the front straight and I just never let off the gas.
After you crossed the finish line, did you think you had won or not made it?
Baumert: I kind of thought that I had gotten it. They had that big pole with everyone's position's up and I saw that my number was in fourth, so I knew I got it pretty much right after the race.
Zimmer: I wasn't really sure because I saw that he got me just a little bit before the finish line. I just pinned it all the way to the top and I thought I had him at the top, but I guess the scoring was down at the bottom of the jump. The first thing that popped in my mind was the Weston Peick and Bobby Kiniry deal from last year. I wasn't really sure who had it.
What gear where you in down the straight?
Baumert: Well, I was pretty much fourth gear wide open. I actually didn't jump the finish line far. I tried to scrub it and not jump way out in the flat. But pretty much all down that straightaway I was in fourth gear. I think what helped me get a little edge was I kind of scrubbed the triple before those whoops and then going through the whoops he jumped into them and jumped out, where I went in there was a rut I rode through and I kind of stayed on the ground more and that helped me get a little bit of an edge on him.
Zimmer: I was tapped out as fast as that thing could go. I have no idea what gear I was in. [Laughs]
More on Baumert….
Kentucky native Jacob Baumert didn't light up the results sheets as an amateur. A self admitted slow developer, Baumert finally broke through last year in his rookie Lucas Oil Pro Motocross campaign. The transition to supercross has come slowly for the humble rookie, but he is beginning to make strides. We got to know a lot about Baumert and his background in a feature for Racer X Illustrated last summer, but for those unfamiliar, here is more about the Kentucky kid.
Racer X: This is your first season in Monster Energy Supercross. How has the adjustment been for you?
Jacob Baumert: It's been pretty good, but a little tough. The main thing for me is getting comfortable on those tracks—the steepness of the jumps and stuff. I feel like I've been adapting and learning pretty good. Every weekend I've improved, but I'm ready to keep improving.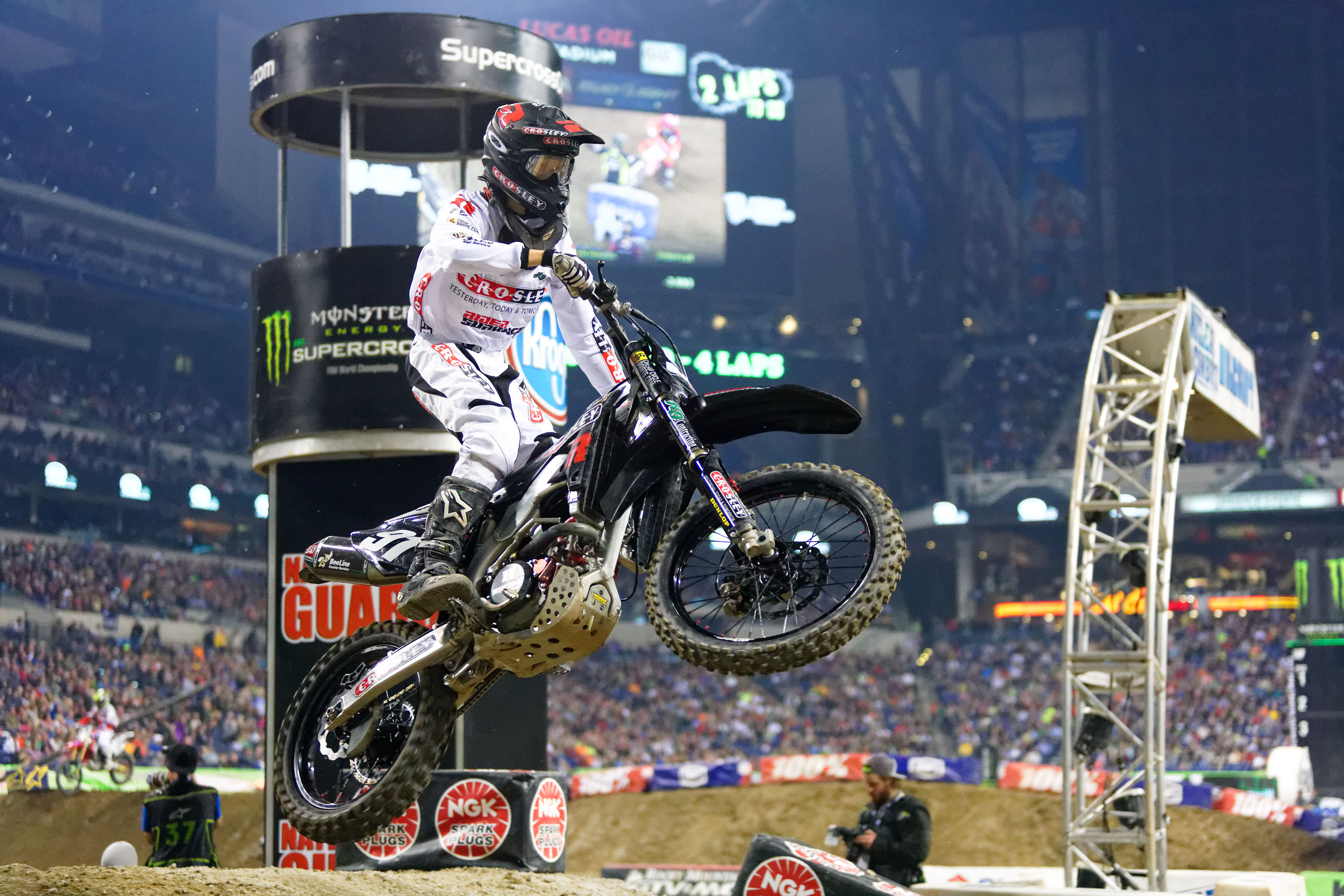 We featured the team and yourself last year in a Racer X Illustrated feature, but for those who are unaware, how did you get involved with Crosley Radio and the team?
Basically, all of my main sponsors are people outside of motocross that are basically friends of our family. The owner of Crosley, Beau Lamastis, and my dad have been best friends since they were kids and they grew up racing together. He has kind of always helped me out a little bit as an amateur, but once I turned pro he really stepped up big time. And Brandon [Parrish, RiderSurance owner] has know my dad and the owner of Crosley for a good part of his life and he's known me my whole life and they [Crosley] helped him out with his racing some too. It's just a good opportunity for him to help me accomplish my dreams and for him, with owning RiderSurance, get that name out there and meet new people. Our other two main sponsors are Bee Line Courier Service, which is the company my dad works for, and H&O Contracting, which is another friend of my dad. They have been friends for a long time. They just love the sport. They don't know too much about it, they are learning more, but it's exciting for them to be in it and be involved and they like seeing me progress. They're all just great people.
You came out of nowhere last year to have a lot of success in your rookie season of Lucas Oil Pro Motocross. What were you able to take away from last year and carry over to this season?
The main thing, I think, was experience. Just getting used to the whole thing—all the people, the fans—it's pretty crazy compared to an amateur race. Last year was good, I felt like I had a pretty good year. Mainly, it was the experience of last year that helped me going into this year.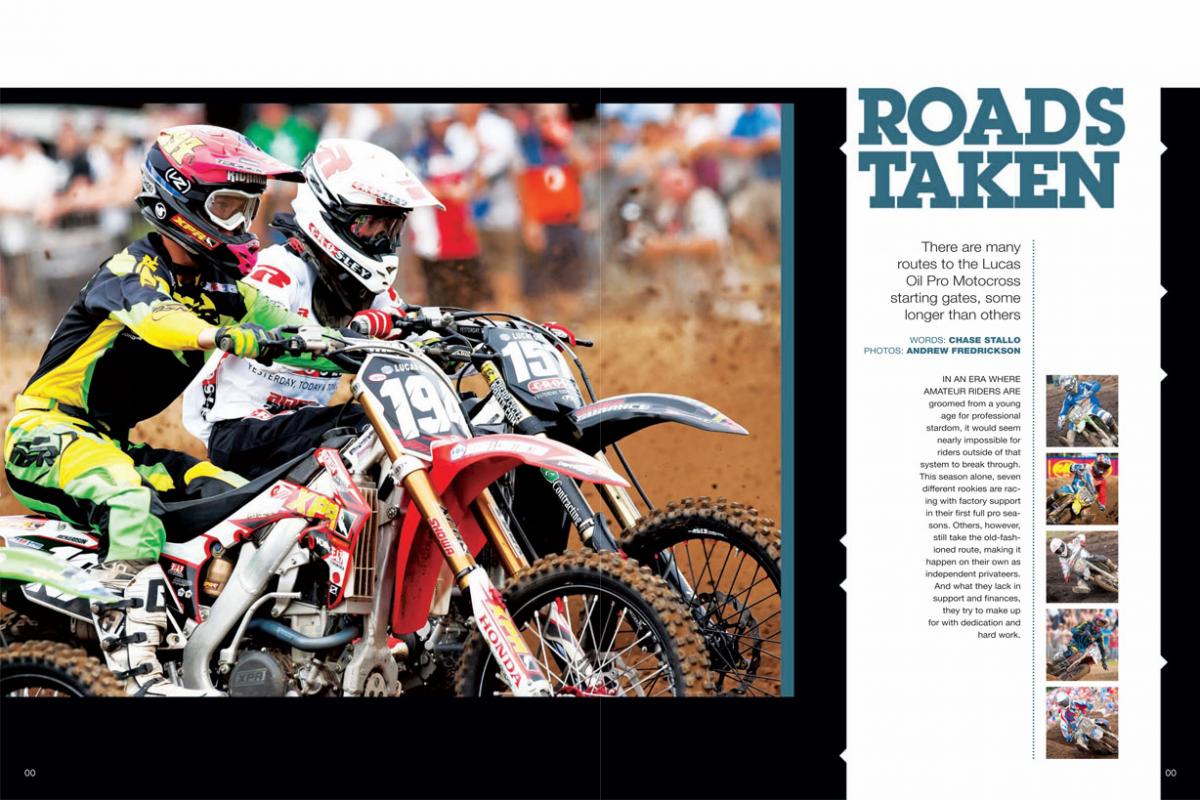 Making the first main is always the toughest. What does this mean for you going forward?
I think now hopefully I'll start getting into the main every weekend and it will just become another race for me. The first time I made the night show I looked at them differently than I do now. I'm less nervous and don't think about it as much and just kind of do my own thing. Now that I got the first main out of the way hopefully I can start making more and it will just become another race.
Thanks, Jacob. Who would you like to thank for helping you this season?
I want to thank Crosley Radio, RiderSurance, Bee Line, H&O Contracting, CheapCycleParts.com, Kwik Service Electronics, Works Connection, Hinson, Dubya, Yoshimura, Mutual Underwriters, Factory Effex, and Commonwealth Motorcycles Wells Tuned.
More on Zimmer....
Ryan Zimmer is privateer as it gets. While others are training and riding all week, Zimmer is pounding pavement at his full-time construction job, which helps him go racing. Zimmer is in it for the love of the sport. He just likes to race. No longer does he dream of becoming the next RC or McGrath, now it's more about spending time with his dad at the races, enjoying his time riding a dirt bike and getting the most out of life. The humble, vibrant North Carolina native is doing what he can to get from race to race—and if that means working a 9-5 job, he will do it.
Racer X: As we are talking right now, you're just getting off your regular job. Not many riders in the field can say that. What is it that you do during the week? Does that pay for your racing?
Ryan Zimmer: I have a job working construction. I'm working for this company called T2 Construction out of North Carolina. We are currently working on the Fort Bragg Military Base in North Carolina. My boss is a big motocross fan, so it's cool to be able to work with someone like that and be able to go race during the weekends and take Friday off so I can travel.
Most people that work a 9-5 job aren't racing professional during the weekends, beating up their bodies. It's not like you can just take Monday off because you're sore from a crash…
I don't train any during the week and I don't ride at all. I wake up a 5 a.m. to go to work and we usually don't get off till around 6, so it's a pretty long day. After that I pretty much go home and relax and get ready for the next day.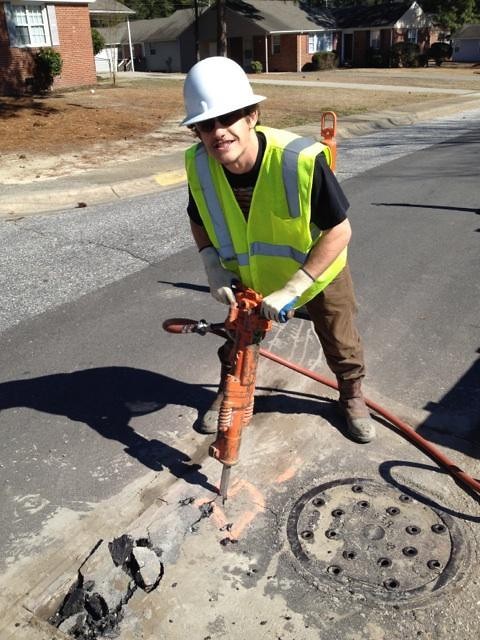 So, you don't ride at all during the week? The first day you ride on is Saturday?
Well, yeah. Definitely!
And you still made a main this year!
I went to the Baltimore Arenacross and my bike blew up in the whoops and I did a front flip and my bike landed back on top of me and burnt my back pretty bad. So I actually didn't ride from Baltimore Arenacross until the third day before Atlanta. I rode at South of the Border for about twenty minutes just setting up my bike. Then I went to Atlanta and made the main. I was so happy!
Every other rider is training all week. You're essentially coming in on Saturday and just racing. How difficult is that?
I mean it's pretty difficult, because, like you said, everyone is training during the week, and getting to ride every day. It's hard just to eat right. Because I'm working and most of these guys just want to go to McDonalds and stuff for lunch. Like I said, it's pretty hard because I have to work all day long. But I use a jackhammer, so that kind of gives me a feel for the dirt bike. [Laughs]
You haven't run any graphics all season. Is there someone helping you get to the races?
To be honest, the past couple races we have done, it was just me and my dad spending whatever money we had to make it through the weekend. I get my paycheck every week, so we use that and my dad uses his money as well to get to all the races. So we didn't really have anyone helping us. But we talked to Ryan Schafer at South of the Border and he is going to help me to get to the last couple of supercross races.
Now, it has to just be for the love of the sport, right?
Oh, definitely. I kind of gave up on my hopes and dreams of trying to be the next Ricky Carmichael or Jeremy McGrath. It's just hard for a privateer like me to go out and compete against the guys with the best stuff. With guys getting rides straight from 85s until they turn pro it's hard to come out of amateurs without a ride and try and get a ride.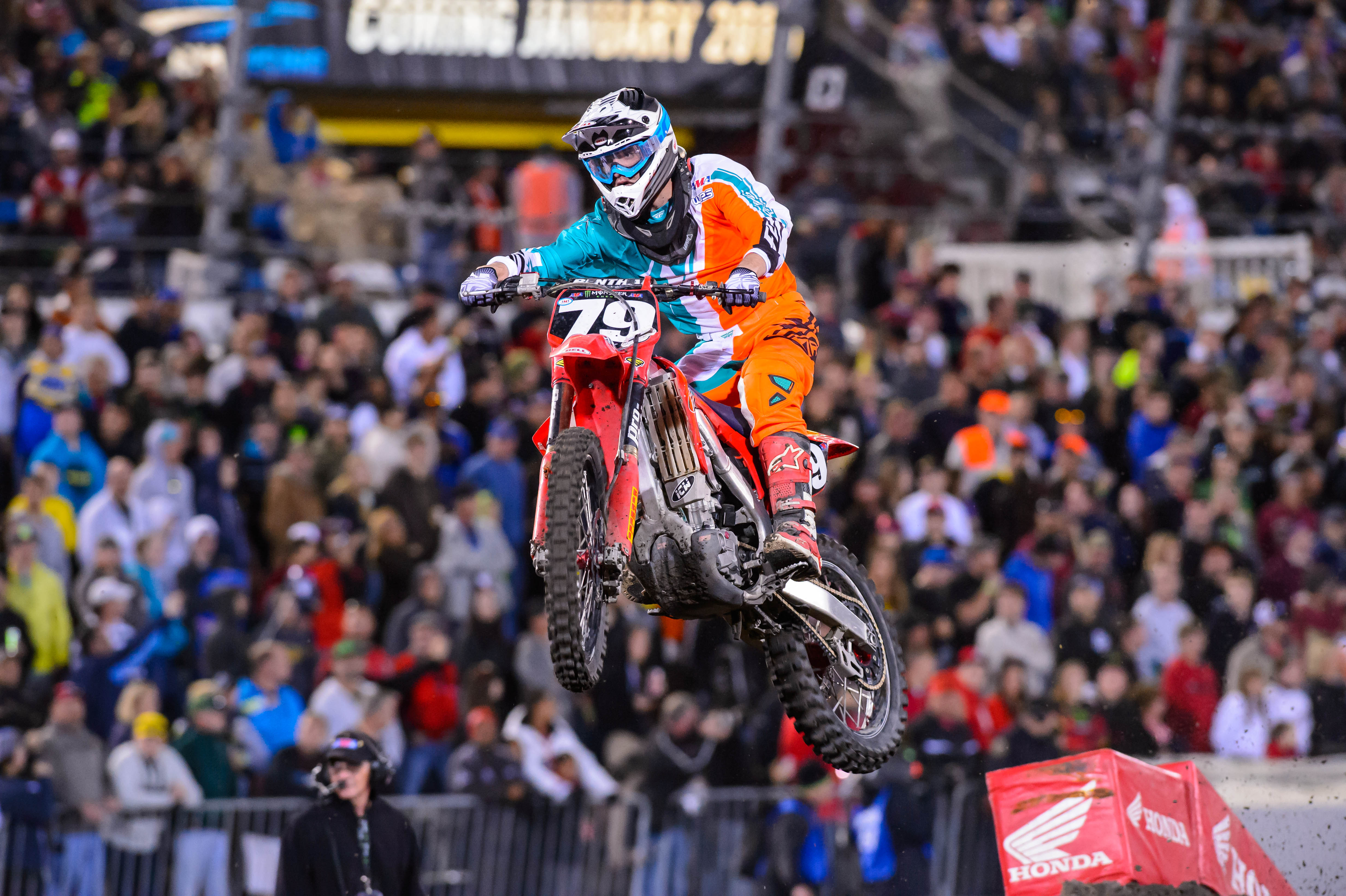 You actually had a pretty successful amateur career, correct?
Yes. I got second at Mini Os and top tens at Loretta's and top tens at Ponca, but I was honestly not the kid that had the most money to get to all the amateur nationals. It was just me and my dad making due with what we had.
Thanks, Ryan. Who would you like to thank for helping you this season?
I want to thank God for keeping me safe and letting me be able to ride a dirt bike. My mom Shirley, my sisters Austyn, Amanda, Autumn and Ashtyn. Big thanks to my dad for being my mechanic and doing my suspension and driving me to the races and believing in me. The whole Witt family, Scott and Kelly, for helping me out so much last year and still letting me keep all my bikes and parts from last year. I wouldn't be racing if it weren't for that. Proaction Suspension, VPE's Fred Vertucci for building me an awesome motor with the power I need. Max at Fly Racing, he always keeps me in fresh gear. John at SCOTT goggles. Pat and Dano over at Bell Helmets for keeping my head safe after all my crashes. Rusty and O'Neil at Triangle Cycles. Dusty at Link Inc. Doug and Pat at Pirelli, they have been so helpful with tires at the races. Jerry Milton at Southeastern Acoustical. Connel Radcliff at Liquid Performance. Kevin at MGX Graphics for working on a deal to hook me up with some graphics. My boss Skeeter Taylor at T2 Construction for letting me take off work on Friday's to go to the races. Brett at ICW. Ryan Schafer at South of the Border. My girlfriend Samantha, I love you and thanks for all the support. Also, Levi Kilbarger's mechanic for helping my dad piece together my bike for the Daytona LCQ because it was thrashed from the heat race!