Uh oh, kids, Monster Energy Kawasaki's Ryan Villopoto is starting to roll big now. His win at the Daytona Supercross by Honda makes him the first three-time winner of the season, and gives him a full race lead in the Monster Energy Supercross standings.

Racer X: Could you talk about when you dropped the bike, what was going through your mind? Is that a real anxious moment for a rider?
Ryan Villopoto: Always, yeah. Whenever you have a fall like that all that's running through your mind is don't stall the bike and get up as quick as you can and take off. Luckily I had a nice lead and I was able to just get up and regroup. I got a little bit tight after that just because of the fall, but other than that it's just getting up and getting going again and just trying to get back into the groove.
You won this race kind of easily. Did that kind of surprise you considering the quality of the field?
I wouldn't say I was surprised. All the guys this year have been so tough. With a good start, it makes the race a lot easier. On this track, to be a little bit faster than somebody or maybe quite a bit faster than somebody is a little bit easier here because the lap times are longer and it's more like an outdoor track. So when we go race outdoors, if you look at the lap charts, I'll be one second to two seconds faster, or vice versa; someone will be one or two seconds faster than me. That's kind of easy to make up on an outdoor-style track, but when you go inside of a stadium we're talking about tenths here and there. A half-second's a lot for a supercross track. So just getting a good start and riding clean laps is what I was able to do. That's kind of why I think you seen that lead like that. But this track's hard to kind of keep a track or an eye on kind of where guys are. I knew at the beginning of the race obviously Dean was 2nd and I was just trying to put in laps and ride well and ride consistent. I was able to do that, then once I got a big lead I ended up falling over, but with the lead I was able to get back up and keep going.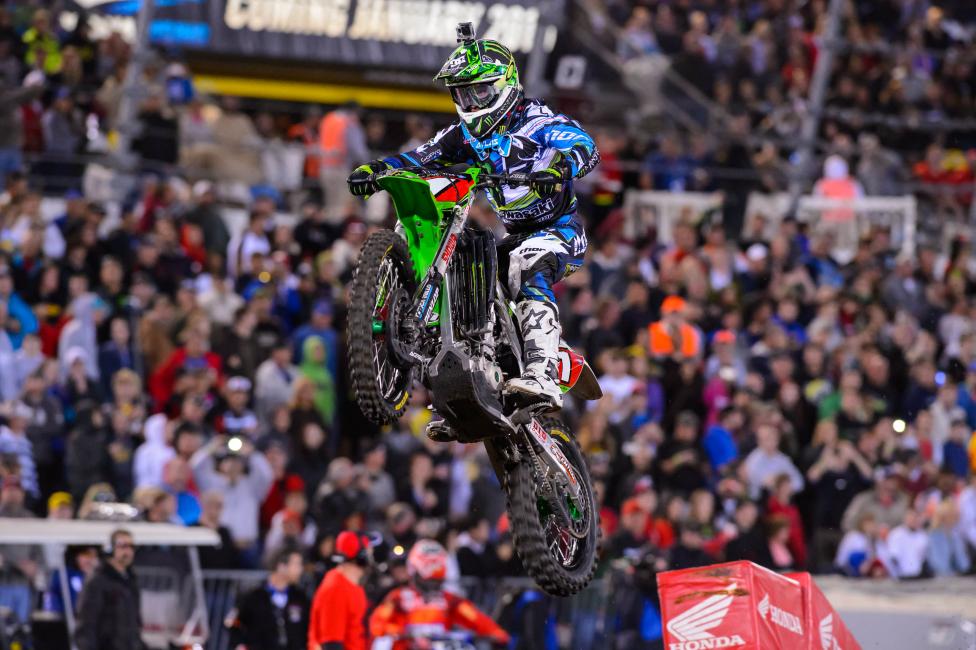 Was this track more to your liking than what we've seen so far?
Everybody's got to ride the same track. There's 17 rounds and we all line up on the gate. The track's the track. You either like it or you don't, or you do well on it or you don't. But I tend to like this track. It seemed this year was a lot softer than normal. I don't know if that's because the dirt was more saturated with water or what, but it seemed a lot softer than normal so the track was a little sketchier than normal. But I felt good. I couldn't really ask for any more.
A lot of people are trying to figure this out, you had won only two races this year. Your points lead is huge. How do you feel you're riding this year? Do you feel like you were trying to find an edge or did you feel fine all along?
I felt fine all along. Consistency is big in 17 rounds. But if you look at everybody's wins and races, yeah, we all had two wins up until this point except for I think Ryan [Dungey] had one. What can I say? I wouldn't say I've rode great at a lot of the races but I've rode good and consistent. Tonight for sure I could say that this is the best I've rode all year.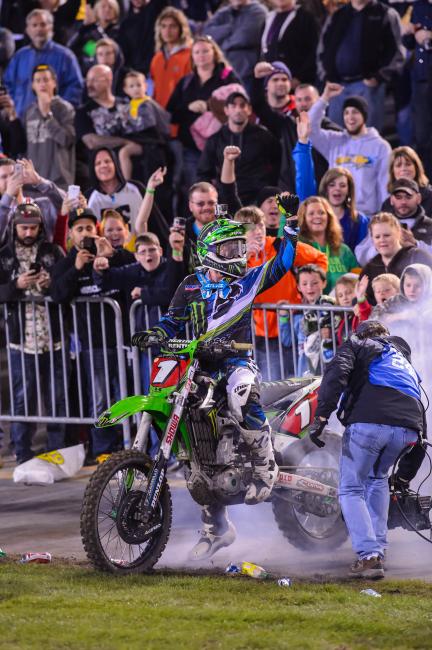 Is this somewhat of a breakthrough in any way? I know this track is hard to apply to other things, but does it give you a little momentum or did you learn something that can help going forward?
Yeah, it's good. Nothing really, nothing major. We were able just to ride good all day and get that good start in the main event. That's what you needed.
How much do you really change for this race? Is the bike a lot different? Is your during the week program much different?
We try to build a little Daytona section. You do what you can but it's never the same when you show up. You can't stray too far from what you have on your bike because it is a supercross track, so you kind of have to run that stuff and deal with it.