Welcome to maybe the most packed weekend of racing in 2014! The Daytona Supercross by Honda, the Amsoil Grand National Cross Country Series opener, the Ricky Carmichael Daytona Amateur Supercross, Amsoil Arenacross, the Grand Prix of Thailand.… Needless to say, we're all down here near Daytona International Speedway going wide-open. Saturday marks the tenth round of Monster Energy AMA Supercross, which will feature Ryan Dungey trying to make it two in a row while Ryan Villopoto tries to get back into the winner's circle. Sunday will see the GNCC guys get started (including new-to-off-road Ryan Sipes), and the amateurs will race Sunday and Monday. Add it all up and I really shouldn't be sitting in this hotel lobby writing Racerhead!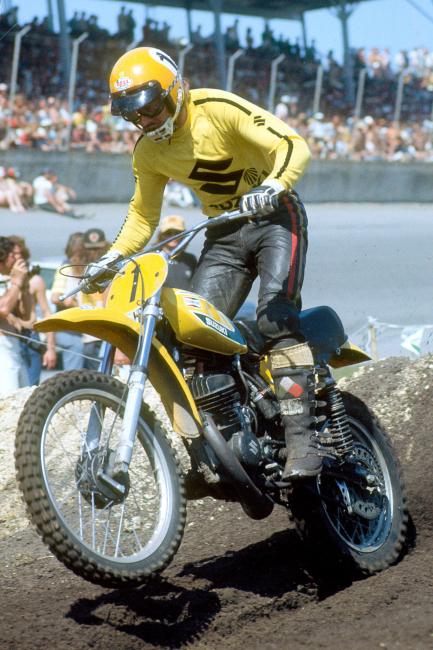 You can watch tomorrow's race live on Fox Sports 1 beginning at 7:30 p.m., and you can tune into www.RacerTV.com on Saturday at 1 p.m. for live GNCC ATV racing and Sunday at 1 p.m. to watch live GNCC bike racing. And then Monday the RacerTV crew will be streaming the final of the RCSX starting at 12:30 p.m., so you can catch a glimpse of the future of Monster Energy Supercross, and maybe spot some old heroes too.
Daytona is a much different round of supercross than the rest. It's the only one on the infield of a speedway, it's the only one not produced by Feld Motor Sports (and here's hoping all of the Feld folks enjoy a rare weekend off), and it's actually the oldest round of the series. The 1974 Yamaha Super Series of Motocross—what we now know as Monster Energy AMA Supercross—started here back in 1974 with wins by Pierre Karsmakers (250 class) and Roger DeCoster (500). Back then they actually raced three motos, and the track crossed the pavement and went out into another infield. Daytona's first "SX" was actually in 1971, outside the wall, and in '72 it was moved to where it is now. The track will be shorter than ever this time around, but likely rougher than ever too! It's raining today, but the weekend should be beautiful.
Let's get into Racerhead right here with Steve Matthes' week in the Sunshine (Sometimes) State....
FLORIDA VACATION (Steve Matthes)
Once again, the annual Matthes-to-Florida week has come and gone—well, one more day anyway. Right after Indianapolis SX, myself and James Lissimore (Canada's #1 photographer according to my personal ranking system) headed down to Florida for a week of hanging out, filming, and laughter (and heavy on the laughter part). On Tuesday we went to Ryan Villopoto's compound to see what was up there and to see RV, Roczen, and Adam Cianciarulo (or as I like to call them, "Three Amigos") get into some Daytona prep. We also saw Nick Wey and his Mafia Moto crew (Big Nasty and MoHead) camped out.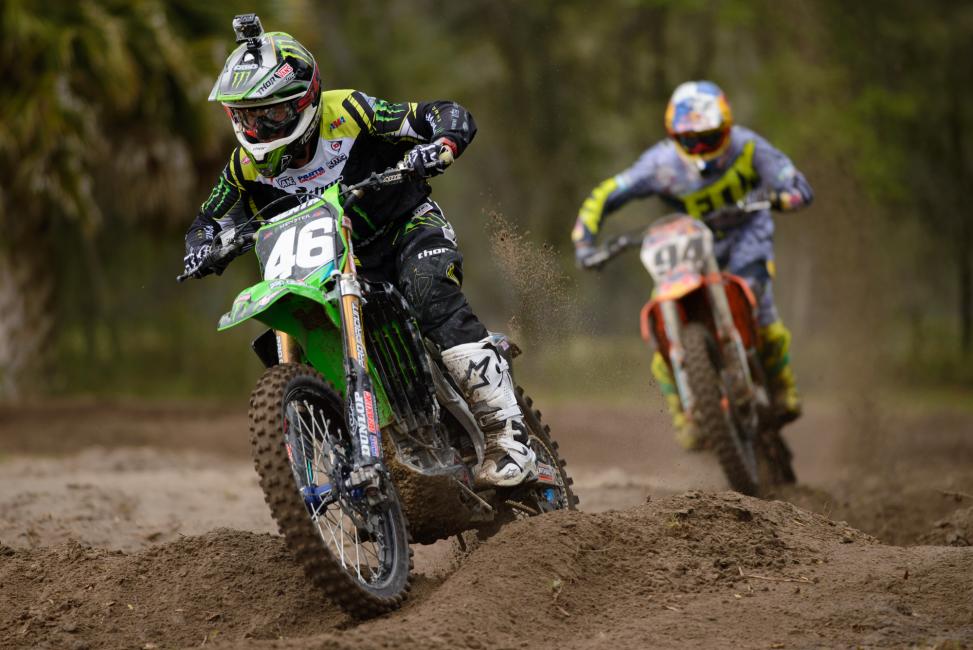 Under the watchful eyes of trainer/life coach Aldon Baker, the guys put in a couple of motos on the SX track that had a Daytona-ish section added to it. Cianciarulo would start first, then Villopoto, then Roczen and Wey a bit after that. From there the motos commenced, and there's no doubt you could see the intensity. There was a pretty big quad there that Alan Cianciarulo wouldn't let his son Adam jump in the motos (it was sketchy!), but then Adam was the only guy jumping over two tables and onto a single until Villopoto started busting it out late in the second moto. There wasn't much time between the sessions, either, and this was after a cycle ride in the morning. Then it was on to the gym, but not before I managed to get Villopoto to sit down for a little interview for Maxima Oils video you'll all see soon.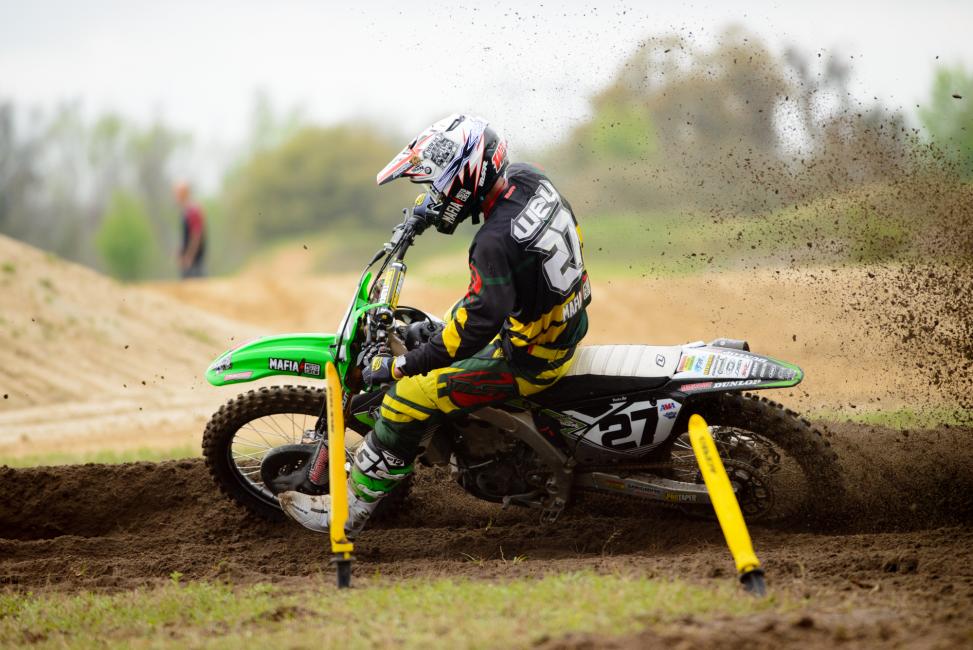 It's easy to see why this program is successful—RV and Kenny and AC46—because the guys try to have fun (the crap-talking that goes on is epic but also unprintable) and at the same time there is a competitive aspect to this. Villopoto looked great (duh) and Roczen is just such a fun-loving and fast kid. It's great to see. And oh yeah, Cianciarulo is so confident and so on his game right now it's ridiculous.
After the day was over, Team Wey and Team Matthes decided to hit up Chipotle in town and who do we see there? Cianciarulo! And soon after we're there, Villopoto rolled in. I don't think any of this was planned. It's called Clermont life, I suppose.
We were supposed to go to Chad Reed's on Thursday to film new Team TwoTwo rider Dean Wilson and Kyle Chisholm practicing, but I got a text from Reedy the next morning saying that it was raining and the guys were riding that day. Which sucked for us because we also needed to do some more filming with AC and he had agreed to come back the next day to Villopoto's because he's a good guy like that. So while trying to herd him away from the pit bikes, RC cars, and football throwing we got what we needed from Adam but missed out on going to Reed's because it did indeed rain yesterday.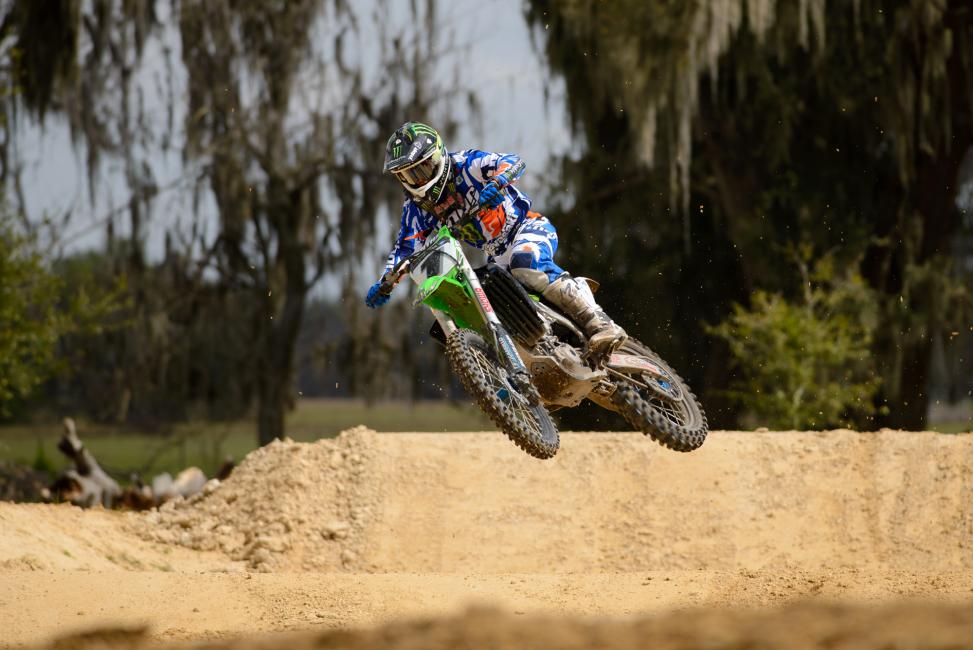 That night Michael Byrne, who's been riding/testing for Smartop / Motoconcepts and may do some nationals if he's feeling frisky (Byrner is coming back from two surgeries on his leg after badly breaking it at Unadilla two years ago while leading), invited us over for dinner. His wife, Dani, made some really stellar fish tacos, and then we popped in some old races and, joined by JT$, had a good time talking about how we all used to either race or be a mechanic at the races. And we all walked uphill to school both ways. In the snow.
And like I said, because of the rain there was nothing going on yesterday. For the first time in I think four or five years I didn't get to go to Chad's house or the great Tim Ferry's house to do any filming/hanging out. Look for a Lissimore Racer X Florida ride video right here on the site soon.
And look on Twitter/Instagram for @RacerXOnline and/or @Pulpmx for more short videos and photos from our week down here. Thanks to Ryan, Kenny, Adam, Aldon, Michael, and Dani for the good times.
THE NUMBER: 2 (DC)
While watching ESPN this morning down here in Daytona Beach, the Top Ten Not-So-Great Plays popped up at the end of Sportscenter. It included the usual nonsense and dumb plays, like missed dunks and basketball players tripping. But then just before the end, at #2, was last weekend's Indianapolis Supercross and Rockstar Energy Racing's Ivan Tedesco getting sucked up into Tevin Tapia's back wheel and swingarm when they crashed off the start! If you missed, GuyB posted a great sequence earlier this week.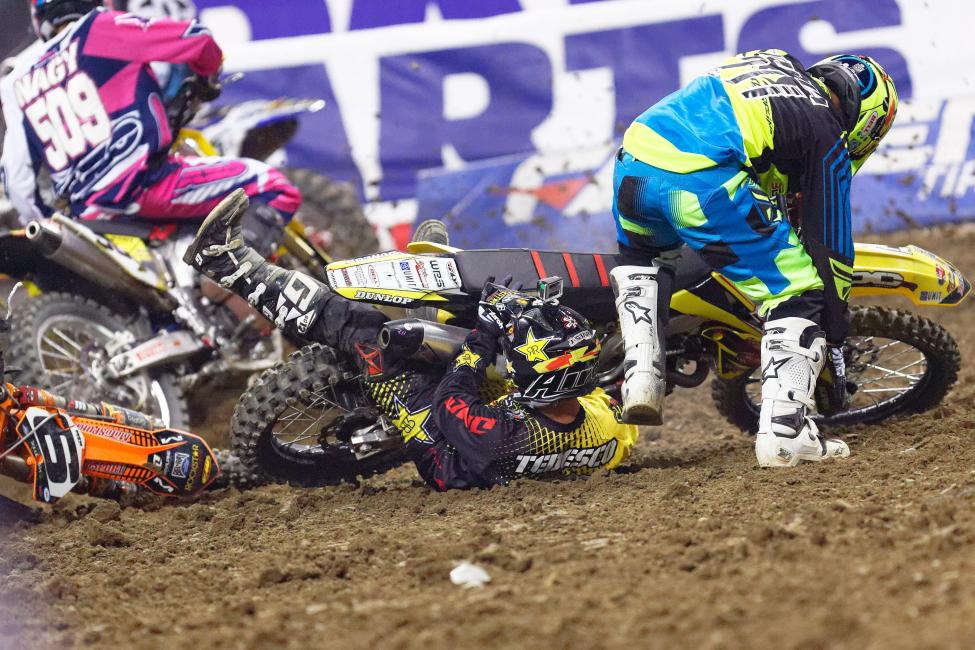 PRO PERSPECTIVE: Daytona (Jason Thomas and David Pingree)
JT: Daytona is easily one of my favorite races of the year. Many racers don't care for it, but being a Florida guy, it was home and usually treated me well. It was similar to the dirt I grew up on, and all of my friends and family would be there. As for preparation, most of the top-level racers have the means to build track obstacles and sections that will mimic Daytona. Daytona's unique grass/sand mix and the ever-changing bumps and berms present a unique challenge to the series. What I have seen mostly is that the top riders will take their current SX practice track and add a 20-30 second sand section with clay jumps built on grass, just like Daytona. Over the years I have ridden the Daytona versions at Reed's, Ferry's, Carmichael's, Villopoto's, Langston's, and the Millsaps Training Facility. They are all somewhat similar and all a very accurate representation of what we would face on the weekend. It really did make a huge difference, as the bike setups can vary quite a bit for Daytona and it takes a lot of the race-day guessing game out of the picture.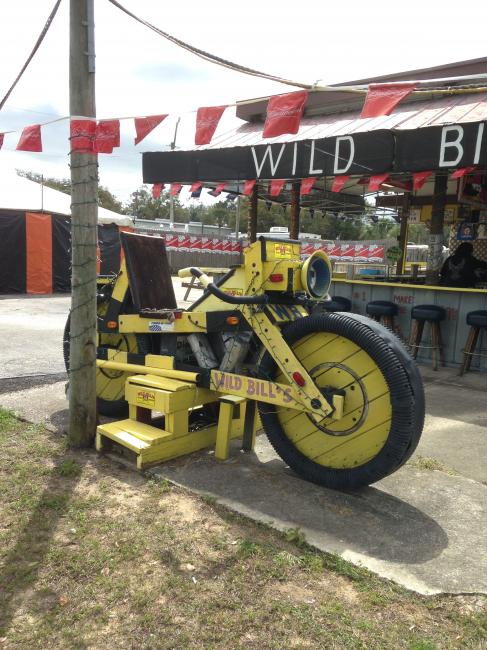 As the Daytona track has also evolved a bit, so have the practice-track versions. They have gotten a bit more clay involved and a little less rough. Lap times have come down and thus the main-event duration. I think Daytona preparation is a huge necessity, but it's not as crucial as it was yesteryear. Maybe I am old-fashioned, but I like the old-school nasty, rough, hot Daytona. I understand with the live television broadcasts that there have to be compromises, but I will always miss the old days of Daytona. It was the one race on the calendar where there was no hiding from the work you did or didn't put in. You just couldn't fake Daytona. It was the conditioning measuring stick for the series. That's the Daytona I remember.
PING: The hard part about Daytona is figuring out suspension. In the past the track was as much of an outdoor track as it was a supercross. You needed a soft setting for the brutal bumps and chop that developed, but the jumps were still massive, so you couldn't go too soft. I raced there in 1995 on a 250 and again in '97 on a 125. I was riding for Pro Circuit during those years and we spent a good deal of time with Bones trying to find that sweet spot between too soft and too stiff. The tough part for me was always the sharp curb at the bottom of the jumps where the clay met the Florida sand.
As the years have gone on, the track seems to be leaning a little more on the supercross side: more jumps, slower speeds, and fewer chest-deep ruts to paddle through. This year the track is being shortened even more to get the lap times closer to one minute, which means a tighter, slower track that will resemble a typical SX circuit. My guess is you could just soften your normal stadium setting a handful of clicks and be okay this weekend. Unless it rains (which it may). Then all bets are off.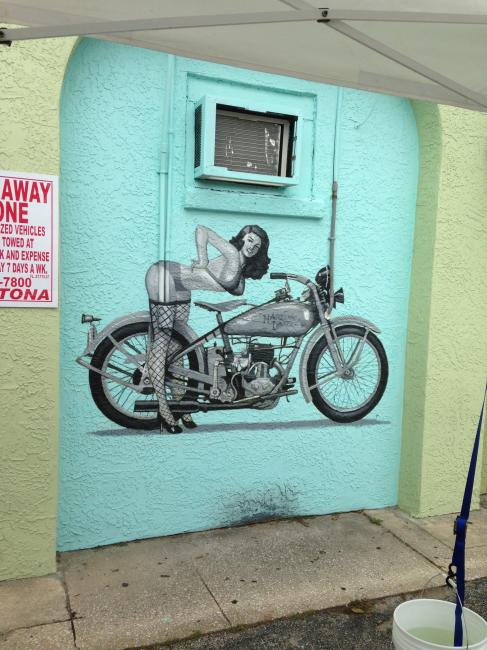 MAD MAX… (DC)
Last weekend the FIM World Championships got off to a wild start with a couple of interesting happenings. First, Gautier Paulin topped heavily favored Tony Cairoli, the KTM rider going for an eighth world title. Tony has a bad ankle from a crash at a recent race in Italy, but he's a badass and toughed it out.
The real interesting stuff was in the MX2 class, where Thomas Covington put himself on the world map with a stunning third-place finish in the second moto. This is the same Thomas Covington who won the Daytona Supercross last year—the amateur one! Covington has been working extremely hard with Johnny O'Mara, whom Eric Johnson spoke with for this Between the Motos piece.
Now folks are jumping on the Thomas Covington bandwagon—who knew there was one?! It will be interesting to see how he does this weekend as the FIM World Championships are now in Thailand. You can watch the races live on www.mxgp-tv.com or on Sunday at 11 EST on CBS Sports.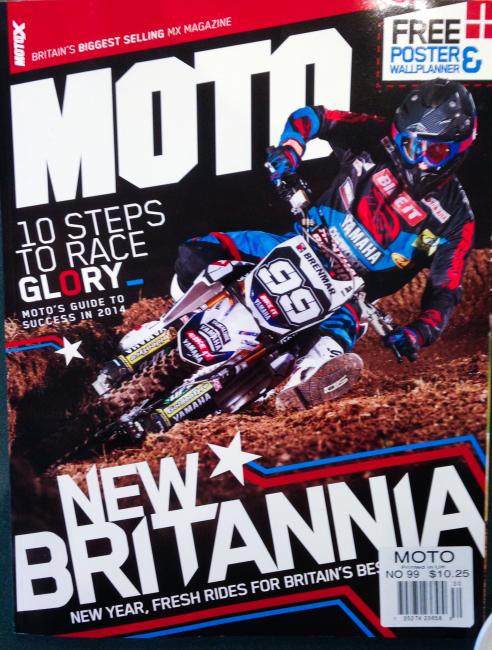 Also weird was the extremely heavily favored Jeffrey Herlings losing the very first moto of the season to Dylan Ferrandis, plus an eye-popping effort by Max Anstie on a 2013 Yamaha that should have seen him with both motos, only to break down late while leading both motos. But then Max did an interview with David "A Year in MX" Bulmer for our friends at Vurb, and he said some surprising things about how he stacks up against Herlings:
"I realized when I was about 10 years old and I raced Jeffrey [Herlings] in the sand. I know I'm the fastest. He knows I'm the best. There's no one that can do things that I can do."
Wow. I know Max well and have seen him race, and I know Jeffrey pretty well and have seen him race. Both are very good riders, but there is a slight difference: One of them has thirty-one Grand Prix wins, two straight world championships, and moto wins in the Motocross of Nations, and the other one is Max Anstie. It's going to be interesting to see if they play well together this weekend.
Also, Bulmer asked Jeffrey if he might do any races besides the GPs this season. Herlings answered, "Well, if I keep riding like this I'll maybe do some amateur races just to get a holeshot or something. I'm just kidding. I'm planning to ride a few races besides the GPs. We're thinking about racing maybe one or two AMA outdoors, but nothing is decided. We have to wait and see and first get the things rolling here in Europe because we're not smooth yet."
INTERNATIONAL ORDERS
Ken Roczen is gracing the cover of MOTO X in Germany while James Stewart is upside down on page 1 of Dirt Cool in Japan.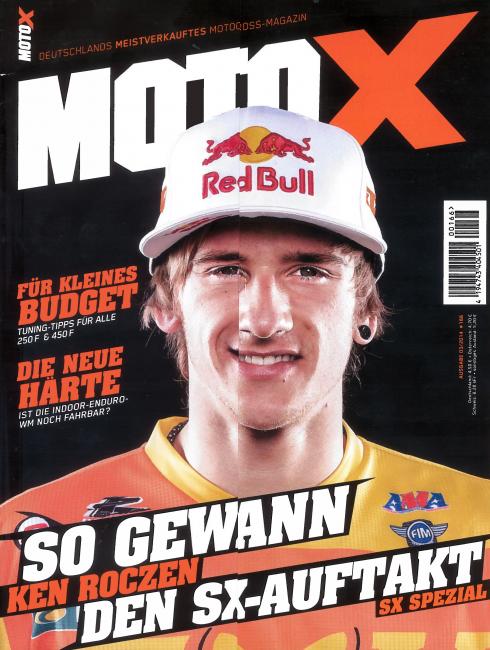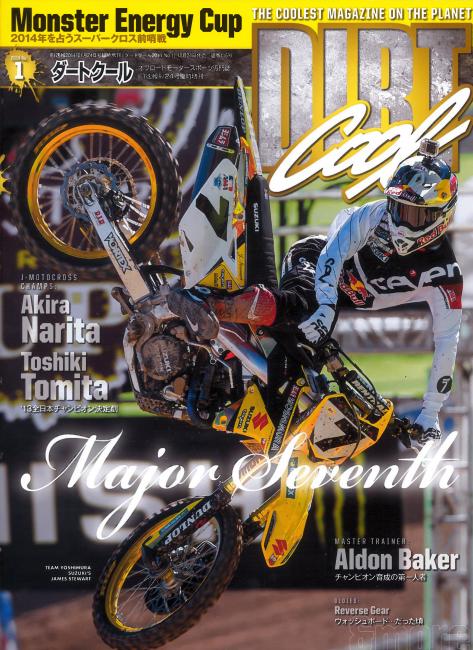 ARENACROSS ACTION (Aaron Hansel)
What a weekend we've got to look forward to. In addition to the prestigious Daytona Supercross by Honda happening tomorrow night, we've also got the second set of championship races coming up in Amsoil Arenacross, starting tonight in Albuquerque. If you aren't sure what the Championship Rounds here are, it's pretty simple. Instead of a season-long, cumulative points system like in supercross, arenacross uses a "chase"-style points system not unlike NASCAR's. Basically, after the first eight rounds the points are reset and only the top ten are eligible to race for the championship.
It's a pretty cool way to keep the season interesting all year long, as well as give the riders who had some bad luck early on a way to get back into contention. Zach Ames got the championship rounds started the right way by going 1-1 (the premier class races twice a night in AX) last week in Tulsa and now leads the championship with thirty-eight points over Kyle Regal and Colt Nichols, who are tied for second with thirty-one points each.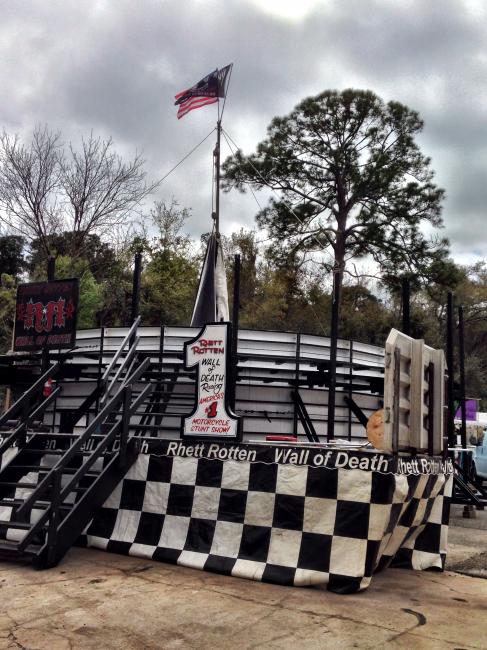 As for three-time reigning champ Tyler Bowers, well, he's got a bit of work to do. A crash in the first main event and some issues with lappers relegated him to a very un-Bowers-like night, a 13-3 for sixth overall. With 26 points, he sits fifth with just three weekends of racing remaining. Will Bowers' incredible championship run come to an end in 2014, or will he smash his way back to the front to take his fourth consecutive AX title?
Be sure to check Racer X Online for the race report, and for more details or ticket info, head over to www.arenacross.com.
TRIVIA PURSUIT (DC)
Our online man (or man online) in Hungary, Andras Hegyi, found some good moto trivia in the results of last week's 250 SX race in Indianapolis: By winning his second time in three races, Adam Cianciarulo is the fifth rider who won twice in his first three professional SX races. Mike Healey, Brian Swink, Chad Reed, and Ben Townley all did the same in the 125/250 SX category.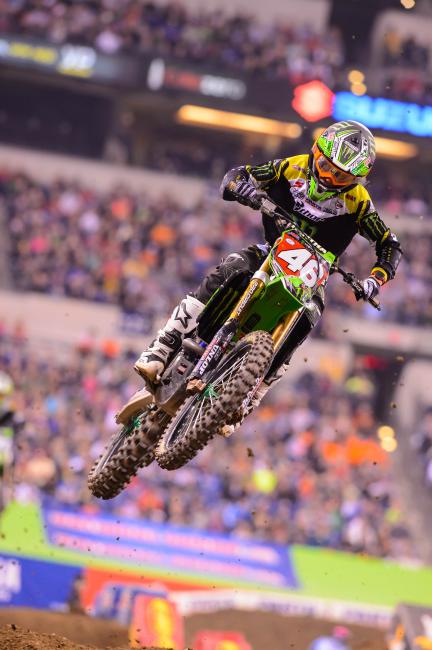 Starting even better were Eddie Warren ('85), Damon Bradshaw ('89), Ernesto Fonseca ('99), and Trey Canard ('08), who were all unbeatable in their first three races, starting 3-0.
But where do we place Marty Tripes? He won the first Superbowl of Motocross at the Los Angeles Coliseum back in 1972, then the second Superbowl of Motocross in 1973. There were no other "stadium motocross" races in between during those pre-supercross years, so Tripes technically started 2-0 in what we now know as the premier class!
HIGHLIGHTS OF THE WEEK
The Amsoil Grand National Cross Country Series presented by Maxxis kicks off this weekend, with the bikes racing on Sunday. Check out Jason Weigandt's spotter's guide to know what to watch for this season.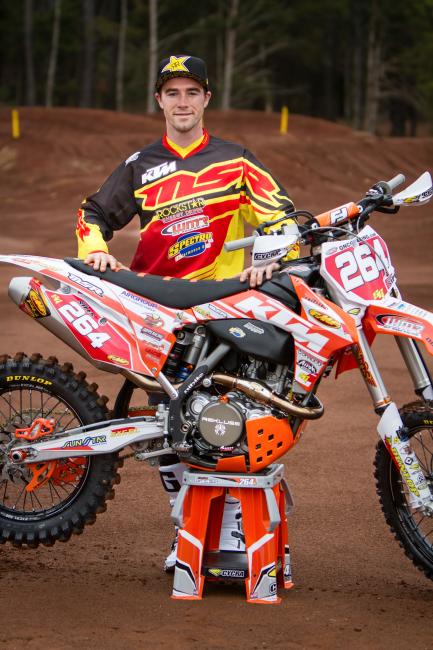 Chase Stallo chatted with Mike Alessi following a controversial week.
Often imitated, never duplicated—it's Observations from Steve Matthes.
HEADLINES OF THE WEEK
"Tomac, Hahn say all-Honda podium possible at Daytona Supercross by Honda" —From a GEICO Honda PR
HEY, WATCH IT!
Our friend Michael "Fresh Top End" Stusiak posted this exceptionally cool old photo from the 1971 Luxembourg 500cc Grand Prix, which actually includes a short bridge-crossing!
RANDOM NOTES
Jason Thomas looked at Silly Season and broke it down with his thoughts.
The 7-Deuce-Deuce AKA Adam Enticknap used an axe to clear some trees so he could ride this week. Read all about it in his column.
Former factory superstar David Vuillemin answers some questions about the Indy SX.
For the latest from Canada, check out DMX Frid-eh #10.
Our longtime friend Bayo Olukotun wrote a Huffington Post blog about Mad Skills Motocross 2.
Monster Energy TRP Distributors South African Motocross Nationals Round 1 Highlights. (TRP distributors, the title sponsor, is actually owned by Jim Tarantino, a former SoCal motocross star who moved there to race for a season or two and ended up staying.)
Looking for some Evel Knievel items?
We received this email from Dave Lodermeier this week regarding a ride day for Brooke Beaubier, who is fighting leukemia. (You can still donate to the Brooke Beaubier ride day here.)
"We are trying to get this flyer featured on your online site to help get support for Josh Beaubier's Nor Cal Fox Racing Rep's daughter who was diagnosed with Leukemia. We have had a very good response in donations but we need people to show up for the ride day and support the ride day as well as the raffle we are having. All the donated Items and a portion of the ride day entrée will go to Brooke family to help them fight the battle they are facing!"
Sad industry news: Drino Miller, one of the masterminds of the Pro Circuit engine development program, passed away this Tuesday. Drino was diagnosed with a brain tumor/glioblastoma last April. In true Drino form, he fought with everything he had, but unfortunately the cancer won—there is no cure for glioblastoma. We all lost a real gentleman and a true hero.
Lastly, our thoughts and prayers go out to everyone in the southeastern motocross family who lost a good man in Steve Hicks this past week. Steve was the father of #750 AMA Pro rider Jared Hicks. He was a huge motocross fan and enthusiast, and his voice could often be heard over the loudspeakers as he announced races all over the region. Hicks was also a great benefactor to racers and friends and will be greatly missed.
Godspeed, Drino and Steve.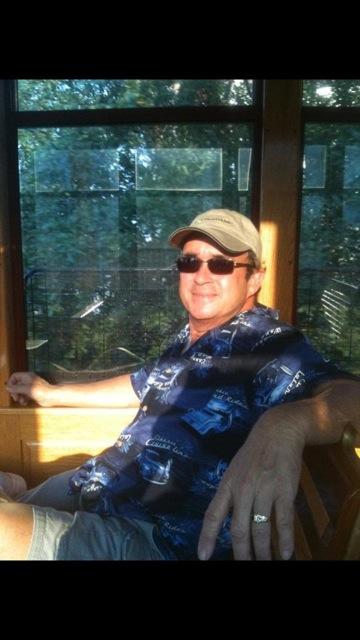 Thanks for reading Racerhead. See you at the races.