Ten years ago, I was covering the Florida GNCC round for Cycle News, Racer X, and about 20 other jobs within the GNCC series itself. The big story was motocrosser Ryan Hughes giving the GNCCs a shot. And Ryno was Ryno—fast, fierce and fit. He blew past the field early and led (also had a killer battle through the sand with Shane Watts, but they were in the woods so no one saw it. If I die and go to heaven, I'm going to ask God for a replay of that lap, Ryno and Wattsy trying to out-crazy each other on a sand track). Eventually, veterans Barry Hawk and Fred Andrews used their experience with the three-hour GNCC format to pull ahead. Hughes had a simple explanation of what happened.
"But I had a few crashes and mistakes, if I didn't make those and you look at the time I lost, I'd have been right there," he explained.
In the other corner of the pits sat all-time GNCC great Scott Summers, who had more experience winning GNCCs than anyone. Summers thoughts echoed the newcomer Hughes': "If I hadn't made those mistakes…"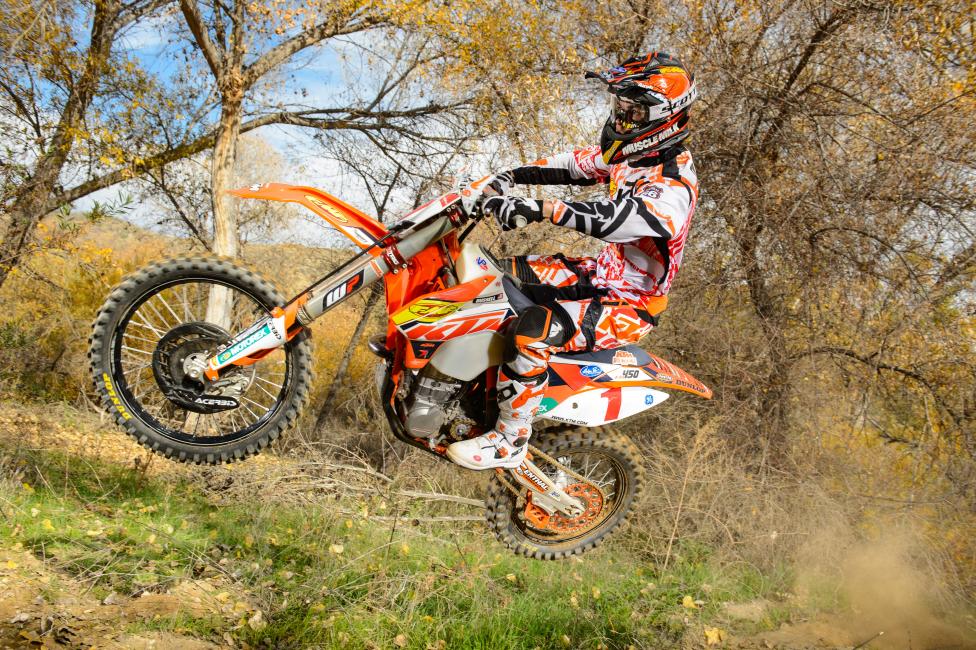 Well, that was the real mistake back then. In a three-hour GNCC, saying "If I just hadn't make that mistake I would have won" is like a marathoner saying, "I would have won if I hadn't gotten tired."
Mistakes? Everyone made them. These were three gnarly hours—stuff was going to happen!
Somewhere in the last ten years, the series has evolved. Today's races really resemble one long moto: the dudes sprint immediately and hang onto that pace all the way to the end. The winner might go all day without crashing. So many riders for so many years trying to have the perfect race, and now they've nearly got that act down. You can give Euro visitors Juha Salminen and David Knight credit, as they're the ones who really changed the game. Now there's a whole pack of riders who can win—providing they don't make a big error. The lead dogs are going so fast it's not easy to catch back up if you hit the ground.
The 2014 Amsoil Grand National Cross Country Series presented by Maxxis starts this weekend at a new location—Mud Muckers riding park in Florida. It's a lot closer to the Daytona happenings (only about 30 minutes away) and this track is said to have a little more of a dirt/clay mix than the typical sand box of the Florida GNCCs. (Full disclosure, I used to work for the GNCC series and the head office is right next door to ours. I still really dig this type of racing, so I can't help but get excited when a new season looms.)
Here's a rundown of who to watch in the premier XC1 pro class.
Kailub Russell: The 2013 GNCC Champion is the perfect example of this new reality. He was born and raised a GNCCer (his dad, Jeff, is an off-road legend and is in charge of building the tracks. Kailub rode through the GNCC minicyle and amateur ranks before turning pro). He's only 24, but knows the woods game like he's 30 something. He's very capable of flooring it for three hours without putting a wheel wrong.
The funny thing about Russell is his program. He says the less he rode last year during the week the better he did on weekends. It's the story where a guy grinds his guts out during the week and struggles, but then later just comes in all relaxed and kills it. KR perfected that art last year to become the fastest man in the woods. This year he's switched from a KTM 350 to a 450. We'll see if that changes things. He'll also have number-one-plate pressure, but we doubt that will affect him at all, because KR has always had a quiet confidence in himself. The only real fear? There hasn't been a back-to-back GNCC Champ since David Knight in 2007-2008. One-in-a-row followed by a season of bad luck has been the trend here.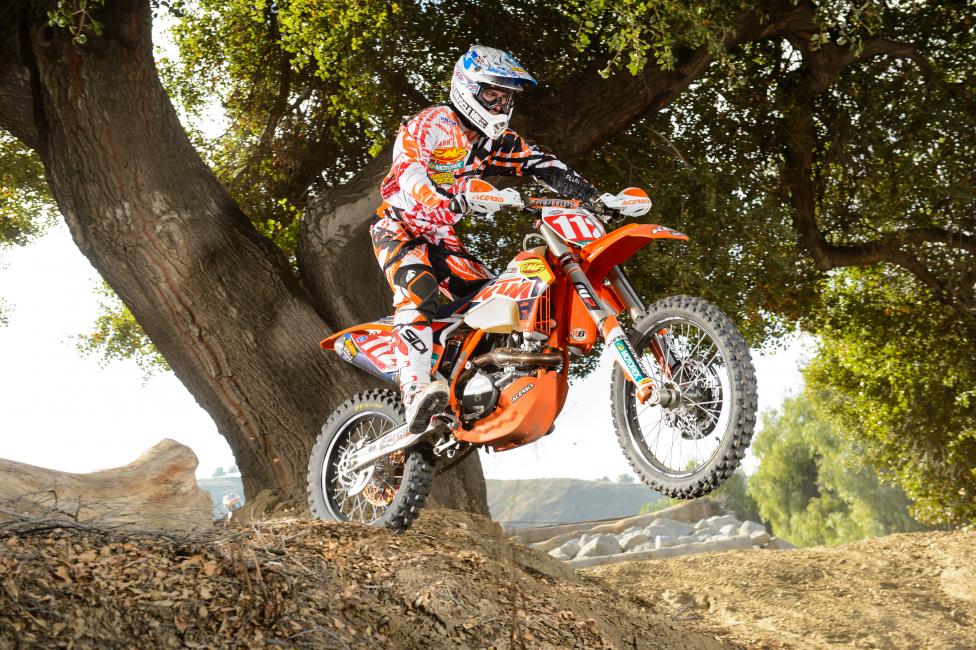 Charlie Mullins: The teammate to Russell on the FMF KTM factory effort, Mullins has become the Ryan Dungey of off-road—including the fact that they were the ones breaking in the current-gen KTM 450 in their respective fields. Like The Dunge, you can always count on Mullins to be in the title hunt no matter where he races. Charlie won the 2011 GNCC title, and was a close second last year. He won the opener of the National Enduro Series last weekend, so he's clearly on his game like usual. Charlie is just going to be there, and everyone else will have to be really good to top him. Last year, Russell was indeed good enough to do that.
Paul Whibley: Whibs is a two-time GNCC Champ and a gnarly guy. Maybe not the all-out fastest, but no one will train or try harder than the AmPro Yamaha factory rider—he's just a darned workhorse. Whibs literally grew up as a lumberjack—he worked in the New Zealand forestry service—so he's just tough. Some years, the veteran's grit is enough to win, sometimes the kids can cover him. Last year he suffered from a sports hernia injury and wasn't ever really 100 percent, but he's healthy this year and should be good. Oh, and those starts. Whibs used to absolutely suck at starts, but now he's got some sort of secret and gets nearly every holeshot. Like, not joking, EVERY SINGLE holeshot in 2012. Not as big a deal here as it is in moto but it's still pretty amazing.
Josh Strang: Strang definitely has the speed to run with the KTM boys, but is looking for the type of stability needed for a title run. He won the title in 2010, but has been forced to bounce around since then—Suzuki shut down its off-road team at the end of 2011, and Josh broke his leg badly at the last race of the year. He tried living and racing out west on KTMs in the WORCS tour while recovering. He didn't like it, and moved back east for the GNCCs last year. He developed his own program riding Kawasakis, but the growing pains of starting a team made it tough. In some races Strang had everything dialed and could challenge Russell and Mullins, but in other races he wasn't quite there. This year his program has more stability. He's riding Yamahas and pitting next door to the factory AmPro team. Strang says he really likes the new YZ450F. He definitely has the tools, we'll see what he can build.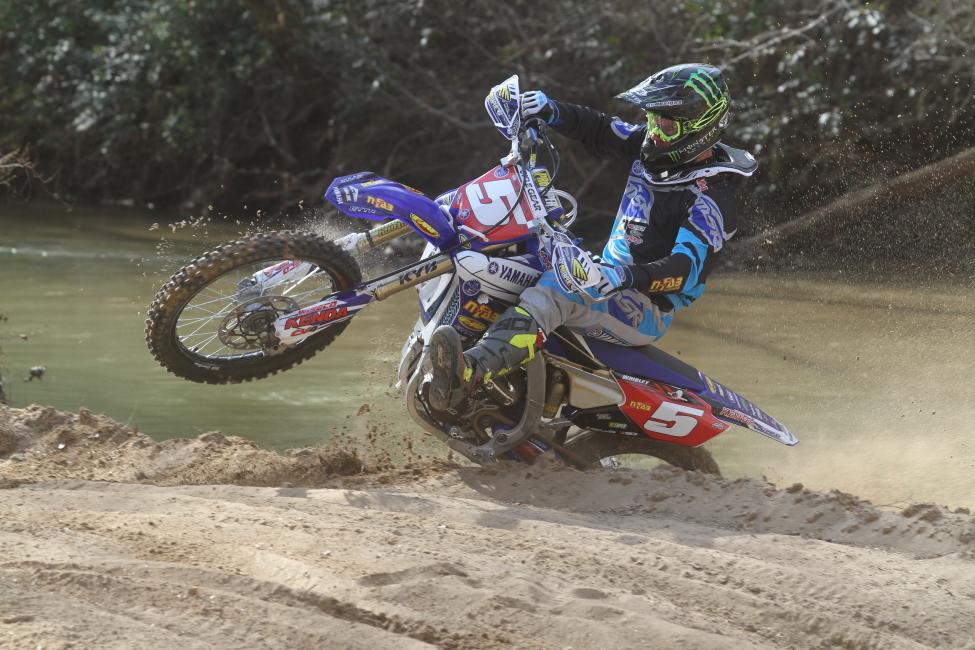 Chris Bach: Indiana's Bach has yet to win a GNCC race or title, but he's darned consistent and will have a lot of eyes on him. Honda's long running Baja effort, managed by Johnny Campbell, has switched to the GNCCs, and they've tabbed Bach, last year's #3 overall, to be the rider. This is a serious commitment and a great chance for Bach to go next level and get some Ws.
Thad DuVall: DuVall was, like Russell, a star in the Youth and Amateur ranks coming up, and, is, like Russell, a second-generation pro (DuVall's dad was a ton of pro ATV GNCCs). But Thad hit a snag as a pro, suffering huge crashes and injuries and very nearly finding himself out of the sport altogether. He's bounced back with Honda support, and is still very, very fast, and especially dangerous in the mud. If Thad can avoid the bad breaks that always seem to get him, he'll be in the hunt.
Steward Baylor: Sad story here: Stu was a killer on minis and in the XC2 class (he won that 250cc title in 2011) and was going crazy fast on his 250 two-stroke in 2012. Then he broke his wrist, but kept riding in hopes of claiming that year's National Enduro title. He did indeed win that title, but he really wrecked the wrist in the process. He's still trying to get back to where he was. Three hours is a lot of pounding on a bad wrist.
Jordan Ashburn: AmPro Yamaha's Randy Hawkins plucked this kid out of the amateur ranks for a 450 ride pretty early, and last year it started to pay off. Ashburn seems to have grabbed some of his teammate Whibley's starting skills, and has shown flashes of running the pace of the lead dogs. Needs to make another jump this year, though, because the field is stacked.
Andrew DeLong: Somewhere along the Pennsylvania and New Jersey boarder is a huge group of Andrew Delong fans that want to see this work out. DeLong is a rags to riches tale, just a local who kept getting better until his was crushing the GNCC XC2 ranks. Injuries prevented him from winning that title, but he was probably the fastest GNCC 250cc rider the last two years. Now he's got a factory Husqvarna ride on a 450 in XC1. He could be really, really good.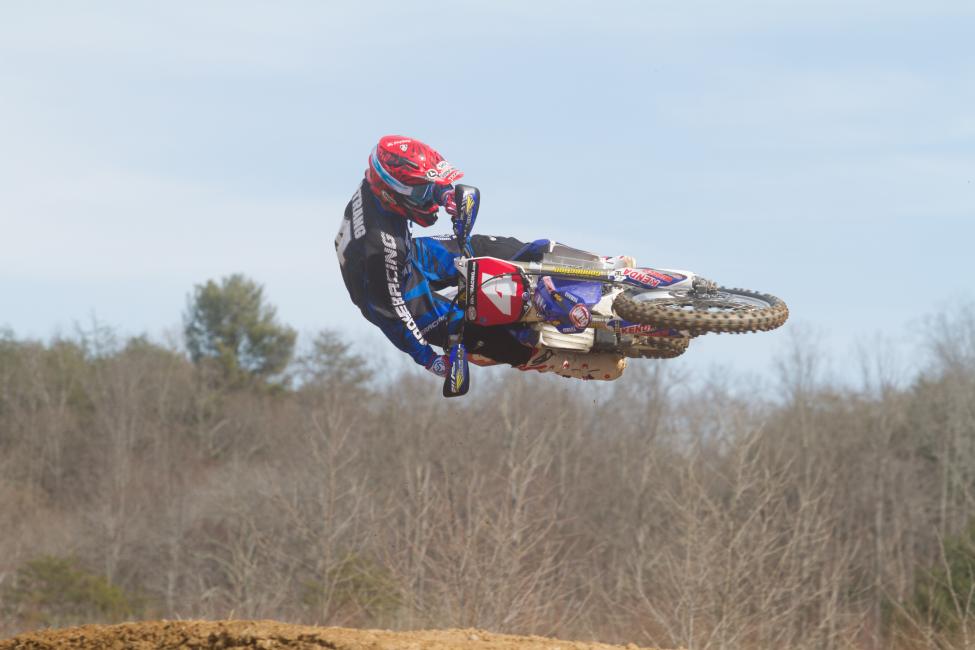 Jason Thomas: No, not our own JT$, but "U.K.J.T" from Wales. He won the XC2 (250cc) title in '12 and rides for Shane Watt's Maxxis/KLIM/DirtWise KTM team. Thomas is all heart, and now he's taking a shot at the XC1 class for the first time. Should be fun to watch him and DeLong try to do some damage.
Ryan Sipes: Whoa, how about this guy? Yeah, same Ryan Sipes who hauled ass in supercross and motocross for ten years is now an off-road guy. He's obviously a very good motorcycle rider, and he's got a Rockstar KTM look going like his old teammates in the stadiums. He was impressive off-road at the ISDE last year, and you know with his Kentucky roots he's done some woods riding in his time. These are all good things, but in general the transition from one form of racing to another makes it hard to guess how this will go. Plus, while Sipes always had great speed in moto, he was never as consistent as needed. That might not be good in three-hour races. Still, it's a safe bet, we'd think, that Sipes is going to be good at this.
By the way, this Florida event usually brings out some fun guest stars. We hear Watts himself will be firing up a bike, and Mike Brown is racing. That's cool.
The GNCCs also have an XC2 class for the 250s. Stew Baylor's brother Grant won the title last year and will be back to defend. Competition should come from a pair of drop downs from XC1. Watts's team has New Zealand's Rory Mead riding for him this year. Mead won full-on XC1 races in '12 and finished third in the series. For some reason, he wasn't the same guy last year. If he finds his '12 form in XC2, look out. Also, Washington State's Ricky Russell was a self-made man last year in XC1 and made some noise. Now he's dropped to the 250s for the Raines Riding University/Atlas Yamaha/Off-road Viking team. As always in a young class like this, there's the chance of another teenager figuring this out quick and blazing to the front, like Grant Baylor last year.
If you want to see this stuff in person, just take the short drive up from Daytona on Sunday, the pro races start at 1 p.m. and go for three hours. Or you can go to www.RacerTV.com and watch the whole thing live, online, for free. There's also TV coverage a few weeks later on NBC Sports Network, part of 87 hours of GNCC broadcast coverage this year. Or just get your darned bike and ride one yourself—see how many mistakes you end up making.