There's a strange interplay between the top teams in Monster Energy Supercross—most of them are sharing tires out of the Dunlop rig. Four different teams have won 450SX races this year—Monster Energy Kawasaki, Discount Tire Racing TwoTwo Motorsports, Red Bull KTM and Yoshimura Suzuki—and all have done so on Dunlops. In most forms of motorsport, such exclusive brand usage could only be born from spec-tire rules, but the SX rulebook leaves tire brands and technology wide open. But many big tire brands (such as Michelin and Bridgestone) no longer run works-level motocross and supercross racing tire programs. So, outside of the Pirelli-shod JGR Toyota Yamahas and BTOSports.com KTMs, the top bikes in the sport are running on Dunlops.
So the Dunlop gang is serving many competitive teams with equal support, and maybe it's that interplay that makes them so open and candid. Every weekend the Dunlop crew hangs up a sign that straight up explains what tires won last week, or what tires they recommend for this week. No secrets, no excuses.
They were also unusually candid with the media on Saturday morning in Atlanta, with a press event that really dove deep into the development of their newest tires, the Geomax MX52 and MX32. Now, it's easy for a company to hold a press event and tell the world their new product is awesome, but in this case Dunlop really pulled back the curtain on the development of this tire. In a racing world so shrouded in secrecy, it was a rare look deep into the technical side.
Now we get to pass this info on to you. Mike Buckley, the Senior Vice President of Sales, Marketing and R and D at Dunlop, explained that in the last decade, the supercross tire wars have really heated up. Yes, Dunlop has been around in race-winning form since the '70s, but R and D has really stepped up as of late. This has led to a constant blurring of the lines between production tires and race-only works equipment.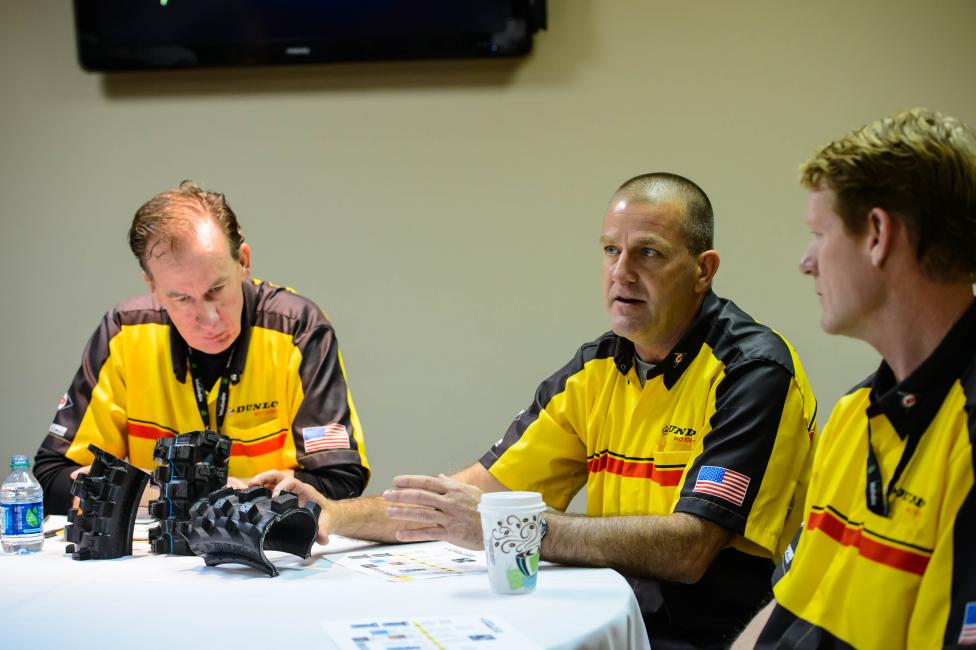 For example, in 2004, Dunlop introduced the 756RR (Race Replica) tire, which was essentially a works tire available to the public. Now the high-grip-high-wear compound that factory riders used could be purchased by privateers. Very Robin Hood of them, right? Well, the very low production numbers of this tire meant high prices, and they wore out fast—remember, at the top level a tire is designed to be perfect for twenty laps (about 17 minutes) in supercross, not a few weekends at your local track. The Race Replica idea sounded good, but didn't sell very well.
Next came a move, almost accidentally, in a totally different direction. One day the Dunlop guys were testing tires at their Alabama proving ground and spotted a new tire that was slated for use in Europe. It was an extremely aggressive tire, probably best suited to loam or sand, not the hardpack of supercross. They decided to give it a test and found it worked better than expected. Soon, this race spec tire, the MC762, was put up for grabs for American factory teams, and most fell in love.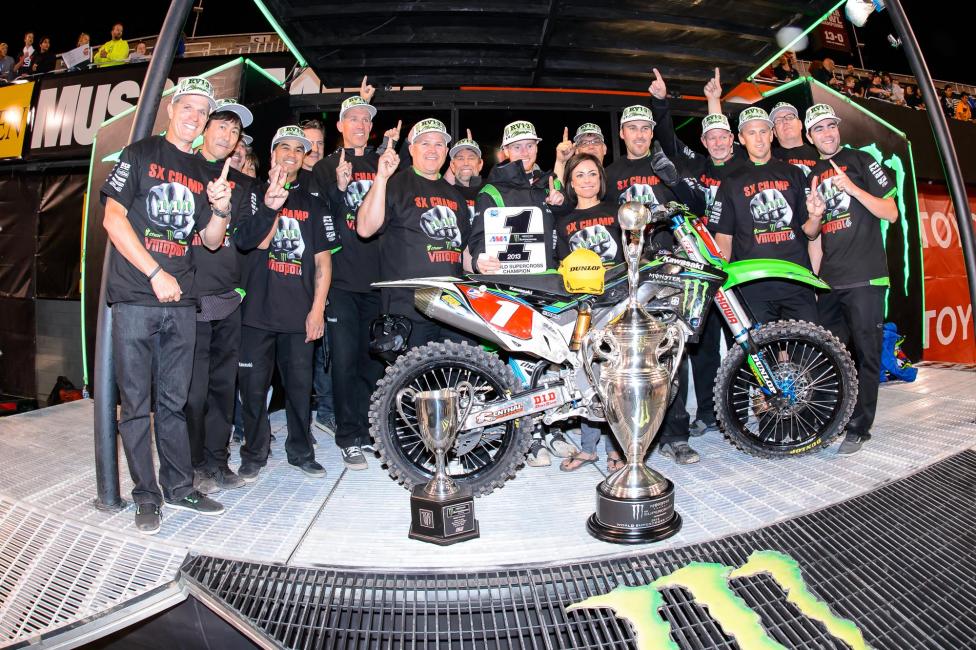 But, wait, a sand tire on hardpack? How can this be?
Theories vary, but the Dunlop guys summed it up by saying an aggressive, open pattern gets starts. That's the bottom line. In fact, they nicknamed the 762 the "holeshot tire" and even though it was probably inferior in corners, most riders will trade everything short of their wife or girlfriend for a holeshot. Eventually they improved the 762 in other areas, but they wouldn't have even tried if it hadn't been such a killer on starts in the first place. But that's not all. In chatting with the Dunlop guys as of late, I've heard another theory, too. When you build a tire with an open pattern (fewer knobs), you essentially make the tire more flexible because there's less rubber. Under load, that flexing tire can create a better footprint and grip. Marshall Plumb, formerly a factory mechanic at Team Suzuki but now one of Dunlop's technicians, said Jean-Michel Bayle and other Europeans seemed to like sand tires on hardpack back in the day, and no one could make sense of it. Now, the same theory could be at play.
But there was a problem. On the good side, the 762 was absolutely loved by the factory riders—Ryan Villopoto basically ran that tire everywhere, all year, for several years. it Didn't matter if he was in deep, disced sand at RedBud or baked hardpack in Phoenix, RV was going to run it. That's great on the racing side, but not good for the production end. The Dunlop guys say there was simply no way the 762 pattern could work on a production tire. First, mass market sales always trend toward the hard terrain side of the intermediate category, and the 762 skewed far into the soft terrain side. Also, that open tread pattern led to durability concerns—riders could literally feel it breaking down near the end of a supercross main. That's okay at the elite level, where racers will gladly sacrifice durability to get a start. For recreational riders, durability is more important than ten seconds of hookup down the start straight. Heck, there are plenty of people who ride but don't race, so starts are meaningless (or, at the very least, the tire might not make as big of a difference on starts as it would for someone like Villopoto). And supercross whoops? Super critical to the factory rider, but a complete non-factor for the average consumer. Perhaps Dunlop could have offered the 762 in a limited production race replica form, but they tried that before, and it didn't work.
The 762 dominated racing from 2009 to 2011, but Dunlop realized it had to find a way to replicate that success in a more production-ready design. New tires went into development. A prototype of the MX52 was first raced at Anaheim 2 in 2011, and it just went into production now. The key challenge was making a tire hook up in a straight line for starts and whoops like the aggressive 762, but corner (and last) like a hardpack tire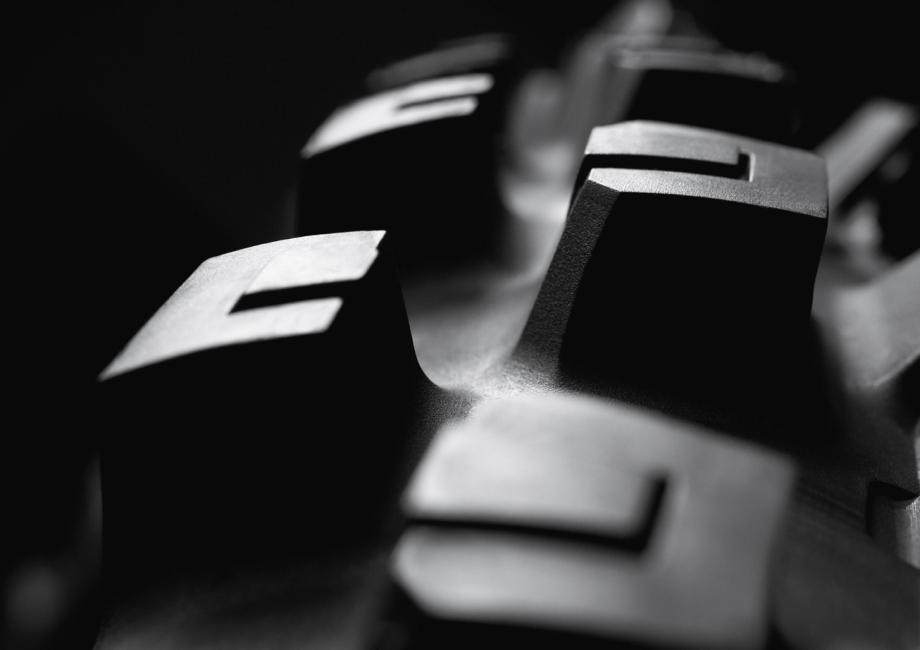 Dunlop developed a few key components. First is the block-in-block technology on the side knobs, which raises different elements within the knob for the optimum combination of stiffness and flex. They spent much of '11 developing that. Next came a redesigned sidewall designed to work better with suspension. Much of '12 was spent developing that. When Ryan Dungey made history with KTM's first-ever supercross main event win in Phoenix in 2012, he also notched the first-ever supercross victory for the MX52 prototype.
Next came development of the MX32, the softer terrain version. Now, remember what we were saying above about a soft terrain tire (with wider knob spacing) possibly working better on hardpack, because it's so flexible? Check these two lines from the official Dunlop PR on the MX32:
By varying the pitches and angles of the tire blocks, fewer blocks are needed in the center area, and this enhances contact feel.
Because the MX32 is intended for use in soft-to-intermediate terrain, the tie bars have been eliminated to reduce the resistance toward bending within blocks. This enhances contact feel and performance in sandy and muddy conditions.
Fewer blocks, less resistance to bending. Some of the great elements of the 762 are worked into the MX32, so again, this soft terrain tire can work on slick tracks. Evidence? Justin Barcia grabbed the MX32 prototype's first win ever at Washougal's 250 National in 2012.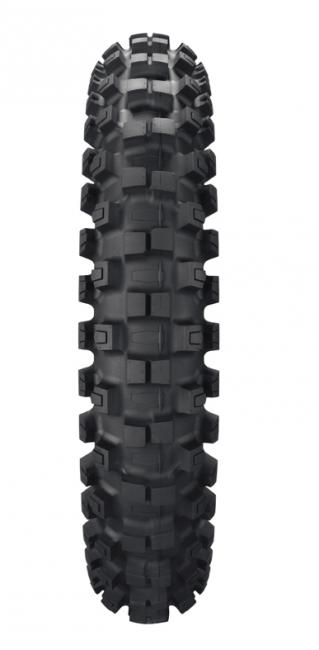 Still, the 762 was so darned effective (and some riders so reluctant to change when they know something works, cough, cough, Villopoto) that getting the new tires into the racing rotation still took awhile. When a rider is comfortable with something, change is difficult. But production versions of these new tires started coming down assembly lines in late 2013, and are now filling shelves. /2014/02/12/racer-x-films-dunlop-tires By the way, the previous Dunlop Geomax line featured four tires, the new line features just three. The mud-tire MX11 remains, but the new 52 and 32 cover as much ground as the previous 31, 51 and 71 tires.
And finally, the old 762 is being phased out. But in a little nod to the past, Villopoto has been sticking with the MX32—the softer-terrain version of the new tires—this season. In the Racer X Films video linked above, our own David Pingree commented similarly—for such an aggressive tire, he was shocked at how well it worked on hard dirt.
At the press event, Dunlop even revealed which riders used which tires in which races. Did you know Reed and Roczen ran the MX52 en route to 1-2 finishes at Anaheim 2, while Villopoto ran a 32? Remember James Stewart joking about his "road racing tire" in Dallas on TV. He used a harder-terrain 51 front at Dallas while everyone else on the podium used a 32.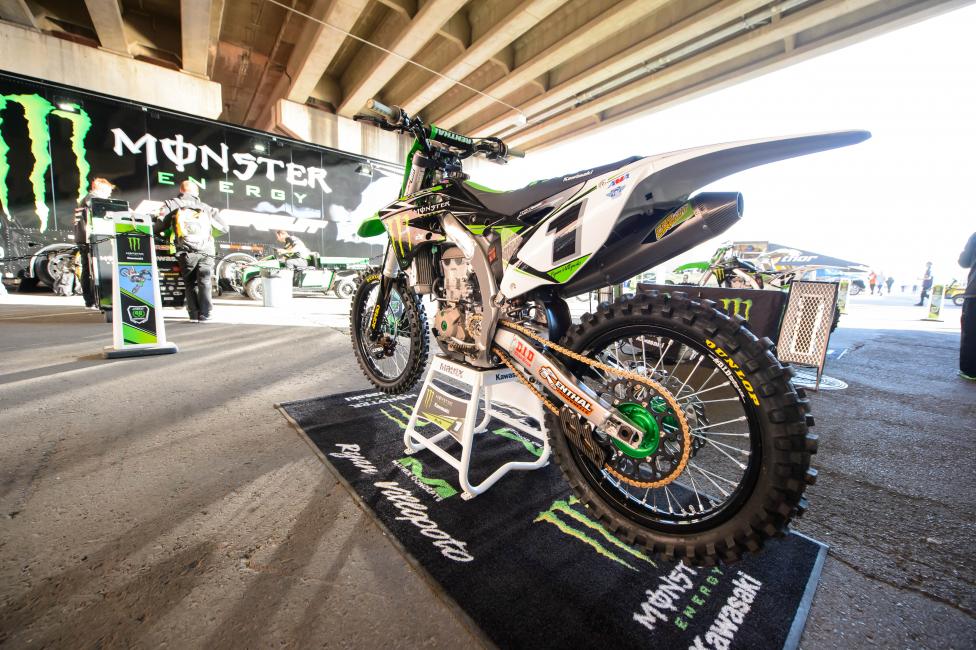 You'd think all this info on competitors would put Dunlop in a bind, however, they claim every rider is different, so it really doesn't matter. Why is Villopoto so married to the sand tire? Because he likes to steer the bike with the rear wheel, and the less planted feel back there helps him rotate the bike around more. Stewart steers more with the front tire, so he often uses the harder tire up front for the most planted feel possible.
So now, the tread patterns on Dunlop's race tires are the same as the production units. But how close are production tires to works tires, really? In each tread pattern, Dunlop offers the top riders a few choices in rubber compound and carcass. They insist they're not completely and totally different than the tires you can buy, and as proof, some riders actually prefer the harder, longer lasting compound of the production unit. Weston Peick, for example, is a big guy putting a lot of load on the tire, so he wants the production item. Chad Reed also experiments with the production units at times to get the right feel.
No one from Dunlop is trying to claim they're winning races every weekend on production spec tires. They know as well as anyone, thanks to the Race Replica tire experiment in 2004, that showrooms and supercross tracks are different. But there's no doubt that the stuff they've learned from racing has worked its way into the production side. So they're really not keeping any of their secrets secret for long.