Georgia Dome
Atlanta

,

GA
Race Center: Atlanta
Monster Energy AMA Supercross Championship
It finally happened. Monster Energy/Pro Circuit Kawasaki's Martin Davalos is no longer the fastest 250SX rider to not win an AMA pro main event, because in Atlanta, he won. The Ecuadorian made an early pass on his teammate Adam Cianciarulo to get the lead on the first lap, and from there avoided all the mistakes that had plagued him in the past. Why now? Let's find out.
Racer X: How's it feel to have actually done this?
Martin Davalos: It's been a long road for me. It's been a lot of frustration, a lot of time. I don't know what to say. I just want to thank the people that really have stuck behind me, the people who believed in me all this time. It's taken me a few years. But people really don't understand that I come from a country that has nothing and it's taken me a long way to get to where I needed to be. I turned pro really fast. I never got the whole amateur experience these kids were born to do. I was put in the pro scene really fast. I've been always fast but I haven't been able to close the deal. Tonight was a great night for me. I felt good through the day. I've been feeling really good. I've put a lot of work. I don't know what to say. This is amazing.
Last week Adam [Cianciarulo] was giving you a lot of credit for you helping him out and you being kind of the senior guy and helping out with everybody at the track.
Definitely. Adam is such a great kid. He's going to be very, very good. There's a lot to learn. Obviously I do have more experience than him. And always, being in second place is good, he was behind me and riding good. I felt like he had a really, really good line through the whoops. He was jumping more consistent. But let me tell you, tonight the track was really tough, especially for us. It was hard to get momentum through the whoops, and the ruts before the whoops coming into them were really, really tough. So, trying to find traction, I just told myself 15 perfect laps, make the best out of it in the whoops and keep it consistent.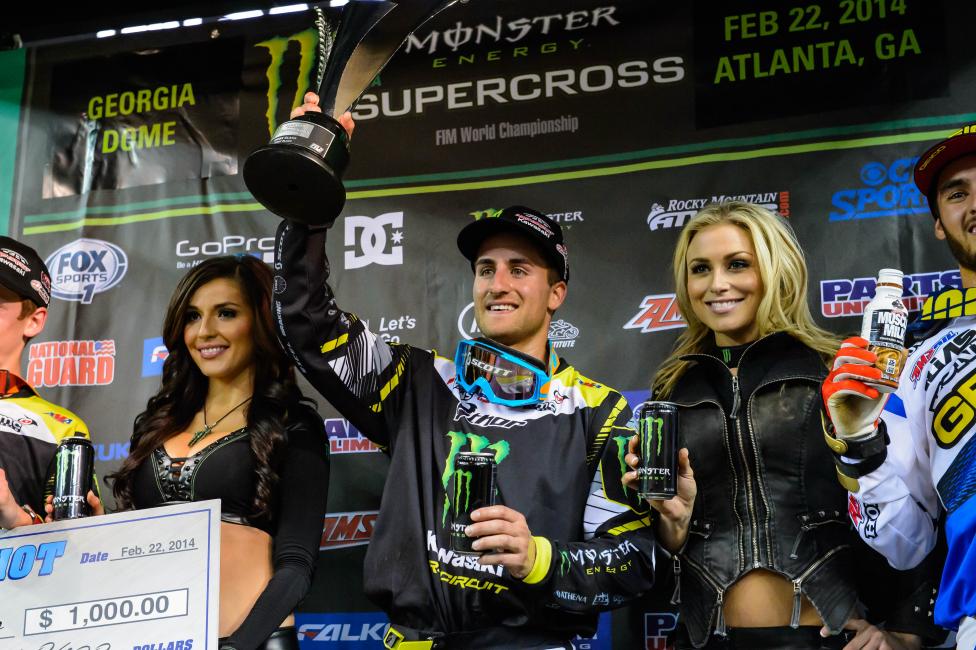 Coming out on that last lap down the rhythm lane about two turns before the finish, that looked like it got a little spooky.
[Laughs] It definitely did! I think I slowed down too much. I got a little too comfortable. I've been in that position; I've led a lot of laps. A lot of stuff was going through my mind. I didn't want to let anybody down. I've been in that position, led a few laps, and never closed the deal. I think I got the monkey off my back and I know what it takes. This is a long season and I'm glad I came out of here safe with a win. Now it's just race-by-race. I'm just going to do my best every time I go out on the track. You know, last week was tough. My momentum, my flow through the track was really good. I threw it away by myself. I felt like I was really consistent all day. I'm a human; I make mistakes. It sucks that I've been in this position for a long time and I threw it away again. Dallas was great and I did what I needed to do this weekend and I was able to get a good start. Adam from the outside surprised me. He's such a good kid and obviously [has] a lot of potential.
You Pro Circuit guys have really come together on the East Coast. There were some struggles on the West, but you guys are killing it right now.
Yeah, just pushing each other on the test track and the guys work so hard on my bike just trying to make me so comfortable. I feel like we're in a really good spot. I can't worry about really the long-term thing; I just want to worry about making the best result every weekend, giving my best, and being consistent.
Was there ever a time in the last couple years that you just felt like, "I can't keep doing this?"
I have, man. And a lot of people have talked so bad about me … It's tough to hear all that. A lot of people didn't believe. A lot of people question my abilities. They always told me that I was fast but never was able to deliver. I just want to thank the people that really have stuck behind me and the people that have believed. A lot of people thought I only won heat races, but it's tough to win heat races! If it was so easy everybody would do it. For me to put together a main event is a different achievement. I'm glad I was able to learn from it. I'm glad it happened here in Atlanta because my whole family came from Ecuador, and it was my first career podium here. So this place to me is a blessing.
Is there something you can point at now that you're like, "I needed to learn this?" Is anything you can say was different now that made it happen?
Just worrying about myself, worrying about my laps. I think before I was too worried about the surroundings and who was behind me [on the track]. I have such a good group of people. My trainer Brock [Sellards] on the bike and Ty Kady off the bike, they've pushed me so hard off the bike and on the bike just to be the most perfect I could be. I think that's made the big difference. And on the mental side I've been working really hard. I'm so happy.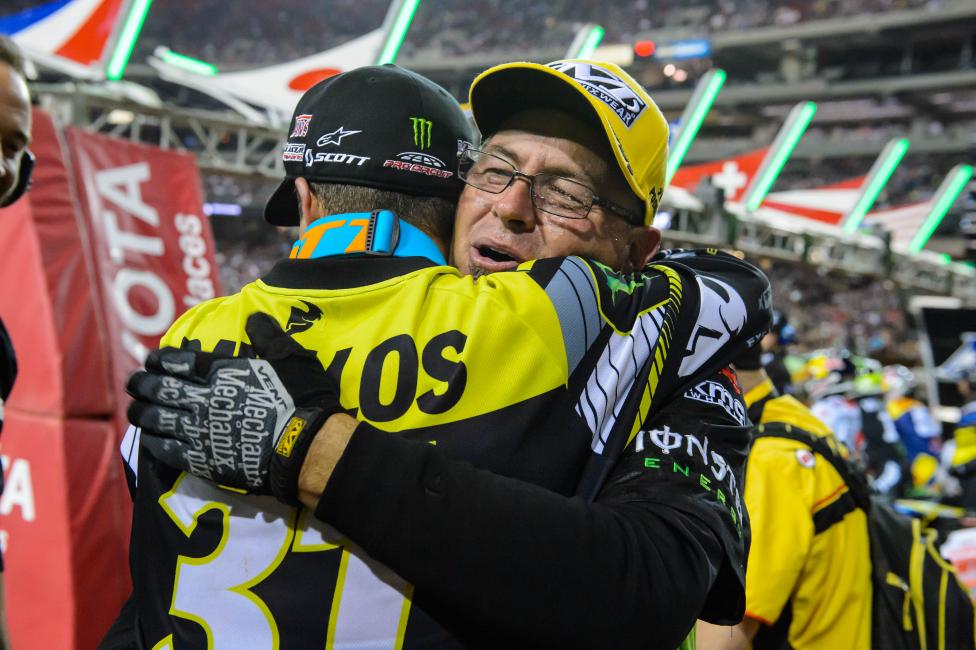 Now that you've done this, what can you do going forward? That's a big weight off your shoulders. This could be huge now.
This could be definitely huge. I'm happy I made it happen early in the season. I made it happen really quick. Right now, I want to go to Indy, I want to go with the same attitude I've been going to in the first round, I want to do what I have to do, focus on myself, focus on my laps, and deliver the best I could for 15 laps. This is a long series and I want to be there in the hunt every weekend.
You said you were working on the mental side. Is it exercise, clean thoughts…? What do you do?
I've seen a couple people in the off-season, and just being more positive through my career. It's been tough on me being away from my family, being here by myself. I came here when I was 17 years old. I left my family. I haven't had the support. I put so much on my shoulders, trying to take care of my house, trying to do everything by myself. Now I think I've let go of everything and I'm just worried about my career. I'm worried about having fun on my motorcycle and that's what I'm doing. I love every second I get on the bike. It's just amazing.