Qualcomm Stadium
San Diego

,

CA
San Diego
Monster Energy AMA Supercross Championship
The California leg of the 2014 Monster Energy Supercross Championship concluded tonight in Qualcomm Stadium in San Diego, and while the night left some riders elated, it also left some racers staring at the shattered pieces of what was once a legitmate shot at a championship. Here's how it all went down.
Photos by Simon Cudby.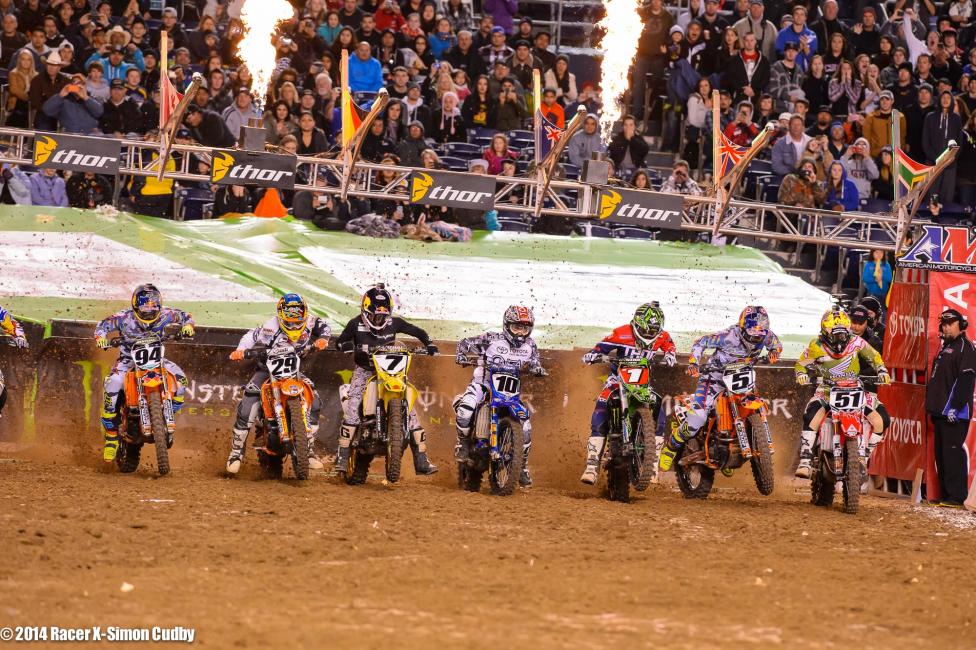 Andrew Short kicked off the 450SX main event by taking the holeshot, but was quickly passed by Ryan Villopoto and James Stewart. Justin Brayton was running well early but lost a ton of time when he went over a berm with his front wheel and got going again in near dead last. When it was over he'd managed to charge back up to ninth.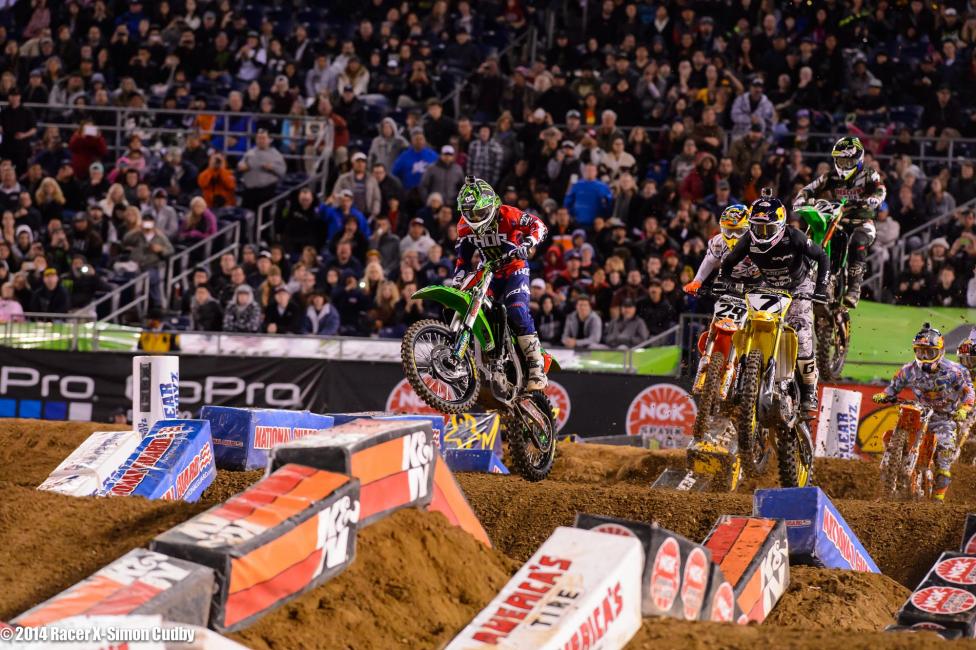 Villopoto is dangerous, especially with a clear track but Stewart was determined not to let him get away with this one.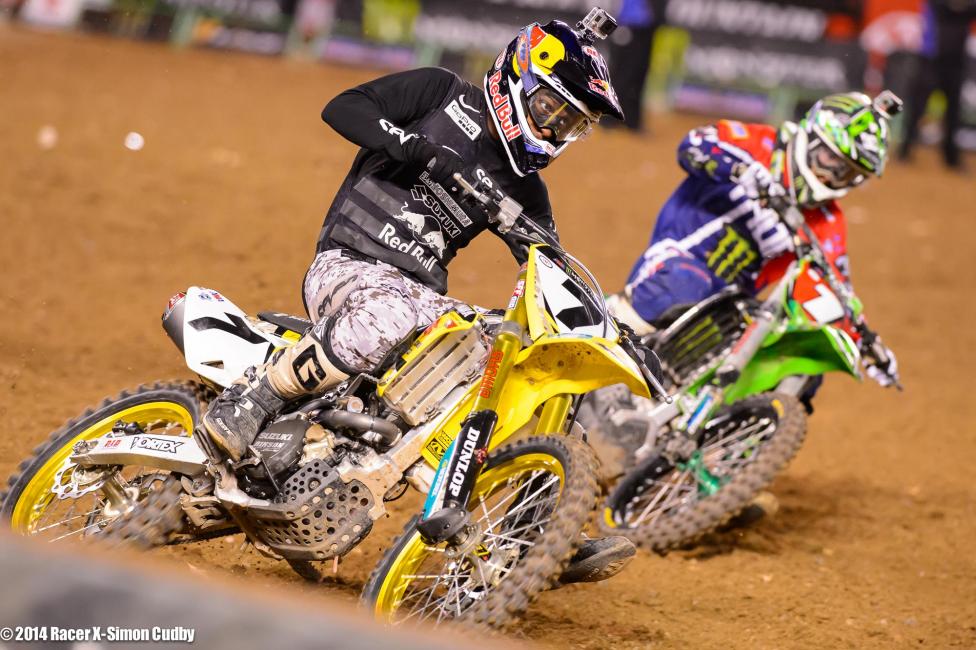 Stewart wasted no time in going after Villopoto and knifed underneath him in a 180-degree turn. Villopoto immediately passed him back, but Stewart retaliated by scrubbing past Villopoto moments later.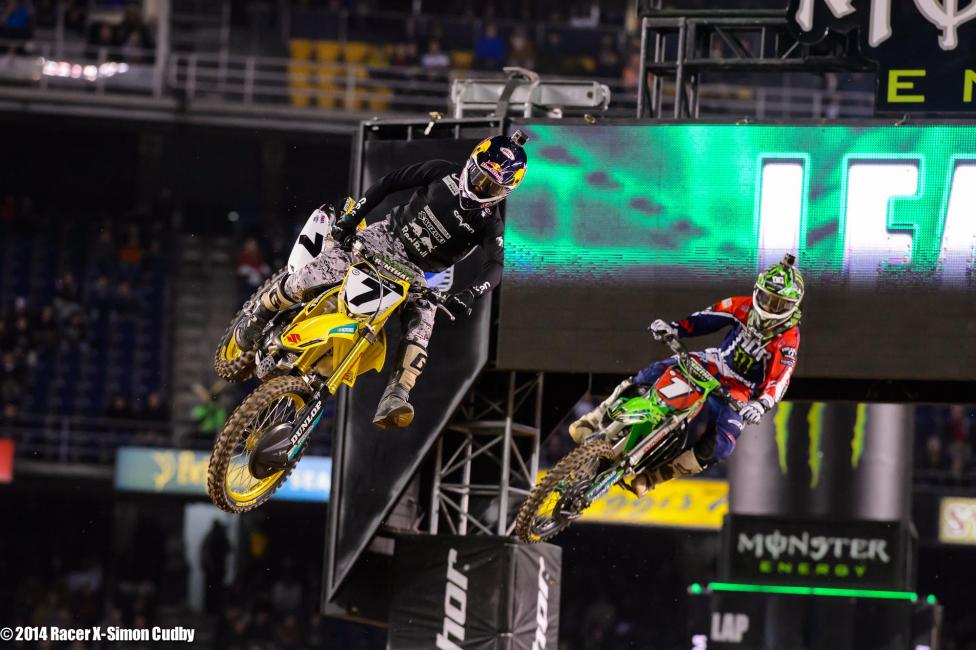 Stewart and Villopoto were this close for almost the entire race, but in the closing laps Stewart was able to start inching away, which was good for Stewart because he he lost some time near the end of the race due to lapped traffic. Stewart would hold on to take his first supercross win since last year in Atlanta.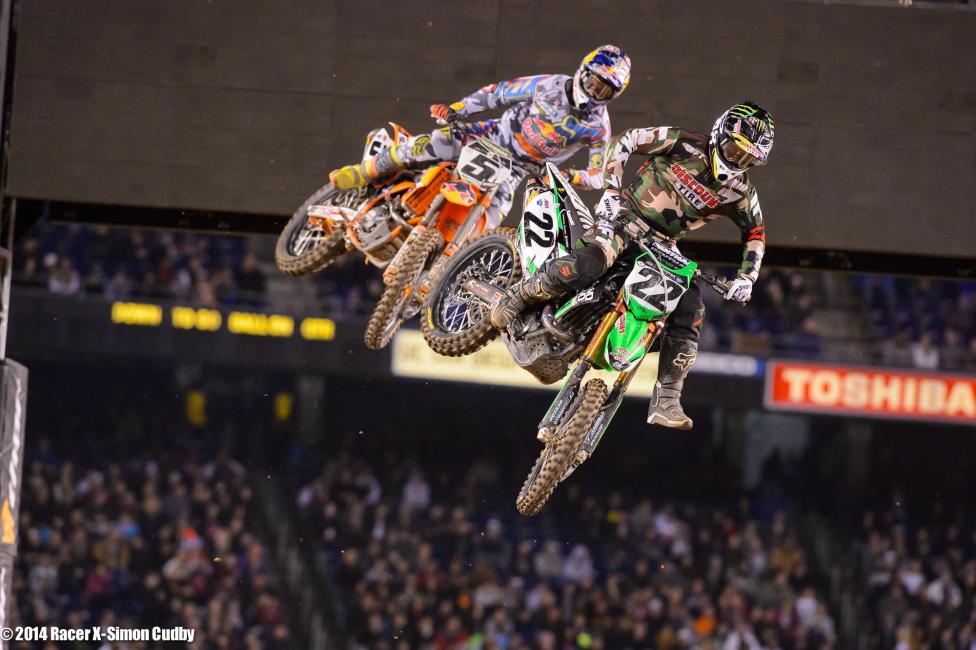 All eyes were on Chad Reed tonight, and for good reason. The veteran won last week at A3 and has a fantastic history of winning in San Diego. He started near the front but didn't seem to quite have the pace of the leaders.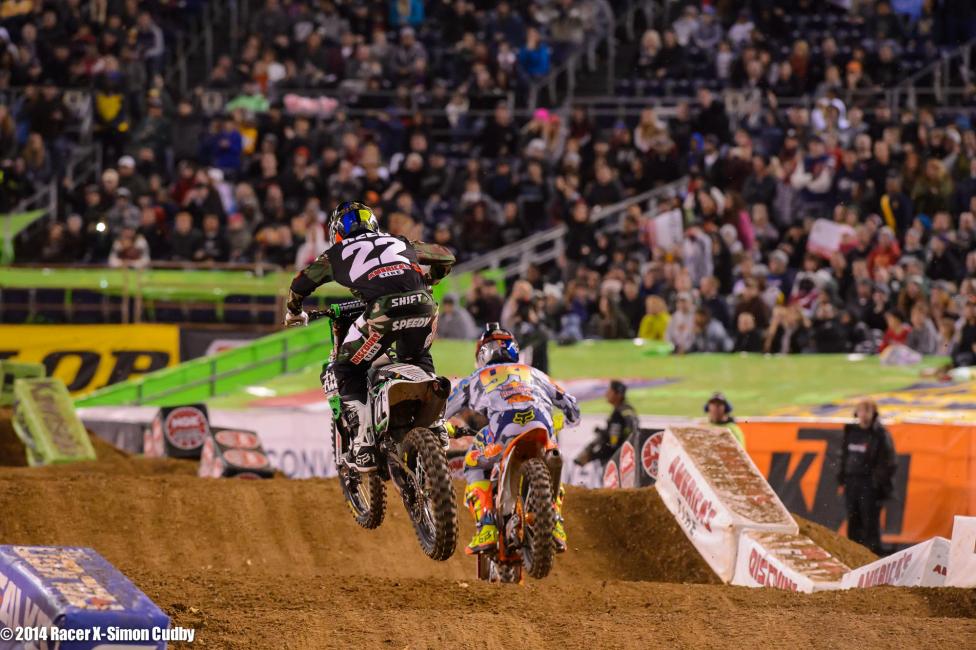 In the closing laps, Reed had caught Ken Roczen and along with Dungey, put on a great three-way battle for third place. Unfortunately it ended badly for Reed when he crashed hard on the last lap in the whoops. Reed was taken to the hospital and initial reports are that the injured his shoulder and was spitting up blood.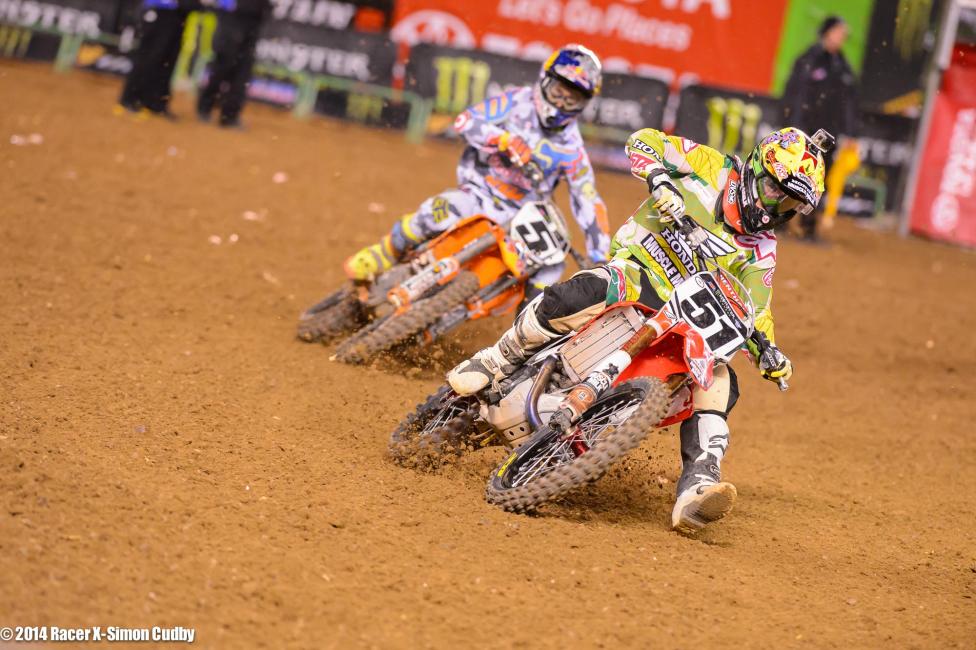 Justin Barcia was quietly putting together a decent night and probably would have been a factor in the battle for third had he not crashed all by himself. Also worthy of mention is Weston Peick's fantastic ride. After rounding the first lap in fourteenth, the privateer hero fought his way up to an outstanding fifth place.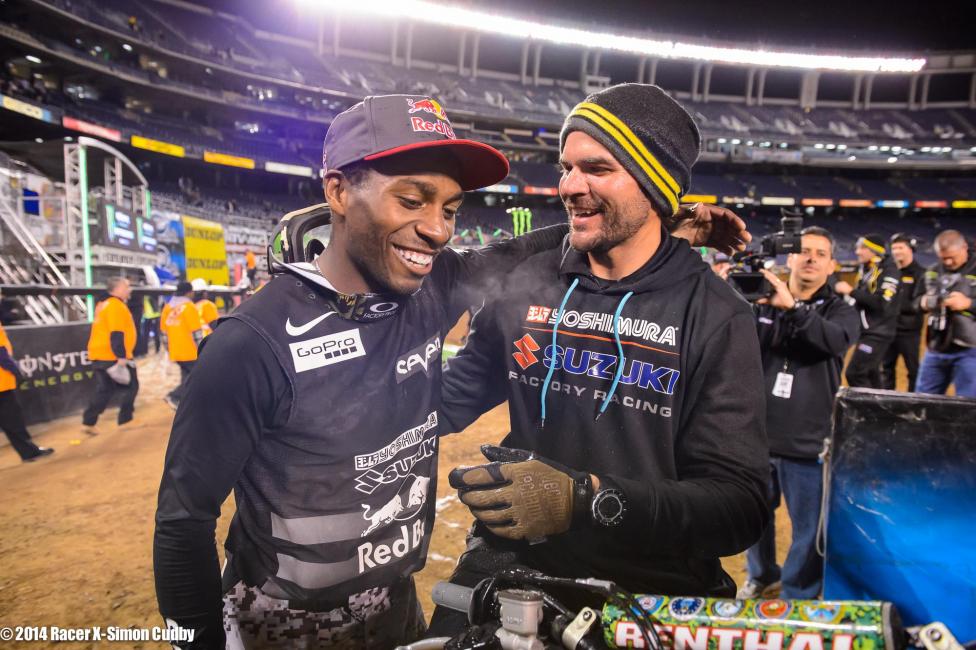 With his win Stewart moves into fourth in points, twenty-one back of Villopoto.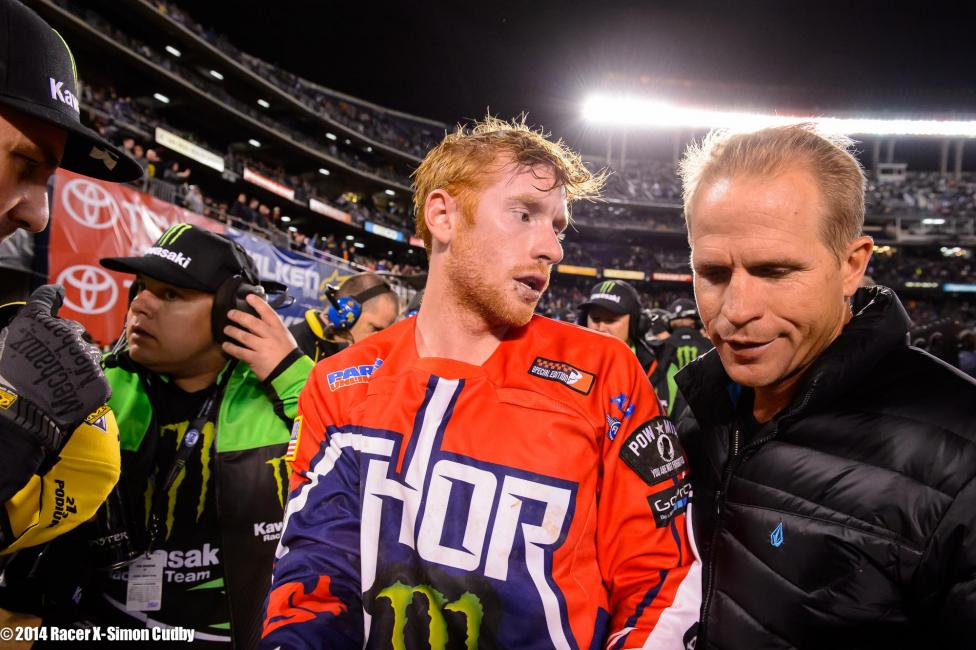 Villopoto wasn't able to pick up a win in Southern California this year, but the good news for him is that he leaves the region with a nine-point lead over second-place Roczen.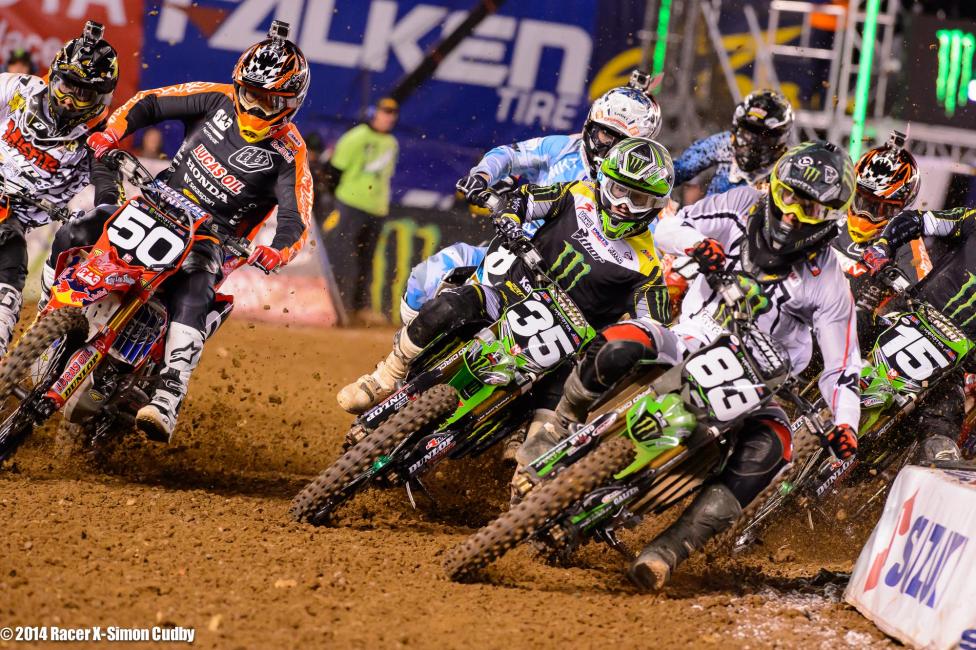 Dakota Tedder banged out a holeshot to get the action in the 250SX main event under way.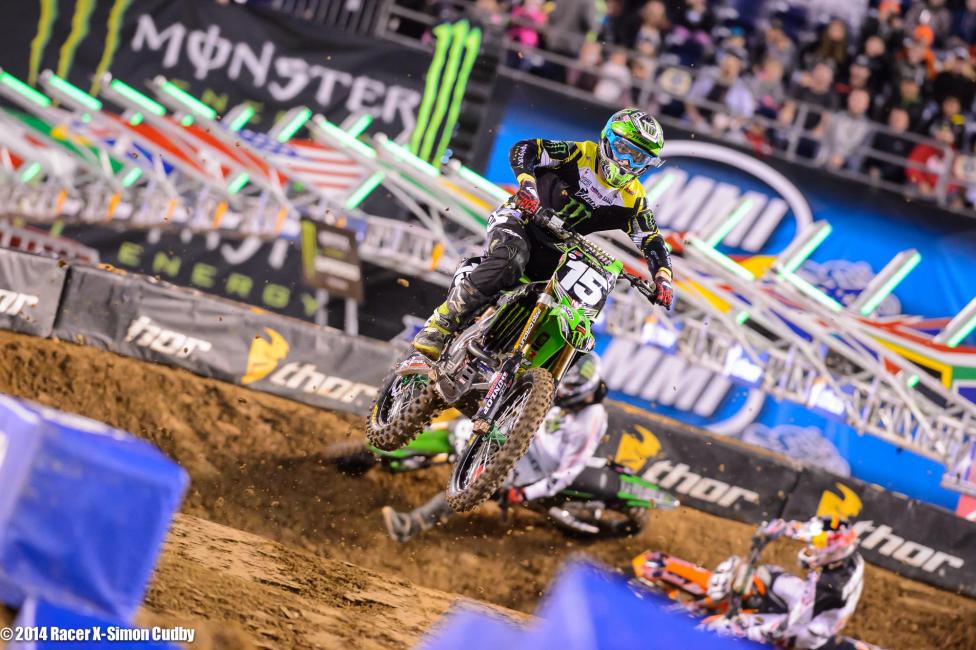 Dean Wilson moved to the front almost immediately, and with Jason Anderson and Cole Seely running fifth and sixth, things were looking good for the Monster Energy Pro Circuit Kawasaki rider to go back-to-back.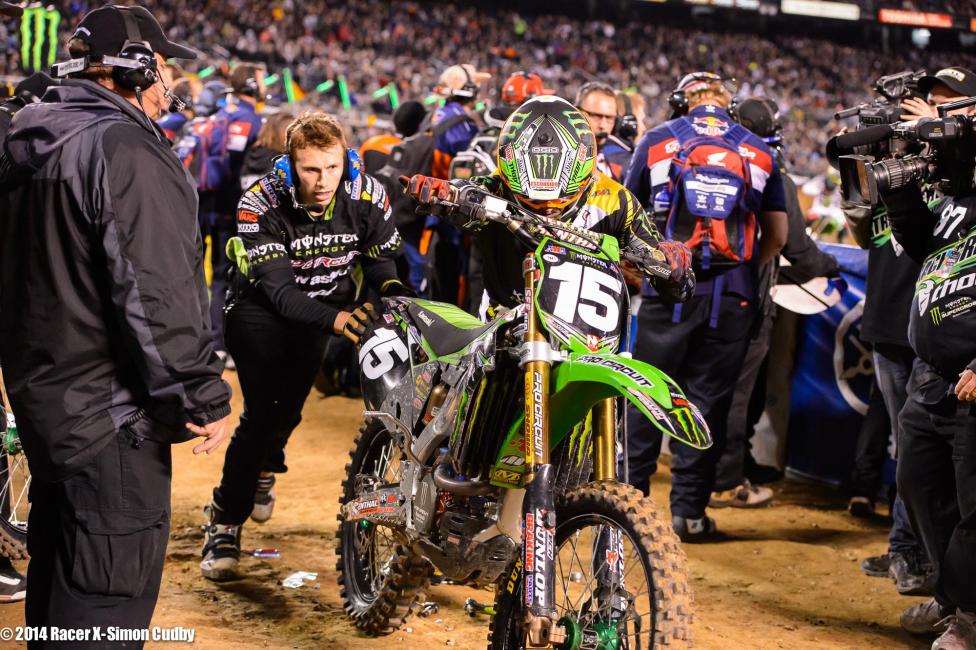 Unfortunately for Wilson, his chances at garnering consecutive wins would evaporate when he crashed and went over the bars. A lap later Wilson had to pull into the mechanic's area for repairs. He was able to rejoin the race but he was several laps down and finished twenty-first.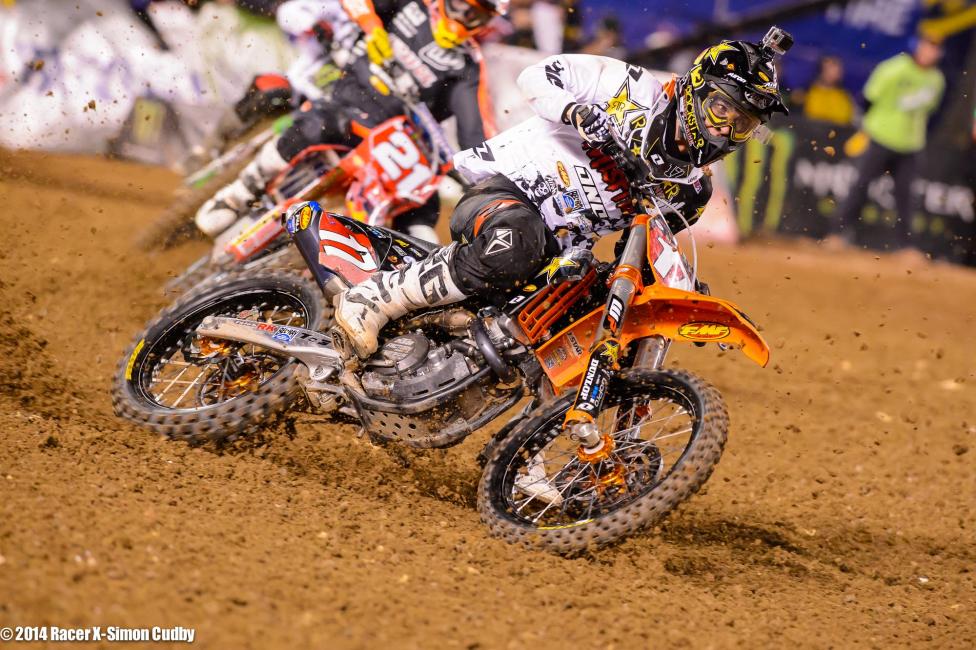 Seely and Anderson were close in the beginning of the race, but Anderson was a tick faster than Seely, who was still recovering after a case of food poisoning confined him to his bed for two days earlier during the week.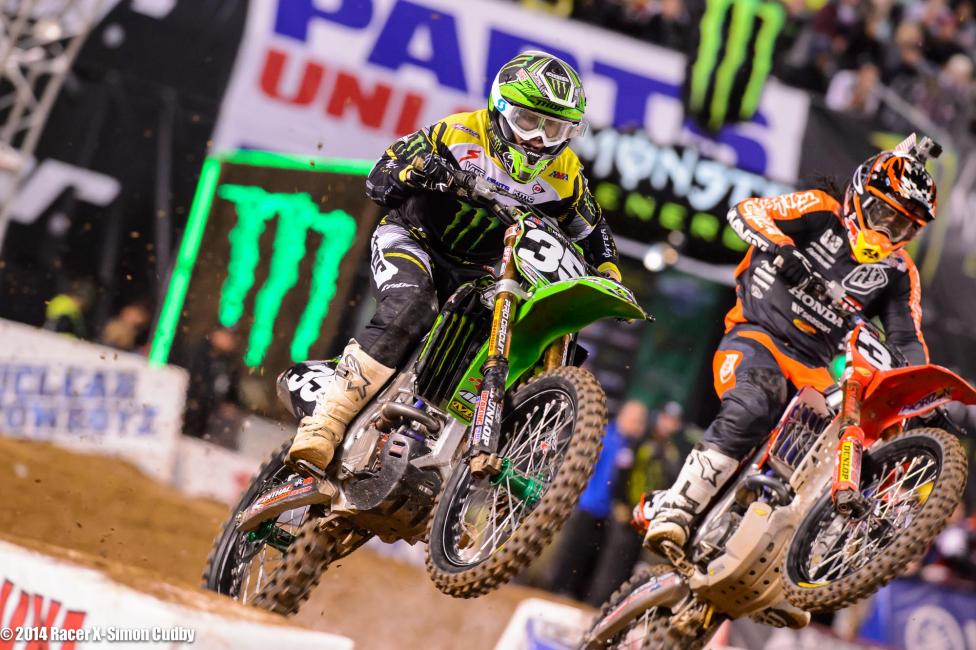 If Justin Hill can get good starts on a regular basis, expect him to be battling for wins and podiums when the Western Regional 250SX Championship resumes in Houston. Hill led fourteen of fifteen laps and looked great doing so. He kept his cool, didn't have any close calls and maintained his gap even when Anderson got into second place and really started charging.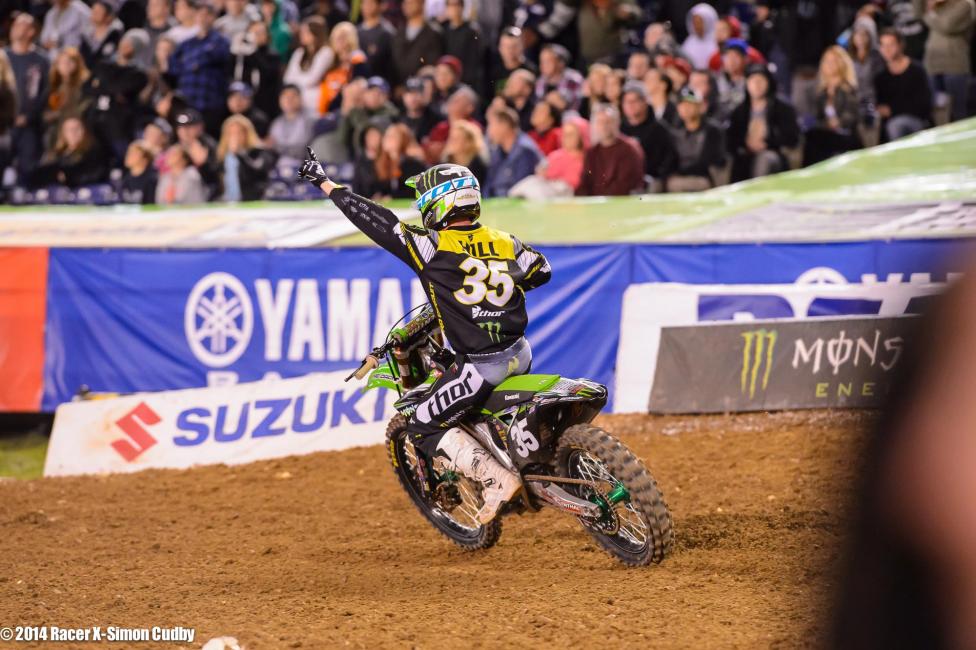 Hill notched the first win of his pro career tonight, but it didn't seem like he realized he'd taken the checkers at first. He kept charging for nearly a quarter of a lap before slowing down and celebrating. It might be the first time in the sport's history that lappers were held up by the winner of the race.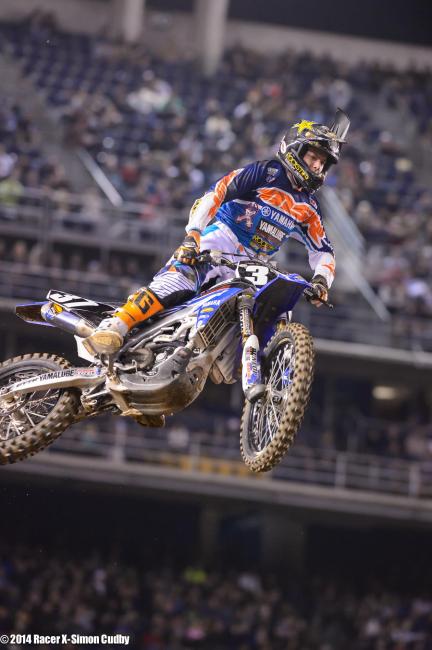 Cooper Webb was never really a factor in this race. He didn't get a great start and went down in a rhtyhm section, losing a lot of spots in the process. He scored fourteenth on the night, and is starting to establish a pattern of having a good night one week and an off-night the next. The good news? He's due for a good night when the series resumes.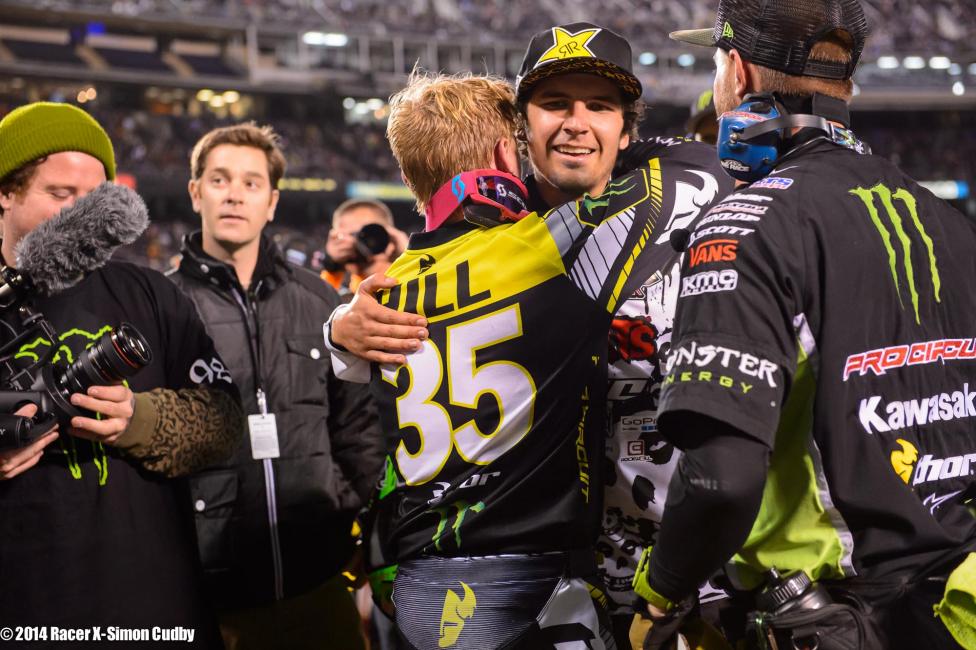 Even though Anderson didn't win, he still has reason to smile. He goes into the break with a four-point lead over Cole Seely.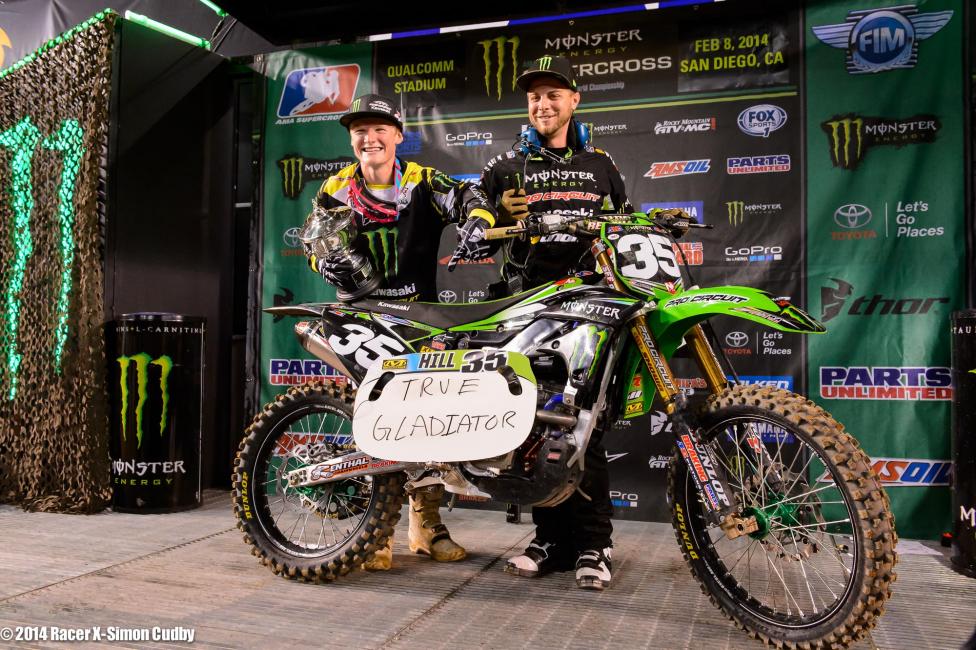 450SX Main Event Results
1. J. Stewart
2. R. Villopoto
3. K. Roczen
4. R. Dungey
5. W. Peick
6. J. Barcia
7. E. Tomac
8. B. Tickle
9. J. Brayton
10. A. Short
11. J. Hill
12. C. Reed
13. I. Tedesco
14. M. Alessi
15. M. Goerke
16. V. Friese
17. N. Wey
18. K. Chisholm
19. J. Decotis
20. P. Nicoletti
21. C. Blose
22. M. Moss
450SX Class Season Standings
1. Ryan Villopoto, Poulsbo, Wash., Kawasaki, 126
2. Ken Roczen, Murrieta, Calif., KTM, 117
3. Chad Reed, Dade City, Fla., Kawasaki, 111
4. James Stewart, Haines City, Fla., Suzuki, 105
5. Justin Brayton, Cornelius, N.C., Yamaha, 98
6. Ryan Dungey, Belle Plaine, Minn., KTM, 94
7. Justin Barcia, Pinetta, Fla., Honda, 89
8. Andrew Short, Smithville, Texas, KTM, 72
9. Weston Peick, Wildomar, Calif., Suzuki 53
10. Wil Hahn, Menifee, Calif., Honda, 52
250SX Main Event Results
1. J. Hill
2. J. Anderson
3. M. Stewart
4. C. Seely
5. S. McElrath
6. J. Nelson
7. M. Leib
8. S. Champion
9. J. Canada
10. D. Ferris
11. D. Tedder
12. P. Mull
13. Z. Freeberg
14. C. Webb
15. R. Alanis
16. V. Teillet
17. T. Ingalls
18. J. Marrone
19. C. Howell
20. B. Scharer
21. D. Wilson
22. M. Horban
250SX Class Season Standings
1. Jason Anderson, Rio Rancho, N.M., KTM, 131
2. Cole Seely, Lake Elsinore, Calif., Honda, 127
3. Justin Hill, Yoncalla, Ore., Kawasaki, 107
4. Dean Wilson, Wesley Chapel, Fla., Kawasaki, 98
5. Cooper Webb, Newport, N.C., Yamaha, 92
6. Malcolm Stewart, Haines City, Fla., Honda, 89
7. Jessy Nelson, Paso Robles, Calif., Honda, 76
8. Shane McElrath, Chesterfield, S.C., Honda, 71
9. Zach Osborne, Chesterfield, S.C., Honda, 69
10. Dean Ferris, Murrieta, Calif., KTM, 63