Angel Stadium
Anaheim

,

CA
Race Center: Anaheim 3
Monster Energy AMA Supercross Championship
There are two huge disconnects between we mortals and the few riders good enough to grab a set of handlebars and tame a gnarly supercross track at pro-level speed. The first difference? Well, we mortals can't tame a gnarly supercross track at pro-level speed. The second? We get all caught up in the drama and bench racing and every possible scenario that exists. That's what makes us fans or pundits or press—we love digging deep, deep, deep into this stuff.
But the riders have to do the exact opposite. For them, the type of drama that gets us pumped only adds more pressure and nerves, and in a sport where so much is on the line, no athlete wants to add any more of that. The life of a professional motocrosser or supercrosser is the gnarliest of the gnarly—not only is the difference between sinking or swimming (i.e. making a lot of money and having a great career versus spending money and getting nowhere) incredibly thin, but also the danger is greater than nearly every other sport. Every time a guy swings a leg over that bike, disaster could strike. And, also, you're only as good as your last race, in the eyes of many. How do you deal with that on a daily basis? You try to block that crap out.
Indeed, the early season races provide much fodder for those of us behind a keyboard or on the couch or in the stands but to the riders really aiming for a title in the 17-round grind, it's key to dampen those spirits. Downplay, downplay, downplay. That's why we all want to hear some trash talk at the annual Anaheim 1 press conference, but that's why the riders won't do it.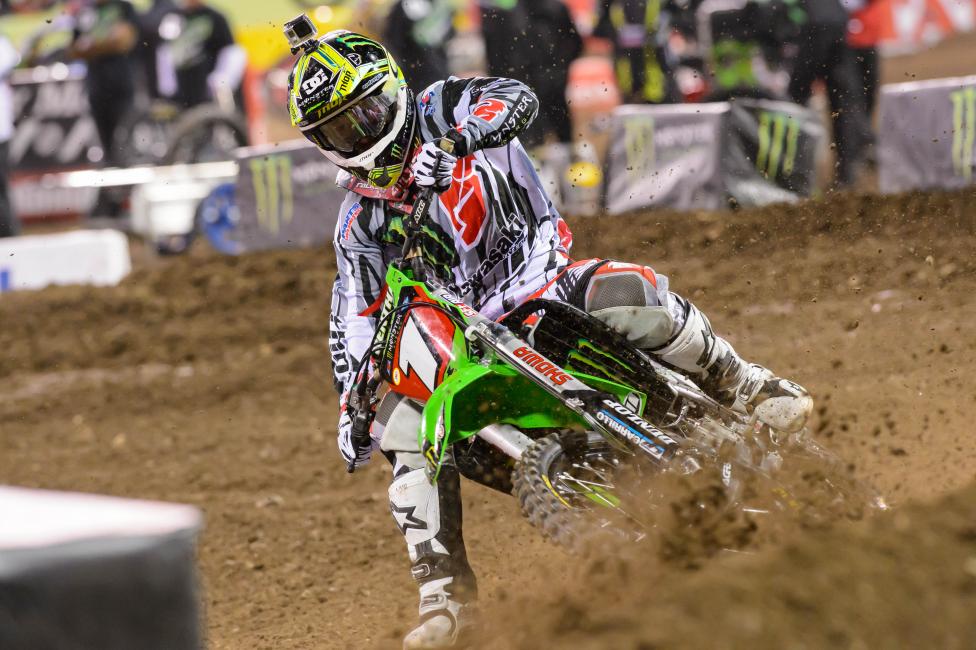 All of the Anaheim races are gnarly in this regard. The season always starts with hype at a fever pitch, and, the races are in the backyard of the industry and sponsors. By the time the tour rolls through places like Toronto and St. Louis there isn't nearly as much attention and conjecture, and yet, those races are often the craziest. At this stage in the game, contenders are just trying to manage things—you know, not win it, but also not lose it. There's a reason Ricky Carmichael used to say, "The series begins in Daytona." And the reason is not because the series actually begins in Daytona, because it doesn't, and, what's more, RC always did a ton of damage in the series before Daytona. Had the series actually started in Daytona in 2003 or 2006 he would have lost the title—the Cali races gave him a nice cushion to work with. But RC was smart enough to downplay those early races—again, manage it, downplay the hype, avoid the extra pressure.
This year's trip through Anaheim presents an extreme scenario, though. The defending champ, Ryan Villopoto, didn't win any of the three races. This is not a big deal, RV has admitted that the Anaheim dirt is not the best for him, and, he's still holding the darned points lead anyway. However, we dug into some numbers to see if any of this meant anything.
First, a list of defending champions to not grab an Anaheim win:
Ryan Villopoto
2014 – Defending Champ
Ryan Dungey
2011 – Defending Champ
James Stewart
2008 – Defending Champ
*Stewart left series with torn ACL
Chad Reed
2005 – Defending Champ
2009 – Defending Champ
Ricky Carmichael
2004 – Defending Champ
*Was out with injury
2007 – Defending Champ
*Didn't race full schedule, only raced one Anaheim

Jeremy McGrath

1999 – Defending and Eventual Champ

* Schedule only had two Anaheim rounds, although it's worth noting that MC only won a singe race (PHNX) in the first six rounds.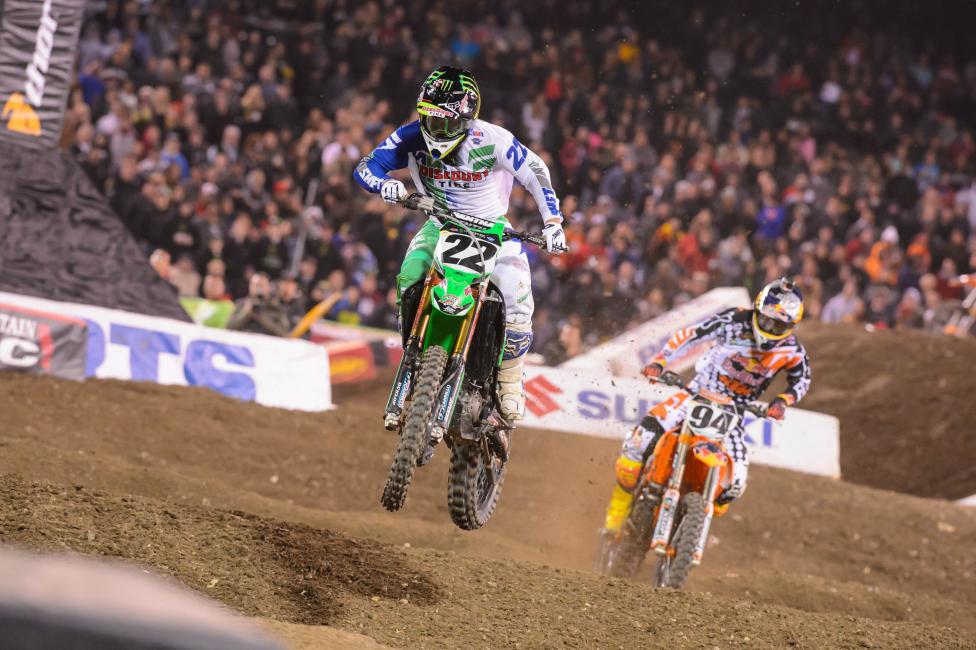 Okay, so, hey, it happens. But let's look at it from another angle—when was the last time a rider didn't win one of the three Anaheim races and went on the win the title?
Well, um, never. It's never happened. The last time a rider went 0-for-Anaheim and went on to win the title was McGrath in 1999. And in that season, there were only two Anaheim races. So, if Villopoto goes on to win the title this year he'll be the first in the modern three-Anaheims-in-one-year-era (and, you can even include the two seasons that SX visited Dodgers' Stadium in lieu of A3) to not win in the Big A and still win the title.
This could be something for us to think about. However, we know this for sure: it's something Villopoto doesn't know or care about at all. It's his job not to.