Angel Stadium
Anaheim

,

CA
Anaheim 3 (A3)
Monster Energy AMA Supercross Championship
One more Anaheim to go.…
Welcome to Racerhead, coming at you from the parking lot of Angel Stadium in Anaheim, where the fifth round of the 2014 Monster Energy AMA Supercross Championship will go off tomorrow night. It's been a solid first month for the series, both on the track and in the audience, as great racing and big crowds continue. Tomorrow is the last chance for the champ, Ryan Villopoto, to get his first Anaheim win of the season. Same goes for James Stewart and Ryan Dungey, although for them it would be a first win period. And in the 250SX class, Rockstar Racing KTM's Jason Anderson will be trying to win his fourth race in five tries; whether or not he continues his incredible run of last-lap passes to win remains to be seen. More on that later.
Yesterday I had the chance to go out to Glen Helen Raceway, site of the opening round of the 2014 Lucas Oil Pro Motocross Championship, and check out the work being done as they get return to return to the outdoor schedule. Jody Weisel was there to show us what he has in mind for the track, and I think it's going to be both challenging and spectacular. A lot of folks are working very hard to make the whole series a smash hit, and it was good to get back out there in the shadow of Mt. St. Helen.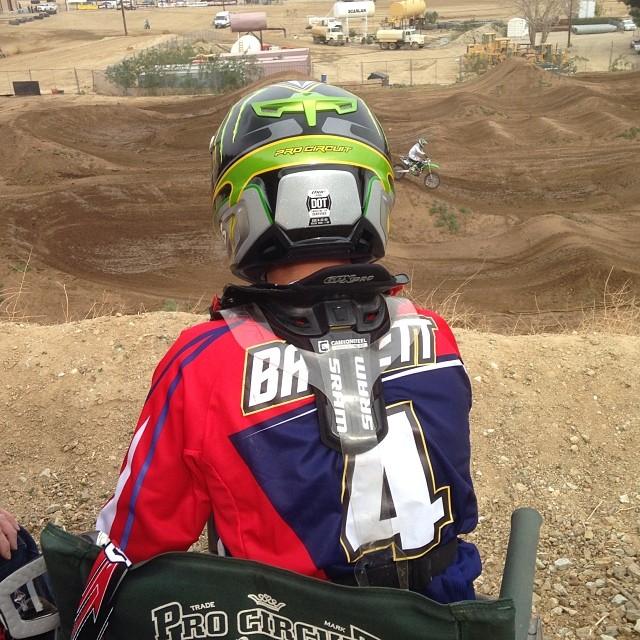 Up on the hill at the Pro Circuit SX test track, there was lots going on. Mitch Payton was out there watching his East Region lineup—Blake Baggett, Martin Davalos, and Adam Cianciarulo—work on their setups for when it's their turn to get behind a starting gate in a few weeks. None of the West Region guys were there, having already been out to do the work. Still no official word on what happened to Deano's bike on Saturday night when he slowed suddenly on the takeoff of a triple while leading and basically gifted the win to Anderson. (Deano himself isn't saying either, as you will see down below.) Regardless, the team looks and sounds confident that they will be ready to get back in the winner's circle, as soon as tomorrow night.
While up there watching those kids all ride, I got to thinking about how far the motocross system had come since 1982, when Kawasaki's Team Green was founded. Back then it was almost impossible to get noticed unless you were a local SoCal hotshoe on the Golden State circuit. Team Green was built with a nationwide platform, in hopes that the best young riders in each area would end up on Kawasakis and help sell more motorcycles by winning, then graduate to the Kawasaki factory team. Of course now Pro Circuit is Kawasaki's factory team, but two of the three guys out there—Baggett and Cianciarulo—are graduates of Team Green, as are Villopoto and Stewart—and before that legends like Ricky Carmichael, Kevin Windham, Jeremy McGrath, Jeff Emig, Mike Kiedrowski, and more.
Earlier this week, the man who helped found and launch Kawasaki Team Green, Dave Jordan, passed away after a long illness. Jordan was a throwback to another time in motorsports racing, a guy who would show up at the races in a Panama Jack hat and walk around with a big tumbler of soda and Crown Royal, smoking like a chimney and working the pits like a politician. He was irascible, funny, and charming, just like the Southern gentleman he was. It was Dave and his then-wife Sandra that brought along the charter riders for Team Green—Georgia boys Billy Liles and Keith Turpin—and sent them out to show the rest of the country that talent grew all over the nation. Soon they were plucking more talent from all over the place, like Michigan's Eddie Warren, Kentucky's Tommy Watts, North Carolina's Rodney Barr and Todd Benfield, California's Paul Denis and Curt McQuiston, West Virginia's Brian Stanley and Charley "Chinky" Godby, Louisiana's Wendell Simmons and Trampas Parker, and many, many more.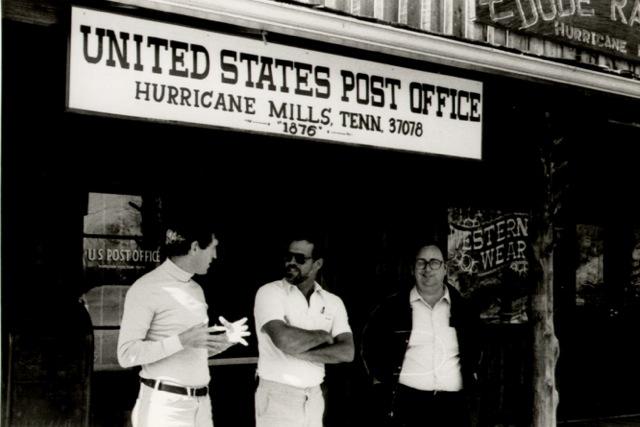 Jordan was also a huge part of the early success of the Loretta Lynn's AMA Amateur National Motocross Championships. When my dad and co-founder Paul Shlegel went to lay out the plans for the race back in the fall of 1981, Jordan met them there at the tiny post office in Hurricane Mills, Tennessee. He heard the plan, saw the field where the track was going to be built, and decided to become the first sponsor of the race, which began in August 1982. And because he put it in the contracts of his top riders that he expected them to compete for an AMA National Championship, Yamaha decided to send their big hitters: Ron Lechien, Johnner Kight, Danny Storbeck, Keith Bowen, Kevin Foley, Colin Edwards and more. The next year others followed. Mr. Jordan's seal of approval back then held great sway, and without him it is highly unlikely that Loretta Lynn's would have survived. It is for that reason that, to this day, more than thirty years later, Kawasaki Team Green gets the prime spot right behind the starting gate, even though they haven't been the title sponsor since the mid-eighties.
All of amateur motocross—and to some degree pro motocross—owes a quiet debt of gratitude to Dave Jordan (as well as Sandra Yarnell). He left motocross and Kawasaki Team Green long ago, but his work to get the program started still resonates to this day. Godspeed, Mr. Jordan.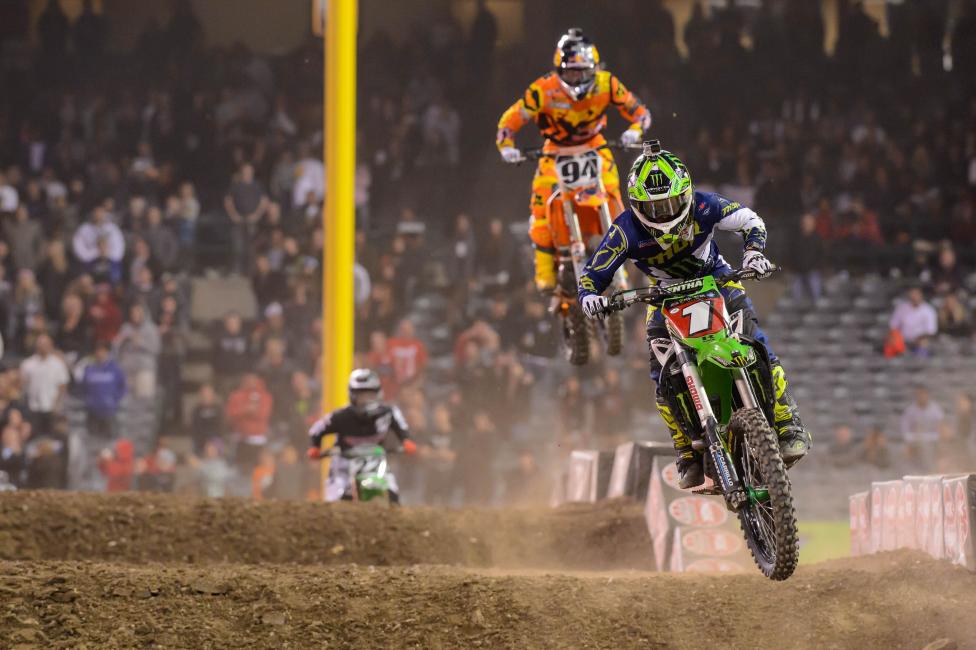 The New Stew (Jason Weigandt)
James Stewart was once notoriously not happy with anything but winning, but he seems to have a more consistent mental outlook these days, taking the results as they come and not beating himself up as much if he doesn't win. "I'm going to be out there on a golf course or doing whatever in a few years," said James during a media roundtable discussion yesterday at Angel Stadium. "So while I have the chance to go out there in front of 50,000 people and millions of fans on TV, I better enjoy racing."
"Is that just because of the pressure you used to be under?" a reporter asked. "Now it's almost like you're the underdog."
"I don't think it's that because I hate being the underdog!" replied James. "I'd rather be that guy who is supposed to win every weekend. I think it's just not being complacent—it wasn't pressure when I was going 24-0, it was just like, 'I won another race, what's the big deal?' Now those wins don't come as easy as they used to, so I enjoy it more. But also, I enjoy the process of having a bad week and coming back and having a great week. I enjoy that a lot more."
James said he had more fun last year—when he won two races—as he did during the 2008 season when he went 24-0 in the AMA Motocross Nationals. Now he sees the current champion, Ryan Villopoto, going through the same thing.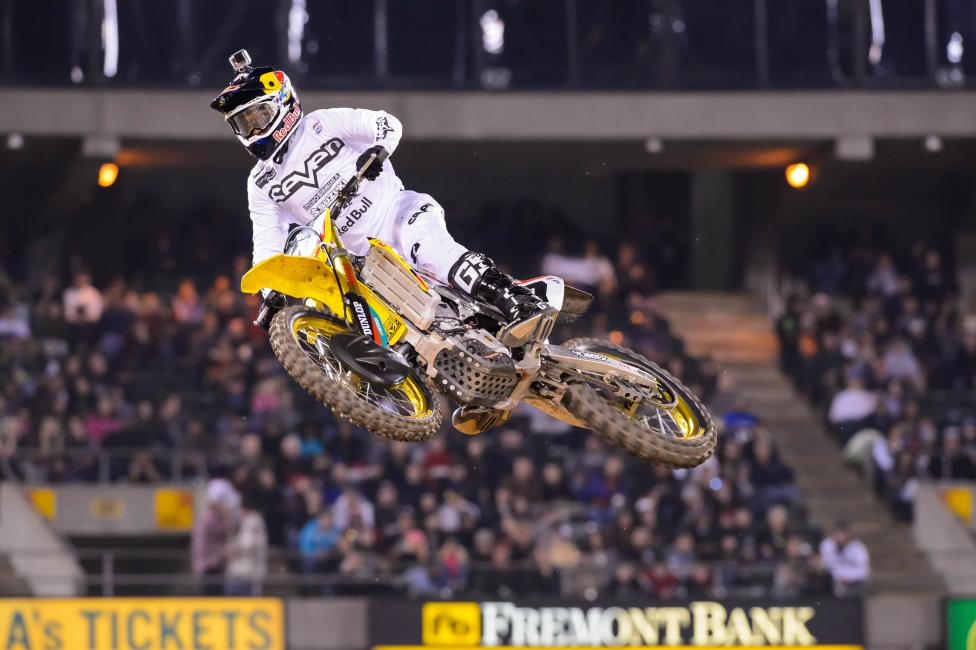 "I watch Ryan, and I can tell he's in the same situation I was," said James. "It's expected from a lot of people. And when it's expected from that many people around you, it's hard to be like, 'Oh my God, I just won a race again!' when everyone around you is just like 'It's expected.' Trust me, my team expects me to win races, but they also understand that it's harder to come by. They've seen me have success and they've seen me have failures, and they've seen me not change. I put in the same effort I did winning Atlanta and having a DNF on the starting gate in Dallas. I came back to the test track Monday morning and put in my work."
But as James says, don't confuse his new attitude with being complacent. He still wants very much to climb back up to where he was, and win this title. "But I can see it in Ryan's eyes, that's he's probably not enjoying it as much as he should, and I hope he doesn't [laughs]! It's my job to make sure he doesn't!"
THE KING'S TOUCH (Steve Matthes)

I know it's been beaten to death, but what exactly is going on with Justin Barcia? I touched on this last week, so I'm hesitant to type more about the #51's underwhelming start to the series, but I called up his trainer/mentor Jeff Stanton for some quotes on another story (see below) and of course the conversation drifted to Justin.
Stanton's remaining optimistic and really felt like Oakland was going to be great until Barcia fell—and indeed Barcia had come from about twelfth or so to sixth before he crashed. Jeff also said that one of the greatest starters of all time and Honda R&D rider Jeremy McGrath (ever heard of him?) took some time to work with Justin on starts. And if you think about it, Barcia hasn't really been up there much on the start other than Phoenix, and that race didn't work out. So Stanton thinks that MC's help will pay off, as well as some other adjustments, and we'll see a better Justin Barcia this weekend.
I like this working-on-starts thing better than Weigandt's theory that when Brayton and Barcia collided in Phoenix there was a "transfer of powers" from the #51 to the #10 and now Brayton is Barcia and Barcia is Brayton. But hey, I'm not ready to totally rule out Weege's idea.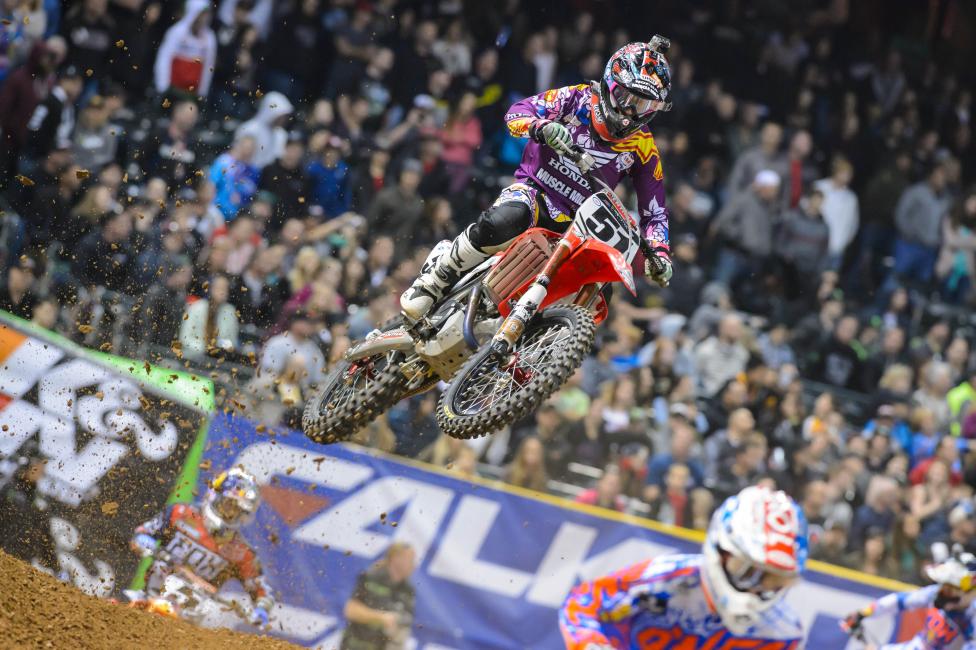 E.T. RETURNS (DC)
It's been a long month on the sidelines for GEICO Honda's Eli Tomac, the reigning 250 Lucas Oil Pro Motocross Champion who was considered a title contender when he joined the 450 class this season. But then Eli got into a collision with Jake Weimer in the second turn of his Anaheim 1 heat race, leaving him with a shoulder contusion that made it tough to even lift his arm. Tomac tried therapy but time is what the injury needed, so he passed on racing A2 and Oakland without being 100 percent. Now it sounds like he's there, so #3 will be back on the line for the first time in five weeks.
"No one is even thinking of us at this point, so maybe we can get out there and sneak up on some guys," Tomac said in the press release. "It would be great to get in some good rides and try to put this GEICO Honda up on the podium. I'd love to win some races, for sure. I know we have everything we need to be successful, and if we can stay healthy I like our chances."
In case you're wondering, back at Anaheim 1 Tomac qualified fourth fastest in the afternoon, 1.2 seconds off the fastest rider that afternoon, Justin Barcia.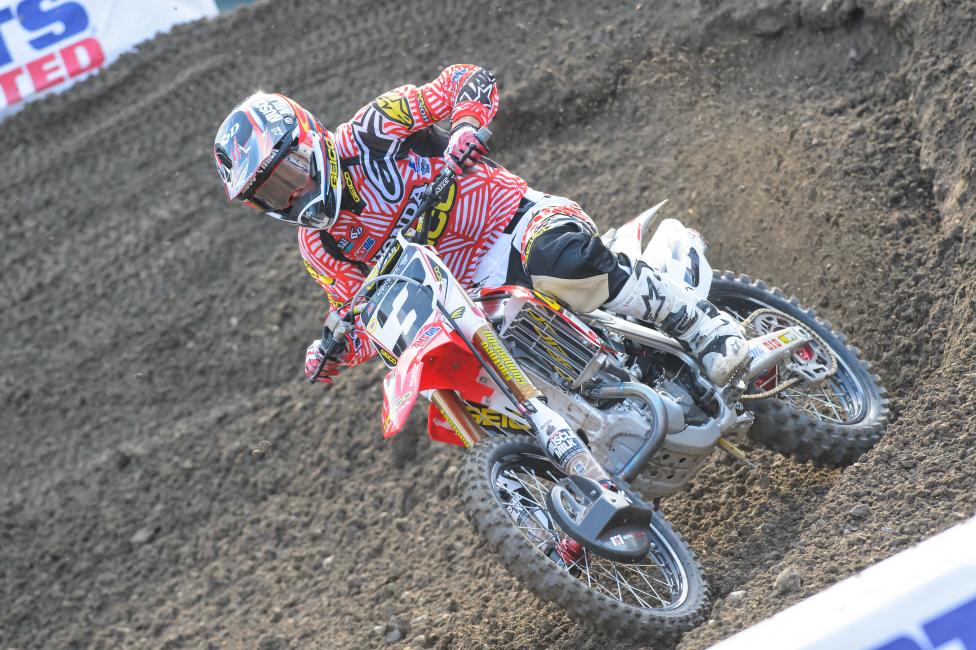 CHAMPIONSHIP ENDEAVOR (Aaron Hansel)
Champions often earn their status with the help of the people surrounding them. If you've got a smart and positive crew around you that have your best interests in mind, it can be a tremendous help. For Jason Anderson, who added racing legend Jeff Ward to his group (a group that already included Coach Seiji and the Rockstar Energy Racing Team), this is proving to be true.
Ward and Anderson hooked up in October, and the two have been working on things like physical and mental strength, minimizing mistakes and making sure he can race the final laps of a main event at qualifying speed. "It's ironic that he's [Anderson] passed for the lead on the last lap for every win," Ward says, "That's what we train for during the week, is putting those last four or five laps down at qualifying speed. He works hard and never gives up."
While Anderson's ability to close a race out strong this season has been outstanding, Ward feels that the biggest gains he's made have been in the mental department. "Racing is all mental," Ward says. "A lot of these guys put the work in when they ride, but when they come to race things happen that shouldn't bother you, but they do, like if something doesn't go right in a heat race or something. I did it for many years, so I know the feeling these kids have in their heads as they go up to the line. A lot of the times they keep something in there that bothers them, but we've been able to erase all that. It's going to be a lot of pressure getting down to the championship, but I want to keep the lightness going. It's a hell of a lot better to have an opportunity to win the championship than it is to not be in it at all. I love working with Jason, it's been really fun."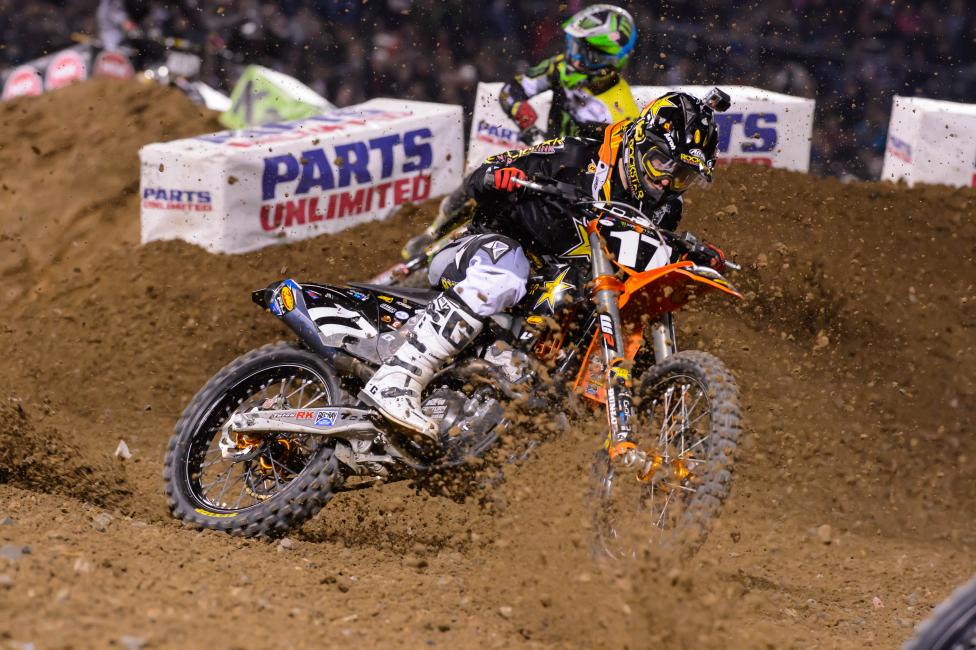 WINDHAM=TV STAR (Matthes)
I spoke with Kevin Windham this week for a story and got his take on the series so far. Among the highlights were him saying that he's "given up" trying to figure out Chad Reed and he's now just going to sit back and enjoy this ride the 22 is giving all of us. As Windham says, he's proving everyone wrong for the hundredth time or so and why bother thinking about why?
Kevin also mentioned that he thought Ryan Villopoto allowing Ken Roczen into his compound with trainer Aldon Baker was a sign that RV probably intends to hang it up after his current contract is up. Otherwise, why would a rider do that?
And yes, he does think about still being out there now and then, but when he sees a crash he remembers why he hung it up and is happy with his decision.
And in the department of no-brainers, Windham is going to join Ralph Sheheen and Jeff Emig in the booth this weekend on the Fox Sport 1 broadcast. We saw McGrath in there last week and he was great, and now it's time for Windham to try it out. And does anyone out there not think he will be fantastic up there with Emig and Sheheen?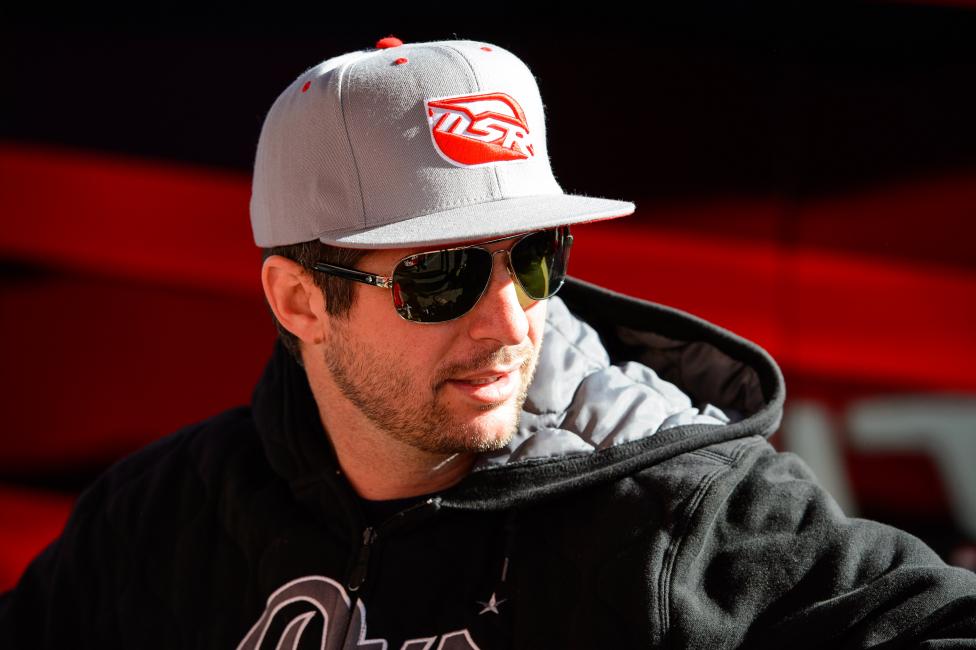 PRO PERSPECTIVE – THE SURFACE (David Pingree and Jason Thomas)
Ping: One common theme at Anaheim since they began running multiple rounds there is the condition of the racing surface. The opening round usually has pretty good traction. The crew adds plenty of water as they pile the dirt and begin to sculpt the course, resulting in plenty of grip throughout the night. But then the dirt sits and bakes in the California sun, which has been unseasonably hot this winter (if you call 85 degrees throughout the month of January winter). Round two usually ends up being more blue-groove and can get especially slippery later in the night when the temps drop. If you thought the opener required good throttle control, you better go find Kevin Windham and have him give you a crash course in technique before A3 kicks off. And then after A2, in a coup de grace for traction, Feld hosts their popular Monster Jam event on the same dirt right there in Angel Stadium and it is compacted, dried out and baked for a whole week. While the Southern California natives may enjoy going muy loco for El Toro Loco and the offspring of Grave Digger, it turns the once-moist decomposed granite into hard-packed dust. Dirt Wurx does their best to bring it back to life but barring precipitation (haha, yeah, right) this weekend's racing surface will offer all the grip of a hockey rink. Patience is a virtue on this type of track and those with a heavy throttle hand will find themselves sliding across the stadium floor and spending the next week re-growing skin on their elbows.
Who will shine on the slippery track and who will put the "turd" in Saturday night? We'll find out tomorrow as we hit the big "A" one last time.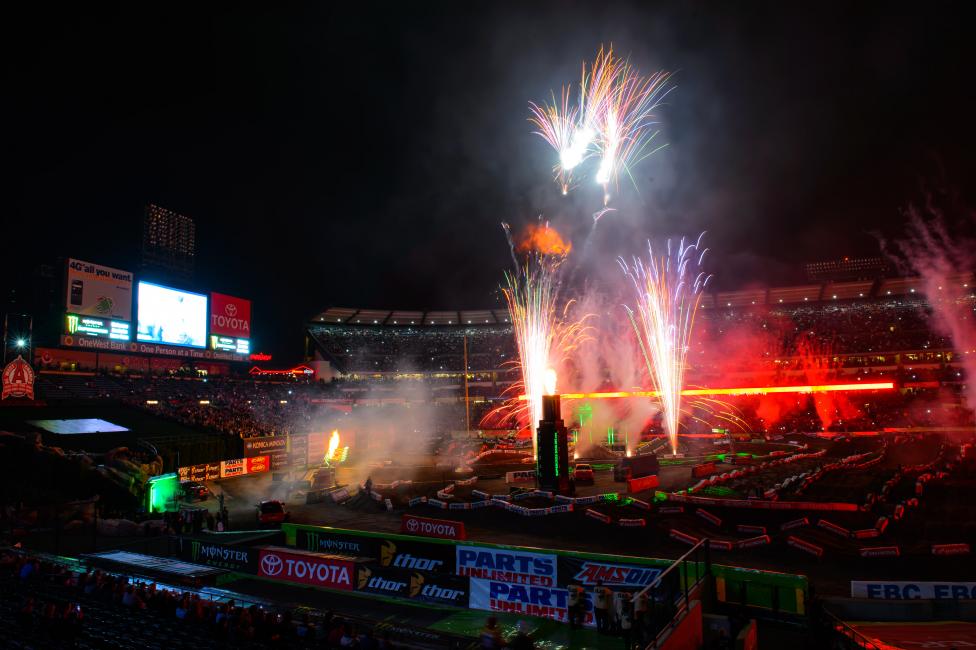 JT: Anaheim 1 starts out pretty decent but by the end of the night it gets slippery. Anaheim 2 isn't what anyone would consider good traction but riders still get aggressive when they can. Anaheim 3 feels more at home for Oksana Baiul than a supercross rider but it's the same for everyone. Everyone will be turning up their throttle control settings and mellowing out their power curves for what is always a test in patience and technique. As Ping said, the Monster Jam and weeks of sun really pack down the Anaheim base and make it as soft at the adjacent freeway. The track crew will do everything in their power to bring life back to the California adobe but that ship has sailed from what I have seen in previous years.
Settings and tire choice can make big differences in how the results pan out. In other words, the teams can really impact how their riders are capable of performing. With the fuel-injection advances of recent years, the bikes can really be fine tuned for conditions like these. Even for someone with zero throttle control like myself, the bike could be tuned down and keep that rear tire hooked up. That's a cool aspect of races like this. Watch the different bikes and riders and see who really has their setup dialed in to the deteriorating conditions. The technicians will be chasing the traction for their riders all night, and it's usually noticeable who has it figured out. When you hear the winner thanking his team on the podium, you will have a little more insight as to what he is appreciating.
THE SEVEN-DEUCE-DEUCE (Matthes)
We had Adam Enticknap on the PulpMX Show and let's just say that if you're looking for an enthusiastic, give-it-his-all privateer to cheer for, you might start watching for the #722 out there. The Honda rider is pitted out of the Teddy Parks experience and has made a couple of mains in his career. Enticknap said that one of his highlights this year has been pulling a "sick scrub" by Josh Hill earlier this year before Hill got him back.
As Adam explained, it wasn't that long ago that he finished twenty-first in the LCQ in the Novice class at the World Minis, and now here he is, dicing with some of the world's best riders. Anyway, Enticknap missed the main by one in Oakland, and if you want an underdog with a great attitude to cheer for, look for #722 as he gets flat on the trips, bro.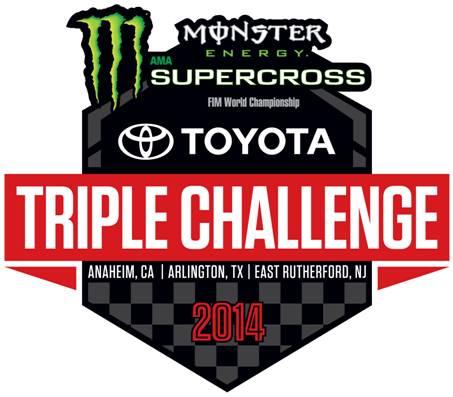 TOYOTA TRIPLE CHALLENGE: ROUND 1 (DC)
Now would be a great time for someone to get home and start rolling. There's one of those series-within-a-series deals kicking off this weekend with the Toyota Triple Challenge. It's a three-race points-earning challenge in which the man with the highest points over three specific riders gets a brand new 2014 Toyota Tundra, and if anyone sweeps all three they get a $250,000 bonus.
The three races are this weekend's Anaheim 3, the Dallas race on February 15, and the new race in East Rutherford, New Jersey, on April 26. Okay, that's a long time to wait for the third one, but it will also carry the interest across the country and right up until the end of the series, if someone wins the first two rounds, starting with tomorrow's race.
JACOB HAYES GETS CALLED UP (DC)
One of the names that keeps popping up in the Amsoil Arenacross Series so far is Jacob Hayes, the rookie who has been giving champion Tyler Bowers and the rest of the guys fits in the first few rounds. Now he's part of the longest-running AX team in the country as Dave Antolak's TUF Racing team has signed up the privateer rookie to take the spot of the injured Teddy Maier. According to the press release, Maier was injured at a race in Germany and was supposed to only miss a week at the outset of the series, but now it's been a month and the team was in jeopardy of missing out on the end-of-series championship chase.
Hayes won last weekend at his hometown in North Carolina (and in front of VIPs Ricky Carmichael, NASCAR driver Clint Bowyer, rapper-turned-home-builder-but-still-rapping Vanilla Ice, and Feld Motor Sports VP Todd Jendro) and now heads into Milwaukee aboard the Pabst Brewing Company/TUF Racing Honda. Hayes is fourth in the standings right now—the top ten qualify for the end-of-season championship—behind Zach Ames, Mike McDade, and Tyler Bowers, who are all within six points of each other.
MXGP COMING TO CBS SPORTS NETWORK (Chase Stallo)
Youthstream has announced a multi-year agreement with CBS Sports Network. As part of its Sports Spectacular programming, the network will air the FIM MXGP and the FIM SNX (Snowcross World Championship) throughout the United States and Canada. The 2014 FIM MXGP and the MX2 class will air on same-day basis, according to the release.
The Monster Energy Motocross of Nations will also return to the CBS Sports Network. The MXoN will be held in Latvia for the first time in history at Kegums on September 28. The agreement will also provide the FIM Junior World Championship TV exposure, according to the press release.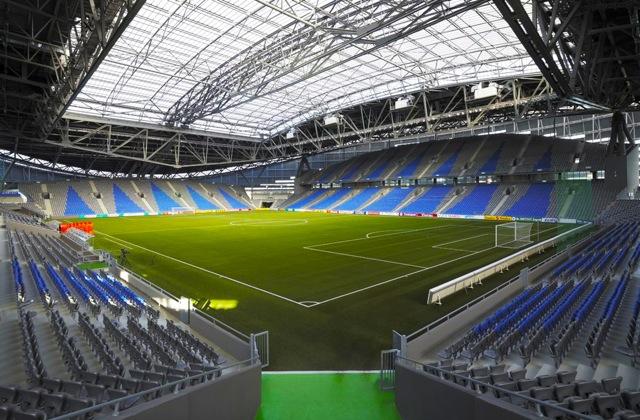 EXIT BERCY (DC)
Glen Helen is coming back in 2014, but the Bercy Supercross outside of Paris is leaving Bercy—though only briefly. Due to renovation and construction at the once-state-of-the-art Palais Omnisport in Bercy, a neighborhood in Paris' 12th arrondissement, the organizers of the biggest and most prestigious supercross race outside of North America are moving the 2014 race outside the City of Lights, to the city of Lille, near Belgium. The move may actually be a blessing in disguise as the stadium in Lille is soccer-sized, which means the race may be more of an actual supercross than an arenacross, due to the limited space of Bercy. The downside is they probably won't be racing back into the tunnels under the grandstands. Either way, expect a return to Bercy in 2015.
HEY, WATCH IT!
Dean Wilson was still bummed about the last lap in Oakland (but still taking the high road) when Moto Verte's Jordan Labbe hooked up with him for this video.
Jeff Alessi, the Dominican Republic, and human track markers? Make sure you watch this motocross version of Eastbound and Down to the end. La Flama Blanca almost takes the win!
Jean-Michel Bayle costars in this fantastic short film by Honda Motors France.
We showed you a clip of the dirt bike riders in New York City and the issues that come with the practice of riding around on the streets. Now it's made it's way to National Public Radio and a forthcoming movie. Check it out.
RANDOM NOTES
Congratulations to longtime racer, industry man, and motorcycling ambassador Scot Harden for being awarded the prestigious Bessie Stringfield Award, given to him by the AMA for his work to introduce motorcycling to new or underserved markets. Harden is the vice president, global marketing for Zero Motorcycles, and he's probably put in more miles in the desert than anyone this side of Malcolm Smith.
Headed to Anaheim this weekend? Make sure to come by the Racer X booth to subscribe or renew—and get your Racer X wall-cling! Only $15 gets you 13 issues of Racer X plus a giant, wall-friendly Racer X decal featuring Villopoto, Dungey, and Stewart—and as an added bonus, you can give a digital subscription to a friend! (Are you in the U.S. military? Bring your military ID and we'll give you $5 off the subscription price as a small thank-you for your service.)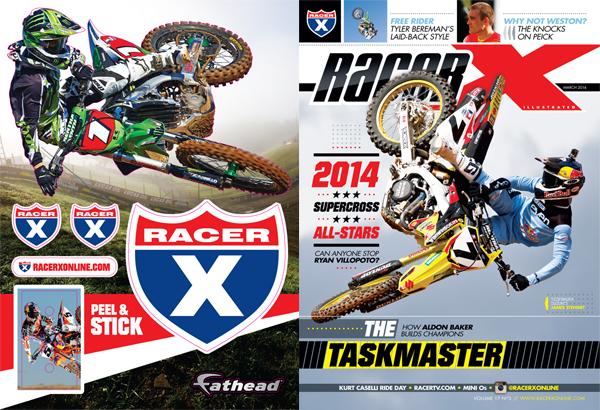 Fran Kuhn spotted this in the Los Angeles Times: "Goat Breker made the LA Times today. He's bought up most of the property up in the high desert in Randsburg. Still driving the old Ford Falcon van he had in the Inside Motocross Mammoth article."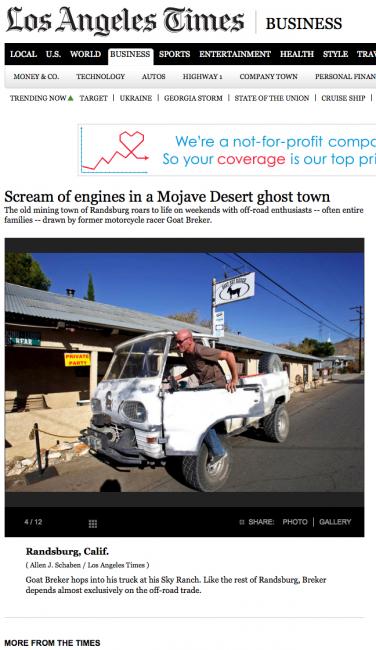 As promised here's the latest MX Captured with Stanton and Mike Sweeney talking about working with Rick Johnson at Honda.
Our man Moser over on Pulpmx takes some time each week to highlight the dudes that miss the main by one spot in his "Just Short" column. This week it's Adam Enticknap and Joeseph Dalzall.
Swizcore interviews The Quad God, Wil Hahn, after Oakland.
If you watched the NFL Pro Bowl last Sunday, you might have noticed a girl run out on the field after a touchdown wearing denim shorts, a bikini top, and what looked like a cape. She was "streaking," only she wasn't running around naked. Turns out there was a motocross tie-in to her actions, which didn't get her arrested but did get her escorted out of the stadium: She was doing it to honor her cousin, who had been badly injured two years ago in a motorcycle riding accident.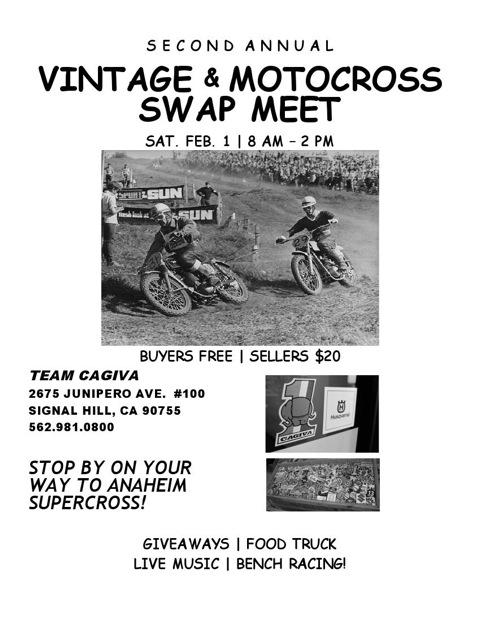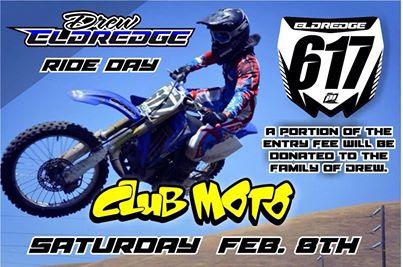 There is an eBay auction going on right now to benefit Tiger Lacey's wife and son. Tiger, of course, passed on December 31 due to viral meningitis. Check it out and see if you can help.
Finally, we wish our sincere condolences to longtime New England pro Tony Lorusso, whose wife, Lisa, passed away this week. Tony runs the CTMX track just outside Hartford, Connecticut, which is one of the only legal places to ride in that state. Lisa was very active in running the business side of the track, just as she supported his long racing career. Godspeed, Lisa Lorusso.