Angel Stadium
Anaheim

,

CA
Anaheim 3 (A3)
Monster Energy AMA Supercross Championship
Ping: Apparently Rockstar KTM has to run a 350 to meet contractual obligations and Ivan Tedesco has been slated to climb aboard. I'm not a fan of the fine print and stipulations in contracts like this because it puts everyone in a bad position. Trying to make a rider, or a team, ride a bike or a class they don't want to is a recipe for disaster, in my opinion.
I'm not sure how excited Ivan is to be changing bikes at this point in the season but I'm guessing he's just happy to be racing. When the 350 project was first launched here in the States the bike still needed some development. In production form it has come a long way since the Alessi/Short days and I can only imagine the race bike version is exponentially better. If Ivan can channel the 250 rider that won him two 250 supercross titles and an outdoor championship he should do just fine. If he tries to ride the 350 like the bike he's been riding he is going to have a hard time. You HAVE to be more aggressive on the 350 to see the benefits of it. It does have a lighter, more nimble feel than the 450 and, if ridden properly, that could be an advantage in supercross.
We've heard rumors around the pits that Davi Millsaps is planning a return to racing in Atlanta. That is a short three months post-surgery for Davi and not nearly enough time for his new ACL to be 100 percent. Any surgeon who didn't get his degree online will tell you that the graft is at its weakest point at the three month mark and although you may feel recovered you have to be very careful that you don't tear it again. Conservative docs like to see 8 to 10 months of physio prior to returning to the track; aggressive docs will tell you four to five. Either way, the question has to be asked: What will they do with Ivan? Is he staying on to ride the 350 or will he be thanked and shown to a nice seat in the stands? Time will tell. Hopefully Ivan can get some good finishes on his new ride in the meantime.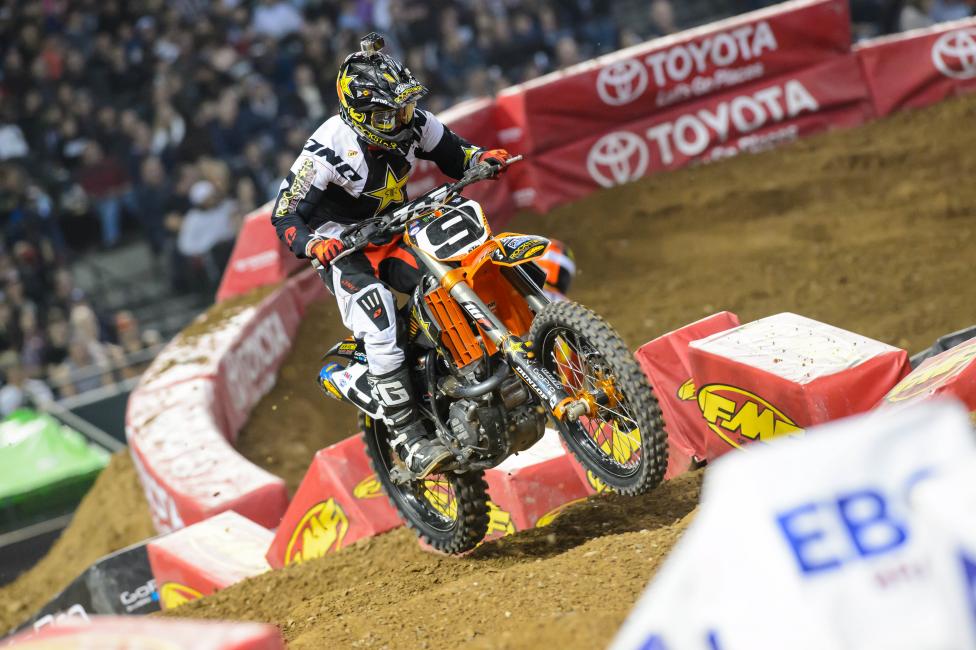 Steve Matthes: So let's talk about the people that are really hurt by this decision. By my count there are two people that this decision to put Ivan Tedesco on a 350 should really hurt. And perhaps we even see a tear or two.
And those two people are Canadians and Ivan Tedesco.
They have this thing in Canada where they want to promote Canadian bands and artists so the radio stations up there are mandated to play "X" number of Canadian artists every hour. It's a highly debatable policy but I'll leave that to another day. The short name for this is "Can-Con" for "Canadian Content". Where am I going with this? Well, let's just say that I am HIGHLY in favor of Can-Con in terms of supercross. I wish this were enforced.
So right now, the Can-Con of supercross is very low. Let's say it's pretty much "No-Can-Con" as of right now.
So with the Rockstar KTM guys having taken one Canadian off the track in the form of Cole Thompson (this is bad by the way) I think that Dave Gowland has let his own country down. Thompson was kind of thrown into this without a ton of prep so we'll cut him some slack. He also got better from Phoenix to Anaheim 2 so it's a bummer for him that he can't keep working on his skills. And yes, I know we'll see him on the 250 for the East Region, but even if you count Dean Wilson as half a Canadian (and I don't) the Canadian content has gone drastically down in the series.
This isn't a good thing. What in the name of Dusty Klatt is going on here?
And Ivan Tedesco, what have you done to upset these guys? I'm not a fan of the 350 SX-F for pro racing and I think that it's been proven the bike just doesn't work at these levels. Ok, you can take the Mike Alessi winning Hangtown first moto on it as your defense and I'll take EVERY OTHER RACE IT'S EVER BEEN IN as mine. Tedesco's comeback to racing this year is going okay, he's not setting the world on fire, but he's more than getting respectable finishes out there. Why would you put him on the 350? What did he do wrong?
Contracts are contracts I guess so the team has to have a 350 on the track and Tedesco drew the short straw being as he's the only guy in the big bike class. You'd have to think that Tedesco, who told me that the team told him they would keep him on for outdoors if he was "doing what he should be doing," is guaranteed a spot on the team all year now. Because they just sabotaged his supercross results with this move. The bike doesn't have the grunt and power you need out there, and any veterans that have tried to race it indoors struggle with it after spending all that time on a 450.
I feel sorry for Canadians, Cole Thompson and Ivan Tedesco.