O.co Coliseum
Oakland

,

CA
Oakland
Monster Energy AMA Supercross Championship
To quad or not to quad, that was the question on Saturday night. During track walk earlier in the morning, many were wondering how the section after the start would play out. The beginning of this rhythm section was fairly straightforward: triple onto the tabletop and step off. Next came the tricky part: A 3 foot single jump followed by a small tabletop, a 5 foot single and a 2 foot single in the turn. The easy line was to jump the first single to the downside of the tabletop and simply double into the turn. That's what 99.9 percent of the riders would do all day and night. But Wil Hahn, James Stewart, Ryan Dungey and Chad Reed had a different idea.
They turned the second half of the rhythm lane into a quad jump, jumping past the tabletop to the 5 foot landing beyond. It was an intimidating prospect. The consequences of coming up short on such a high speed, steep jump would be disastrous, and remember, they were taking off from a 3 footer and landing on a 5 footer. And coming up short isn't the only thing to cause hesitation. Remember, the start of that rhythm section featured a triple onto a tabletop, and everyone would step off. When stepping off a table, the suspension is under full compression and its reaction is not always predictable under such a load. When a bike is under extreme load on takeoff, there's a great chance of an endo. The riders that executed the quad hit it after that first step off, with the bike under load, at full speed. Those are difficult circumstances! In fact, Dungey and Stewart both came up an inch or two short on more than one occasion, and the fans' "oohs and aahs" drew attention to it.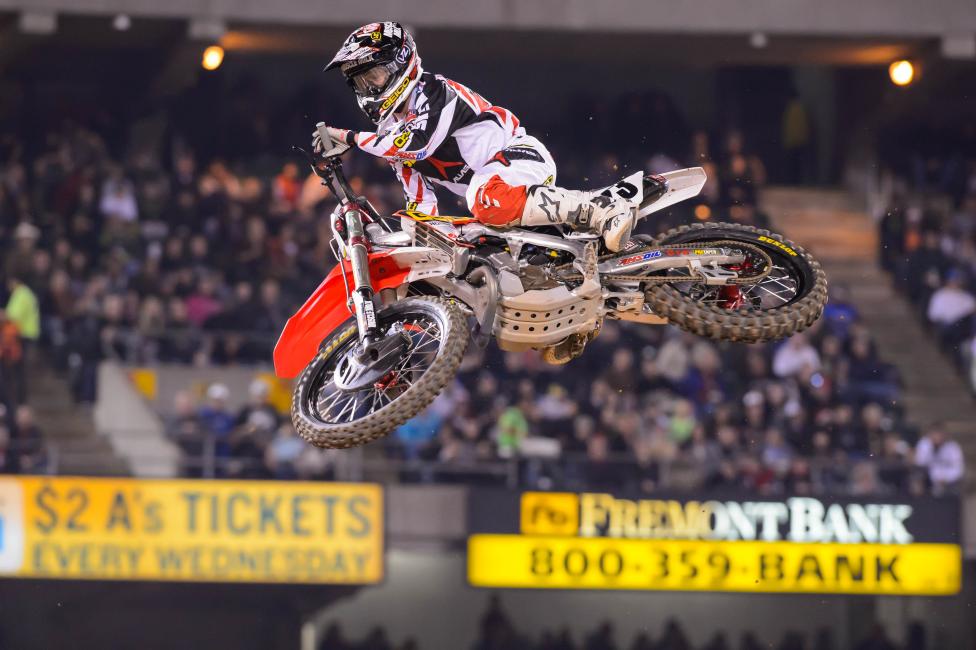 The physical aspect of the quad was incredible on many levels, but more interesting to me was the mental game. I believe that most, if not all, of the riders inside the top 10 could jump that quad safely and consistently. Few were willing to put life and limb on the line for that advantage. One mistake on a jump like that could spell the end of a season or even worse. It was high risk/high reward all the way.
Wil Hahn gets the award for being first to jump it. There were rumors floating around that he had done it in practice but no one knew for sure until he jumped it again on the last lap of the heat race. He nailed it so smoothly that I got out of my chair in disbelief. Of course, in this age of video and analysis, no secrets last long. Once teams saw that it was indeed possible—and much faster—it became a question of who was willing to step up to the plate and grab a handful of throttle.
But the last in the "quad club" was a bit of a shocker. Ryan Dungey doesn't have the reputation of a risk taker.
In the main, Chad Reed went big early, jumping it on the second and third laps. Even though he seemed to have it figured out, it would be the last time he pulled the trigger. He made up significant time on race leader Ryan Villopoto on those laps, but would later say he just didn't feel comfortable with the risk and opted out for the rest of the race. Stewart threw his hat into the ring on lap four and used it to not only pass Reed for second place but also make up time on Villopoto. James looked comfortable with the massive jump and probably could have done it as long as needed. Since James has always been known to push the envelope, this wasn't surprising. But the last in the "quad club" was a bit of a shocker. Ryan Dungey doesn't have the reputation of a risk taker. He usually makes his money with corner speed and consistency, not daring feats of grandeur. To his credit, he had the quad dialed in during the second half of the race and would use it to pull up to Reed's rear tire every lap. Reed would pull away in other sections but like clockwork, the #5 Red Bull KTM would get back on Reed's Discount Tire Kawasaki by the end of that section. It was an eye opening aspect of Dungey's otherwise unremarkable fourth-place result. Another sign pointing to Dungey's increased aggression? Could be.
But maybe more crazy than all that jumping was the fact that three-time defending champion Villopoto never jumped it at all. All three of the riders behind him were absolutely gaining time by doing it but Villopoto didn't need it. This leads to an interesting quandary. Which is more impressive? That three riders were willing to take the ultimate risk and jump something they probably didn't want to, or that Villopoto had so much confidence in his speed that he didn't feel the need to even try it? The riders that jumped it showed that they're all in for this title, and they're going to push every chip into the middle of the table. On the other hand, Villopoto has the ability to say, "Oh, the quad? Yeah, I guess it was faster if you needed that sorta' thing. I'll just go faster on the rest of the track and meet everyone after the checkers for champagne." RV didn't take that leap and while some can say he was hesitant or scared, he would just say he was limiting risk. One thing's for sure, he proved that the #1 is on his bike for a reason. These other guys are going to have to pry it from his kung fu grip, and if it takes jumping huge leaps to do it, they proved they're willing to take those chances.