O.co Coliseum
Oakland

,

CA
Oakland
Monster Energy AMA Supercross Championship
After the opener in Anaheim, you could have said Jason Anderson got a gift when lappers slowed down race leader Cole Seely and allowed Anderson to leave with the W. But after watching Anderson do the very same thing the following week, and now in Oakland, it's obvious that those wins didn't come by luck alone; the kid is definitely doing everything right. We caught up with Anderson after the race to get his thoughts on yet another thrilling victory.
Racer X: Another last-lap win! What's going on?
Jason Anderson: I don't know! It's not like I'm planning it that way. I'm just staying in every race, my fitness is good, and I think it's showing. Coach Seiji writes my whole program. He writes how many motos I do, my diet, everything. He's definitely the man behind the scenes, and deserves as much credit as my coach Jeff Ward. It's a team effort. He did it last year too, but this year I've taken a step forward with maturity. Nothing has really changed, it's just learning the ropes. Last year I was fast, I won a supercross, I just wasn't as consistent as I've been this year.
Take us through the race.
I got a pretty decent start, and I was behind little Hill [Justin] and I just kind of stayed behind him. I tried to make a move and Deano [Dean Wilson] ended up getting by both of us. I got by Hill and just wanted to pace Deano, but someone had crashed and there were yellow flags everywhere. I was super paranoid, just because of last weekend, that I rolled on the yellow flags! After I went through there I was wondering what I was thinking. Then I started reeling him back in and I was getting close at the end, and it would have been another close, to-the-finish pass, but he ended up making a little bobble which opened up the door for me to get another win.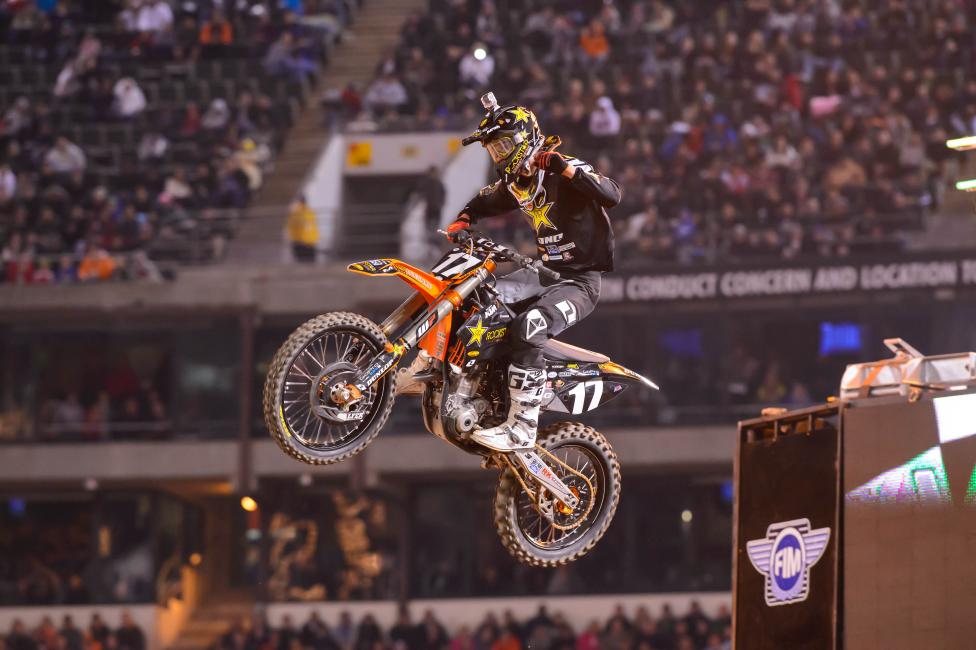 So when you saw him roll that jump, were you freaking out thinking you had missed another medical flag somewhere?
I thought something weird was going on because I didn't even know I passed him I thought he was a lapper or something. So I went right, hit the double and looked back and he was behind me. I was in shock! So I sprinted the rest of the lap because he was still going. I was like, 'What is going on?' He handed me the win, I got a little bit lucky tonight, but I'm in the right place in the right time, and that's what it takes.
When you crossed the line, were you pumped that you got another win, or amazed that you did it for a third time by making a pass on the final lap?
Well, I've won a couple races so far this year, so I don't want to say it feels normal. I'm just thinking championship, so when I win it's like, 'Okay, I got some good points.' Then I just move onto the next weekend and keep plugging away.
Have expectations been raised?
Yeah, for sure. From other people. But this has been my goal the whole time. I just want to be in it for the championship. That's my plan.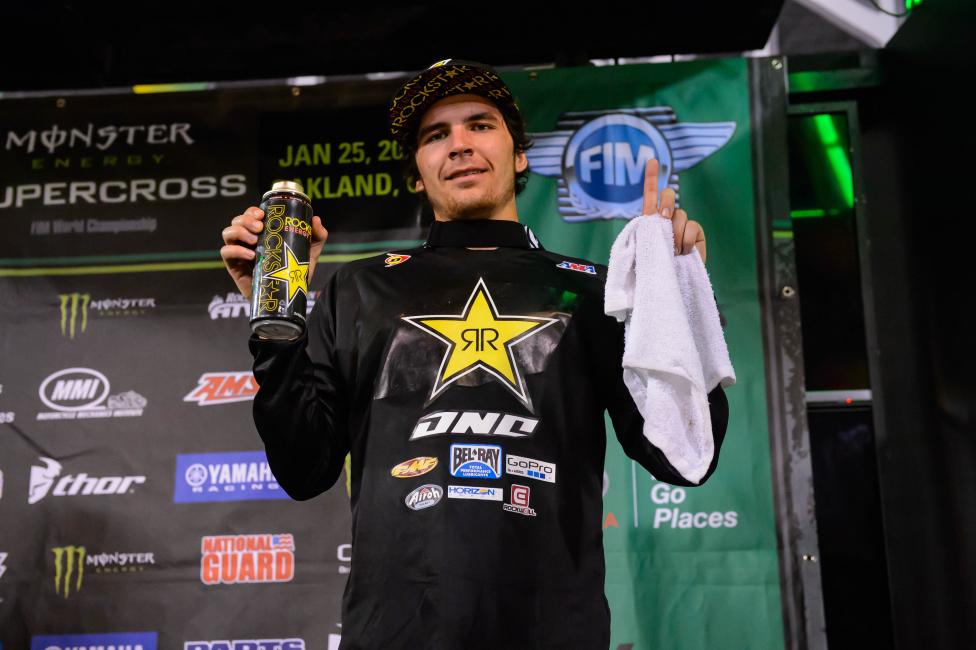 Were there any parts of the track where you were making up a lot of time on other guys?
I think I was good in the whoops tonight. They were actually pretty chewed up, but I think the dirt was actually better this week than we've had the last few weeks. That was a benefit for me; you could hammer the throttle more because it was tackier.
Is it a big deal mentally to get this win after being penalized last week?
Not really. I know I'm going to be good at every race and I know I'm going to be in it. The only thing that changed was the color of my number plate, but that doesn't affect me. I'm a laidback dude, I just go with the flow. It happened and I was a little bit bummed that night, but on Monday it didn't even phase me.
Well your number plate is red again now.
Yeah, it is!