O.co Coliseum
Oakland

,

CA
Race Center: Oakland
Monster Energy AMA Supercross Championship
Hello, everyone, and welcome to the Rev Up. We're five days removed from one of the most sensational nights in supercross history and the buzz is still thriving. As we prepare for round four of the 2014 Monster Energy Supercross Championship at O.Co Coliseum in Oakland, California, the headlines speak for themselves. From "Rookie Wins Season Opener," to "Brayton Leads 13 Laps And Challenges Villopoto to the End," to "Chad Reed Strikes Back," it's almost dizzying to absorb the action we have witnessed in such a short time. A fan can practically play roulette with the possibilities each upcoming Saturday night of supercross has to offer. That said, the aspect of the new season that has this writer leaving dents in his keyboard is the return of "The Thunder."
When you page through the annals of supercross history, there are only a few champions who have risen from the ashes similarly to the way Reed has. Bob Hannah won three consecutive supercross titles before breaking his leg, and while he wasn't quite the same, he did return to win races again. Jeff Ward won titles in '85 and '87 before winning his final SX in 1991. Jeff Stanton won three SX titles in four years ('89, '90, '92) then enjoyed his final career win at the season finale at the 1993 Las Vegas Supercross. The aforementioned accomplishments are among the all-time elite, but Reed's astounding victory last Saturday night eclipses them, in my opinion. While the fact has been previously noted in other articles on this site, I will reiterate: no rider has won a race on four different bike brands. In addition, no one has accomplished anything even close to that while owning their own team, passing their 30th birthday, and having already claimed 41 career victories over the course of eleven pro seasons in the premiere class. Now Reed is into his 12th season in the class, and his 42nd career victory was the most nostalgic win I've ever seen. His last? Who cares, it was simply awesome to witness.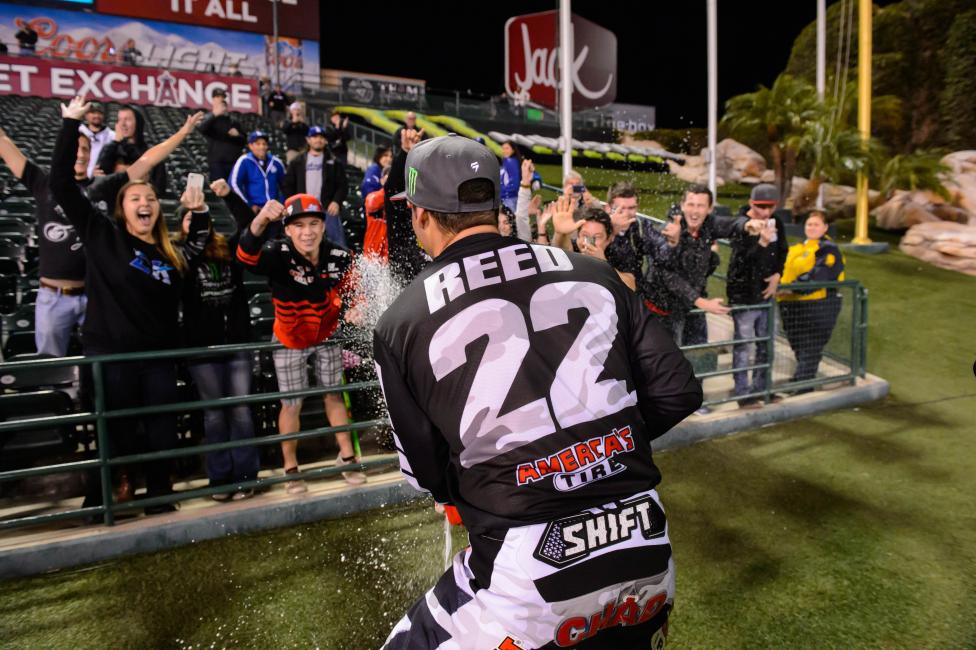 As Reed drew to the rear fender of his nemesis James Stewart, I thought back to the 2002 event in Unadilla when James toyed with him by waving him by, then passing him back. I remembered his conquered facial expression as he sat on a soggy hay bail at the 2008 Daytona SX, after he led the entire race until his bike expired on the last lap. I thought about the polarizing comments he has made in social media and other mediums about track conditions, his disdain over the size of the whoops or the prowess of his machine. Although the most indelible image that comes to my mind is Reed pounding the back of the Asterisk Medical Mule at Dallas in 2012, writhing in mental and physical purgatory. Reed knows the thrill of victory and the agony of defeat like no other. Would he ever win again? Were all of the self-motivational tweets piled with quotes and pictures of him training just smoke and mirrors? They were not. He did it the only way he knew how—his way. He powered around the outside of the dry, cobbly left-handed sweeper, got a drive to the inside of the next right-hand turn, and passed his rival faster than you can say, "Comeback." The rest, as they say, is history. In my mind, his effort last weekend was a quintessential display of the human spirit's drive to never give up. This column is a preview piece, but Reed deserves all the ink he has gotten this week.
On to Oakland.
A year ago, this race was practically over when almost half the pack went down in the second turn. Ryan Villopoto had a seven second lead on lap three, and carded his second win in four races. The champ will have the opportunity to repeat that effort, but there is a pack of riders carrying enough momentum to disallow such a feat. As peculiar as it sounds, a rookie has been the most consistent racer through 60 laps, and Ken Roczen will carry the red plate to the starting line. He continues to impress and look for him to not only grace the podium, but serve as a threat to stand atop it. Providing fireworks last week uncharacteristic to his demeanor was his Red Bull KTM teammate, Ryan Dungey. If you include himself, he put three riders on the ground at A2 and it will be interesting to see if that banter carries into Oakland. Speaking of momentum, JGR/Toyota Yamaha mounted Justin Brayton continues to charge. He made up his mind to assert himself in the top five, and he will be racing for another podium and the first win of his career. I expect to see the softer soil of Oakland produce some ruts and different track environment, which should play into the hands of the biggest question mark of the 2014 season, Justin Barcia. A holeshot for #51 could instantly change the complexion of his season. This leaves veterans James Stewart and Chad Reed to think about. Stewart has been painfully close to winning twice, and I mark him as the strongest candidate to become the fourth different winner in as many weeks. As for Reed, what more can be said about him? I've always called him "The Thunder," and typically when you hear it rumble you know there is only a short span of time before it shakes the windows again.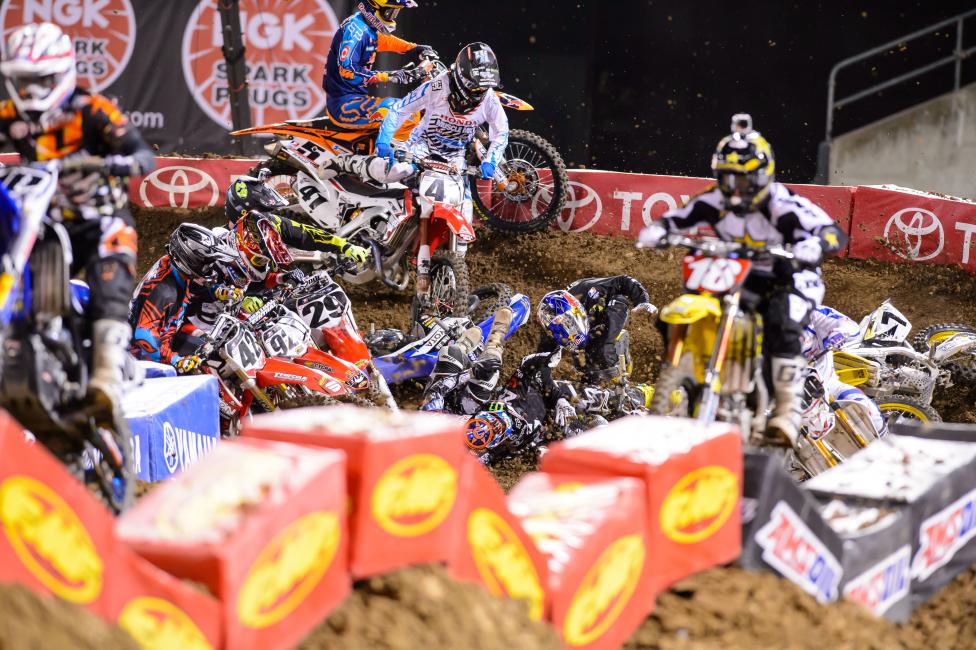 What may come of the ongoing battle between Cole Seely and Jason Anderson? Will Monster Energy/Pro Circuit Kawasaki be denied another podium? Something tells me a shake up is on the horizon with the 250SX group. Zach Osborne, Justin Hill, Cooper Webb and Dean Wilson can turn things around with a win, but they have to strike now as time is short in the divisional series. It's hard to imagine a more sensational beginning to the season, and believe it or not the best may be yet to come. Round four of 17 cannot arrive quickly enough. Things were really crazy at this event a year ago and it's two more days until our eyes meet the next shot of amazement in Oakland, California!
Thanks for reading, see you next week.