Angel Stadium
Anaheim

,

CA
Anaheim 2 (A2)
Monster Energy AMA Supercross Championship
Chad Reed's amazing race stole the spotlight on a night designed to honor all past supercross champions. But Chad stole the show from all twenty-plus of 'em with his resounding win. Might have saved his career—again—too. Once again, Reed was counted out. His back was against the wall. Once again, he responded.
We'll go the rest of the season believing in Reed again, thanks to those hard 20 laps.
But while Reed (and Dungey, Stewart, Villopoto, Roczen and Brayton) had the fans glued to the lead pack, another battle raged between two riders with similar motivations. Anaheim 2 was walk the plank time for Weston Peick and Josh Hill, two riders everyone knew had a shot at making noise this season, but who were also not guarantees. They're both at the cross roads—they've worked their way to the point where great riches and results could be on the horizon, but they're not totally stable yet. A few bad races could ruin it all. And the first two rounds where those bad races. For Peick, bike problems at round one and a huge, massive, incredible crash at round two left him with short of the checkers. He scored just six points in the two races.
If Peick were getting top 10s on a factory team, he'd merely be doing what's expected—or not even. If he does so as a privateer, with his own setup, people are all for the David v Goliath.
Peick's a privateer still, but his effort this year is, as the kids would say, are pretty legit. Got himself a real hauler and decent bikes and parts via Suzuki, Yoshimura and Motosport, and a look under that tent at Anaheim 2 was telling. When I last saw Weston in the pits, at a few Nationals last year, he was pitting out of a damned van with help from his dad. Had he only raced Millville, we could have said he was living in a van down by the river (or Spring Creek). That was his whole setup. This year, he had people milling and buzzing around. And what's more, he looked happy. Peick usually looks like the intimidating sort, but this time he was smiling. Not sure I've seen that too much before.
He does not have a factory ride yet but he is on the verge—he's got a good thing going and a lot of fans pulling for him. If Peick were getting top 10s on a factory team, he'd merely be doing what's expected—or not even. If he does so as a privateer, with his own setup, people are all for the David v Goliath.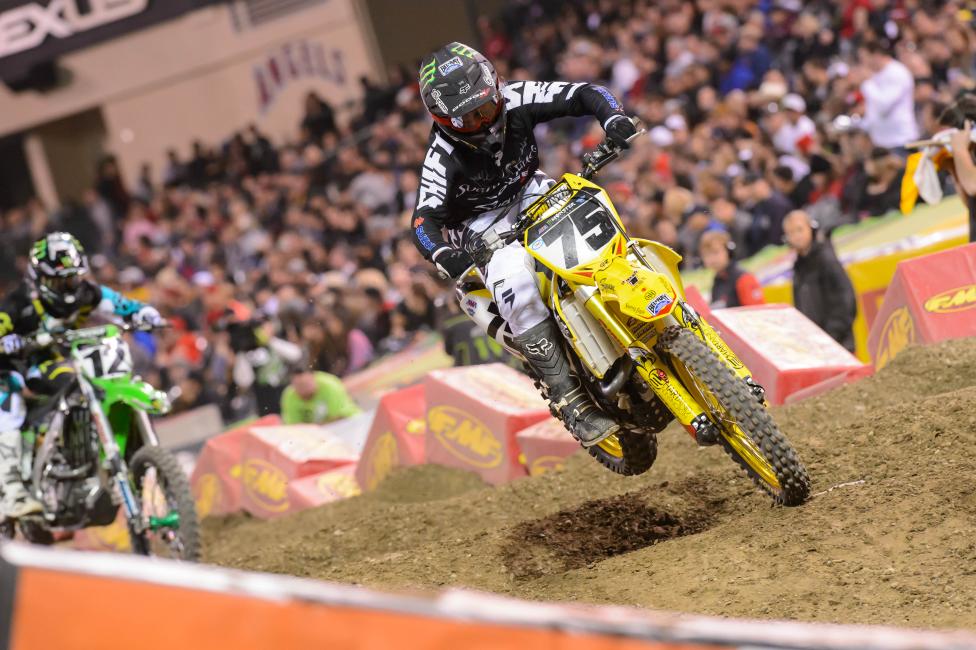 But you only get that kind of love if you're succeeding. Peick had some good races last year but the expectation is that 2013 was just the beginning. He needs to can do better, go faster, get even better results. He wants to stay on the rise, and he has pressure to back up those expectations.
Hill is also riding a Suzuki, but his team leaves no question of legitimacy. It's Soaring Eagle Casino Dodge RCH Suzuki, backed with factory parts and operated by Carey Hart and Ricky Carmichael. It's a team that Hill has been lucky to be on for the last few years—they've backed him and believed in him through some very tough times. But the days of working back from old injuries needs to be over. Hill is now going to be counted on to perform.
And he went out of round one with clutch problems and didn't even make the main event in Phoenix. At no point did Hill's riding seem to match the pre-season hype, where he was getting gate drops in down in Australia, and said to be faster and fitter and healthier than he had been in years. Both Hill and Peick really needed the third round to go well, because in this sport, once the momentum stops, it's hard to get it back going.
It wouldn't be easy, though. Peick's mega crash from Phoenix left him coughing up blood. He stayed off the bike all week, but a lesser man would have been out for a month. Peick probably hurt the jump more than himself, but he was still battered and bruised coming into Angel Stadium.
Hill jacked his back up a few days before Anaheim 1, and that's what has derailed his season. In a team statement after the race, Hill said, "I wasn't sure I was even going to be able to race this weekend because I was in so much pain from back issues. I've got to give it up to the team for making it possible. I spent much of the week at Dr. G's office and he tuned me up."
"Last week was a bummer," Peick told me. "We had two bad races so far. We had to just recap and put our head down and just finish the race, that was the goal."
There's no room for healing in supercross, what with 17 races in 18 weekends. If you get banged up early, you're going to be banged up all year, and you'll have to deal with it. Plus, with bad finishes in the books, Hill and Peick couldn't wait any longer.
So when both made it into the main with little drama (Hill won his semi, Peick finished third in his) it was go time—they had to perform during these 20 laps. Hill got a decent start, as he was away in seventh, just behind the lead group. Justin Brayton—on fire lately—got by but Hill otherwise held his ground. But Peick was coming from tenth, and he made a move around Hill on lap three.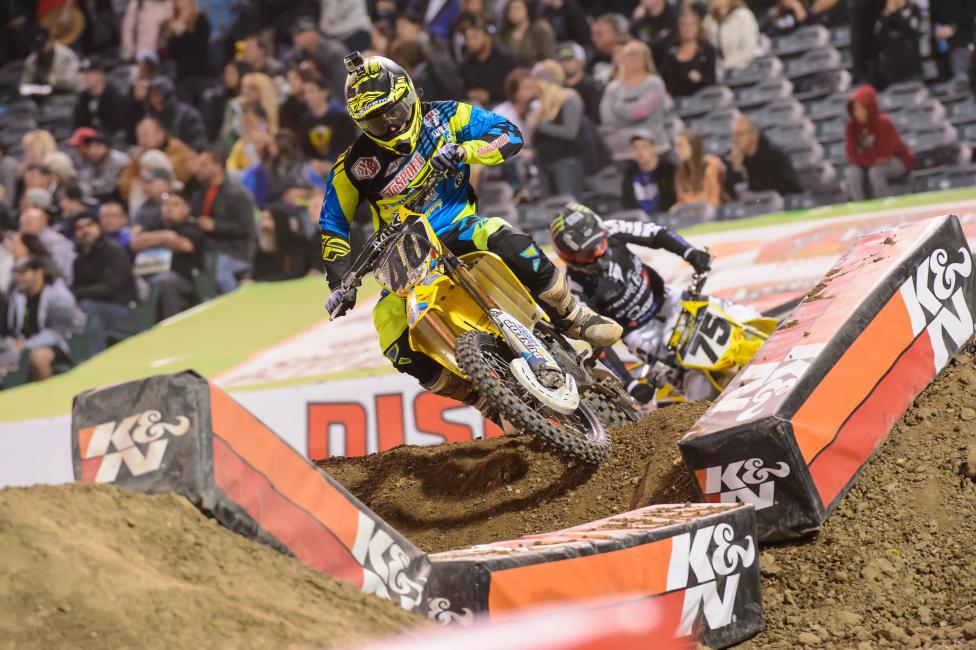 From there? Just 17 of the hardest laps you'll see. No, Peick and Hill didn't have the speed that Reed did as he worked his way past the best riders in the world, but watching their own private fight, you couldn't imagine it possible to go faster or try any harder. Every charge Peick put on to get away, Hill dug deep to match it. Check out the chart:
| | | |
| --- | --- | --- |
| Lap | Weston Peick | Josh Hill |
| 2 | 54.418 | 55.092 |
| 3 | 54.948 | 56.262 |
| 4 | 53.601 | 54.027 |
| 5 | 53.72 | 53.295 |
| 6 | 54.402 | 54.6 |
| 7 | 54.185 | 53.668 |
| 8 | 53.353 | 53.94 |
| 9 | 54.133 | 54.25 |
| 10 | 54.284 | 53.87 |
| 11 | 53.603 | 53.974 |
| 12 | 53.796 | 53.719 |
| 13 | 53.279 | 53.86 |
| 14 | 53.979 | 53.972 |
| 15 | 54.112 | 53.78 |
| 16 | 54.174 | 53.708 |
| 17 | 53.389 | 53.671 |
| 18 | 53.577 | 53.745 |
| 19 | 54.212 | 54.087 |
| 20 | 54.392 | 55.724 |
On lap four, Peick had control of the spot. For the next ten laps, neither rider could string together more than two consecutive laps faster than the other—for the most part, as soon as one got away by a few tenths, the other guy reeled that time back on the very next lap. It peaked on lap 14, when they ran times identical down to the thousandth of a second. On laps 15 and 16, Hill went for one last run, chopping a few tenths off of Peick's gap as they battled lapped traffic and a track that had broken down to nothing. Peick then fought back—his lungs were probably burning at that point, heart rate at max—by pulling out a few tenths on laps 17 and 18. Hill bested him on lap 19, but Peick had it in hand on the final go 'round. The final margin for Peick was 2.2 seconds, but that includes pulling 1.5 seconds on the last lap. Peick's fastest lap bested Hill by just .017 seconds. His seventh tied his career best.
"Yeah, it was definitely a good battle," said Peick. "Didn't let the pressure get to us and just rode away to a solid finish. He'd come in on me in a few turns and I'd pull him in some sections, he'd catch me."
It was as good a battle as you'll ever see, except for that really good one up front.