Each week, we post a 10 Things to Watch column, posing 10 key questions for the weekend. After watching the race, we now know the answers to those questions. Let's have a look.
On Repeat
After A1 and Phoenix last lap battles between Cole Seely and Jason Anderson, we asked: Will we see more final-lap heroics for a third straight time?
Nope. Seely made sure that didn't happen by getting another good start and building a solid gap. Seely was too good, and Anderson started too far back, for a third-straight battle to the finish.
Blue Boost
After Justin Brayton's great ride in Phoenix, we asked: Will his fantastic finish in Phoenix be followed with more podiums, or even a win?
Not a podium or a win, but Brayton did prove his Phoenix speed was no fluke by dueling with the fastest riders in practice times, beating Ryan Villopoto straight up for a heat race win, and hanging right in the middle of the A2 lead pack in the main en route to a strong fourth.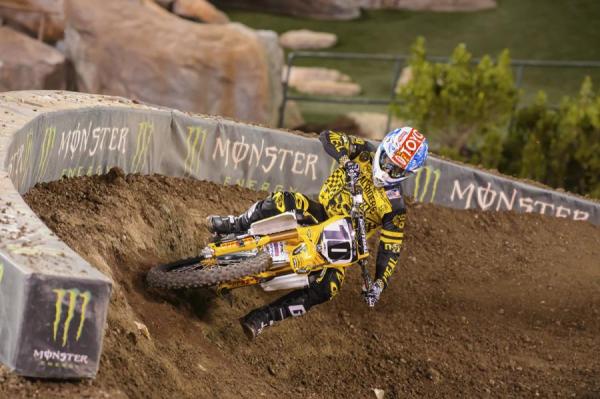 No podium for Brayton at A2, but he did have another fantastic ride.
Simon Cudby photo
Up and Down
After Josh Hill failed to make the Phoenix main, we asked: Will Hill put the confidence-shattering heartbreak of a DNQ behind him and rebound with a good finish at A2?
Yes. This was much, much better than the previous two rounds. Josh rode well and finished eighth in the main.
Terrain Changes
Thinking about the A2 track, we asked: With the championship returning to Anaheim this weekend, where the dirt will be harder after being compacted by Monster Jam trucks, what kind of difficulty level will the riders be faced with?
Yes—the track was harder, drier and rockier than Anaheim 1. It was very difficult. California being even hotter, drier and windier than usual didn't help, but no doubt traction was a huge issue on Saturday.
Payback
Regarding brewing bad blood between Ken Roczen and Justin Barcia, we asked: Did the week between Phoenix and A2 allow enough time for Roczen to cool down, or will he stick to his words and return Barcia's favor?
No. Roczen and Barcia were never really in the same place at the same time, but Kenny seemed to have put the Phoenix incident behind him, anyway.
Under the Weather
We asked: Will sickness continue to play a factor early in the season?
Not entirely—Cole Seely said his stomach is still bothering him, but he won the 250SX main anyway. Ken Roczen, Ryan Villopoto and James Stewart all seemed healthier than previous weeks.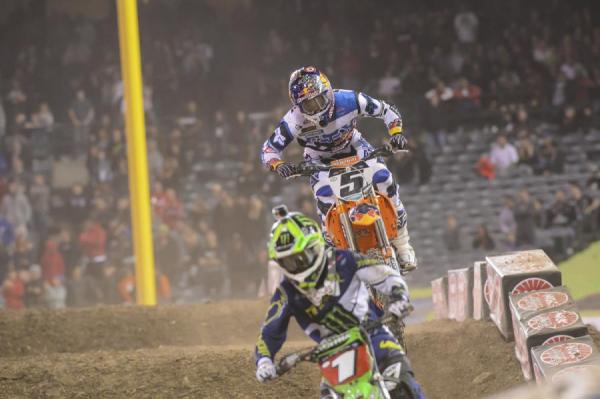 An aggressive Dungey showed up in Anaheim.
Simon Cudby photo
Closing the Deal
We said: Justified or not, Ryan Dungey has faced his share of critics for "failing to pull the trigger." There's no denying that a Dungey win would silence the doubters. Will it happen at Anaheim?
The win didn't happen, but as far as pulling trigger, it was an emphatic yes. Y-E-S. This was the most aggressive we've ever seen Dungey, from heat race mashups with Josh Hill and Broc Tickle, and final-lap contact with Villopoto. And, oh yeah, he appeared to have victory in hand before he crashed while leading. This was an angry Dunge!
Where Does Reed Fit?
After one good race at Anaheim 1 and one bad one at Phoenix, we asked: Will Anaheim play to Reed's liking for the second time in three weeks?
Y-E-S.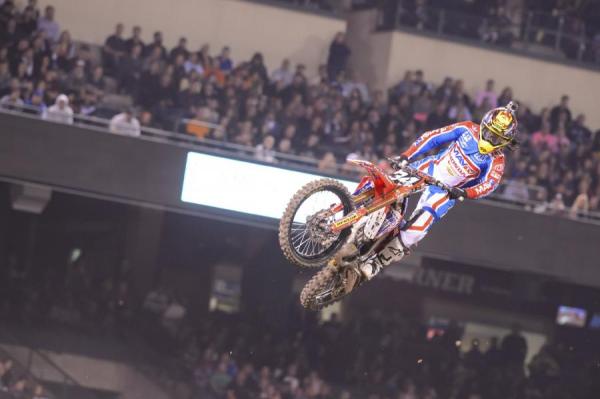 Malcolm Stewart (above) and Cooper Webb provided two new faces on the 250SX podium.
Simon Cudby photo
RV Run
We know that Ryan Villopoto can get on fire and roll on a win streak. We asked: Was Phoenix that spark?
Nope. RV was in position to win the race, but got tangled with James Stewart ('s boot) and went down. Still, like Anaheim 1, his track position said he could win, but his overall speed and riding wasn't as dominant as we see when the champ is at his best.
Another Challenger
After the same riders landed on the 250SX podium at the first two rounds, we asked: Can Malcolm Stewart, Justin Hill, Darryn Durham or Cooper Webb spoil the party at the top?
Yup. Webb and Stewart both finished in the top three, although Malcolm didn't actually get to shake champagne. He crossed the line fourth, but runner up Jason Anderson was later penalized two spots. No worries, the points and bonuses pay the same!