Angel Stadium
Anaheim

,

CA
Anaheim 2 (A2)
Monster Energy AMA Supercross Championship
After a pair of heartbreaking losses in the first two rounds, Cole Seely came into Anaheim 2 determined to nail down that elusive first win of 2014. After getting a great start, he made it happen, in dominant fashion too, leading every single lap of the 250SX main. And after Jason Anderson was docked two spots for jumping with medical flags out, Seely took over the points lead by one point as well. We picked our way through the large crowd surrounding the Lucas Oil Troy Lee Designs Red Bull Honda rig in the pits after the race and found Seely to get his take on his spectacular night.
Racer X: You got it done this time, nice job.
Cole Seely: Yeah, I got off to a great start. I have to thank Jeremy McGrath for that. He's been helping me with my starts. I've had great starts in the last three rounds, and I think the nerves have actually helped me too. I charged really hard in the beginning to try to establish a gap between myself and Cooper Webb—I think that's was who was in second. In the first two rounds I got into trouble on the final two laps with lappers and little mistakes here and there, so I wanted to have extra breathing room just in case. Once I knew I had a pretty big gap, I backed it down a little bit on the last two laps just concentrated on hitting my marks and not making any mistakes. I put my bike on top of the box, which is exactly where my team and I deserve to be. I've led probably forty of the forty five laps we've raced so far, and it's tough not to have all three wins. But I'll take this and keep the momentum moving forward.
Seely captured his first win of the season in Anaheim.
Simon Cudby photo
When the race was drawing to a close were thoughts from the first two races entering your mind at all?
I knew I had the gap, so I knew all I had to do was just hit my marks and not make any mistakes. That was the main thing.
Talk about the track.
It was tough all day long. It was kind of soft, not so much in the races, but in the practice sessions. It was tricky and technical and you had to be precise. It bummed me out, and I don't know whose call it was, but they changed a rhythm lane between the practices and the heat races. That's dangerous. We don't get a parade lap before the heats, and we just have to go in and wing it and hope for the best. Thankfully nobody went down there. I just think it was kind of unprofessional. At least give us a sight lap or change it before the last practice. That bummed me out, but I guess being a veteran has helped me adapt to those kinds of things.
You mentioned practicing starts with Jeremy McGrath. What else did you do during the week?
I actually had a really light week this week. I've had terrible stomach pains pretty much since Anaheim 1. It's been getting better this week. I haven't really been eating much and I've lost a bunch of weight, which is horrible. I can't train or practice as hard as I want to, but I'm feeling a lot better. I need to get my diet back on track, but my stomach will only let me eat so much right now. We're going to get that worked out and get back to doing some good training with my trainer Brian Lopes, who has been awesome.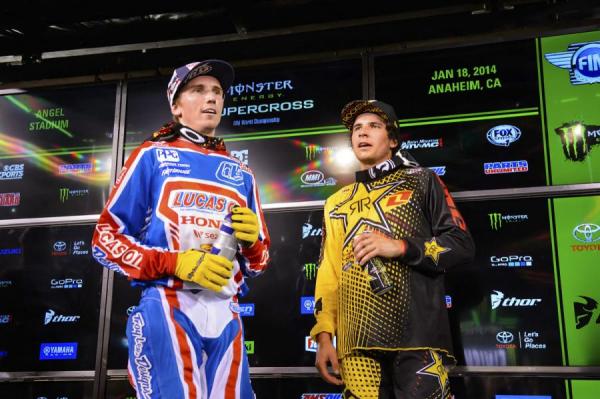 Seely (left) is the new points leader after Jason Anderson was docked two positions for jumping with medical flags out.
Simon Cudby photo
Anderson got a bad start and still finished in second way ahead of third [Note: Neither Seely nor Hansel was aware that Anderson had been docked two spots at the time of the interview]. Obviously, the only way you're going to win this championship is by consistently winning races. Does that put extra pressure on you?
No, and I think that if I had gotten a bad start I would have gotten second too. I think he and I are top notch right now, we're the guys to beat in our class. If either one of us makes a mistake, the win is going to the other guy. Tonight he made the mistake early on and I was able to capitalize on it. In the first two weeks he capitalized on my mistakes. I think it's going to be us two up front all year long, and I just have to hope for the best. We both respect each other a ton, and that makes racing a lot more enjoyable.
Congrats on the win, Cole.
Thank you.