Chase Field
Phoenix

,

AZ
Phoenix Supercross
Monster Energy AMA Supercross Championship
BTO Sports is your number one source for all of your motocross parts, gear, accessories and apparel. BTOSports.com is a motocross company that is truly dedicated to the sport and to the customer. Proud sponsor of your Racer X Podcasts and the BTO Sports race team.
Round two of the Monster Energy Supercross Championship kicked off in Phoenix, and although it's still early, statements were made, people. You hear me? STATEMENTS WERE MADE! Before we get to them, this just in: Phoenix is a sneaky-good round. It doesn't get talked about enough, really. The hi-definition big screen is fantastic, the dome is really nice, the pits are perhaps the most unique in the series (and keep everyone really close to each other) and there is a TGI Friday's restaurant in right field that you can go to, crush a plate of chicken nachos and tweet about the practice that's going on in front of you. How do I know this? Research, bro. Research.
I liked the track. I think it was pretty tough. Much, much tougher than A1 with a bit of sand, a tough whoop section and a rhythm section that went 3-3-3 if you had balls of steel or 2-2-2-2-1 if you were human. I know it's easy to talk about while I'm "researching" nachos, but I like when the tracks are tough or there is something to separate the great guys from the very good guys. Again, I'm not the one out there weeding myself into the ground, but this sport called supercross is gnarly and it's supposed to be tough. Them's the facts and this rhythm section claimed more than a few guys due to the precision required to do it. JGR Toyota Yamaha's Josh Grant was hurtled over the bars in practice and was knocked out of the night program, Jimmy Albertson went down hard there and missed the main, and many times throughout the night that section was the difference between passing and being passed.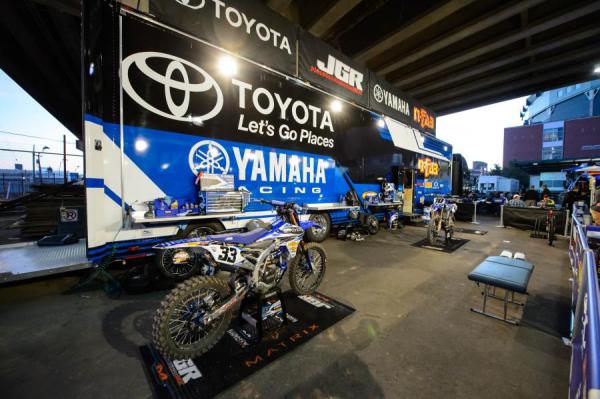 The tricky 3-3-3 rhythm section parked some bikes for the night or longer,
including Josh Grant's #33 JGR ride.
Simon Cudby photo
Back to the statements that were made. There are victories and then there are VICTORIES, and this weekend in Phoenix, Kawasaki's Ryan Villopoto scored a nice VICTORY. The champ started around tenth and slowly worked through the field, passing every single rider that he's going to battle with for this title (granted, Kenny Roczen was on the ground but RV was closing on that pack quickly) and took a nice win. Villopoto was smart, he was aggressive and on a track that seemed to be more about being able to pass when the rider in front of you made mistakes, Villopoto forced his way through. And lookee here, Villopoto is now the new points leader after getting a fourth in the season opener! Ryan has traditionally not won at Phoenix so it had to be a nice feeling for the Ginger Warrior to be able to check that off his list.
About the only criticism of Villopoto was his bike doing something funky off the first triple in that rhythm section. The thing would kick out on him and he'd be forced to make a correction in the air. Other riders around him appeared to have that section down a little better than he did but afterward, Villopoto agreed with me on that section and said that they made a shock change from last week that worked better in all other areas but the takeoff to that section.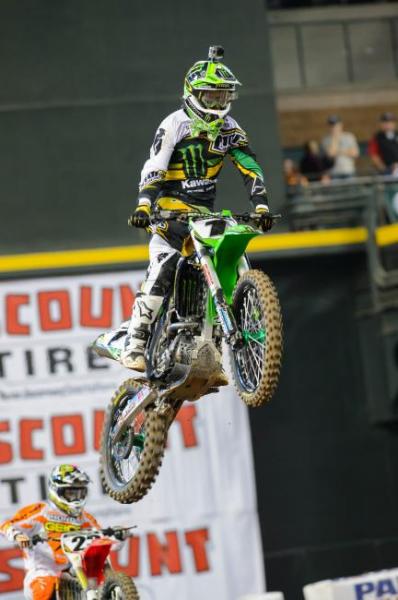 The team made an overall positive change to Villopoto's shock, but it still kicked a
little going into the 3-3-3 rhythm section. However, it wasn't enough to deter a win.
Simon Cudby photo
I've been around a lot of great riders in my time and one thing they have in common is that they don't really know much about the history of the sport and they don't care to learn much about it either. They're never intimidated by anyone around them and the chip they have on their shoulder is the size of a small puppy. This is just what makes them great. They are focused on their craft and don't think too much. Thinking about things is just clutter in the brain that they don't need on their way to the top.
So with that in mind, let me say that Justin Brayton's career has definitely been, at times, an understated one. He's one of the nicest guys in the pits, a great interview and a rider that truly has come from very humble beginnings. I don't know if there is another rider in the pits that is as "self-made" as Justin (maybe Andrew Short), and he seems to know that and appreciate it. I feel that at times he's thought about how far he's come in professional racing, which I believe has held him back. At times he probably cannot believe he's actually racing against all these great riders and champions of the sport. This is a dude without the major amateur titles or other accolades most of the riders in a supercross main event have. But here's the thing--HE'S A GREAT RIDER! Brayton's got to somehow turn off his brain when he's out there and ride like he can (especially indoors).
JB10 finished a strong second in Phoenix after leading the best riders in the world for thirteen laps. And he even made a bit of a late run at Villopoto after Ryan made some small mistakes. Unlike a few races in 2012 when Brayton finished second (in his Honda year), you had a sense that this was different. Brayton really could've won his first career supercross, he was that good.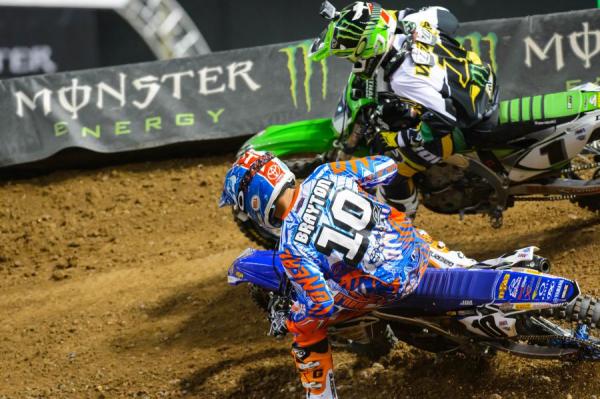 Brayton was this close to sealing the deal and getting the win over Villopoto.
Simon Cudby photo
Well it's official now, I've become that guy. Who's that guy? Well, on one of the numerous teams I was on as a mechanic, our team manager—who was up in the press box watching—told us that he could see our frames flexing in the whoops. So we spent the next week reinforcing said frames and having the riders test them out. Within a lap or two we were informed by the riders that this was a horrible direction to go in and the bikes were crap. There went about eighty man-hours, but hey, you never know, right?
And I'm now THAT guy because at A1 I really thought the JGR Yamaha bikes looked a bit shorter or quicker from other years. I don't know, it seemed to me that riders Josh Grant and Brayton could actually ride the bikes as opposed to the bikes riding them. The Yamaha YZ450F is a bigger, wider bike and it always seemed the guys were trying to make it work but sometimes the bike would just be a bit much. Like I said, I'm now that guy from the press box who can see everything.
Turns out the 2014 YZ450F is ten millimeters shorter, according to the JGR guys. While I'm sure that's not what I'm seeing from up high, I'm just going to run with it. I'm now THAT guy who sees all from the press box. 10 millimeters! No matter, I stand by the JGR bikes looking different this year. Maybe it's the switch to KYB suspension, maybe it's Brayton stepping up his game this year. Whatever it is I saw it first and I saw it from the press box, bro.
Red Bull KTM's Team Manager Roger DeCoster is an open and forthright guy. He's been there, done that and gives an honest interview after each race if you want to talk to him. After Phoenix, we said hello to each other and I asked him how he was. He replied, "Frustrated," and then declined an interview, saying, "Get me next week." That's a very bizarre move by Roger and it's a surprise, but I'm not exactly sure what he was upset about. I'm thinking it's maybe a combination of Ryan Dungey's passiveness and Roczen getting taken down by Justin Barcia. I can't believe that Dungey just checked up like he did when RV got beside him in the whoops. He appeared to just hang a right once he knew he lost the spot.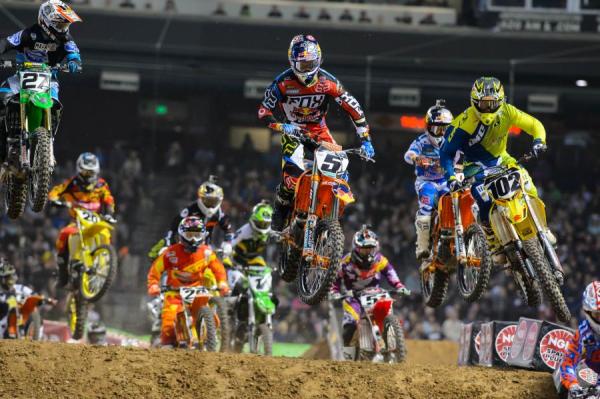 Will we see Dungey turn up the aggression in coming rounds?
Simon Cudby photo
And maybe that's a smart move by Dungey, but if the shoe was on the other foot, I can't see Villopoto, James Stewart or Chad Reed doing that at all. It was a weird move by Dungey and I imagine that move, combined with his lack of aggression when Justin Barcia slammed him, was making DeCoster's blood boil. After all, Dungey can win this title and he shouldn't be intimidated by anyone out there. But in Phoenix, he just looked like he was going through the motions. A third is a third and is nothing to be sad about, but the way he achieved it has to make his manager wonder if he's got the right stuff in him to take this crown away from Villopoto. It's going to take all he's got in the grit department to win again.
As far as Roczen, well, he wasn't happy after the race (is it just me or does it seem like there are already a lot of butt-hurt riders for only being two races in?). Barcia took Kenny wide on the start straight turn and then veered over into Kenny's front wheel. Boom goes the German, as well as any chance that Kenny had for a podium. I think when you're racing against Barcia, you have to be aware that he's aggressive and will fight you for every inch of the track. I'm not 100 percent on Kenny's side that this was a deliberate takeout. Barcia did try to block any retaliation that Roczen had in mind and, well, shit happens sometimes.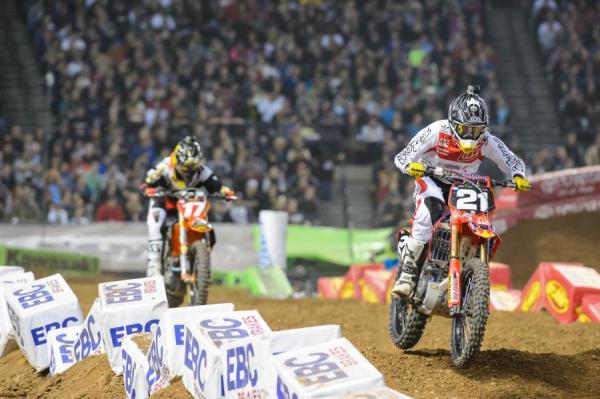 A1 or Phoenix?
We saw near-identical races from both Seely and Anderson in the opening rounds.
Simon Cudby photo
As far as the 250s, we had the exact same race up front as we did last weekend. Seriously. We did. Cole Seely led the whole way until the very last lap when Jason Anderson snatched victory from the jaws of defeat. Dean Wilson ran third for a while before Zach Osborne got him for the final spot on the podium. It was almost exactly the same race as Anaheim 1. Bizarre deal—I'm not sure I've ever seen it before, and I can't believe that Seely let it happen again. It was just small mistakes by Cole and some really great riding by Anderson to create the perfect storm again. Anderson was only slightly faster than Seely in four out of the last five laps (before the last lap where Anderson passed and Seely couldn't do the triple, due to that Anderson gained a ton of time, but the pass had been made already anyway) so it's not like Seely was tired or made one huge mistake. It was just little tiny things and like I said, Anderson was perfect. Jason's really good at over-jumping stuff and flat-landing, which is a good (but tiring) way to make up time. Seely had the fastest lap time of the race, so he's fine and there shouldn't be any panic by him or his team. What we're seeing is some great racing, no doubt about that.
Let's take a look at the results shall we?
250SX RESULTS
1. 17 Jason Anderson Rio Rancho, NM KTM 250 SX-F- Anderson needs to tuck his jersey in. That's about the only negative thing I've got to say about this kid right now.
2. 21 Cole Seely Lake Elsinore, CA Honda CRF 250- As someone who is close to the team told me, if you had told Seely he'd go 2-2 at the first two rounds, he would've gladly taken that. Yeah, that and five bucks for a coffee still won't make Cole sleep better at night.
3. 16 Zach Osborne Chesterfield, SC Honda CRF 250- Osborne's starts have gone bye-bye and he can't do much with the two leaders once he gets into third. The good side of this is he's gone 3-3 and is only ten points back of the lead. The bad side is he hasn't been able to get a sniff of the top two guys yet.
4. 15 Dean Wilson Wesley Chapel, FL Kawasaki KX 250F- Yeah he's gone 4-4 after two races but his fourth on paper looks better than if you were actually at the races. Wilson was the favorite for this title going in but he looks to be dealing with arm pump or something in the main events. He goes fast but heads backwards and appears to lack the fight to keep positions, which to me is a sign of arm pump. In the good news department, he did win his heat. I asked Dean for an interview after the race and he declined, saying that I can just say that he tightened up.
5. 34 Malcolm Stewart Haines City, FL Honda CRF 250- Stewart was pretty unremarkable in Phoenix but a fifth is a good finish and he's right there to make a podium real soon. How is it that Mookie has never made a podium in the 250SX class with his skills? So weird.
6. 37 Cooper Webb Newport, NC Yamaha YZ250F- Cooper holeshot the main and was looking good for a podium before colliding with McElrath and going down in what I call a racing incident and others call a "Cooper Webb takeout." I didn't see it that way but I've been wrong before.
7. 111 Dean Ferris MURRIETA, CA KTM 250 SX-F- Ferris nearly had to go to the LCQ (he took the final transfer spot in the heat), but once in the main he had a good ride.
8. 35 Justin Hill Yoncalla, OR Kawasaki KX 250F- In case you're wondering, things are not good over at the Pro Circuit truck right now. No one is happy with anything that is going on right now.
9. 50 Jessy Nelson Paso Robles, CA Honda CRF 250
10. 142 Cole Martinez Rimrock, AZ Kawasaki KX 250F- A top ten for a guy that I don't really know anything about is pretty good. Martinez' bike is all white and hard to tell what it is, but with my eagle eyes I read that it's a Kawasaki. You're all welcome.
11. 84 Scott Champion Orange, CA Yamaha YZ250- Good finish for the veteran in a very competitive class.
12. 87 Shane McElrath Chesterfield, SC Honda CRF 250- I'm sure McElrath isn't pumped on this finish after running up front early in the main. Sure, when he was up there he appeared to be holding some guys up, but Phoenix was a good race for the rookie. No better way to learn what the speed is like up front than, well, being up front. Shane will be better for this despite his twelfth (he had that run-in with Webb, which didn't help).
13. 416 Austin Burns Scottsdale, AZ Honda CRF 250
14. 45 Darryn Durham Butler, PA Kawasaki KX 250F- Really crappy start of the season for Durham—a rider who some thought could win a main event or two on this coast. I'm sure it wasn't cool for him, but in the heat Durham crashed and seriously looked like he slid fifty feet on the plywood. Wonder if Thor MX gear is splinter proof?
15. 594 Chris Plouffe Castaic, CA Honda CRF 250- Plouffe got the start in the heat and you gotta admire a guy who just runs no graphics on his bike. That's bold.
16. 526 Colton Aeck Granada Hills, CA Honda CRF 250- Aeck, in only his second ever supercross, made the main event and was rewarded with a MotoConcepts ride for the rest of supercross. The MCR guys were running a neat contest with voting to determine who gets the spot. Should be interesting to see how the kid does with a better bike and more support around him.
17. 83 Dakota Tedder Surfside, CA Kawasaki KX 250F
18. 360 Aaron Siminoe Reno, NV Kawasaki KX 250F
19. 830 Ruben Alanis Pharr, TX KTM 250 SX-F- The only other guy named Ruben that I can think of who is successful is Ruben Blades, the actor in Predator 2. Anyone got any other Rubens they can think of? [Editor's note: How did you miss the Reuben sandwich, Matthes?]
20. 902 Killian Auberson Epautheyres, Switzerland KTM 250 SX-F- Yeah, Switzerland is in the house!
21. 273 Conner Elliott Tumwater, WA Honda CRF 250
22. 66 Jake Canada Sun City, CA Honda CRF 250- Canada was listed as a DNS on the AMA sheets, meaning "Did not start," but the PR I got from the 5150 team (Comin' at'cha!) said Jake crashed out on the first lap while in fourth.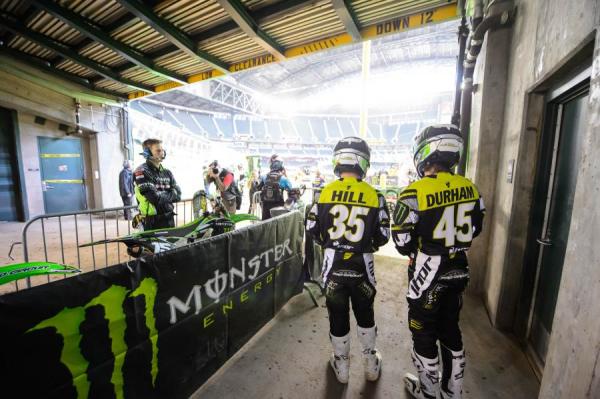 The Monster Energy/Pro Circuit Kawasaki team is looking
to turn things around and return to form.
Simon Cudby photo
450SX RESULTS
1. 1 Ryan Villopoto Seattle, WA Kawasaki KX 450F- About the only thing that went wrong over at Kawasaki was that the only coffee creamer they had was pumpkin spice. Seriously, who drinks that stuff?
2. 10 Justin Brayton Cornelius, NC Yamaha YZ450F- I can't ever remember Brayton ever beating Dungey straight up. It's got to be a good feeling to beat a guy as strong as Dungey.
3. 5 Ryan Dungey Belle Plaine, MN KTM 450 SX-F- Did you know that Dungey has a real live trainer this year named Rob Beams? I've always liked that Dunge was independent enough to not have a trainer around making him drinks or whatever. He was a mystery wrapped in a riddle and it was a bold move. For whatever reason, he's decided to try something new. Let's see if he changes things up in some way going forward.
4. 7 James Stewart Haines City, FL Suzuki RM-Z450- Stewart had, by his standards, an off night. But as usual with James, he did do something that I've never seen before and that's running out of the stadium after a bad practice crash. That was weird for sure, and I can't say I've ever seen a dude do that. Anyway, he said on IG that he was sick all weekend and so a fourth is decent for the #7 but nothing to write (or run) home about.
5. 51 Justin Barcia Pinetta, FL Honda CRF 450- You see Barcia's new haircut? He went from looking like a homeless man to now looking like he's in a boy band. This was a radical makeover for sure. As far as the race, I don't know what happened. Four laps in he was my and JT's pick for the win, but then he was passed by some guys when he made a mistake and he just went backwards. Weird deal for sure.
6. 94 Ken Roczen Murrieta, CA KTM 450 SX-F- I talked a bit about suspension wars last week with JGR running KYB now after Showa stole away some teams. Well, another development with the orange guys is that RG3, Rob Henrickson's company, is no longer doing the suspension for KTM factory guys. Rob moved over to KTM with DeCoster after working with him at Suzuki, so he's been with Roger for a while. This is a significant move for KTM, Roger and Rob. Just something to keep an eye on going forward from here. RG3 is now back with Suzuki and the Yoshimura guys working on their pogo sticks.
7. 29 Andrew Short Smithville, TX KTM 450 SX-F- Short's off to a solid start to the season. Andrew's just weird enough where he has to be settled in to be happy, and I think after last year, he's feeling better about his KTM, his air shock, his tires and his team.
8. 20 Broc Tickle Holly, MI Suzuki RM-Z450- Early on Tickle was spicy. He was jumping that rhythm early on and making it clean. His times were good and he looked to be more aggressive than he had been in the past. He's working with Gareth Swanepoel now to help him out with training and stuff so let's see if that helps.
9. 22 Chad Reed Dade City, FL Kawasaki KX 450F- Not a good race for Reed at all and that's surprising. His third last week was great but when he wasn't thrilled with it, maybe it was with good reason. We need to see a much better Reed this weekend at A2 or the doubts will creep back in on whether or not he can get the magic back. I'm betting he does well.
10. 23 Wil Hahn Menifee, CA Honda CRF 450- No one's going to talk about Hahn's ride at Phoenix but it was very, very good. Not sure what happened early on but he went down and was way back. From there he charged hard all race to a tenth and had the seventh fastest time of the night. It was a great ride for sure but you probably won't read much about it.
11. 102 Matt Moss Nerriga, Australia Suzuki RM-Z450- Moss holeshot the main event. In fact, he holeshot every race he was in! The Aussie goes out on his 2014 Redemption Tour to show America that Roger DeCoster wasn't crazy to pick him for the factory Suzuki team a few years back. This time, Moss is pitted off to the side of the Yoshimura Suzuki squad, but I'm not sure what he's getting for factory help, if anything.
12. 9 Ivan Tedesco Murrieta, CA KTM 450 SX-F – I talked to Ivan quickly in the morning and he admitted that A1 was tough because of how nervous he was. There's nothing like racing and after a year off, Anaheim was Tedesco's first race in a while. And then he also wasn't happy about what Short did to him in last week's main event. He was much better at Phoenix and I can see Tedesco getting the 8-12 spot each week.
13. 27 Nicholas Wey Murrieta, CA Kawasaki KX 450F- Much, much better for Wey. He got a great start and then found his place in the race. Wey's still got great style and he's well-liked by just about every rider out there. He's now the old guy in the pits and I can't believe I just typed that.
14. 42 Vince Friese Cape Girardeau, MO Honda CRF 450- Friese stayed out of trouble this week and got a strong fourteenth. See how that happens? Our guy Jason Thomas said that he heard Vince is on a very, very tight rope with the AMA from here on out and he's got to stay clean or he'll be benched. Tough way to ride for a guy like Friese.
15. 44 Matthew Goerke Temecula, CA KTM 450 SX-F- Matt's got a broken finger from Anaheim he acquired in a collision with Matt Moss (I incorrectly identified the rider he got punted by as Kyle Partridge last week) but he's going to tough this out and see what he can do. He's definitely not happy with Moss so far. The 2014 supercross championship should be called the 2014 Royal Rumble.
16. 11 Kyle Chisholm Valrico, FL Yamaha YZ450F- Chisholm got a late start to the year as he scrambled to find a ride, but he's in with CycleTrader.com Rock River Yamaha now and needs to test some more to get his bike sorted out. The team uses JGR suspension but for now Chisholm's running Enzo stuff because he was so late to the game. No word on whether he'll switch or not once he gets some time testing.
17. 800 Mike Alessi Hilliard, FL Suzuki RM-Z450- Alessi didn't ride as well this week as he did last week but he held his own in the whoops before developing transmission problems late in the race that held him back.
18. 12 Jacob Weimer Rupert, ID Kawasaki KX 450F- The good news is Jake won a heat race. Yeah that's right, he rode fantastic to show us all that he's a great rider. The bad news is two crashes held him back to this poopy finish.
19. 82 Kyle Partridge Canyon Lake, CA Honda CRF 450- Kyle's two for two this year as far as main events and in this field, that's pretty good.
20. 415 Nicholas Schmidt Riverside, CA Honda CRF 450- Oh man, this guy is turning out to be the underdog of the series. Schmidt was only twenty-fourth in qualifying but he dropped his lap times by 1.6 seconds from his heat to LCQ. So he got better every time he hit the track. Great story and with his hair flowing out the back of his helmet, I can close one eye and it's like I'm looking at a bigger version of Damon Bradshaw.
21. 40 Weston Peick Wildomar, CA Suzuki RM-Z450- Oh man, Peick crashed hard early on. Like really hard. He bruised some lungs and should be back for A2. However, the jump he hit had to be put down.
22. 68 Chris Blose Phoenix, AZ Honda CRF 450- Blose was so much better at Phoenix than he was at A1 it wasn't even funny. In front of his hometown fans he easily made the main but then his bike broke early on. Bummer for Blose. Someone needs to put a "Welcome to Chase Field" sign in the bleachers each week to propel the kid on.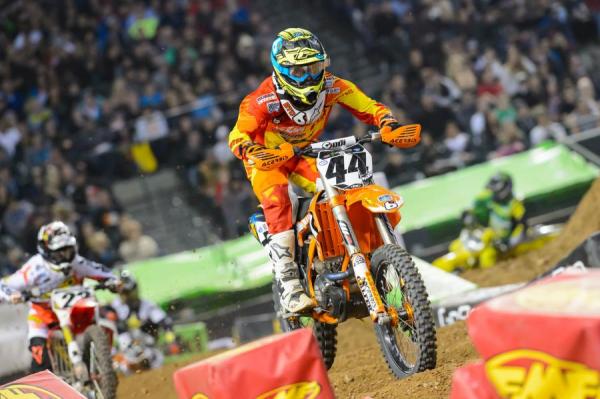 Matt Goerke raced to a 15th-place finish with a freshly broken finger.
Simon Cudby photo
Some news and notes:
-I've been hearing from impartial third-party people that RCH's Josh Hill has been really flying this off-season. In Phoenix though somehow he failed to make the main event and becomes the first big name guy to miss out. It's weird, with the semis now back I thought it would be tough for a guy with Hill's talent to miss out but he just didn't ride well on Saturday. I'm sure he'll be back in this weekend, or I should say, he better be if wants to avoid the wrath of his team.
-Josh told me that he didn't jack around with Matt Moss in the main last week like I reported. He said he went for Moss and put a clean block pass on him and then Moss went back at him and hit him in the rear wheel. That's not what I was told by some other people but hey, let's give him the benefit of the doubt and hopefully these two don't escalate this further.
-The Red Riders were down a man when Eli Tomac didn't suit up for Phoenix, and it looks like he'll be out a couple more weeks with an injured shoulder. That's a bummer, we were all looking forward to seeing what Tomac could do out there. Also, Trey Canard is probably not coming back until Dallas.
-Just about every rider out there has his contract up at the end of the year (Villopoto, Dungey and Tomac are about the only guys locked in) and make no mistake about it, Justin Barcia is already being wooed by some other teams out there. And I'm sure Honda wants him back also but word is, Barcia wants to get his 2015 deal done early so stay tuned on this.
-In the main event there were a couple of guys swinging wide after the finish and airing out the sand pit, which looked cool but was probably actually slower. It was still a cool visual though and goes to show you that you can build anything you want on these tracks and these riders will figure out a way to go super fast around it.
-So with Grant missing the race due to a shoulder injury, team JGR Yamaha's investment into back-up/bench rider Phil Nicoletti could pay off here in a big way. JGR owner Coy Gibbs wanted to avoid putting a fill-in guy that wasn't up to the caliber of his main guys on one of the JGR bikes, and while Nicoletti isn't as accomplished as Grant or Brayton, he's not that far off. Stay tuned to this development later this week. Kenny Watson better start dusting off that Innovation Award he got from the SX folks because Gibbs is on track with this signing of Nicoletti.
Hey, thanks for reading. I really appreciate it and email me at matthes@racerxonline.com if you want to let me know what you're thinking about.