Chase Field
Phoenix

,

AZ
Race Center: Phoenix Supercross
Monster Energy AMA Supercross Championship
The season is underway, and the opener was spectacular. The bells and whistles of Monster Energy Supercross were all on display last Saturday night, with great racing in both classes, some drama throughout the pack, and more fireworks and even more Monster Girls than ever before!
Now the series moves east, but only out into the desert. Chase Field should be jam-packed, just like Angel Stadium was, as Ken Roczen rolls into town with a red plate on the front of his orange bike and a whole bevy of talented veterans breathing down his neck. If you can't make the race, make sure you watch it live on TV: FOX Sports 1 will air the Phoenix race live at 9:30 p.m. ET. Also keep up with Racer X Online and Twitter and Instagram for updates, photos, and general supercross stuff.
As I wrote earlier this week in The List, last Saturday night was a big one for Roczen, and even bigger for KTM. Besides the 1-2 by Roczen and Red Bull KTM team captain Ryan Dungey, there was the 250SX win by Jason Anderson of the Rockstar Energy team, which means his orange bike will also be adorned with a red plate—for the first time in his career. Roczen, on the other hand, has been at the front of a series before, with an MX2 world title and last year's 250SX West Region crown. But still, few would have guessed the German racer would win Anaheim 1, in what is effectively his rookie season in the premier class.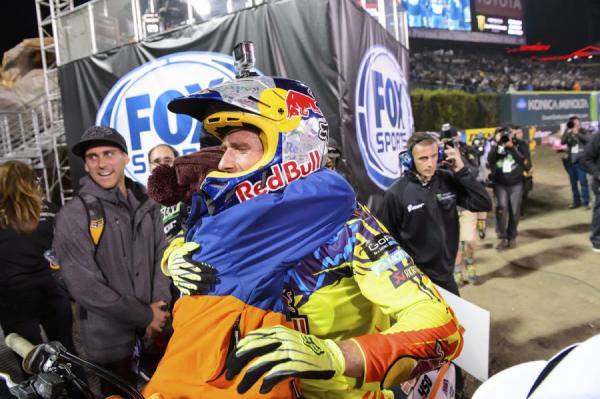 Ken Roczen was a deserving winner in a dramatic main event at Anaheim.
Simon Cudby photo
Roczen rode with patience and smarts—and he was still hurting a bit from his big crash before Christmas. He didn't even qualify directly through the heat race, having to race the semi instead. But from the drop of the gate in the 20-lap main event, he rode his own race. When Ryan Villopoto started to pull away, he didn't panic, seeming to settle into his pace. Then Villopoto fell and all hell seemed to break loose. James Stewart, the man I pegged to win last Friday, came firing up through from mid-pack, closing down on Roczen in the waning laps. K-Roc again held his own pace, rode straight ahead, and didn't even see Stewart's big crash in the whoops, but he had to have heard it by the roar of the crowd.
After the race, Roczen was emotionally spent but obviously thrilled. His work over the last few months with Aldon Baker obviously is paying huge dividends already, and it was great to see his dad with him as well. This is only the start of the season, with 320 main-event laps left to be run. Roczen rode like he belonged up there, not wild or sketchy or anything. Props to Ken, his fans, and his team.
As for Villopoto and Stewart, the two men had their shots at the win, and both will bounce back quickly—they have both won multiple championships and know the game. James has the bigger crash to bounce back from, but he was posting photos of himself riding throughout the week, so look for another run at the front by both of these guys—not to mention Dungey, who earned what may have been one of the most overlooked runner-up rides in recent history.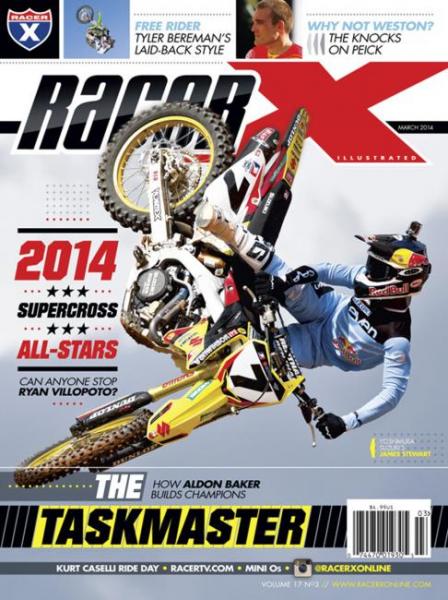 If there's any consolation in getting on the new cover, James Stewart has it with the March '14 issue, hot off the presses.
KTM went 1-2 for the first time ever in the brand's SX history, but has any brand ever gone 1-2-3? Many times! But the first we found in history came in the 1978 Daytona SX, when Team Honda riders Marty Tripes, Marty Smith, and Jimmy Ellis went 1-2-3. But I'm not sure about 1-2-3-4, at least not in supercross' premier class. Any of you bench racers out there remember such a race? If so, email Online@racerxonline.com.
Anderson's 250 win was a late-race squeaker, where he threaded the needle of three late lappers to put a pass on TLD Honda's Cole Seely with two turns to go. His win set off a pretty wild frenzy in the Rockstar Energy pits, just like last year—only it was a Suzuki pit then and they were celebrating Davi Millsaps' win in the 450 class. Either way, congratulations to Bobby Hewitt and Dave Gowland and the whole team.
Before we get into the rest of Racerhead, we received the tragic news from Germany that the well-liked and very talented Kasper Lynggaard was killed this afternoon while practicing for the Dortmund SX race. According to various sources, the Danish rider crashed in the whoops and his heart stopped when he hit the ground. Paramedics worked on the downed rider for some time but could not revive him.
Many took to social media to share the news and their grief, including seven-time world champion Tony Cairoli, as well as Justin Barcia, both of whom competed with Lynggaard back in September at the Motocross of Nations. By all accounts, Kasper was a good man and great competitor. Our thoughts and condolences go out to his family, his friends, and his fans.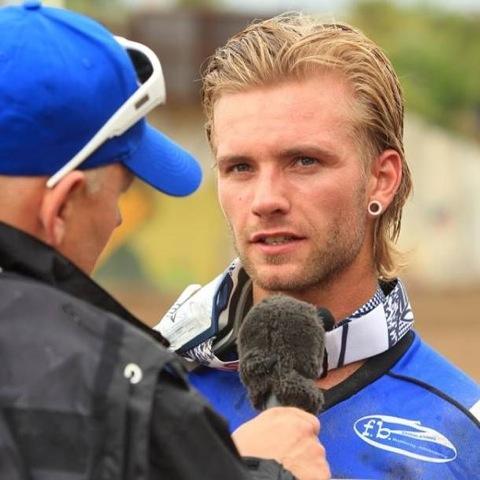 Godspeed, Kasper Lynggaard.
GREEN AGAIN (DC)
We've talked a lot this week about KTM's rise, but what about the return—and reunion—of Chad Reed and Kawasaki? Reed last raced a Kawasaki in 2010, a mostly lost season that saw him go 19-19 in the first two SX rounds after a breakdown and then a collision with James Stewart in Phoenix that left him with a broken hand. When he finally returned in April for four rounds Reed went 4-5-8-2, which were not bad results, unless you're Chad Reed!
Last year Chad rode a Honda and things just didn't click, sort of like 2010 on the Kawasaki. But on Saturday night, back on a green bike, Chad matched his best finish of last year and quite honestly did better than many expected. I hope it's a sign of more good things to come, because having one of the all-time greats back up there is good for the sport in general.
On the other hand, I was expecting to see the Monster Energy/Pro Circuit Kawasaki guys all do better. We know Dean Wilson was hurting after a big crash last Wednesday and briefly considered pulling out to wait for the East, but he gutted it out and finished fourth. Justin Hill and Darryn Durham finishing 6-7 (both behind first-time SX racer Cooper Webb) was less than I thought they would do, especially after hearing a lot of good things about their speed on the test track.
In Phoenix I expect all of the Kawasaki riders—especially Ryan Villopoto, who pretty much had the race in hand until he crashed—to be much more aggressive and in the picture, and in RV's case atop the podium.
Check out more about Chad Reed in our Phoenix Preview Show right here.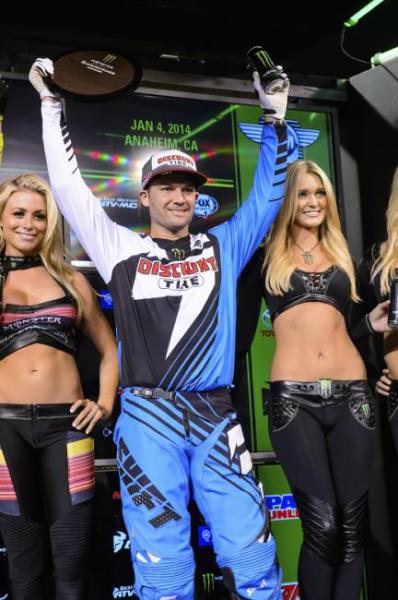 Chad Reed returned to the podium in his first ride back on green.
Simon Cudby photo
PRO PERSPECTIVE (David Pingree and Jason Thomas)
PING: Let's talk about that frantic first lap in supercross. When it comes to starts, I like to take a page out of Ricky Bobby's playbook and either be first or last. Getting the holeshot obviously makes things easier and you have a clear track in front of you. Starting in the back, well, at least you don't have to worry about somebody landing on you. And getting landed on is no fun, right, JT?
Starting anywhere in between is nothing short of nerve-wracking and it can have some major consequences. There are unwritten rules: Hold your line off a jump, don't expect that anyone around you knows where you're going, and don't expect that riders around you are going to jump everything you want to jump.
Rules were broken last Saturday night when Jake Weimer and Eli Tomac went down. While I think both riders could have played this a little smarter, I think Weimer made the mistake here. Eli should have eased toward the inside earlier down the lane to close that line off. Instead he jumped in sharply as they entered the turn. He was doing so to keep from getting center-punched by riders behind him in the next turn, but he didn't anticipate Weimer to be there that quickly.
Weimer, on the other hand, could see that he had riders in front of him. The only way tripling in was going to work in that situation was if Eli rode the very top of the berm all the way around the corner. Tripling in was a big gamble at best and it cost both riders.
While the guys designing the tracks do their best to make the first couple of lanes safe, it is a difficult task. Triples may not seem like a great idea, but there isn't one obstacle that's safe when you're surrounded by twenty other riders. Hopefully these incidents like we saw with are few and far between.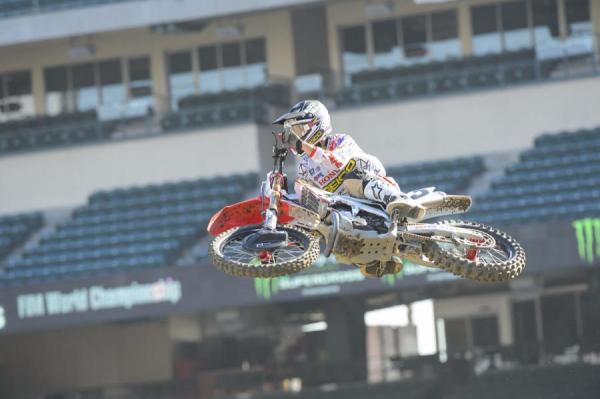 Eli Tomac will be a race-day decision for Phoenix.
Simon Cudby photo
THOMAS: The first lap of a race is a tenuous spot for those who find themselves mid-pack. Not only must you make smart decisions, but you are also forced to trust other riders' decisions. If you decide to jump the triple or a bigger rhythm, you have basically put your trust in the riders around you that they are going to react accordingly.
This scenario often doesn't go to plan, and there are dangerous side effects. James Stewart and Kyle Partridge at Phoenix 2010 and Trey Canard and Ryan Morais at L.A. 2011 are two great examples of massive first-lap crashes where these decisions turned out badly. Everyone is in a hurry to get to the front on that first lap. Riders who are in title contention or are hoping for a podium will sometimes press the envelope to make quick passes. These are always judgment calls: Do I have enough room or don't I? If I triple to the inside, where will the riders in front of me be when I land? Better yet, will they square the turn up, and if so, will I be able to stop? And these decisions have to be made in fractions of a second.
Weimer and Tomac found themselves in a bad situation last Saturday, leaving both riders on the ground and Tomac out for the night, if not longer. In my opinion, both riders were to blame, if blame has to be assigned. Eli did cut over a bit preparing for the turn and Jake took a risk by tripling into that turn. Neither rider made an egregious error, but I can see how both sides felt they did no wrong. It was an unfortunate racing incident. It won't be the first or the last this season. We have is the deepest in recent memory, and hopefully we won't lose more guys to first-lap collisions.
PHOTOSHOP NATION (DC)
The motocross world's Photoshoppers went to work on our own Simon Cudby's image of Stewart's big crash late in the race, coming up with some real gems—just as they did after Chad Reed's "Chadapault" crash at Spring Creek in 2011 as well as that whole unfortunate laser deal at Washougal. There are too many good ones to post here, but the gang over at Vurb compiled a few for this piece.
Fortunately, Stewart was okay, and he ended up seventeenth even though he didn't get back into the race after his crash. And before anyone counts him out, don't forget that last year's eventual SX champion, Ryan Villopoto, crashed himself back to sixteenth at Anaheim 1 last year.
PEICK'S PEAK? (Steve Matthes)
While looking over the aftermath from Anaheim 1, I feel like there's one story that maybe flew under the radar, and that's privateer Weston Peick collecting the sixth-fastest main-event lap time. Think about that: In a stacked field, Peick was ninth in the second practice and in the main went sixth fastest, his best lap better than those of guys like Chad Reed, Broc Tickle, and Justin Brayton. Due to mechanical issues, Peick was forced to call it a night early and was only able to collect sixteenth for his troubles, but I think his race was very, very positive.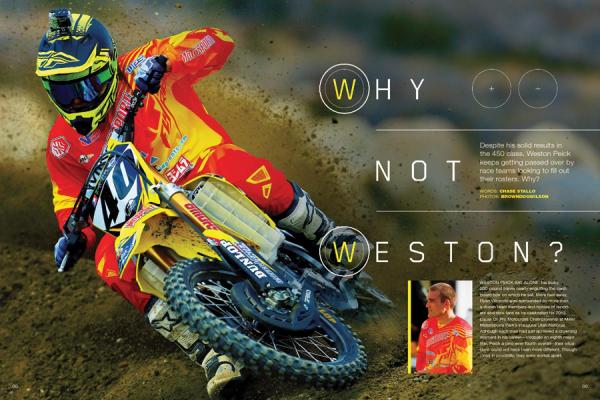 Weston Peick is featured in the brand new March '14 issue of Racer X Illustrated.
A few years ago when Peick was on Rock River Yamaha, he was an absolute beast out there on a supercross track. It seemed that at times Dirt Wurx was using Peick to knock the tops of jumps off as he plowed into one after another. Now there's no more improved rider out there than Peick—and full credit to him for working hard to make himself better—and here he is, a very legit top-ten rider in a deep field. And it's nice to see that Yoshimura Suzuki has also helped him out with bikes and/or parts. Keep on eye on Peick going forward.
ANAHEIM BRINGS IN BIG NUMBERS
(
Chase Stallo)
In November, Feld Motor Sports and Fox Sports announced a five-year agreement to telecast Monster Energy AMA Supercross, Monster Jam, Amsoil Arenacross, and the Monster Energy Cup. For the first time in history, all seventeen rounds of supercross are airing live across Fox Sports 1 and Fox Sports 2. How is that decision working out so far? Well, Anaheim was Fox Sports 1's highest-rated show last week.
Bad Blood?
(Steve Matthes)
Man, there was a ton of beef out there on the track at Anaheim. I have no clue where it all came from, seeing as how it was the first race, but there was some serious complaining going on by a number of riders out there. It's definitely something to keep an eye on.
Rockstar Racing's Ivan Tedesco was hit by BTOSports KTM's Andrew Short and knocked out of the race when some part of the #29's bike put a hole in Tedesco's ignition cover. Shorty, nicknamed "The Smiley-Faced Assassin" by James Stewart a few years ago, had this to say after the main event:
"He was all over the place for a couple laps. He jumped me off the triple and I went 2-3 and I knew I had to get by him right then. There was like three of us, so I don't know if I did it or who did it. But it was squirrelly and pretty dangerous. I think it's funny because I was pretty nice to everyone tonight and then as soon as I barely touched somebody, what I've been getting done to me all night, everyone freaks out. But it is what it is." There's history between these two, so let's keep an eye on this.
BAD BLOOD 2: VINCSANITY! (Steve Matthes)
Early on in the main, GEICO Honda's Wil Hahn put a block-pass on privateer Vince Friese that knocked Vince down. I saw it and didn't think it was anything dirty-just a supercross pass. Well, Vince waited for Hahn and attempted a few times to take Hahn out as payback before he pulled out—literally just before he was going to be given the black flag by race officials. And to that I have to say, "C'mon, Vince!" He was subsequently DQ'd from the results, did not receive a point, and was fined his $1,415 in prize money for twenty-second place.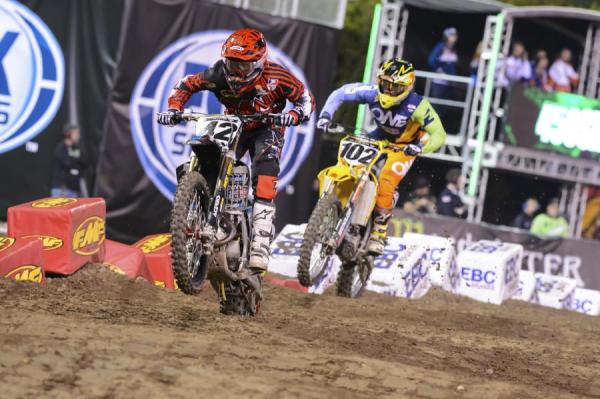 Vince Friese was DQ'd in Anaheim for his actions on the track.
Simon Cudby photo
BAD BLOOD 3: WHEN AUSSIES ATTACK! (Steve Matthes)
Privateer Matt Moss from Australia has the BTOSports KTM guys none too pleased with him, as he dove to the inside of rider Matt Goerke and slammed him off the track. The collision left Goerke with a broken finger and his status for this weekend is up in the air.
Still with Moss, RCH Suzuki rider Josh Hill was apparently looking for payback on him for something that happened in Australia with Matt's brother Jake. I guess with no Jake in the race, Hill felt like he would get the next-best guy—Jake's brother! I didn't see it, but I heard there were repeated attempts by Hill to get Moss.
Other battles going on out there were Stewart versus the whoops and Mike Alessi versus time itself.
ARENACROSS WOW!
(DC)
On the complete opposite side of the country, the 2014 Amsoil Arenacross Championship got underway in frigid Worcester, Massachusetts, with the usual slam-bang racing. Zach Ames left the DCU Center as the new points leader, and Mike McDade winning the overall on Saturday night. But some other things happened that left a lot of folks scratching their heads.
First, the Tuf Racing team arrived a few minutes after practice ended on Friday, which was understandable—they drove twenty-seven hours to get there after all flights from Chicago to the Boston area (and pretty much any area in the north) were canceled due to the cold and snow. Unfortunately, because their rider, Kyle Regal, did not get to practice, he was not allowed to race that night.
Then came the strange mid-race tussle between defending champion Tyler Bowers and Jacob Hayes on Saturday night. It actually began well before the race, when Hayes told Racer X Online, "I really feel confident that I can give [Tyler] Bowers a run for his money this year. I really want to be strong this year, week in and week out. I really want to challenge for that title and then go into the last couple east supercross rounds with some confidence and go in there level headed and see what we can do."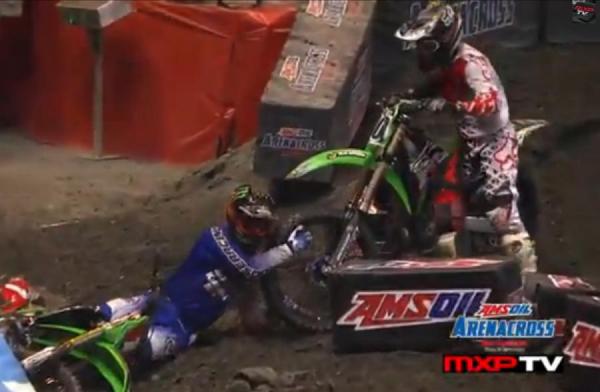 It's not exactly the kill-switch, but still…
Bowers read the interview and, after banging with the newcomer on Friday night, said, "He was talking about he was going to come out and bang bars with all these big guys, and I was like, 'Uh, I'm going to have to teach him….' I was able to get up behind him, give him a little welcome into the series here, give him a little hit before the finish line, and move into the lead." No problem there—that's the way they roll in arenacross.
But Saturday night's follow-up ended a little differently. After the two collided in a hairpin corner, Bowers went off the track and fell on his #1 Kawasaki, with Hayes stalled behind him. But rather than try to get up and go, Bowers grabbed the kid's front wheel and tried hold him down, Mike-Alessi-at-Glen-Helen-'05-style. Check it out toward the end of this excellent highlight video of the weekend by MXPTV.
"The season didn't necessarily start out like I'd hoped, but I'm ready for the challenge," Bowers said in the PR for this week's Baltimore rounds. "There was some real aggressive racing out there on Saturday and I got the message. I know what it's going to take to keep winning and I can't wait to fight back and earn back all the points I lost."
Bowers shrugged off the incident after our own Steve Matthes posted a photo of the hold-it-down moment under @pulpmx. The #1 AX rider responded:
@pulpmx looks like my hand is stuck in a wheel and im trying not to get it ripped off? I figured even a Canuck could figure that out

— tyler bowers (@tbowers911) January 8, 2014
Mike Sweeney went to the race and filed this photo report.
HERLINGS NURSING SWOLLEN ANKLE (Chase Stallo)
Maybe the only person who can stop Jeffrey Herlings in 2014 is Jeffrey Herlings. The two-time MX2 world champion has been sidelined for the rest of the month with a stress fracture in his right ankle, according to On Track Off Road.
"The results were not so good and the muscle has been overworked," Red Bull KTM team manager Stefan Everts told OTOR. "Jeffrey has been dealing with it for a couple of months but he didn't listen to advice in December to take some hard time off. He kept saying it was fine and continued riding. Dr Claes now says it will be around three to four weeks.
"He can be back at the beginning of February and that is enough time to be ready for Qatar," Everts added. "For the championship it is not a big stress yet because the season is so long with eighteen rounds. I hope he can be fully fit and ready to go."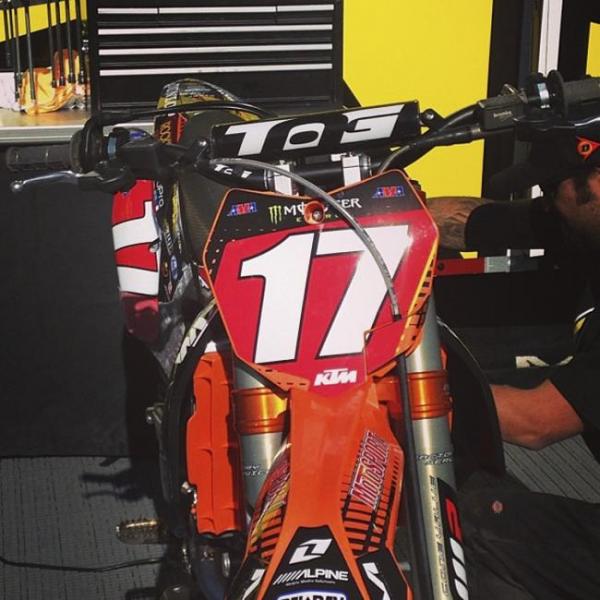 For the first time in his career, Jason Anderson has the red plate.
Jeff Canfield photo
JORDON SMITH HEADED FOR SURGERY (Chase Stallo)
GEICO Honda amateur sensation Jordon Smith is headed for his second surgery since the Mini Os. Smith, who broke his femur at the annual Thanksgiving race, found out earlier this week that he tore his ACL and lateral meniscus (opposite leg) in the same crash. Smith tweeted the following:
Well just found out a couple days ago I also tore my acl and lateral meniscus in the crash at mini os. (Opposite leg of broken femur)

— Jordon Smith (@Smitty_262) January 9, 2014
I am having surgery tomorrow morning. Then start physical therapy next week! I'll be back stronger than before. I won't let anyone down!

— Jordon Smith (@Smitty_262) January 9, 2014
Doctor says I should be back riding in 3 months. Praying that everything goes as planned in surgery.

— Jordon Smith (@Smitty_262) January 9, 2014
This rules out Smith for the Lucas Oil Pro Motocross opener at Hangtown, and maybe any Loretta Lynn's qualifiers. We will provide an update as one becomes available.
SMITH FILLING IN (Aaron Hansel)
Les Smith will be joining the CycleTrader.com/Rock River Yamaha squad in Phoenix this weekend. The decision on whether he'll be joining the team for additional rounds remains to be made.
You may also have noticed that team rider Kyle Chisholm came painfully close to making the main event, missing out by a single spot in both the semi and LCQ. You probably don't expect Chisholm to be on the podium, but it was still a surprise to see a guy who is normally a lock to be in the main not even qualify. His deal with the team came together at the last second, though, and he'd only logged a few days on the bike before lining up to race. In fact, he was out pounding laps at the Yamaha test track the day before Anaheim trying to get his new ride dialed in.
ANAHEIM 2 PREVIEW (DC)
The retro-themed Anaheim 2 race is shaping up as a lot of fun, especially for folks like Alex Moroz, the man in charge of the Legends & Heroes of Motocross. He's helping to organize a few fun activities for the living legends headed out to Anaheim, including original AMA Supercross Series Champion Pierre Karsmakers, who is flying over from the Netherlands, and 1975 Champion Jimmy Ellis, who now lives in Australia. Those men and more will all be part of the press conference held by Feld Motor Sports next Thursday, January 16, at Angel Stadium's Diamond Club at 11:30 a.m. Then on Friday evening there is an open party at the OC Sports Bar from 5 p.m. to 8 p.m. The restaurant is located at 450 N State College Blvd (714-935-0300) and is literally right across the street from the stadium parking lot. This will be a fun night with all the champs and industry folks, sponsored by the Bike Week Radio Show, Bel-Ray, Shark Kage, and Motion Pro. The party will be hosted by "Hot" Rob Buydos and Tom White.
And then on Saturday at the race there will be a fans' meet-and-greet and autograph signing at the Legends & Heroes display. Rockwell is helping out with a commemorative custom-engraved watch for the past champs, along with the Legends & Heroes 40th Anniversary Award.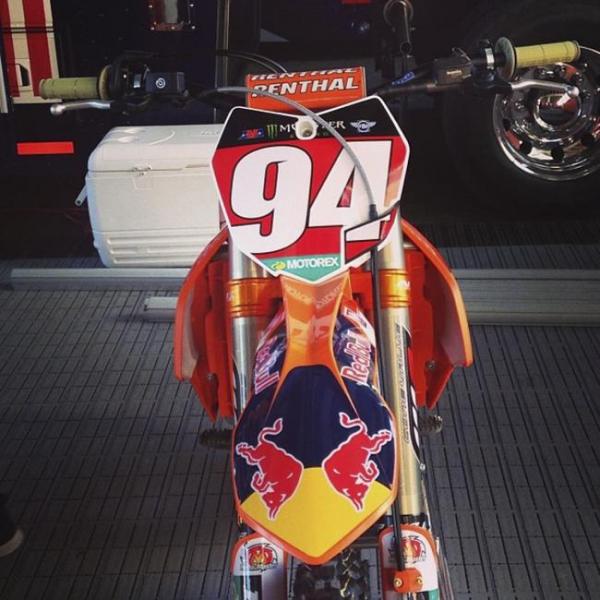 Ken Roczen will also have the red backgrounds in Phoenix.
Jeff Canfield photo
HEADLINES OF THE WEEK
South Georgia facility major hub for motocross hopefuls.
"Paulo Goncalves´ bike in flames, Barreda drops to second overall"
From a Motor Sports Network Communication PR:
"Stage five (of the Dakar Rally) from Chilecito to Tucuman was characterised by very hot temperatures over 40 degrees and a lot of sand and navigation in dry vegetation. Exactly because of this dry vegetation, Paulo Goncalves´ bike became the victim of a fire accident. Dry grass branches collected in the engine protection and caught fire near the hot exhaust during the extreme riding conditions in the deep sand."
HEY, WATCH IT!
MotoConcepts' press conference following A1. Held at the MC truck.
Check out this amazing clip of a 3-D documentary about a school teacher taking on a motorcycle gang at a school dance in Montreal. The film was recently selected to be in Canada's Top Ten Films Festival.
Scott Wallenberg spotted this gem online: an eighties-era riding video featuring Steve Martin, a former Honda factory rider from Florida who ventured over to Japan to race and became a pioneer in the business of and American racing in the Land of the Rising Sun. He would be followed by "Fast" Eddie Warren, Jeff Matiasevich, Ron Tichenor, Kyle Lewis and more. Check out the "Cycle Sounds" and "American Riding" elements here.
Here's another gem from Scott, with an incredible backstory. First, watch the short video.
Okay, the 1985 Japan Grand Prix was not an FIM World Championship round, but it did attract some very fast men, all on Hondas. Look closely and you will notice David Bailey, Johnny O'Mara, and even David Thorpe. What you won't see is Ron Lechien, as this is the race he was headed to with Bailey and O'Mara when he was arrested at the Tokyo Airport for possession of marijuana, which he said he'd brought along to help with jet lag. He was summarily fired on the spot by Honda and put on the next plane home. It was the most notorious incident of the Dogger's mercurial career, and one of the all-time bench-racing stories if you ever get a chance to talk about it with any of the riders mentioned here.
RANDOM NOTES
Part-time Lucas Oil Pro Motocross racer Tucker Hibbert broke Blair Morgan's long-standing Snocross wins record last weekend in Shakopee, Minnesota. "Breaking Blair's record was cool because it brought up a bunch of memories of racing with him," said Hibbert following his eight-fifth career win. "We had the best battles. He pushed me hard and taught me a lot about race strategy. It's exciting to have the record but honestly, it's not about records for me. I just want to do the best I can every time I'm on the track."
Headed to Phoenix? Make sure to come by the Racer X booth to subscribe or renew—and get your Racer X wall-cling! Only $20 gets you 13 issues of Racer X plus a giant, wall-friendly Racer X decal featuring Villopoto, Dungey, and Stewart—and as an added bonus, you can give a digital subscription to a friend! (Are you in the U.S. military? Bring your military ID and we'll give you $5 off the subscription price as a small thank-you for your service.)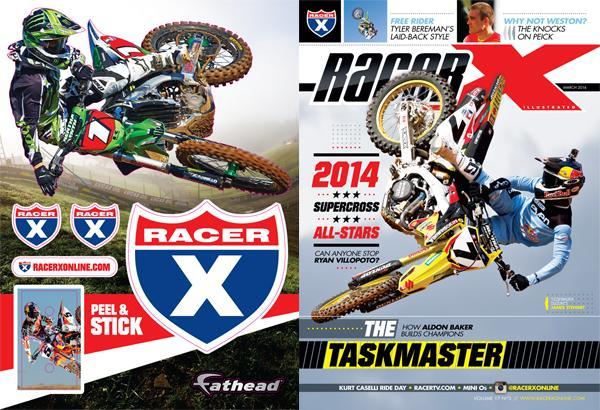 Privateer Ryan Smith has been chosen to take over the legendary Gary Bailey MX School. We received a letter from Ryan earlier this week:
Ryan Smith MX Clinic is the continued legacy of "Gary Bailey MX School". Gary "The Professor" Bailey has taught me since 1995, he has handed down the torch and wants to continue to help individuals learn the proper way to ride a motorcycle. It is now my pleasure, Ryan "The Doctor" Smith, to share with you what The Professor has shared with me, everyone can just twist the throttle, hang on, and pray they don't crash, but do you want to re-assure your doing it the proper way? Come join the Clinic for the cure! Visit www.RyanSmithMXClinic.com or on Facebook https://www.facebook.com/RyanSmithMXClinic for more information.
With KTM having its biggest night ever in Monster Energy Supercross last weekend, we dedicated The List this week to KTM "breakthroughs" over the past four decades. We may have left one out, according to Rory O'Neill:
"I read your KTM article today on the website and it was really cool, I just wanted to mention though and I'm 99% sure on this but I think that at Daytona in 97 that Lance Smail became the first rider to ever qualify a four-stroke for a supercross main, like I said I'm not 100% on it, I know most people think that Doug Henry was on the YZM."
The Pulpmx oven was pretty busy this week baking up some fresh new links for you guys. Tony Blazier took a closer look at the 1992 YZ 250 AKA "The Coliseum Bike" for Classic Steel.
Swizcore pulled himself off the plow to take a look at A1 from a guy on a couch perspective.
And Matthes called up David Vuillemin for his take on A1 and he, as usual, had some great insights into what went on at Anaheim. It's almost like he's done it before huh?
Ben Townley will ride again. Check out what BT101 is up to.
Looking for an instant collection of top-notch motocross jerseys from the past? A Racer X reader and fellow racer is selling off one of his prized possessions, his jersey collection, right here.
Here is some news on Ezra Lusk, who continues to stay very busy in his post-racing career.
That's it for Racerhead. Thanks for stopping by. See you at the races.