Interview with Miss Arenacross
Interview provided by Arenacross Media
With the 2014 season of AMSOIL Arenacross, featuring Ricky Carmichael's Road to Supercross, officially underway, Feld Motor Sports® caught up with the new Miss AMSOIL Arenacross, Katie Wharton.
As Miss AMSOIL Arenacross, Wharton will serve as the official spokesperson for the series, a title previously held by familiar names like Lindsey Scheltema and Ashley Phillips, the current co-announcer of Monster Energy Supercross. Wharton will not only co-announce the action from every round of  AMSOIL Arenacross, she will also be on-hand to sign autographs at the Monster Energy fueled Track Party and post show autograph sessions.
AMSOIL Arenacross caught up with Katie following last weekend's opening round from Worcester, Mass., to get her thoughts on her new role and help the fans of the championship learn a little more about her.
How did you earn the title Miss AMSOIL Arenacross?
I had never even looked into being Miss Arenacross until a few months ago, when a good friend of mine told me about the position. I race professional women's motocross and it was announced that there would be no WMX season in 2014 so I knew I would be doing something new next year and making new goals for myself.  When I heard about this opportunity I jumped on it! I truly love the sport and if I'm not racing I want to be a part of the industry any way I can. It was an amazing blessing to be in a position where I could even be considered for Miss AMSOIL Arenacross! I'm so thankful for this great opportunity!
What made you want to become Miss AMSOIL Arenacross?
I have been involved in the motocross industry for 10 years. I started riding when I was 14 and fell in love with the sport! I love everything about it, from the racing and family atmosphere to the detailed behind the scenes work of organizing and preparing for events, I love it all! I wanted to become Miss AMSOIL Arenacross because of my passion and respect for the sport. I love every aspect of it and wanted to be a part of this amazing opportunity from the moment I heard about it.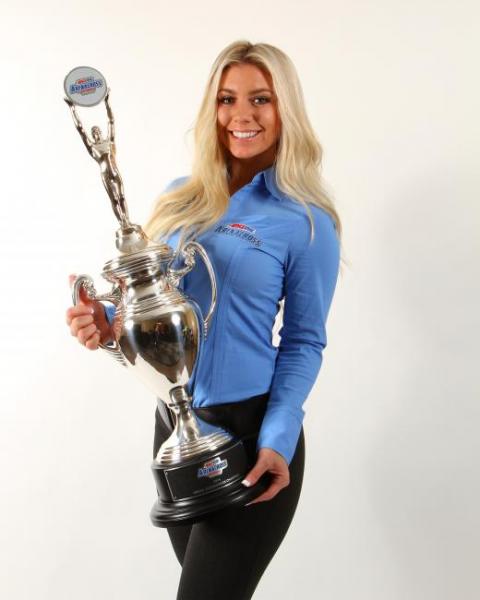 What are you looking forward to most as Miss AMSOIL Arenacross?
I'm really looking forward to being an ambassador for the sport. I love meeting new people and talking with fans that share my same passions will be awesome! This is a great opportunity to be a part of this fast paced, exciting lifestyle and I can't wait!
How was your first official race as Miss AMSOIL Arenacross?
It was amazing! The fans are so excited to be a part of everything and the riders are all so great to work with. The Monster Energy Track Party was one of the coolest things I've ever been a part of and I'm so excited to know we get to do that at every round. I can't wait to meet all the fans in every city! The experience was so much more memorable than I could have ever imagined and while I was really nervous, I was able to get acclimated to everything pretty quickly. I really do love this sport so much, so it just made everything that much easier to adapt to.
How will being a former racer help you in this new role?
I know what these riders have gone through to get where they are and I admire and respect each of them for the hard work and determination they have. I'm not only a huge fan of the sport, I am a huge fan of the riders. I started racing seven years ago and was determined to get my pro license and be the best I could be. I worked hard, learned a lot, endured countless injuries and had some amazing experiences, Both my dad and brother race, as well as my sister, who is also a pro, so it really was a family thing. I think knowing the sport and being familiar with all aspects of it will really help me as Miss AMSOIL Arenacross.
What makes AMSOIL Arenacross so unique in your opinion?
You have a stacked gate full of talented riders all competing for one position! When you've got short main events and a full gate of riders all capable of winning, it gets intense out there. Arenacross is not only a physically demanding sport, but an emotional and mentally demanding one as well. There is a great deal of preparation that the riders, teams and families go through to get ready for each and every event, as well as a lot of behind the scenes work that I am just now realizing goes on to make each race the most amazing experience for the fans.
If you had to summarize AMSOIL Arenacross in five words or less, what would you say?
Intense, thrilling, adrenaline, action-packed!
What are your thoughts on being able to give back to the community as Miss AMSOIL Arenacross?
Giving back to the community is something I am so excited about. I absolutely love meeting new people and my passion for the sport will help me reach out and share my experiences with people in each community! Being the spokesperson and face of AMSOIL Arenacross I want to make sure that the communities we visit really get the feel for what arenacross is and what we are all about. Giving back to the community is so important in my opinion and by visiting local schools I can share with kids the values, work ethic and determination that our riders possess and teach them how applying that can allow them to enjoy life to the fullest. We were able to do something very special for the Worcester Police Department last weekend and it was such an incredible thing to be a part of. I'm so excited for what lies ahead!
Who inspires you?
My parents are two people who inspire me. They have most definitely shown me what family is supposed to be like. My mom has taught me everything I need to know, and more, while my dad is hands down the most hardworking, loving and most awesome father anyone could have. He has provided and looked after our family more than I can ever describe. I look up to them and am inspired by them daily.
What is the toughest part about being a rider?
One thing that amazes me about our sport is how hard the riders work. You have to always be at your personal best, take on challenges, work hard and have fun, but be yourself. I think the toughest part of being a rider is pressing on. There will be highs and lows, struggles and achievements. Every day, these riders train and work hard both physically and mentally to achieve their goals.
What is your favorite type of music?
Although I don't have a favorite band or artist, I actually like all types of music. From country to Christian, to dance to rap! But, I would have to say I'm a country girl so that takes the win!
What do you listen to in order to get pumped up?
I listen to a lot of dub-step, rap or rock when I workout and I actually listen to music when I ride! I listen to music to get pumped when I do things like ride or workout or snowboard!
Do you have a nickname? Where did it come from?
My whole family calls me shakes or shakey. I asked around to see where it came from and I guess my uncle started it. He first said it's because I moved around a lot and was walking and dancing around when I was eight months old, then he said it was my hair bouncing around but later retracted that statement. So I guess it just evolved and was easy to say he claims. Who knows!