When the man in the orange and black jersey gets to the stadium this weekend, the story will be the same. Yeah, he's won this title once before, but many critics will shout that he should have won more. He's been too close too many times to not have more wins, more titles. So consistently there, and so consistently close.
This criticism will be levied at Peyton Manning this weekend. Manning is now known as "The Greatest Regular Season Quarterback" of all time, and that's as much of an insult as a compliment. Wait, "Greatest Regular Season Quarterback?" Well, what happened in the post-season, then?
What happened was some other dynamo pieced together a few weeks of glory—had the right things happen at the right time and seized the moment. What happened was someone else overcame Peyton's greatness by being beyond great. What happened was that other teams respected Peyton, but also figured out a way to beat him. Being great week after week is indeed great. Being good enough to be in position to win all the time is good. But, after awhile, it seems like all this greatness just sets up the inevitability of winning the big one even more. And if you only actually win it once? Doesn't seem like enough.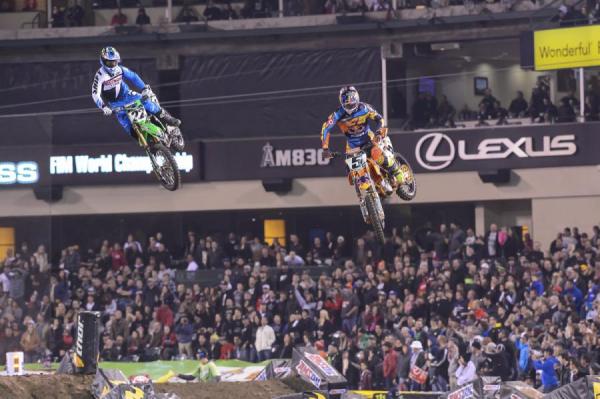 Dungey has made the podium all five times he has raced an Anaheim 1 450SX.
Cudby photo
That's where Ryan Dungey stands now, too. He's so consistently good that he puts himself in position to win all the time, but, since he doesn't actually win all the time, he sets himself up for criticism. Peyton Manning's post-season record seems sub-par because every year his team is one of the favorites to win it all. If his team would ever suck, or, actually, if he would ever suck, his playoff record would actually look okay. If he were merely average, we'd expect average results. We do not.
Look at Anaheim 1 this way: Ken Roczen's win was obviously awesome. Chad Reed getting back on the podium after a terrible season was awesome. Justin Barcia rode awesome, but he just blew the start. Ryan Villopoto was doing what was needed to win, but he fell. For every rider in the top five, there's a positive to take. But Dungey? His second is so routine it just gets taken for granted. And oh, if he had passed Reed more quickly, he could have won. Villopoto, the guy Dungey is always chasing, opened the door. But then Dungey got beat by a rookie teammate. He could have won.
That's the problem with the consistent guy. When you finish second or third all the time, it just makes fans ask for more. If that guy-that-always-gets-second could have just pushed harder, or gone faster, we could have seen a battle for the lead! Just think back to last year's Lucas Oil Pro Motocross Championship. We knew Villopoto would be blazing every week. If we wanted to see a battle for the win, the pressure was on Dungey to deliver.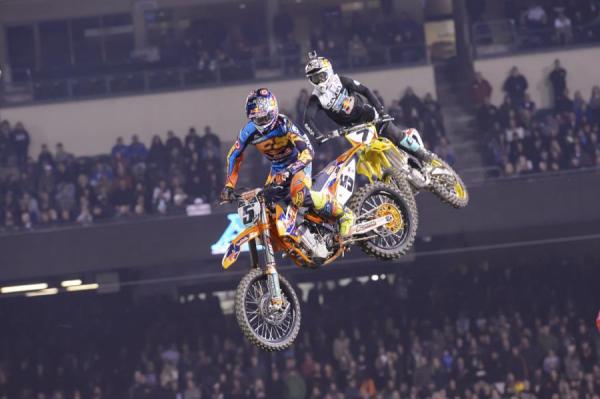 Once again, Dungey has placed himself in the middle of the title picture.
Cudby photo
Reed used to play that role. Today, he owns the greatest pile of podium finishes ever, but a great many of those podiums were claimed while James Stewart and/or Ricky Carmichael were fleeing in the distance. Especially when Carmichael was not there, and Stewart was all alone out front, we were imploring Reed to go faster. If he pushed harder, got crazier, maybe we'd see a battle. The other 18 riders in the pack were blameless because we knew there was no chance they could beat Stewart. But Reed was close enough. On some weekends, he was there. It seemed possible that Reed could win more, maybe just because we wanted to believe it was, because we wanted to see a battle for the lead so badly. Why couldn't he just do it in every race?
We can look at Dungey's performance in supercross last year—12 podiums and two wins. That's 10 "oh he could have" victories. The only riders with more were the champ (Villopoto) and Davi Millsaps, who you could not criticize because he was running a dream season and holding the points lead throughout. You couldn't ask for more from Villopoto or Millsaps. Dungey ended up third in the final supercross standings, and then threw in a second to Villopoto outdoors. He was close enough. He could have won.
You know how Dungey could have avoided such talk? He could have sucked. Or he could have crashed out and gotten hurt and not even have been there. You only get criticized for not winning when it appears you have the ability to do so. So, somewhere within the criticism is a compliment. Kind of like being called "Greatest Regular Season Quarterback of All-Time."