James Stewart Re-Signs With Bell Helmets
From Bell Helmets:
SCOTTS VALLEY, CA, – Bell Helmets announced that legendary motocross champion James "Bubba" Stewart will continue to wear the Bell Moto-9 Carbon throughout the 2014 and 2015 Supercross and Motocross seasons. Stewart's decision to stay with Bell reinforces the reality that when safety and success are at stake, top professionals choose Bell Helmets.
"Wearing a Bell has certainly provided a big confidence boost over the past four years. " said Stewart. "No other helmet company designs for protection against the full range of crash or impact scenarios that we face in motocross like Bell does. Bottom line is that Bell's proven they will protect me best in all situations."
Stewart, a five-time AMA Supercross Champion and three-time AMA Motocross Champion, is arguably the most accomplished active rider in the sport. He's the second rider in history after the legendary Ricky Carmichael to complete a perfect motocross season (24 wins in 24 races) and boasts more wins in Motocross and Supercross than all but one rider in history.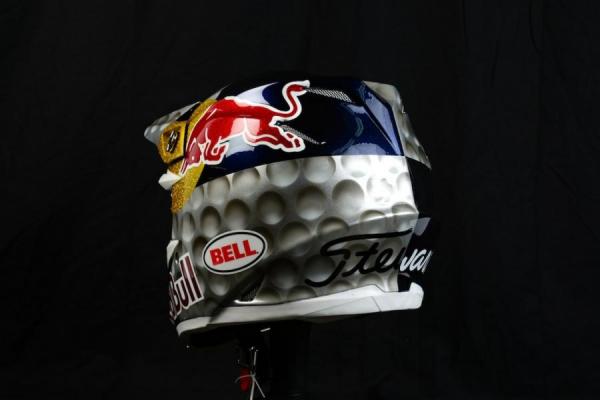 James Stewart's golf inspired helmet for Anaheim 1.
A unique connection exists between Stewart and the Moto 9, as he actually had a hands-on role in the development of the original Moto 9 when first signing with Bell in 2009. In light of this history and the superior benefits of the Moto 9, the decision to extend the relationship was fairly obvious.
"There isn't a helmet brand out there that wouldn't want James running their helmet, and therefore, he truly has the pick of the litter," said Pat Houlihan, Sports Marketing Manager – Bell Powersports. "It says a lot about Bell, the Moto 9 and our 60-year commitment to protection and performance innovations, that James chose to extend his relationship with us for two more years."
About BELL Helmets:
From humble beginnings in the garage of a 1950's Southern California speed shop to the heads of champions in auto, motorcycle and bicycle competitions all over the world, Bell is synonymous with protection and progression. Part of Easton-Bell Sports and based in Scotts Valley, Calif., Bell is the world leader in the design, manufacture and distribution of motorcycle and bicycle helmets and accessories.