Ken Roczen is a fast learner. The German has admitted before that he doesn't have much of a supercross background growing up, but from the very second he hit the track in his first supercross here—Anaheim 1 in 2011—he has been fast. He's also been right toward the front each time he's raced in the big bike class—same thing this time. Kenny didn't have the outright fastest lap time in either session, but his #94 circulated toward the front each time out. The heat race was not good, though. He suffered arm pump and dropped out of a qualifying position, but he won his semi and made things happen in the main. For a young guy in the class, he rode smart and steady.
Yeah, yeah, you drama queens… We know Kenny now trains at Ryan Villopoto's house in Florida, and now Kenny won a race. Roczen was quick to point out that this means nothing and they'll be training together again this week, as usual. "We're all competitors but we have a life away from the track," he said. "I try to get along with everybody."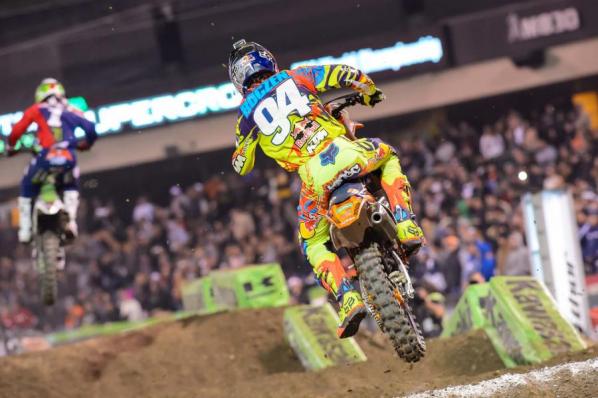 The new training partners were dueling like it was just another day at home early in the main.
Cudby photo
Not a great night for Villopoto, but he showed flashes of his typical championship form, grabbing the holeshot and leading much of the main before washing the front end out and going down. The surprising part wasn't the crash—even the champ makes a mistake here and there. What was more surprising was that he never had dominant speed at any point, as Roczen and Reed at least kept him in sight early, and after he fell and picked himself up in fifth, he lost ground on the lead four.
Ryan Dungey was Ryan Dungey. He rode solid, but it took him too long to make a key pass, and it might have cost him a shot at the leader, Roczen. At around the halfway point, Dungey closed on Chad Reed for third but made some mistakes trying to find a way around. By the time he finally made the move, he had lost ground and was facing a big hole in trying to catch back up. With three laps to go, it looked like Dungey was close enough to make a run at Roczen, but the kid actually pulled away a bit down the stretch.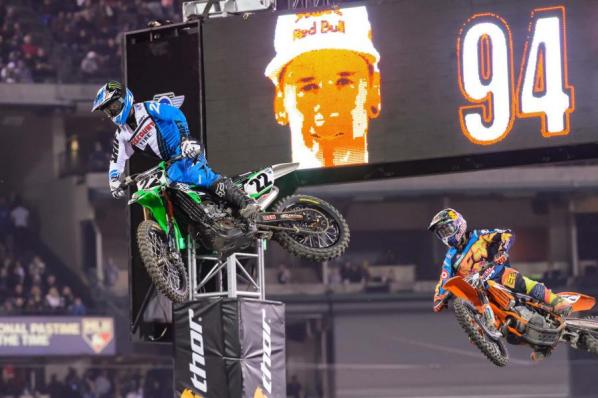 Reed was back up to speed, which led to another in a long line of battles with Dungey.
Cudby photo
Chad Reed is back to his old podium self. Early, Reed was running third behind Roczen and even closing at one point, but he dropped off the lead pace slightly to fall into the clutches of Dungey and James Stewart. Stewart crashed which put Reed into third, and he was strong to the end.
The results column merely says fifth, but you could make an argument that Justin Barcia put in the most impressive rides of the day and night. He was fastest in practice and won his heat race with a great ride—catching and passing James Stewart. But Barcia simply blew the start in the main event and had to fight from way outside the top ten to fifth. The riding is not a problem, though. Bam Bam looked super fast and super strong, and he's way too good of a starter to blow many more gate drops like this one.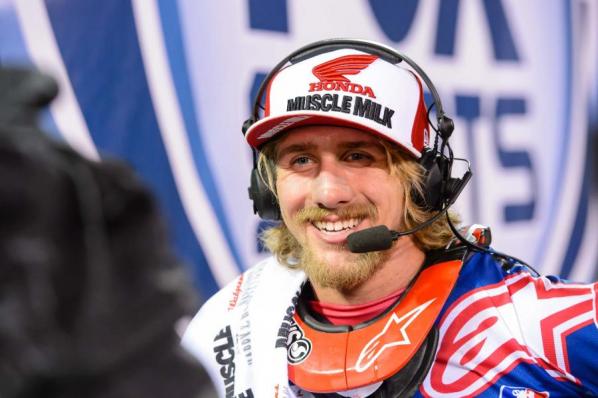 Barcia might have been smiling after the main event if he had gotten a start. But this photo came after his heat race.
Cudby photo
Oh, James Stewart. The story is the same, coming in with much hype and looking pretty fast throughout the day. He had a practice crash, though, and ended up third fastest overall. James looked to be taming it down a bit, yielding to Barcia in his heat and only getting a so-so start in the main event. But he came to life at the halfway point and made passes on Dungey and Reed in the same corner. Then he started catching Roczen and nearly made the pass in the same corner. He had plenty of time to set Roczen up for another pass until a crash came out of nowhere in the whoops—one second he was pulling up to Kenny and the next he was swapping and flying off the bike in a violent crash. Severely bent handlebars meant the end of his night.
Tale of the rookies: Ken Roczen wins, Eli Tomac didn't even make the main. A huge crash off the start of his heat race left him with a pinched nerve in his arm. "The decision not to race was the hardest one I've ever had to make," said Tomac in a team PR. "I just have no strength in my arm and shoulder, and I knew I wouldn't be able to hold onto the bike. It would have been dangerous, and I might have hurt myself even more. The best thing to do is get some rest, keep this thing iced up to get the swelling down, and hope I can ride next weekend in Arizona. This certainly isn't the way I wanted to start the year, but I guess it could have been worse."
This has to be the greatest night ever for KTM in supercross. Roczen and Dungey went 1-2 in the 450SX main and Jason Anderson snagged the 250SX win for Rockstar Energy Racing.
Anderson and Cole Seely stole the show in that 250 race, with Anderson leading early before Seely made a move, and then Anderson made a last-lap dash and executed a huge block pass to steal the win. Anderson told us he was more comfortable once he was running in second, and he knew he had a sprint left in him. On the last lap, his mechanic wrote "Lappers" on the pit board so he knew Seely might get slowed up. When he did, Anderson went inside and made the pass, with some huge contact.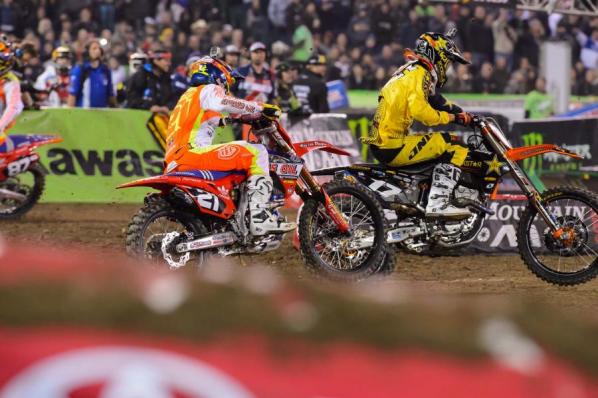 Lots of battling between Anderson and Seely...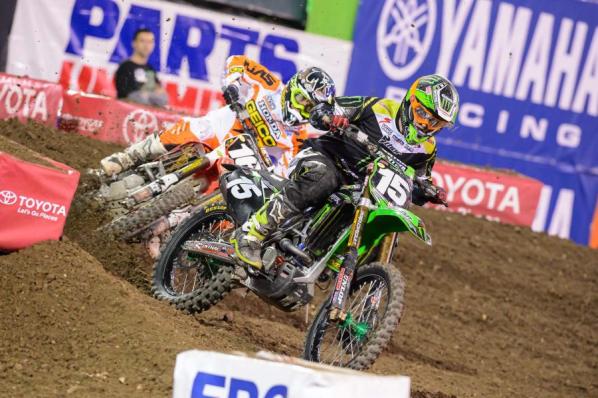 ...and Wilson and Osborne.
Cudby photos
It was the classic combination for Seely—the lappers got him, and he didn't realize Anderson was as close as he was. He also pointed out that the move wasn't dirty—it was on the last lap going for the win.
The best news for Anderson and Seely is that they yarded everyone else. There was a good battle between Zach Osborne, Dean Wilson and Malcolm Stewart in third through fifth, but the lead dogs motored away. Osborne looked really fast at times but the start did him in, and then he and Wilson got caught in a hellacious battle for third. They seriously must have passed each other a half-dozen times. Osborne won the battle but the leaders were gone.
Didn't seem like we saw the real Dean Wilson out there. He had a crash a few days before the race, and Mitch Payton told us he was suffering from some road rash. He logged one flyer in practice to net the fastest lap time, but for most of the day and night, Dean just seemed less aggressive than usual. Expect better from Wilson come Phoenix.
The JGR Toyota Yamaha crew has to be happy. Their guys Justin Brayton and Josh Grant were strong in the main event and came home sixth and seventh, respectively. Brayton was happy with his performance, and said he felt a lot less nervous on this night than previous openers.