Angel Stadium
Anaheim

,

CA
Anaheim I (A1)
Monster Energy AMA Supercross Championship
Rockstar Energy KTM's Jason Anderson has had his mental struggles through the years, but he definitely has it squared away for 2014. In a thrilling 250SX main event at Anaheim, it appeared Lucas Oil/Troy Lee Designs Honda's Cole Seely was about to edge Anderson for the win, but the fourth-year pro launched an all-out sprint on the final lap and then put in an aggressive, full-contact pass to steal the victory. After the win, Anderson was not afraid to play up his championship odds.
Racer X: It did not seem like the win was coming for a while. When the white flag came out it looked like a solid ride for second.
Jason Anderson: It did. Definitely. When I crossed the white flag and I went through the whoops, through the mechanics area, before you see the white flag, my mechanic wrote "lapper." And I knew me and him [Cole Seely] are kind of similar [on speed]. We were kind of just chasing each other back and forth then he would stretch it out then I would bring it back in. He actually had it stretched out probably a good second. I knew that last lap, I knew my sprint speed, I could catch him. I didn't want to go too crazy because it's A1… but it ended up crazy!
How difficult is that, when somebody goes by you to mentally be able to push yourself back up to him, hang on, and then try and get by him again?
It actually wasn't too tough for me tonight. Just following him and just hitting my marks and being smooth behind him was actually easier than leading. This track was tough for me to lead tonight. He got away but I knew if I sprinted up to him I knew I could make a ballsy move, kind of like I did. I did it. I didn't want to be dirty. I still completed my corner and everything.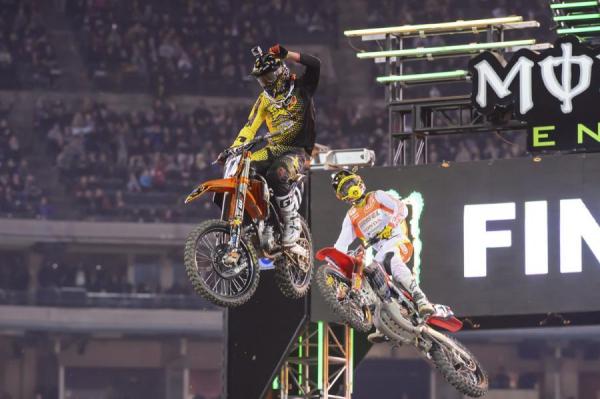 Jason Anderson won a thrilling race over Cole Seely on Saturday.
Simon Cudby photo
It's a race. Last lap of a main event!
It's a win. And the pass stuck. And then I went over the finish and I was stoked. I was real happy.
At one point it looked like you were going down, too.
I thought so, too. When I went in I was like, I wanted to pull out of it before I hit him, so I knew I wasn't going to fall. But I hit him and I didn't pull out yet.
It was still close, and going into that last turn you went way to the outside, if he would have been that much closer he was going to take a shot at you back.
That's the thing; I didn't want to go too far inside and not jump the finish, but I didn't know where the markers were and everything because they were saying they changed the thing. I went out and I knew I could hit the finish line and be ahead of him, so it ended up working out. But it was close!
Compare this to your other win.
Salt Lake was emotional, but this one's A1. I think this one possibly tops that, especially because just all the hard work I've been putting in and kind of where I've came from in my pro career. I shouldn't say everything I've gone through, it hasn't been that level of bad, but it's a struggle to be on top of the box. Those guys are badasses out there. You've got to be on your game when you beat them.
In your rookie season you mentally lost it a little bit after your teammate got hurt and you were kind of a little touch-and-go about stuff. What brought you around to now where you're this mentally strong and you're able to push for wins?
Basically I want to ride dirt bikes and if I'm going to ride dirt bikes I want to give it my all and that's kind of where I was after everything. That supercross season then I came into outdoors, and I actually tried super hard my first year outdoors, I just wasn't in shape or whatever the deal was. But having dirt bikes as your job is a badass deal. This what I want to do. I'm lucky this team stuck with me and gave me a bike to ride. I think our bikes have been good the last couple years but I think this KTM stepped up our game a lot. And I rode KTMs in the past. I love the bike. I like the steel frame and the whole setup they have going. Kenny won the 450 main tonight, I won the 250 main, so it just goes to show how good the bike is.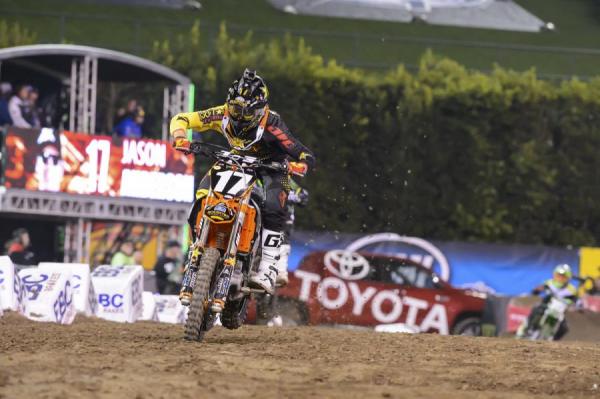 Anderson's win in Anaheim was the second of his career.
Simon Cudby photo
It seemed like in practice, I think you were the first guy out almost every time. Was that on purpose? Were you like, "I don't want to wait around. I'm not messing around this year." Or was that just something that happened?
I just like to get an open track to put your fast laps in. That's kind of my deal. I actually did that a lot last year, too. So that's my deal for sure.
Did you kind of throw down tonight that, "Hey, I'm a contender for this championship?"
For sure. I think me and Cole kind of surprised a lot of people. There was [Zach] Osborne and [Dean] Wilson behind us. But me and Cole were ripping. That's the fastest I've seen him go, and I know I was ripping because I was hitting my marks really good. I wasn't catching him super gnarly or anything. I'm going to have to be on my game with that guy.
I know if I get behind anyone I can ride exactly like him, just from all the work I've put in. I don't want to be cocky or anything, but it'd be a surprise for someone just to yank me and pull away from me. I may struggle in front but if someone gets around me I'm going to hang on. I know my fitness is where it needs to be and I'm not going to be tired lap 15. I'm in it and I want the championship this year.