Welcome to the last Racerhead of 2013. Unfortunately, it's that post-Christmas, pre-New Year's week where there's not a lot going on, as everyone hunkers down and gets ready for Anaheim. The 2014 Monster Energy Supercross Championship will open next Saturday night, just eight days from now, and will air live on Fox Sports 1, beginning at 10 p.m. (ET) on January 4, 2014.
Before we get to the Big A and yet another new season, here's hoping that everyone and their families had a great holiday season. Mine started with plans to get the kids new minibikes but ended with me putting stickers on a Barbie RV Camper for my daughter and then sitting down for a marathon Super Mario World session with my son. There was a Red Rider BB Gun under the tree, but alas, it was not for me. But the good times continue, in my book, all through next week with the kickoff of a brand new season!
Before we get there, now would be a good time to wrap up some thoughts on 2013 and the year gone by. Let's start at the top, which means Ryan Villopoto. It should be no surprise that he was named our 2013 Racer X Rider of the Year. The Monster Energy Kawasaki rider won his third straight SX title and also moved back to the top of Lucas Oil Pro Motocross with the 450 championship there. That gives RV a Jeremy McGrath-tying eight major titles, counting his three 250 outdoor titles and his previous 450 MX crown. He's the favorite for many going into 2014 and has a chance to move into sole possession of second on that all-time championships list.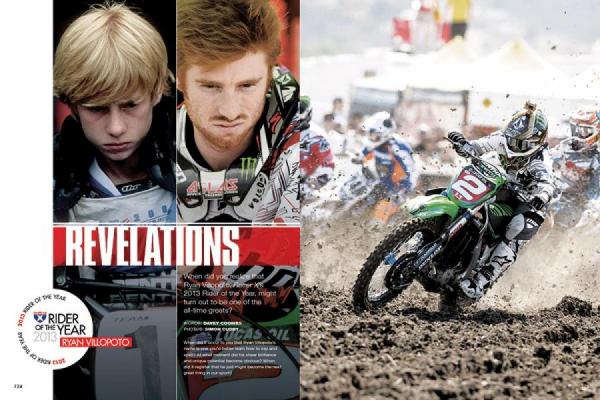 No surprise, Ryan Villopoto is our Rider of the Year. You can see this story in our latest issue.
Cudby photos
The only letdown for RV fans was the fact that he couldn't go for Team USA at the Motocross of Nations, which gave the rest of the world a much better chance to win, and Belgium came through with their first victory since 2004—the last time Team USA wasn't there. The Belgians won as a team, not individuals, which is pretty much the point of the MXoN. But the standout star was Red Bull KTM's Tony Cairoli, who swept both of his motos for the second year in a row, this after winning his seventh FIM World Championship.
Jeffrey Herlings, the MX2 world champ for the second year in a row, also missed the MXoN with an injury, which means he did not get the chance to participate in the epic battles between his old nemesis Ken Roczen and newly crowned AMA 250 Motocross Champion Eli Tomac in MX2 (though Herlings probably would have raced MX1 to help the Netherlands). But Jeffrey and the rest of the world saw just how fast Tomac is, and if not for his crash of the year in the late-going of the first moto, he might have stopped Roczen's four-year winning streak in MX2.
Now both Tomac and Roczen are moving up to the 450 SX class, which means one of the deepest talent pools in supercross history just got a few more sharks to worry about. With Villopoto and a trio of past champions—Ryan Dungey, James Stewart, and Chad Reed—all poised to hold the line, not to mention Justin Barcia, Jake Weimer, Josh Grant, and more, it should be quite a season.
Of course, the injury bug continues to bite, and several men will limp into the new year: Rockstar KTM's Davi Millsaps is out indefinitely with a knee injury (which means Ivan Tedesco is "in" indefinitely) and Trey Canard is nursing a broken arm but should be back before too long. Former 250 MX champion Blake Baggett hurt his foot, former MX2 world champ Marvin Musquin wrecked a knee, Justin Bogle and Austin Howell both crashed big and suffered multiple injuries, and the list goes on....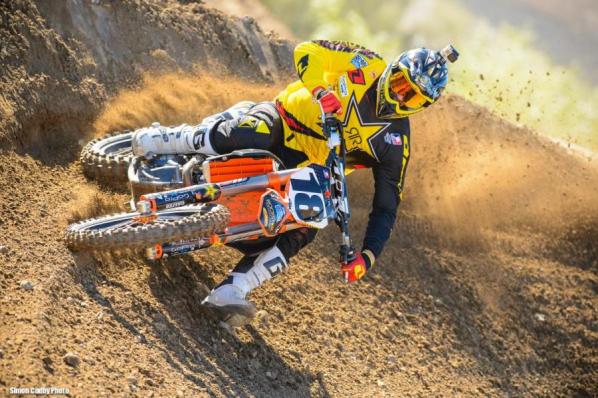 Big bummer that Davi Millsaps, second in Monster Energy Supercross the last two years, is injured and out of title contention for '14 already.
Cudby photo
Among some of the bigger stories were the sudden retirement of one of the all-time most popular riders in this sport, Kevin Windham, and the return of one of the most popular racetracks—Glen Helen—to the Lucas Oil Pro Motocross schedule, beginning on May 24, 2014, as the opener. (Unfortunately, the news wasn't all good for the Glen Helen faithful, as the previously announced Motocross of Nations was pushed back two full years, from 2015 to 2017.) Supercross is returning to Detroit and East Rutherford, New Jersey, a spot where it hasn't been held since the days of Damon Bradshaw, Jeff Stanton, and Jean-Michel Bayle. There was also the return of the KTM Junior Supercross Challenge, easily the best "halftime" entertainment idea in the history of supercross.
The industry itself is showing signs of positive growth after several tough, lean years. Advancements included the growing proliferation of racing on TV, both in supercross and motocross, as well as online at RacerTV.com. The Red Bull Loretta Lynn's AMA Amateur National Championships aired live on NBC, something unheard of just a few years ago. Husqvarna is back in the news—and hopefully the results, with help from KTM. Electric bikes are gaining momentum, and the ongoing need for the advancement of safety continues, particularly with head trauma. The ImPACT Base Line Test is required for both SX and MX now, and the new 6D Helmet has gotten rave reviews—especially after Zach Bell's brutal, horrifying crash on live TV last year at the Dallas SX.
There were also the usual menu of downright strange happenings, topped off by "Laser Gate" at Washougal, unfortunately.… Wow, nothing else really compares. But Travis Pastrana did park his stock car, become a dad, and start jumping motorcycles again with his Nitro Circus Live Tour, which hits full stride in January 2014. There was the brutal last-moto windstorm at the new Utah National, the very short racing season of Josh Hansen, occasional J-Law sightings, plus a couple for Austin Stroupe. A new direction was announced for the WMX, there was a wild win for Arenacross Champion Tyler Bowers at the Las Vegas Supercross finale, and of course the Joker Lane that dominated the headlines for the Monster Energy Cup in Las Vegas. And keep an eye on that Red Bull Straight Rhythm event, as it will get some live TV time next year.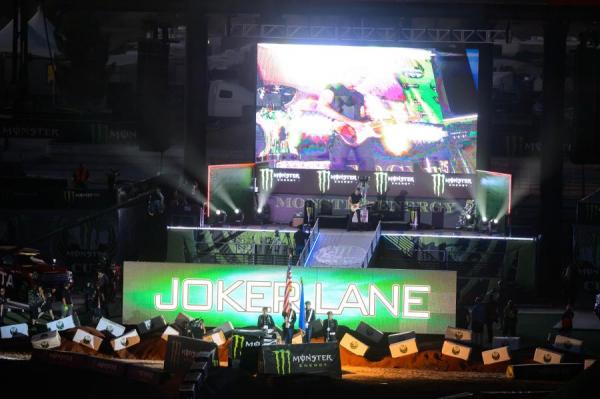 Oh that crazy Joker Lane.
Cudby photo
And then there were the friends and fellow racing enthusiasts we lost: off-road icon Kurt Caselli, Hall of Fame scribe Henny Ray Abrams, digital pioneer Steve "TFS" Bruhn, FMX hero Eigo Sato, long jumper Tyrone Gilks, former FIM World Motocross Champion Bill Nilsson, Etnies' all-around good guy Taryn Hawk.… We will have more on New Year's Eve, December 31, when Racer X Online posts our annual tribute to the friends and fellow riders we lost along the way in 2013.
For now, let's get on with this last Racerhead of the year.
WHICH REGION? (DC)
As my colleague Steve Matthes wrote last week, it's another one of those years where it's hard to tell who will end up where, since some won't commit riders to a specific region until Anaheim. But the picture is starting to become a little clearer. For instance, with Baggett and Bogle hurt, that means their only chance is in the East Region, which narrows down each team's choices (and Blake Wharton is back on at GEICO to fill Bogle's spot already, and he will race east). We do know that Mitch Payton had Baggett signed up for the West Region—he's still on the preliminary Anaheim list—but then again so are Dean Wilson, Martin Davalos, Justin Hill, and Darryn Durham.
As you probably noticed, Adam Cianciarulo is NOT signed up for Anaheim 1, so his SX debut almost certainly won't happen until the East Region starts up in February. Our guess is that Mitch Payton will slot Wilson, Durham, and Hill out West, with AC and Davalos and the hopefully healed Baggett for the East.
GEICO Honda's Zach Attack of Osborne and Bell are entered in the West, as is Troy Lee Designs Honda's Cole Seely, Malcolm Stewart, Jessy Nelson, and SX debutant Shane McElrath. Red Bull KTM has slotted imported Australian talent Dean Ferris for the 250 West Region, Marvin Musquin is out but has already told us his original plan was to ride the east.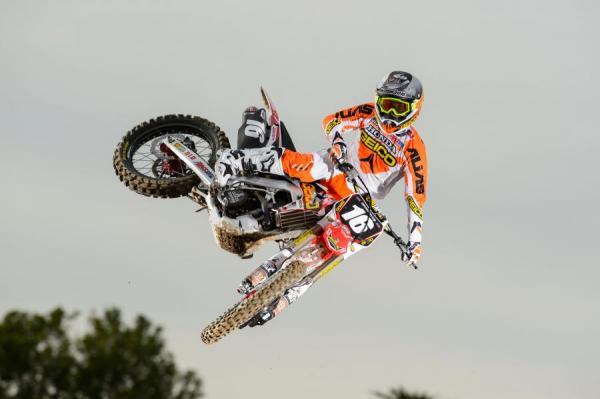 That's Osborne with his new number, part of the double Zach Attack (Attach?) for GEICO Honda.
Cudby photo
Rockstar Energy KTM will line up Jason Anderson, who scored a breakthrough win last spring at the Salt Lake City SX. MyPlash/Metal Mulisha/Star Racing Yamaha rider Cooper Webb is also set to make his SX debut here, and after shining in last summer's outdoor nationals, he will be one to watch in January.
Looking for a wild card or two? Keep an eye on BUD Racing Kawasaki's Valentin Teillet of France or Rocket Exhaust/On-Track's Michael Leib.
METCALFE GOING BACK UP NORTH (Steve Matthes)
Earlier this week, Brett Metcalfe put out a tweet that he had signed a deal for next year and left us hanging with just a pen and the contract there. Very clever indeed, but he hasn't fooled us. Barring anything super weird happening, the fast Aussie rider has re-signed with Leading Edge Kawasaki up in Canada to contest the ten-round Rockstar Energy Canadian Nationals this summer. It's a bummer that a fast guy like Metty can't get a deserved ride down here in the U.S., but heading north has been a good decision for him, career-wise and financially, so I don't blame him for signing back up. Brett won the MX1 title up there this past season, and conservative estimates had him probably making in the $150K range for the year—nice work for the then-nine-race series. So like I said, look for a PR soon but that's what Brett is doing next year.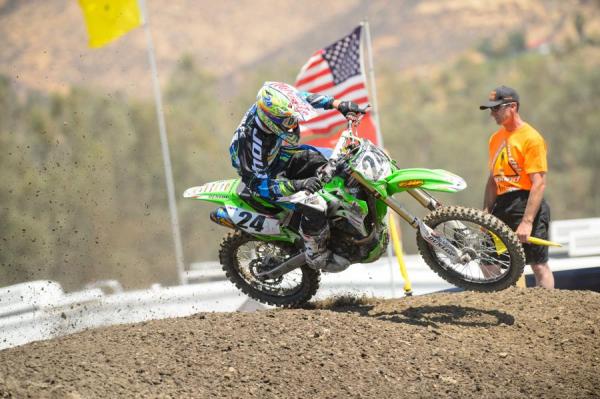 The man from Down Under will race up North next summer. Yes we notice the irony of using a photo with an American flag behind him.
Cudby photo
Also rumored to be going up to Canada for the summer to ride for OTSFF Rockstar Yamaha alongside Bobby Kiniry is Kyle Chisholm. Chisholm's not gotten anything locked in for the outdoors, so the two sides are close to making a deal from what I hear. With Rockstar sponsoring the series up there and Metcalfe wearing the green Monster claw, the yellow-and-black energy drink is stocking up on riders to try to win the title. And in speaking to Chisholm, he didn't know what or how quite yet, but he said he would be at Anaheim on a Yamaha for ... well, someone.
MISS O'NEAL (DC)
Congratulations to Jenna Nicole Ford of Louisiana, the winner of this year's O'Neal Model Search. Ford topped the online voting and will be flown to California early in the new year for a photo shoot. She can now add the title here to her previous crown, Miss Terrebonne Parish Queen. The cool thing about Jenna is that she actually races motorcycles—she even lists her favorite recording star as Bmayzee, also known as former amateur motocross standout Brandon Mays. She attends college and is studying sports medicine, she prefers a two-stroke to a four-stroke, and she thinks Ryan Villopoto will win Anaheim 1. Congrats to Jenna on the win, and we look forward to interviewing her soon for the magazine.
UP IN THE AIR (Steve Matthes)
By the time you read this, I'll be somewhere in the middle of America (as Adam Duritz once sang) because I'm either doing the smartest or dumbest thing I've ever done. With the constant air travel, the accumulation of status and air miles is important. After all, if you have to fly as much as we do, why not try and benefit from it right? So every year I'm Platinum with United, but this year, due to some extra trips, I'm about 5,600 miles short of making 1K status—the best the airline has. I'm so close to the ultimate status that it would be heartbreaking to not get it, right? What's in it for me to get 1K status? I don't exactly know, but I've been told it's glorious.
I could've bought the miles to upgrade without going anywhere for $3,000 but that's out of hand (I don't make "Weigandt money," you know). I found a ticket for $800 that gets me 5,700 miles, and please don't ask how long it took me to find a ticket that worked with the destination and miles needed.
So today I'm going from Vegas to Houston to Boston to Denver to LAX and finally back to Vegas. I leave at 12:30 a.m. and get back at 11:30 p.m. I really hope this is worth it. I'll let you guys know.
[Editor's Note: Matthes should have watched the George Clooney film Up In The Air before he set out on this journey—then he would know he gets his own operator at the airline desk, metal wings to pin to his lapel, and a seat next to Captain Maynard Finch, played by Sam Elliott. Bon voyage, Matthes!]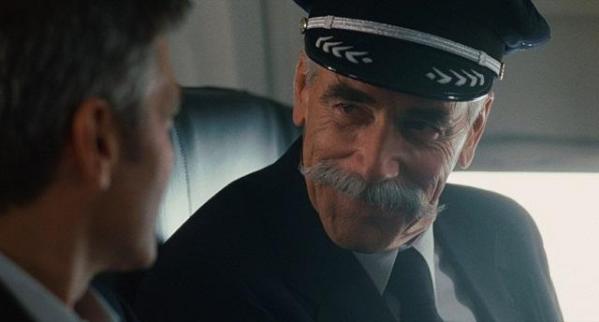 Matthes meeting a fellow 1Ker.
KEEP ON PUSHING (Weege)
First, Matthes is insane. I take whatever miles and status I happen to earn, and I get upgraded quite a bit anyway. And when I don't, I open a book or a magazine and read during the flight. Or sleep. Seriously, it's over in a few hours and I can think of a ton of stuff I could do for the money ($800 in this case) it would cost to fly cross-country just to earn miles. Like, the entire budget for Christmas shopping this year AND next, for example.
I saved some money by just talking to someone on the phone from the West Coast this week (that was free), my old Arenacross television-announcing partner Buddy Antunez. Budman is the riding coach for Eli Tomac and Weston Peick as well as a bunch of amateur kids, and he's pumped on what he's seen in California this off-season. There's been a recent trend of top riders heading out to public supercross tracks like Milestone instead of just holing up in the private confines of the factory tracks. Milestone offers a little bit softer dirt than the factory tracks, and that seems to draw in some talent. And when you get a mixed group of riders out there, Budman thinks they all push each other a little extra—like when Peick is out doing sprints and Jake Weimer happens to be out there as well, and you know Peick wants to measure himself against a factory guy and Weimer wants to make sure he goes faster because confidence is king.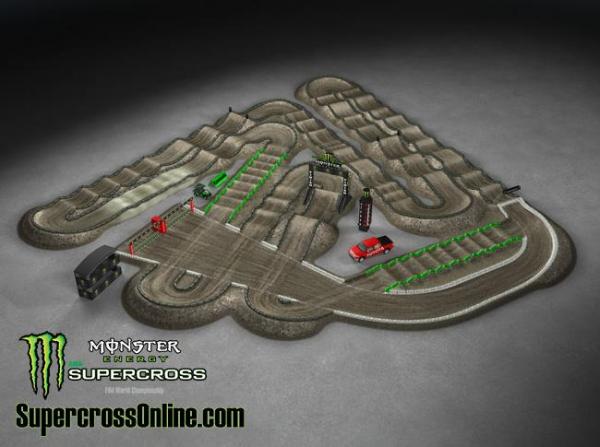 Riders are trying every track they can find to get ready to race on this one next weekend.
We all know what Tomac is capable of, but Antunez wanted to pump up Peick's chances a bit, too. He says he's going much, much faster than he was a year ago at this time and is in better shape, too. Of course, that privateer bike situation can't be ignored but Weston is getting better support than he was last year. Can Weston keep climbing the ranks and put himself in the middle of the top ten despite facing an absolutely loaded field? You know he'll have a lot of fans rooting for him to do it.
HEADLINES OF THE WEEK
Will deep Supercross field stop Villopoto?
Longtime sport has new, local enthusiasts
WATCH IT
Hope you've been enjoying our latest project here at Racer X Online, a set of Monster Energy Supercross Preview shows put together with Jason Weigandt, Steve Matthes and Jason Thomas, with shooting and edit in the studio by RacerTV.com's Jason Hooper. We're trying to add some humor and analysis to these things because at this point, we all know the basics of who is riding what bikes and what they're capable of doing. We're taking it a step further and so far the feedback has been positive--except for a few of you questioning if JT's lady friends (he's just always rolling with girls on his arms) are of legal age to appear in said videos. People, open your eyes, they're in their 20s. Here are a few episodes below, and we'll keep rolling out new ones all the way up until Anaheim.
Also, here's a video Alias did of the Milestone Supercross Invitational from a couple of weeks back:
RANDOM NOTES
Matthes contacted multi-time supercross winner David Vuillemin for some of his thoughts on the upcoming supercross season over on Pulp.
Dr. D himself, Doug Dubach, looked at a classic photo and told me the story for this Motocross Captured column.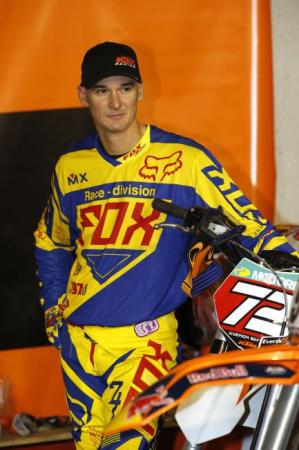 The King of Motocross in Europe has been hanging in the U.S. lately.
Ray Archer photo
I mentioned 6-D Helmets earlier as part of the great innovations this past year. Now they have a new ambassador of sorts to help out: Stefan Everts. Stefan was in town for some work with KTM and he sat down with his longtime friend and our longtime editor-at-large Eric Johnson to discuss his trip before he headed back to Belgium.
"I also stopped by 6-D helmets because I accepted a position to be an ambassador for them in Europe," Everts told EJ. "I strongly believe in the product that they've made. I think it's the next step and the next level in the safety of helmets. I find it important to help and be behind them. I think safety is the most important thing we can push for in our sport. I also want my son Liam to have the best gear out there for his safety."
And that's where we'll end, with the endorsement of the year. Thanks for reading Racerhead. Have a safe and happy New Year's, and we will see you at the race