Monster Energy/Pro Circuit Kawasaki is one of the most successful 250 teams in the history of the sport. Owner and founder Mitch Payton has a long heritage of winning and everyone knows what is to be expected from the Corona based squad. For the last 20 years, if you named the favorites for a 250 championship, most likely you would have at least one or two of Mitch's riders. It reached a point where many felt that winning was improbable unless you were on this team, and everyone from Jeremy McGrath to Ricky Carmichael to Ivan Tedesco won for Mitch and kept the train steaming ahead. In the past few years, though, that locomotive has bogged a bit. Titles are being more evenly spread amongst the manufacturers and the consensus is that the playing field is more level than ever before. Anyone who knows Mitch will tell you that he is not one to take this lightly and will be doing everything possible to get back on top soon. Let's take a look at who he is bringing to the battle in 2014.
Mitch plays it very coy when it comes to placing his riders in regional 250 supercross. He doesn't let on early to the riders who will be lining up at Anaheim and who will be waiting until Dallas. His theory is that everyone needs to be prepared in case of injury and it gives him more options as to procuring titles. For the riders, this has to be a bit frustrating but it is the nature of the team and goes with the territory. His stable of riders includes former Lucas Oil Pro Motocross Champions Dean Wilson and Blake Baggett, as well as Darryn Durham, SX rookie Adam Cianciarulo, Justin Hill, and veteran Martin Davalos. As of today, all of these guys except Baggett (foot injury) are ready and able to be slotted into the West Region championship—not all of them are going, but they all could.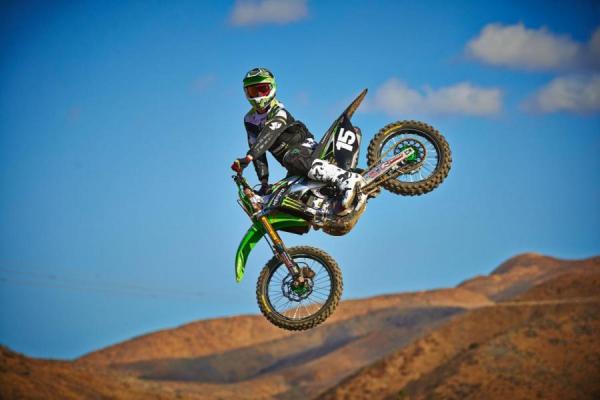 Is 2014 the year for Dean Wilson to win his first supercross title?
Monster Energy/Pro Circuit photo
Dean Wilson has to be considered a strong contender regardless of which coast he is placed. A multi-race winner and last year's pre-season favorite, Dean struggled with crashes after winning the opening round. He would take a big tumble in Indianapolis leaving him with chest and shoulder injuries, thus ending his hopes. His summer wouldn't be much better as bike malfunction on a jump led to another shoulder surgery and more time off. Now, after months of training and a strong showing at the Monster Energy Cup, he is poised to earn what he felt was his a season ago: his first supercross championship.
Darryn Durham missed his chance at 2013 supercross due to injuries. He made a strong comeback last summer though, leading a few motos and proving he has what it takes. He is one of the more talented riders in the class and given some good starts, he could find himself on the box consistently. Consistency is the one question mark for DD, but he seems to be more prepared than ever. This could be his breakout year.
Florida's Adam Cianciarulo was one of the most heralded amateurs to ever come out of the Team Green program. He was scheduled to debut last May at the Hangtown National but a bout of salmonella would leave him sick for weeks and not up to full strength for even longer. As the summer wore on, Adam gained speed and confidence and by season's end he was fighting for podiums. Surely it felt good to see light at the end of the tunnel as many were scratching their heads in his first few races. With his tried and true trainer Aldon Baker to lead him and superstars Ryan Villopoto and Ken Roczen to pace him, the future is very bright for this one. Supercross will be a learning experience, but I expect to see the #46 running up front quickly.
Justin Hill comes into his second season hoping to meet the high expectations of his team. While he didn't have a bad year in 2013, there were some who didn't feel he was delivering the results he was capable of. With a healthy off- season and more experience, I look for Hill to improve and be in the mix for podium finishes. With his brother back on form as well, it would be an incredible opportunity to have Josh and Justin both on the podium this season. Justin has all of the tools and equipment in place to succeed. Pro Circuit doesn't hide the fact that when you are hired over there, winning is the goal. 2014 is the time for Justin Hill to stand and deliver.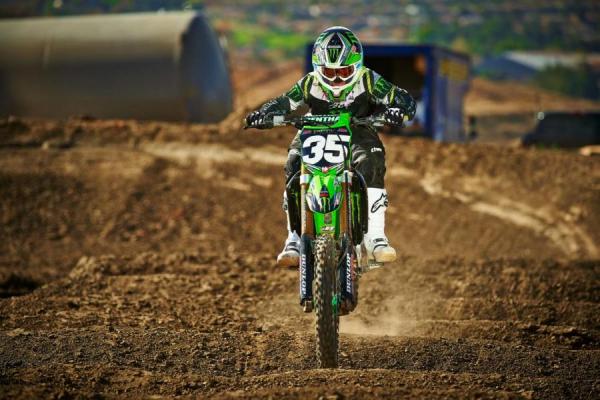 Justin Hill enters his second season with high expectations.
Monster Energy/Pro Circuit photo
Last but not least is Martin Davalos. Hailing from Ecuador, he has been in the 250 class since 2006 and is one of the most experienced title contenders in the field. Davalos has speed in spades and is always near the top three in timed qualifying and usually a heat race winner to boot. But the main events have puzzled onlookers, as something always seems to go awry. Whether it is arm pump, a crash or simply over thinking the situation, he has yet to put that combination together and win his first main event. Based mostly on his talent level, Davalos has been highly sought after for most of his career, and if anyone can put that missing magic potion in his water bottle, he has the potential to win the 250 SX title of his choosing. He is that fast. Most felt that the move to Pro Circuit would be the necessary ingredient, but thus far it has been more of the same. Can this year be the year for Davalos? History says no, but for anyone who has ever watched him ride, they might be willing to gamble on a yes.
Monster Energy/Pro Circuit Kawasaki has a legacy of winning. Recently, though, the competition has stepped up their level. In my opinion, Mitch's program is in an unfamiliar position, as they aren't the overwhelming favorite for every 250 championship anymore. While they are certainly contenders, they seemingly have lost that dominant reputation over the last few seasons. This 2014 campaign is a chance to regain those coveted titles. With the rider lineup they have, their onus is on them to win and win often. That's what Mitch Payton wants and expects and he won't rest until that happens. Can his current team answer the bell and take PC back to its old heights? We are a week away from getting answers.