Jeff Weiner's business card carries the colorful Troy Lee Designs logo and reads "Athlete and Product Development Manger." The title is a simple way of labeling a job that entails long hours, lots of travel, and all the rewards of working in the trenches of the motocross world.
Jeff is a certified "industry guy," cutting his teeth back in 1999 as track crew member for Feld Motorsports (then called Pace Motorsports), where his primary responsibility was hanging bangers and essentially serving the lowest rung (literally) on the stadium floor. Over the past 15 years, he has worked his way up the ladder, also serving roles at KTM and Alpinestars. With Anaheim just a few weeks away, the madness of preparation for each team is reaching its zenith, and Weiner is right in the middle of it.
Racer X: Jeff, what's happening in the motocross mecca of Corona, California?
Jeff Weiner: Oh, right now things are really heating up. We just got a new big rig, and we get it back this Friday, so it's all hands on deck putting the finishing touches on that. Plus, with the holidays, a lot of our suppliers and partners are slowing down, but we are full throttle right through this period getting everything ready for the big race, and the rest of the season! Everyone is just wide open right now.
Tell me a little bit about what exactly you do.
My official title is Athlete and Product Development Manager. I oversee anything motor related that pertains to the athletes that we sponsor. So that includes dirt bikes, snowmobile, on road and off road, trials, basically anything that has a motor and that we make products for.
So you basically have the job of keeping finicky athletes well dressed and happy. I don't envy you! How many guys does TLD have a formal relationship with for sponsorship? And how many guys do you take care of?
A lot! Probably well over 100. But there are all different levels. There are guys we just take care of with a discount on product, all the way up to guys who have a full ride with us and get contingency money for results. It just depends on the sport and the level of performance and profile of the individual. So I do the contract and agreements, then I take care of them all year.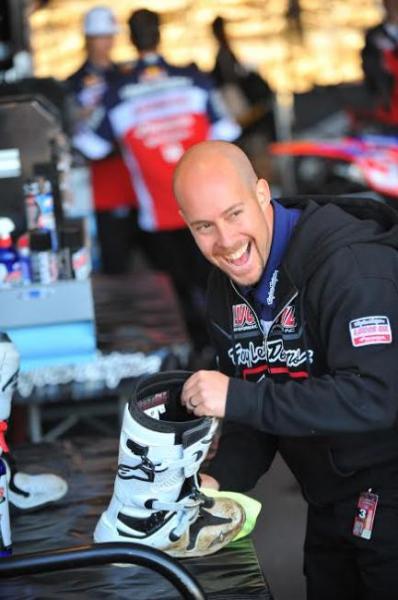 Jeff Weiner is the Athlete and Product Development Manger at TLD.
Photo courtesy of TLD

What about your race team? That is a different program, but I've seen you at virtually every race I've been to over the past few years.
I do the same for them—they are the most pampered of all the guys! (Laughs) No, I attend all the events that the team goes to and I make sure that everyone is dressed and happy and that the gear is doing what it should. Since we are West Coast Supercross, I do all of those events and the 12 outdoor nationals. I will hand carry each rider's stuff to the races and deliver it to the track for them. I even step it up and act like their mother sometimes, washing it and taking care of it during the week. I try not to waste gear here; I have a budget to watch!
So how much gear does a top guy like Malcolm Stewart or Cole Seely go through in a season? I have always been curious, given how many jersey collectors there are out there.
Hard to say exactly, as each guy and each team is different, and clothing sponsors have different needs. But for us, we are looking at roughly 35 sets of gear—that is pants, jersey and gloves per rider, and for an entire season. As for helmets, I would say that they go through roughly 18 helmets as well. It's important to understand that we place the riders in gear according to the launches, magazine ads, product reviews and various other factors that will help us promote our gear. But there is a clear thought process behind how we outfit our guys every time they are on the track. We must have them looking fresh at all times.
I always thought it was unique, and cool, that a gear company has an in-house race team. I think you guys are the only ones, currently, right?
So 2014 will be our 10th year having a team, and it all started with an informal Supermoto program. But Troy always dreamed of having his own race team, and his passion for racing is off the charts—it's not measureable! He lives and breathes anything with wheels, and for him it's a labor of love. But it started as a fun thing, but then once we got Cole on the podium, we really stepped it up. Troy and the guys realized they could win, and suddenly it was about more than just being there.
How much time do you spend behind your desk as opposed to being down in the shop or out at the test track?
I would say every day is desk time, but I'll spend a few hours of each day with the race team, or visiting with riders or other industry guys. Like this morning, I was just in Torrance at American Honda working on some stuff. So it varies. But then during the season it's Friday, Saturday, Sunday, three days straight of travel and racing, combined with being in the office Monday through Thursday.
Sounds like you put in a lot of hours! What about your family life, you are married and have a son, right? How do you balance all the travel and working seven days straight?
I do log some hours, but we all do it together, and especially this time of year, it's crazy. I'm happily married, and we just celebrated our 10th anniversary, we have a seven-year-old son who loves moto and currently is doing a ton of BMX. Everyone says divorce in the industry is real problem, so I make a real conscious effort to spend as much time with my family as I can. So when it's possible, I take a few days off and just hang out with the family, but yeah, it is a constant juggling act. My wife is very understanding, she knows I love what I do, and that I have also been traveling my whole career. She's a school teacher, so we both work full time, which makes it a little easier. But it gets hard when I'm leaving and my son is sitting at the door asking me not to leave because he wants me to take him riding. But, on the other side, they can come to races and hang out, so that's cool.
So you have basically been going to races every weekend since 1999. Do you ever get tired of it?
The passion is still there, but at the end of the season, maybe a little bit. Working in the industry, it's almost a drug, but it's what I do. I really don't mind the flying though, as compared to the driving option.
Before I started with Troy, I worked at Alpinestars for a long time, and I was doing racing services for them. That meant that I literally was driving a sprinter van to all the races, which also included Indy Car stuff and various other disciplines of two and four wheeled racing. That was pretty crazy, at least now I am flying to races. I laugh when some of the guys complain about the flying. I tell them they should try driving instead. I can say that I have driven every freeway in the USA—the 10, the 20 the 40, the 70, 80 and the 90 from West to East, and back! Not many people can say that, and today I'm very happy to fly to the races instead. It's the little things in life. I am lucky I get paid to attend the races.
Do you spend much time doing R&D work on the products?
Yes, a bit. I'm the liaison between the designers and riders, and I do my best to filter the information from the practice and testing environment toward building next year's gear.
Can you speak towards some of the cool stuff that is coming?
Yes and no! We do have some really cool technology coming down, stuff like impact data, and building out protection around that. We are trying to push the envelope on protection and not just style. But it's a balancing act, because on the protection side it's easy to make guys look like the Michelin Man. But there's a lot of stuff coming, and not just related to us. Now there is the MIPS system for mountain bikes, EPS liners, the CE approval that is required in Europe, and a few others.
But our goal is to design and make the best helmet you can buy. We are working on a knee brace as well, first working with the injury and channeling it into a protection piece. We start with injury, and then work our way back and design the protection equipment. But if you prevent one injury, then it potentially causes another because it translates the force somewhere else. It's complicated stuff!
Gear prices are funny. I observe that the prices of top line boots and helmets have skyrocketed, but it seems like pants, gloves and jerseys have not changed much when compared to the prices in the 1980s.
Technically, they have changed a lot. It's all the materials that go into them, the stitching and various other pieces. But pants really have evolved over the years. If you compare a materials list from today to twenty years ago, the materials are lighter and stronger, and there is much more Kevlar. They are much more durable.
Are you doing anything with the Seven stuff?
No, I'm strictly TLD only. James and Troy got together and wanted to start an alliance, and that's really between the two of them. Seven is James's brand, and Roger Larsen takes care of all that stuff.
If you look at the design style over the years, it has really changed. In the 1980s, we had solid color gear, then we had the early '90s stuff with the paint splatter look, then the multi colors of the late '90s, and onto the skull and tribal stuff of a few years back. Now we are back to the retro-looking stuff. Where do you think the look is going?
Funny you should ask that, Troy is just walking by and I think that is a question for him!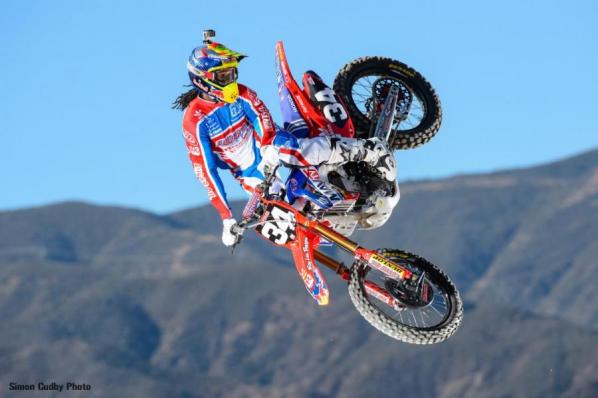 Malcolm Stewart is just one of the athletes Weiner helps.
Simon Cudby photo

(Enter Troy Lee):
Troy, what's happening, did you hear my last question?
Troy Lee: Yes I did. So basically, you are asking me to tell you what I am doing so my competition can read and copy me? Just kidding!
We have quite a few styles, as practice gear is one thing, race gear is another thing. We are putting the best material in, then combined with the technical fabrics. For now, it seems like block colors are coming back, and the stuff is becoming more fitted. Our stuff is really durable, probably a lot more than the other guys. But we have to do a little bit for everyone, as the kids want something different than what the vet guys want. But you never know. When Jeff Ward comes in before Mammoth looking for gear, he wants the wildest stuff I have, because he wants to holeshot and lead the race, but doesn't think he can hold on for the win because he's not riding much. Meanwhile, I was thinking he was going solid and old school. For me, I think it's more important to go in a different direction to the trends, but I gotta be careful on the quantities ordered. It's fun to play around and see what sticks.
Thanks, Troy. Well, guys, thanks for chatting and good luck in January.
Jeff Weiner: Thanks! Look for TLD flare at A1, it's a different look for sure! We have a new tractor-trailer, a full house of four riders, and we just switched to FMF, which is a big move for us. We are looking for big things in 2014.