Ten FIM World Championships, 101 Grand Prix victories, and a multitude of Motocross of Nations triumphs. The only rider to win FIM world titles for all four Japanese manufacturers. The son of a four-time world champion.
If there is such a thing as "motocross royalty," Stefan Everts is the man who would be king. Part of a lineage of storied Belgian motocross champions with surnames like DeCoster, Robert, Geboers, Rahier, and Jobe, Stefan Everts is arguably the the greatest of them all.
Having retired from the sport in 2006, Everts lives in Bree, Belgium, and is now the team manager and director of rider development for the mighty Red Bull KTM factory team in Europe, which will send out reigning MX2 World Champion Jeffrey Herlings and Jordi Tixier to contest the 2014 FIM World Championships. One of the smoothest, most stylish riders to ever race, Everts also performs testing duties for the Austrian-based motor company, and that is why he is in Orange County, California, on a rainy Thursday night. Having performed his testing chores, Everts packed up his Fox Racing gear bag, drove out of the Pala motocross facility, headed north on the 5 to visit friends Johnny O'Mara and Anthony Paggio before hauling ass to LAX to climb aboard a 747 back to Brussels. Here's what the most accomplished GP rider of all time had to say to his fans and friends in the USA.
Racer X: Stefan, how long have you been here in California?
Stefan Everts: I haven't been here long. I arrived on Monday, so I've been here for three days. We went to Cahuilla, Glen Helen, and Pala. The funny thing is that I never rode once at Glen Helen. The track was quite hard and dry, and the quads were riding there so the track was actually slick. They didn't have the big hill in the track, but eventually the track was good for testing, and that's the most important thing. They put water on the track but it was not really properly prepared like it is when there is a race. For us it was important to not have a flat track. It was good that we had some bumps and that the track was a little bit rough because we were testing suspension.
Why did KTM have you here?
Well, I've always been a part of the test program. KTM is already working on the new models for 2016—they've actually been working on the new bikes for some years now. So once in a while, when there is a main test happening, they always invite me to be there. They want my input to the whole development process. We try to do the best we can for the production bikes, and KTM has the best production bikes out there. They have been putting a lot of hard work into it to have the next level of production bikes in the next few years. It's nice to be a part of it and to have input into the bikes.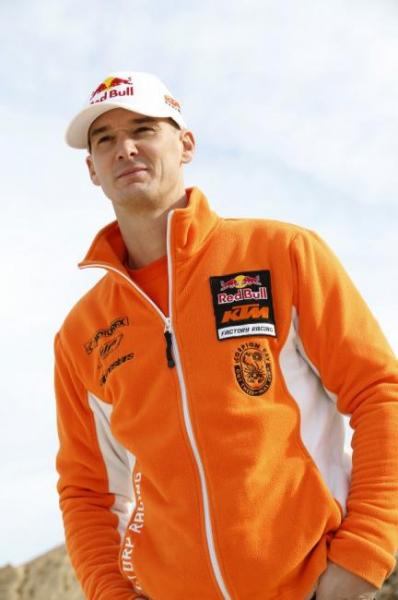 Everts helps on both the racing and production side for KTM.
KTM Images photo
If you had to put a percentage to it, how close are you to the speed and stamina you had just before you retired?
I would say 55 to 60 percent. I feel that my speed has dropped. My fitness has dropped—it depends on how rough the track is. When it's technical it is easier for me, but when I'm riding in the summertime on our tracks in Belgium, on the sandy tracks like Lommel, when I ride 20 minutes at a high speed, I start to suffer physically. This week we rode three days in a row, and every time I went out I would ride three laps and I would push and it was not a big problem for me.
Who did you ride with over the course of the three days?
We had two other guys from Austria. One of them was the MX3 World Champion from last year, Matthias Walkner. They have been doing a lot of the testing. They have also been really involved in all of the endurance testing. They are really closely involved in the development. These guys do all the tests and they go through a lot of things. Mike Sleeter also rode with us a lot. He got so lucky today! He almost crashed so hard. He was breakdancing on his bike!
Did you have much contact with the U.S.-based KTM factory team while you were here?
No, not this time. Actually my involvement in the race team here is nothing. It's all run by Roger [DeCoster] and his team, and they are directly in contact with Austria. When there was that transition period when Roger first joined KTM, I was here more often to see things and help out with what could be good options and solutions, but now everything is under control. I can't bring anything more than what it is now. It is all running good.
Did you get to watch Ken Roczen and Ryan Dungey and the guys ride at all while you were here?
No, I only saw the mechanics in the workshop. I also spoke with Dean Ferris a little bit. He's quite happy, of course, with this opportunity he has. Beyond that I've been very busy at the track. I also stopped by 6-D helmets because I accepted a position to be an ambassador for them in Europe. I strongly believe in the product that they've made. I think it's the next step and the next level in the safety of helmets. I find it important to help and be behind them. I think safety is the most important thing we can push for in our sport. I also want my son Liam to have the best gear out there for his safety.
I watched Liam race the KTM JR. Supercross Challenge with you at the Monster Cup a few months back. Is he also racing in Belgium now?
Yeah, Liam is now nine-years old, and he's been riding the 65s for over a year now. He rode the 50 at the Monster Cup. He has done some local races in Belgium that are not so special, but there were a few good classic tracks. He has also done a few supercrosses in Holland, just low-level events. I don't want to push it too much. For next year we're planning to do one European Championship race and maybe the World Junior Championship, which will be in Belgium next year. He will turn 10 three days before the event, and you need to be 10 years old to race.
You told me he likes watching supercross on TV.
He is watching supercross every day! He is a big fan of it, and he knows a lot about it. That's also where he learns to speak his English really well.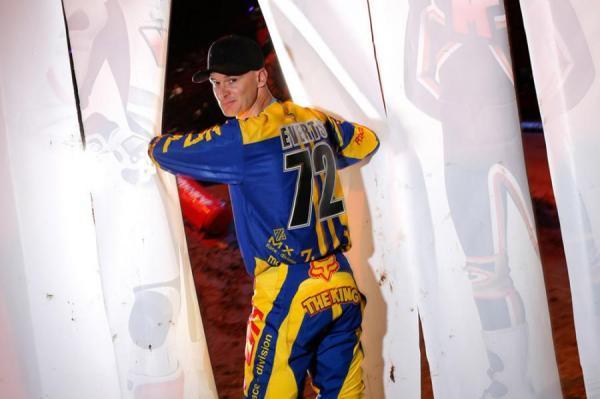 Everts was on hand at the Bercy SX last month.
Ray Archer photo
Does Liam realize just how much you, as well as your dad, Harry, have accomplished in the sport?
He does a little bit. He knows who I am in the sport and that I've won many championships and all that. But when he's out racing he doesn't really care that he is the son of a champion. He just wants to have a good time and to try and win.
Is Liam still a big Ryan Villopoto fan?
[Laughs] Yeah, he still is. It was really funny because he was still very young when he started talking about Villopoto. It was before Ryan really came through. Ryan was still riding the small bikes then. Liam just picked him out and he picked out the best from this era. He didn't see Ricky race—only on DVDs now. He knows there is a McGrath there, too, but he's never seen him race. But yeah, he has a good eye for it to pick Ryan out.
You were talking with Johnny O'Mara here a little while and you were pretty direct in the fact that you see Villopoto as the best rider in the world. Is that how you see it?
Yeah, for sure. The way he works, the way he trains, the way he is prepared—he doesn't let destiny decide how it will go. He takes most of the destiny in his own hands. He really works with details. He puts his all into it, and that's why he is dominating and why he is so strong. For me, if he doesn't get any injuries, he will be the guy to beat in the new season, for sure.
You guys were also talking about Ken Roczen having the potential to be the "next guy."
Yeah, I'm sure he can be the next guy, but it will all come down to how he works and how we will approach his future. He's been a great rider and he's done what he's needed to do, but if he wants to be the main guy and the big guy in the future in the big class, you have to work harder and more efficiently. For him to be working with a trainer now is a good step. That's the first big step. I hope he can continue that for the next number of years. If he can work the same way Ryan is working now, I think he can be the next Villopoto of the future. I've seen Ken riding in Vegas and I've seen how he is already throwing that 450 around. I was also quite impressed with Ken at the des Nations. You can see that he has a lot of feeling with the bike. He's a very talented rider, and he has such a great feeling with the bike and how to treat it and ride it. He's a bit different than the others.
How do you see Tony Cairoli? Is he still the man to beat in the Grand Prix?
I think Tony will still be the guy next year. Mentally, he is really strong. He has a lot of confidence. He's got a great team behind him. He has Claudio de Carli with him. He is the guy who found him and gave him what he needed to become a champion. He's very relaxed and he's doing his job really well. He's very professional and works with the press and the fans well and he's a fantastic rider on the track. I don't really see anyone taking over.
Tony has won seven FIM World Championships now. Can he take your records down?
[Laughs] It's going to be a close call. I think he will be close to ten, but to go over ten will be tough.
Will Jeffrey Herlings be the guy to finally rain on his parade?
I think Jeffrey could stop Tony from his ten world championships. He has the possibility but that will give Tony extra motivation if Jeffrey comes into the class. I will expect that in 2015. That's going to be interesting for everyone when the two of them are in the same class. For Jeffrey we will have to wait and see. On paper he is the strongest. This year I've seen him make many more mistakes than he did in the past, so I hope he gets everything back on track and starts to make less mistakes. We'll see. He has to change some things in his program. He has to have some more stability. He lives very unstable. We try to keep telling him this. If this continues then it will not end in a good way. We will see what he will change.
Does he listen to you more than anybody?
Hmmm…. I think he only listens to himself. We get along well, and Jeffrey is a guy who you can have really good, deep conversations with, but at the end of the day he makes his decision and usually it's his decision. Sometimes he'll make a decision knowing that maybe it is not the right one for him, but he still he does it. This is sometimes strange because after a certain time sometimes he will come back to you and say, "Yeah, he was right." Accept it from the beginning then! But he is doing the job for KTM, and he's doing the job for us, so as long as he's doing that it's all good.
Have the two worlds of Grand Prix motocross and American motocross closed up pretty close together or are they totally different from one another?
The two worlds are completely different. The riding styles are different and it's really hard to compare them. The racing level on each side of the ocean is very high. If you put our guys here they will suffer. If you put your guys in Europe they will suffer because the cultures are so different and they are difficult to adapt to. A lot of the guys from Europe have tried it here and didn't succeed. However, there have not been many guys from here who have gone there and done well.
Our guys who went to the Motocross of Nations this year got beat.
Yeah, but you know it's a one-off race where everything needs to happen just right and all that and there is a lot pressure on the shoulders of the guys—especially for the Americans because they are always racing against the rest of the world. I will say I was very impressed with [Eli] Tomac. He was riding very, very strong and he was very fast. He was on it.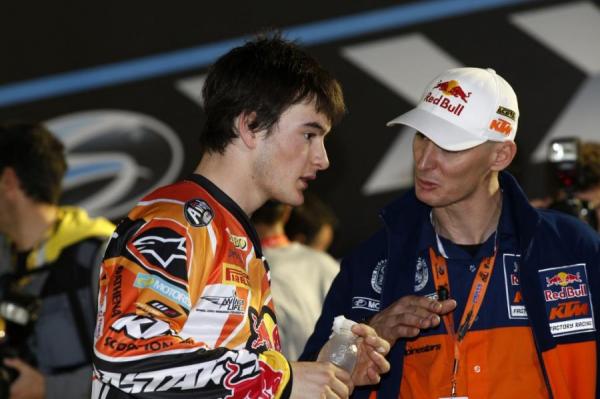 Everts works closely with Herlings.
KTM Images photo
Do you see him and Roczen as a match?
They are totally different riders. Tomac is more of a physical rider and he works really hard. He's not so much on the technique or smoothness or preciseness. He just hits the track and wherever he comes out he absorbs it with his physical power. But I'm sure Tomac also has the potential to ride more precisely. I think he's never known different than to just twist the throttle and go as hard as he can.
But the sport has room for both types of riders, doesn't it?
Yeah, you need different riders on the track for the fans. If everyone looked the same, it's not interesting. Ricky had his style and McGrath had his style and everyone had their style and it's nice to talk about it and compare things and learn from it all.
You won ten World Championships and 101 Grand Prix during your career. Are you happy with the way it all played out for you?
Of course, I'm super happy. The way I ended my career was fantastic. To have the dream ending at the Matterly Basin [England] Motocross des Nations in 2006 was fantastic, and people still talk about it. For me the only sad thing was that mentally I was over it but I still felt so much enjoyment to race my bike. To go on the start line and battle and win and find the best lines out there and to hit the berm in the best way and to find my momentum on the track.... I wasn't ready to say goodbye to all that, but I had to. Sometimes I still miss that. To have those emotions, you know? When you are a racer, the emotions are very up-and-down. In normal life, emotions are different. They are stabilized more. But I am happy. I have a nice family and I'm enjoying my job with KTM. I can still ride my bike and do some testing. I go to the GPs and work with young riders. I'm a happy man.