A few weeks ago, we profiled Brock Sellards, who has been making a post-racing career for himself as a salesman for Western Power Sports as well as doing business deals with riders like Davi Millsaps. During our conversation, Sellards mentioned "his best friend" Danny Smith, who had pretty much stepped away from the sport completely. Sellards was right. Smith stopped racing several years ago and has kept a low profile. With that in mind, we decided to track Danny down.
Danny Smith raced professionally for ten years and was a solid contender for wins and championships in the early 2000s. He rode for some of the top teams of that era—FMF Honda, Yamaha of Troy, Team Suzuki and MotoSport Outlet—and won the 2002 Southwick 125 National. While he didn't win any championships, he was fast and came close on several occasions.
We rang up Smith and found him on lunch break at his family's business in eastern Oregon.
Racer X: Danny, hey, what's going on?
Danny Smith: Not too much! I am just on lunch break right now, and well, basically I am just a working stiff every day, and raising a family. I am helping my dad out with our family business. He has been running it for 25 years, and we own an equipment rental and power equipment dealership. It is located in Ontario, Oregon, which is just over the border and up from Boise, Idaho. Back in 2009, my wife Trista and I had a daughter. Her name is Paisley, and she is three now. But I am just doing normal, every day, stuff now. We live in Middleton, Idaho, which is just down the road from our business.
If my memory is correct, you stopped racing in 2007, after a year or two of arenacross, right?
Yeah. I had planned to stop racing in 2006 after my deal with MotoSport was up, and I was ready to come home. But then I had an offer to do some arenacross, and I took it. It was really good, and I am glad that I did that, looking back. But it was time to step away. I basically took off my last year of high school back in 1997, and at that point was just ready to come home. I spent a lot of time away and fulfilled a lot of goals that I set, so it was an easy decision to move on.
But arenacross was cool. I had some good racing left me in me, and it was just a lot of fun. It was pretty easy to do, and was only about half a year as opposed to the full length of supercross and outdoors. But looking back, it went the way it was supposed to, and I am happy with what I achieved.
You and Brock Sellards rode for a lot of the same teams and followed a similar career path. How was your friendship with him?
Brock and I were teammates off and on, starting with the FMF Honda days. We were there with Ping and Jason McCormick. But I started at Bill's Pipes. Bill Cervera is someone who really helped me out early in my career. I used his pipes and got to know him. He helped me out big time and got a door open at FMF when that team was starting. Then I met Brock and Ping. We were on the same team for three years, then Brock and I were at Yamaha of Troy. We traveled together a lot and I basically lived at his house back east for many summers.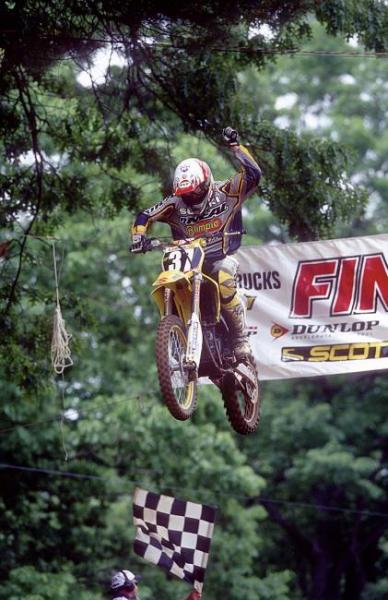 Danny Smith's career highlight came back in 2002 when he won the 125 Southwick National.
Simon Cudby photo
Seems like a lot of guys used to stay in Ohio back then. I am guessing there was some pretty crazy stuff happening.
When I went back east that first season, I think it was 1998, I had never been back there. I had gone to Loretta's, but that's it, and I was not used to the humidity. He had that place all set up and it was a good place to live and train at. A lot of funny stories happened there, but we will leave it at that. It was a great place to be based out of in the summertime. Being from a dry climate out west, it was tough to get used to it, but that really helped out. It's things like that that kept me away from home for nearly ten years.
Once you decided to quit, did you make it a point to distance yourself from the sport?
No, not really. I think motocross is the most unique and the best sport on the planet, but I was never really into the whole industry thing. I was just into racing, and that's it. There are a lot of good people in the business, but I wasn't into the whole social side of it. That is the competitive side of me, I guess. It was more about seeing if I could do it (racing), and seeing just how good I could get. But when I was done, there was more that I wanted to do besides motorcycles, and as simple as it sounds, as I am happy doing other stuff now.
You know, I didn't want to stay too long in the sport, even if it meant I left some money on the table. I didn't win a lot of races, but that was my goal. I wasn't about collecting a paycheck, and once that started happening, it was time to put on the work gloves. I do miss the racing thing. Who would not want to do what I was able to do? But everything changes. I still follow the racing, but I do not follow the industry gossip or whatever.
The history books show that you were a contender and you won some races, but they don't show just how close you were to winning a supercross championship or two.
Yeah, that's true. For me, I always had a certain vision. I want to do this, I am capable of that, I want to race for a championship, I just want to make a podium, whatever it was at the time. I found that the last step, getting the wins, was really hard. I got so close in some areas, but in others I fell short. I think it mostly came down to injuries. But that last little jump in the sport is what is the hardest for someone who works their way up through the results.
But looking back, I would not have changed anything I did. For the most part, I trained myself during that time. That was rewarding in a strange way. But injury management was an issue. I would have liked to have done that differently, perhaps.
For example, in 2000, I was leading the points in the 125 West SX Championship, and I made a dumb move and lost a race by one foot. I was so pissed off, I went the next day and started riding right away. I broke my collarbone trying to make up for that loss. Then I did something similar the following year, and when I was racing for the championship with Ernesto [Fonseca]. I was real close to him, and felt like I could get him. I went back to [Kevin] Windham's house during a break in the series, and was trying too hard and hurt my knee. Now, the kids have so much help and people telling them what to do. Now there are a lot more eyes on each of the riders. But I had three years of that, which was my window at the top. And I was always playing catch up for much of those three years. It was harder to take that last little leap and really get to the championship level. But for me, I had the speed, but I just didn't get the wins.
But you raced for a few more years, right?
Yes, but my door closed towards the end. I could have hung around for a while longer but my body was so beat up there was no way I could have kept it up properly. A hard day of training, I did not want to do it with both wrists and both knees that were injured. If training lacks, then results lack, then next thing you know you are in 10th to 12th place and it was time to go. After ten years of racing, I was just letting the chips fall, and when I realized that, it was time to quit. For me, it was easy to move on. I left whatever I had out there on the track.
Yeah, things have really changed for the kids coming up. They now have places like MTF, and I have lost track of the riders who are now serving as coaches and mentors. And the kids on 80s are now riding supercross tracks if they want to!
That is for sure. My first day of supercross riding was in November 1997, and then I raced the season opening event in January, like just eight weeks later. I had never ridden a real supercross track prior to that! When you talk about how the kids come up now, and how the sport has changed, it's crazy. The kids have the speed when they come in, but they don't have the stamina or whatever. But they know what they're doing and don't have the actual learning curve that guys like Ping and I had. It took me three years to really figure out. Most of the guys back then were really helpful. Ezra [Lusk] really helped me out. I spent time with him and he showed me the ropes. But there is a formula now with the kids that did not exist when I came up.
You were on the cusp of the four-stroke revolution. What are your thoughts on that and where racing is today?
With the four strokes, the technique it takes to ride fast really changed. I was a better two-stroke guy; they take more technique and finesse. Now, with the four- strokes, it takes way more aggression. In the 250 class at least, the riders are grouped together more, and so you have to ride harder. The four-strokes have narrowed the speed gap more, and now you really have to be aggressive to get ahead. That is where [Ryan] Villopoto comes in. He is the most aggressive one out there. All those top guys are so fast, but he has that next little bit in the tank when it is needed. I think that comes down to the fact that he is willing to hang it out just a little further. He does not make mistakes doing it. He does it in a way that is controllable. There will be guys that catch on and do it, but they will be the next group of guys. I am curious to see who can catch up to him and push him, or if he will stick around if that happens.
Remember when James came up and started hounding Ricky? It's hard to see that happening this year, or even next year.
With Ricky, he battled it out with Stewart that one year, and it was some really good racing. They both stepped it up and were pushing really hard. But right now, Stewart, he's gotten to the point where he does not win as much as he used to, but he's sticking around and it's good for the sport. In some ways, I kind of wish Ricky would had stuck around more and ridden for longer, but I honestly think he was so competitive that he could not stand to lose, and he saw it as his time to leave while he was on top.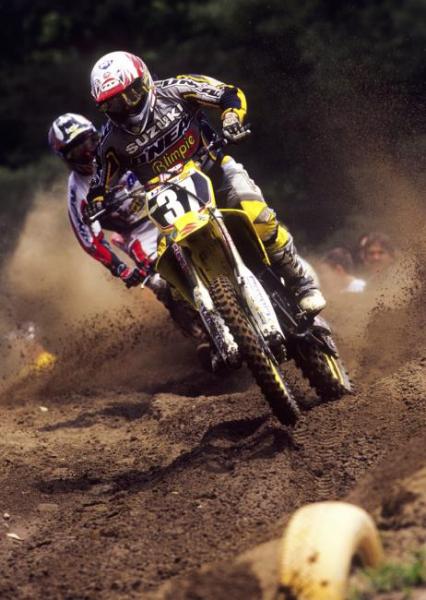 Smith retired in 2007 following ten years of professional racing.
Simon Cudby photo
What is one thing you look back on with the most fondness in your career?
There is nothing that could ever beat when I was younger and loading up on a Friday night with my dad and coming home late Sunday from a race, wherever it was. That was hands down the best part of getting involved with racing. It beats any professional trophy, it was just fun. As you progress, your goals change. So many other factors come in, and then the money starts coming in and things change. Then you have a whole team working behind you and there is pressure and money. That side was awesome as well, testing and preparation, you don't know anything about that when you are just looking at maybe being good enough to do it. But the simple side was great. Load up the van and go riding. I was counting down the days for sure. Staying up late in the garage, pumped on a new pair of riding gear that your parents just bought for you. Everyone who raced did that. Those were special days.
How was the money for you?
You probably wouldn't believe it, but I almost rode for free for the first three years! Then I got a good check, and I was like, "Whoa." But I had the blinders on. I was so focused on getting better. I didn't notice the money thing for years. It wasn't something I paid attention to. It was a good head start for me for sure. I still have to work, but it gave me a great start on life.
Do you still ride?
Sometimes, yeah. My wife is from Illinois, and when I go back, I ride with some friends back there. That's about all I do though at this point in time. I don't ride a whole lot. Here in Idaho, there aren't as many friends riding, so we just do other things.
Well Danny, I need to wrap this up. Any closing thoughts?
Thanks for doing this. I'm still close to the same people who helped me out over the years. I'm not around the sport in person, but I still love it, and it was good to me. I'll always be a big a fan and keep an eye on what is happening.