Monster Energy Kawasaki's Jake Weimer took the win in the 450 Pro Class in Saturday's Monarch Moto Milestone Pro Super X Invitational. We called him for his take on the new event, and his plans from now through Anaheim.
Racer X: This race was kind of a new deal, and it's pretty cool that a factory rider like yourself decided to try it. Was it good?
Jake Weimer: Yeah I thought they did a pretty good job. I've been riding out there for the last month or so, and they asked me if I wanted to do it. At first I was like, "Whatever" and I wasn't sure, but as it got closer I asked the team and they were on board. I got to ride my test bike, so it was a good bike, and my mechanic came out. Overall I'm glad I did it.
It had a unique, elimination format, right?
I think there were 16 guys confirmed in each class. You had heat races where four guys raced at a time, and the top two moved on. Then you had semis where the top two moved on, then an LCQ, and the main event had five guys and 12 laps.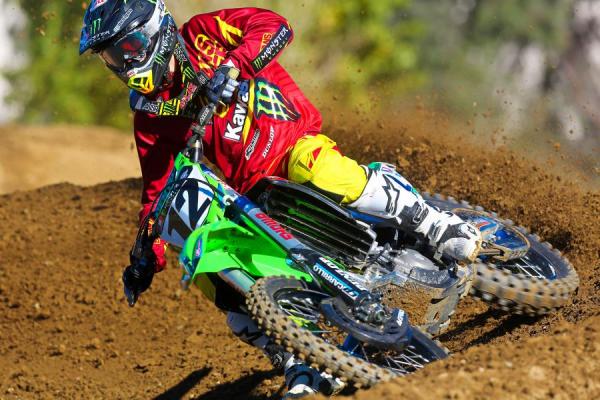 Jake Weimer took the win on Saturday over Wil Hahn and Matt Goerke.
BrownDogWilson photo
Was it weird? Have you ever gone off a starting gate with five riders on it?
Well, you have to remember I grew up in Idaho. So I'm sure I did it at one point or another when I was growing up!
[Laughs] Good point!
Yeah it's a little different than going off the gate at Hangtown, for sure.
Did it seem that different once you were out there?
Not really. They do a good job with the track, but I think it's maybe a little bit smaller—it's a practice track, it would be a little tough to pass. It probably would have been crazy if they had 20 guys out there.
Is that the case with all the test tracks? I would imagine they've never had a 20-rider moto at the Kawi track, either.
I would say... at Milestone it's a little bit different because they have it tamed down a little bit. And that's fine, they don't want to hurt people, especially on Saturday, where we had an amateur race on 250Fs. I think that's fine but it would make it more difficult to pass. The Kawi track, I'd say it's typically a little bit tighter than a supercross track we race on. I suppose when they're building the Kawi track, they're not thinking about, "Where are these guys going to pass?" The guys at Dirt Wurx, they have to take passing into consideration. We don't have to worry about that at the test track.
Do passes ever even really happen at a test track?
It does, but not very often. Even on a busy day I'd say there's no more than four riders on the track at one time. Passing happens, but it's nothing like the Dirt Wurx guys, they have to build the track with passing in mind.
How's everything else going? We've covered some of the topics already, like going back to your old trainer, Randy Lawrence.
Yeah everything is going good. Doing the normal December/ November routine. Putting in the work and all that. I feel like we're moving in the right direction, but the countdown is on. These last few weeks are crucial.
Well, give us some insight. Is your program set up where you're still making gains, or is it designed to where you're already where you need to be? Can you literally get faster over these final three weeks?
Oh yeah, for sure you can. For me, I'm still trying to make gains, and I'm sure everyone is. You've got to obviously be careful, maybe not so much now, but maybe a week or two out. You don't want to train so hard to where you're sore and tired—you should have put in that kind of work already. Now I'm trying to make gains on the motorcycle more than anything. As far as training, we're still doing that, but the main focus is trying to get more speed on the bike. The mornings where you wake up and you can barely move, those should already be done.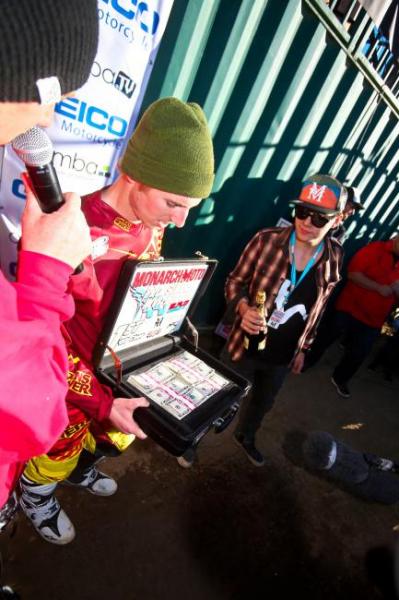 Just like the days of the GFI Invitational, the winner was presented cash from a briefcase.
BrownDogWilson photo
Hey, so take me through this actual race.
Races like that are tough. I talked to Dean Wilson about it. I think I get more nervous about a race like that than a supercross.
Really?
Yeah, because there's a lot of expectations on you to do well. There's no other choice, no matter what happens, you're putting yourself in a situation where there's not a whole lot to gain. If I win… I'm expected to win. "Oh, Jake's been on the 450 for awhile he should win." I would assume that's kind of the general thought process. But if I didn't win, can you imagine? "Oh this guy, what is he doing? He's going to take a paddling at Anaheim!" So that's the reason I wanted to do this race, I wanted to have to deal with those emotions. So I got the holeshot, and the first few laps were good. Then at some point, I don't know where or how, I wrapped up some twine in my rear wheel. I thought I had a rock in my rear brake pedal. I had a little bit of rear brake but not much—I almost went over the berm. Then all of a sudden I go from where I'm good and comfortable to where I almost crash right in front of [photographer] Guy B. So it was good to go through that and try to stay calm. Wil [Hahn] was fast, he started second and he was right there. I had to put my head down and go. I was in a situation where Wil was riding really well, but I felt like I had to win. That's the situation I was looking for.