Welcome to Racerhead on one of the slower weeks of the off-season. Everyone is hunkering down, getting themselves and their equipment fine-tuned for the 2014 Monster Energy Supercross opener at Angel Stadium in Anaheim, California, just twenty-two days from now. As you can imagine, there's not a lot going on around the sport, other than that nervousness we all get every time we check the Racer X Twitter feed or VitalMX message board to see if someone else got hurt. Most recently it was GEICO Honda's Justin Bogle and Rockstar Energy KTM's Joey Savatgy. Get well soon to both those 250-class riders.
So now we've had at least four top performers get injured in the last few weeks of preparation. Our new cover subject and last year's SX runner-up, Rockstar Energy KTM's Davi Millsaps, got hurt shortly after we sent this issue to the printer, featuring a Simon Cudby photo of Davi on his new KTM. Next came Trey Canard, who suffered a broken arm while training over Thanksgiving weekend. Hopefully, that's all. Keep those fingers crossed.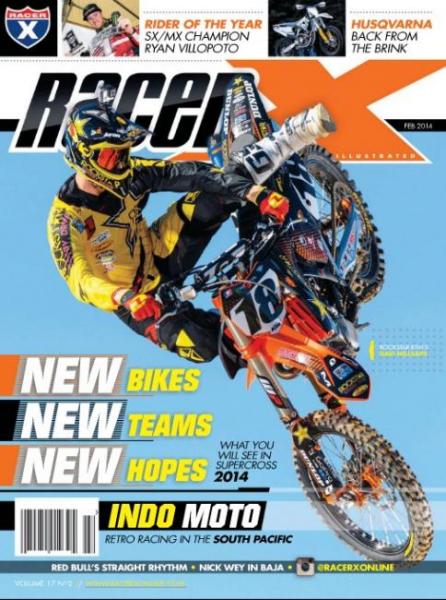 There is a race tomorrow, and it sounds like a fun one. Milestone MX will reintroduce the old GFI Perris Invitational race from back in the day, only now the race is called the Monarch Moto Pro Super X Invitational. According to Milestone MX marketing and events manager Aaron Cooke, they want to do it just like legendary promoter Goat Breker used to when he founded the events in the late nineties. Among the riders slotted to come out and race for the $10,000 purse are Monster Energy Kawasaki's Jake Weimer, GEICO Honda's Wil Hahn, Moto Mafia boss Nick Wey, and even Jason Lawrence! And that's just the 450 class. The 250 group is set to include Monster Energy/Pro Circuit Kawasaki's Dean Wilson, MyPlash/Metal Mulisha/Star Racing's Cooper Webb, TLD Honda's Shane McElrath, Strikt Slaton Yamaha's Austin Politelli, and more. They even have Larry "Super Mouth" Huffman announcing! If you can't make it, check out www.oomba.tv for a live webcast. Racing starts at 10:15 a.m. Pacific, so check it out and help get this race back up and running! There's a preview on that site right now, featuring Aaron giving you the lowdown on the race.
Okay, let me open it up here to the rest of the gang…
NEWS ON SEVEN (Matthes)
In speaking to James Stewart this week for a future project here on Racer X, one tidbit I picked up was that he'll have a new mechanic this year. Longtime Suzuki man Lee McCollumn spun the wrenches for Stewart last year, but this time it will be Rene Zapata who will tune the #7. Leeroy is still at Yoshimura Suzuki and helping out in every which way, but Stewart just clicked with Zapata and felt like Rene might be a better match for him this year.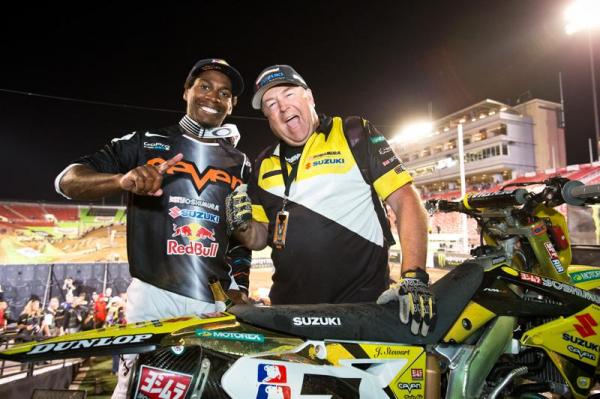 James Stewart and Lee McCollum celebrate what might turn out to be their last race together as rider and mechanic, the Monster Energy Cup, which they won.
Garth Milan photo
One of the things I touched on with Stewart was his relationship with the media, and James was quick to remind me that he read about me not picking him to win the supercross title this year but that he would still talk to me. This is true—I did not pick Stewart, as we've never seen a rider have a bigger gap of two years between supercross titles, and for Stewart, it has been four years since his last title. He did sound happy, motivated, and looking forward to the year. Love him or hate him, you can't take your eyes off James Stewart out on the track.
MOTORCYCLIST OF THE YEAR (DC)
All of us at Racer X Illustrated and Racer X Online want to congratulate Larry Little on being named the AMA's 2013 Motorcyclist of the Year. Little, a lifetime enthusiast, was the longtime publisher of Cycle World and offered a lot of advice and wisdom to us when we were just getting started with Racer X. He left Cycle World a few years back and continued to be a good friend. In fact, when he joined forces with Mike Webster at Marketplace Events and began working on the AIMExpo Motorcycle Show in Orlando earlier this year, creating a new European-style motorcycle expo to the states, we got to work with Larry again on the new show. So congratulations to Larry and his wife, Stephanie, and the whole Little family (daughter Ashley also works in the industry and is married to Ben Schiermeyer of the JGR Yamaha team).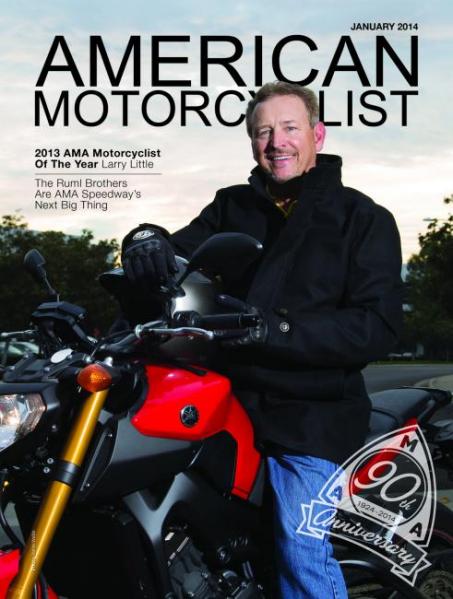 You can read all about 2013 AMA Motorcyclist of the Year Larry Little in the new issue of American Motorcyclist.
EAST OR WEST FOR OSBORNE? (Matthes)
From people I've been talking to, it seemed set that GEICO's Zach Osborne was going to do the East Region 250SX series, but with Bogle's injury, Osborne will probably get the call to move to the West. GEICO doesn't want to go into a series with rookie Matt Bisceglia and Zach Bell, who is basically still a rookie in supercross but will no doubt have a starring role in some of the TV commercials this year after his epic get-off last year. And with the West Coast gathering a lot of attention and hype, I think we'll see Osborne on the West in place of Bogle. Once the team gets Bogle's injury figured out in terms of healing time, then they'll proceed with either waiting for Justin or getting a rider on the bike.
We had Ivan Tedesco on the Pulpmx Show this week and he mentioned that the team has said that if he's riding well once Millsaps gets back he'll be kept on. And Ivan was being modest, but it sounded like his times on the track while testing for KTM (the air shock among other things on his agenda) really opened some eyes and got Ivan the chance to be on a great team. Sounds like a good deal and for me. It's going to be interesting to watch this.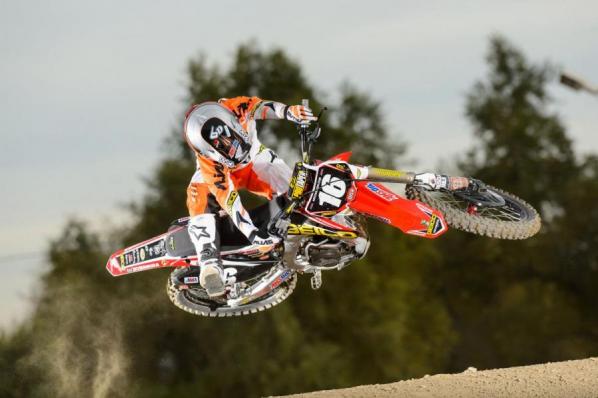 Zach Osborne was planning on riding East but he may now be going out West for GEICO Honda.
Simon Cudby photo
Speaking of interesting, some eyebrows were raised this week when "Filthy" Phil Nicoletti's 2014 plans were finally released. JGR Yamaha has hired Phil to be a third rider on the team with help from N-Fab and St. Lawrence Radiology. Here's the kicker, though: Phil isn't going to be racing all the races, as he's only guaranteed six right now. Like F1, who also have drivers under contract to test and jump in if needed, Nicoletti will replace either Josh Grant or Justin Brayton should injury arise. It's a different deal for sure, but one that Nicoletti chose—and let's face it, JGR Yamaha is covering their bases with a top-notch rider in case of injury.
I'm also sure the PR writer does indeed regret this sentence that Phil "appears to have the potential to race as a professional but has lacked the resources available to top tier teams." I like Nicoletti. He's a good rider and was top-ten most times both indoors and out last year on the N-Fab Yamaha team. And sorry, but this JGR ride isn't going to shoot him up higher than that. And he appears to have more than just the potential to race as a professional—with his results he is a professional!
PRO PERSPECTIVE – OFF-SEASON INJURIES (Jason Thomas and David Pingree)
JT: Injuries come with the territory in this sport. While we all hope they won't happen to us, inevitably they do, and they are never good news. I felt fairly fortunate for long runs without injury, but I definitely had my share. My entire 2002 season was one surgery followed by another. Once '03 arrived, however, I had a run until the end of 2008 where I would only miss one race. Six years of being injury-free was crucial for me and let me keep progressing without interruption. Any trainer will tell you that building a fitness base is a key component in any program. If you don't stay healthy, building and sustaining that base is next to impossible.
For all of these riders we've seen go down as of late, the timing couldn't be much worse. They've all been putting in months of training and preparation in hopes of a strong 2014 season. Pushing the limits during this time is critical for being race-ready. Some will say they should not have been taking risks during practice, but it is absolutely necessary to simulate race conditions and pace if you expect to be able to do it every Saturday night.
Normally, December is the time where things start to come together and most of the grueling days are over. Instead, they will be doing whatever rehab they can manage and watching the time slowly pass until they can get back on their bikes. Once they actually do get to ride, the season will already be underway and valuable points will be lost. They will then face the unenviable task of trying to play catch-up to the rest of the field not only in championship points but in fitness, speed, and momentum as well. It's something every racer will face in his career at some point, but that doesn't make it any easier.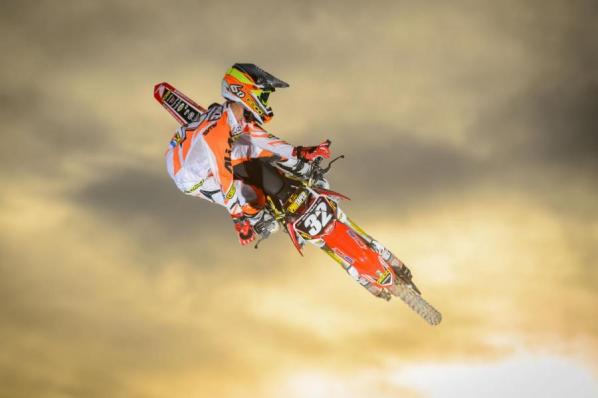 GEICO Honda's Justin Bogle may miss some time after an off-season injury.
Simon Cudby photo
Ping: If it seems like December is a bad month for injuries in our sport, that's because it is. Canard, Bogle, Millsaps, Savatgy, and I'm sure plenty of privateers who get less press are all victims of the final push to the season opener. While October and November are spent working on fitness and testing and trying to get the bulk of the work done, things get very specific and intense in December. Typically you've spent enough time riding with competitors by this point that you know how your lap times compare down to the tenth of a second. December is the last chance you have to close that gap and get yourself to a point where you feel like you can go to Anaheim and win. That means you have to push it—and sometimes when you push it, unfortunately, gravity kicks your ass.
All of these guys can pretty much write off the 2014 supercross season before it begins. How frustrating is that? Hopefully they can get some momentum going before the nationals and try to salvage the year with some good results. Injuries are part of the cost of doing business in this sport. Hopefully all those on the injured list heal up quickly and fully and get back to racing soon.
CLEAN-UP ON HISTORY AISLE (DC)
We've been undergoing some end-of-the-year cleaning here at the Racer X offices in Morgantown, which is much more fun than it sounds (see: beer). I've collected magazines, newspapers, stickers, posters, pit passes, toys, trading cards, and (literally) hundreds of thousands of photographs over the years. So when you're a history buff like I am, some of the stuff that's uncovered is like a solid gold bit-coin for bench racing.
Take today, for instance. In trying to catalog every Cycle News we have going back to the early seventies, I stumbled upon a newspaper I wasn't familiar with. It was the old Motor Cycle Weekly, published by Bruce Cox and Gavin Trippe, featuring 1972 Trans-AMA Champion Ake Jonsson on the cover.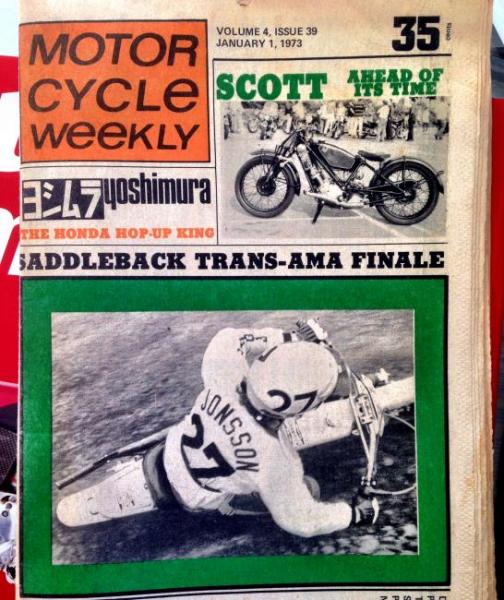 This newspaper, from the first week of 1973, pretty much coincides with my earliest memories of motocross, but I could not remember ever seeing it. Upon digging in, I found something that truly blew my mind, and also bummed me out.
Earlier this year we ran a feature in Racer X Illustrated on the 40th anniversary of American Honda's entry into motocross and the debut of the groundbreaking, game-changing Honda Elsinore (July 2013 issue). We were able to source photos for the feature from the guys at Honda and by digging through the Dick Miller Archives, as well as some old photos on loan from Gary Van Voorhis. What we didn't have was a photo of the prototype Elsinore's first win in America, which happened to come in a 250cc Support class heat race at the final Trans-AMA of 1972. The man who won the race was named Bruce Baron.
So when I started searching through this four decades-old newspaper, I almost fell over when I spotted a photo of Bruce Baron, racing to that qualifier heat-race win at Saddleback! Now I know that a heat-race win doesn't sound like much now, but knowing what Honda had on the line, it was a cool little piece of history to finally catch a glimpse of, even all these years later.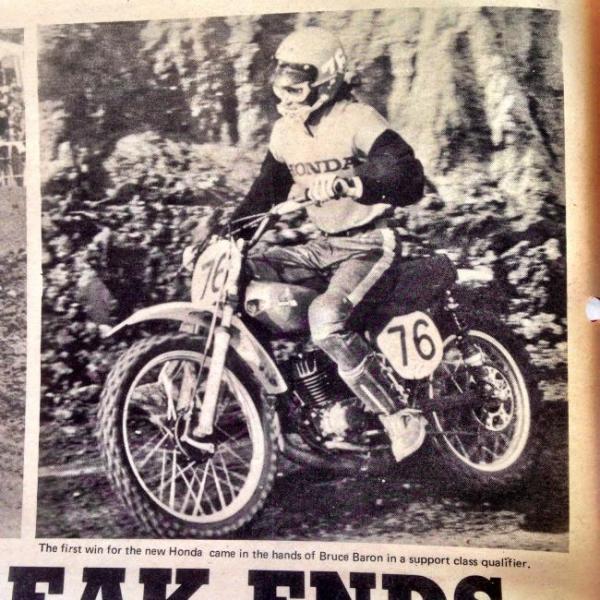 Bruce Baron on the prototype Honda Elsinore on his way to the bike's maiden win in America, albeit a 250 Support class heat race win at the 1972 Saddleback Trans-AMA. Sorry, no photo credit listed.
NEWS UP NORTH (Matthes)
Big news in Canadian motocross as Gopher Dunes Raceway (GDR) has inked multi-time Canadian champion Colton Facciotti to ride MX1 this year on a Honda. Honda Canada has dipped their feet into pro racing again and is behind GDR on this signing. Facciotti's season has ended early from injury the last two years but there's no doubt when he's upright, he's very fast. Congrats to Team GDR, the little guys just stepped up big-time for 2014. Frank must be so proud of Digger....
WATCH IT:
Want to see a very provocative but also interesting segment on those controversial, street-riding dirt bikers that ride around cities like New York and Baltimore?
Here's a cool preview of the new MXGP video game that's coming out in March, featuring seven-time FIM World Champ Tony Cairoli racing around the Maggiora, Italy track that will host the 2016 Motocross of Nations (and yes, it's much the same as it was for Rick Johnson, David Bailey, and Johnny O'Mara back in 1986!).
Dianna Dahlgren, Miss Supercross, is vamping it up again in those
"SX Ed" skits,
which are a humorous look at SX life while promoting the Monster Energy Supercross tour. This one includes the return to the New York City area and Met Life Stadium in East Rutherford, New Jersey.
And the mind-blowing skills video of the year.
RANDOM NOTES:
Ryan Dungey has hit Times Square. The Red Bull KTM rider is currently appearing on the Wheaties billboard in the middle of Times Square in New York City. Check out the Instagram pic he sent out yesterday.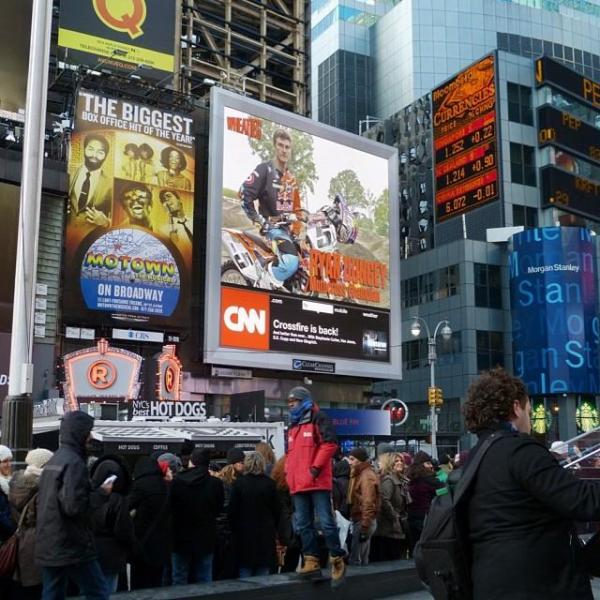 Most of the world associates Austria's Red Bull with the birth of energy drinks, which leads to a big sponsorship of Austria-based KTM in our sport. But did you know energy drinks actually started in Japan? Enjoy this quick, fascinating read on how these drinks came to be. "Can you fight for 24 hours? Businessman, businessman, Japanese businessman!"
If you think it's strange that Japan started the drink made famous in Austria, then you'll be really puzzled to hear that Austria's most famous import, Arnold Schwarzenegger, was actually the one hawking the Japanese drinks in TV commercials.
The MX Insider Shirt Club has partnered up with some of the most iconic brands in motocross including; Renthal, Alias, Gaerne, Vital MX, Racer X and many more so they can ship members a new t-shirt from one of those companies every month. It makes a really cool gift for that hard to buy for MX racer.

Memberships start at $99.95.
They will be adding more brands as partners in the coming months. For more info click HERE.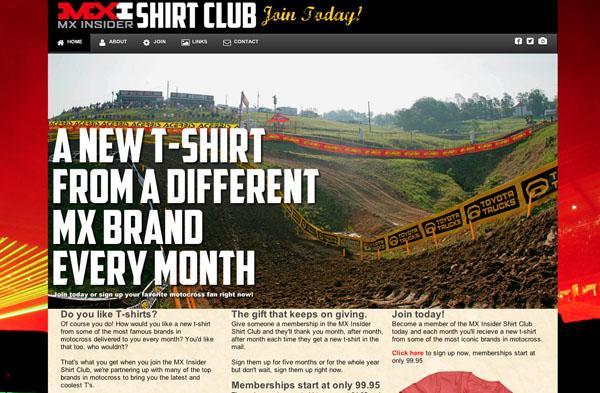 Oh yeah, you'll be puzzled,
just watch.
The Yadkin County Board of Commissioners in North Carolina has adopted a resolution honoring Kailub Russell for his 2013 Grand National Cross Country Championship. Russell, the FMF KTM factory rider originally from Ohio but now living in Yadkin County, was congratulated by none other than Kevin Austin, the longtime moto friend who founded Ballzee casual clothing brand and is now the Chairman of the Boards of Commissioners for Yadkin County.
Thanks for reading Racerhead. See you at the races