The JGR Toyota Yamaha team announced yesterday that Phil Nicoletti was joining the team—but not the way you'd expect. It's such a strange deal that our staff keeps debating the merits. Meanwhile, our emails got "NSAed" and are now posted here in public for your perusal.
Jason Weigandt (Loves getting free lunch from JGR team): The news is out on Phil Nicoletti joining JGR. Well, kind of. He's guaranteed to race a total of six races with them (three supercross and three motocross) as the third team member, but he's also the designated fill-in if Justin Brayton or Josh Grant get hurt. I also hear he's free to join any other team that might need a replacement. I have never, ever heard of a deal like this and I can't figure out if it's good or just plain crazy. I hear that with N-Fab going to JGR, Phil's team from last year, the N-Fab TiLUBE Yamaha team might not be around at all in 2014 (I'm working on some info on that for Racerhead tomorrow). But you'd think Phil could get a full-season ride somewhere. It looks like he's trading six (or more) rides on JGR's equipment for a full season on lesser stuff. Maybe he's on to something, but it doesn't make sense to me.
Chase Stallo (Southern Man/Web Manager): This is truly unique to our sport. But outside the box thinking like this, and MotoConcepts' Scholarship Program, are refreshing. You have to look at this two ways: from the prospective of the team and from the rider (obvious, I know). From a team standpoint, it's a home run. Motocross is inherently dangerous and injuries happen, and happen often—see the last week. So to have a rider that will be familiar with your equipment, the way your team runs, etc, etc, ready to go when, or if, he is needed is smart thinking on part of JGR. But does this work from a rider stand point?
Weigandt: I can't see any way a 450 rider benefits from missing Anaheim 1, the most-hyped race of the year. If all goes to plan and Grant or Brayton don't wad it between then and now, Phil is waiting until Atlanta to race. How many times do riders talk about how hard it is to come back from injury at mid-season, when the other riders are already up to speed? Also, that "You can ride at the test track all you want but racing is different." I suppose this also opens the door for JGR to bench a rider who is not performing, but I don't think you'll ever, ever, ever see something like that happen in this sport. Teams are not all powerful here the way they are in other sports. So, Phil must really like the JGR bike and organization to want this deal. He's making the ultimate sacrifice—racing only a few times on a bike he really wants instead of a lot of races on whatever bike he can get.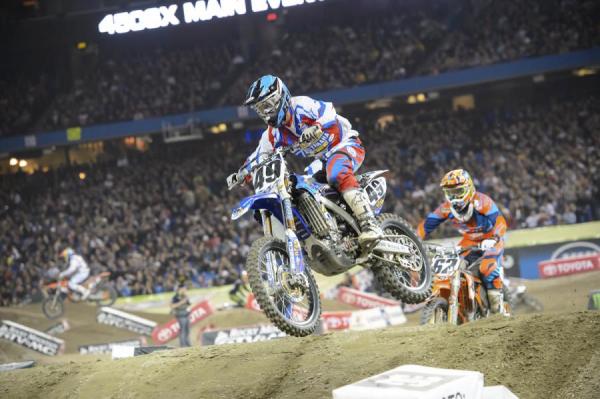 Phil Nicoletti will be part of JGR Yamaha for at least six races next year.
Simon Cudby photo
Stallo: Let me play devil's advocate for a second. Could Nicoletti, in a very deep field top to bottom, consistently run in, or just outside, the top-ten? Yes. He proved that a year ago. But in speaking with some team managers for an up-coming story in Racer X Illustrated, one essentially said eighth doesn't mean much for their sponsors. They would rather have a guy that has podium potential. That's the way a lot of teams operate. So if you're Nicoletti, why not throw all your eggs in one basket, ride a fantastic bike for six races, and hope you do enough that next season you can catch on with a factory team—maybe even the one you're currently on (kind of).
Weigandt: Perhaps, then, this is the real groundbreaking movement here. It's not having the pre-set replacement rider. It's not Phil making the ultimate sacrifice to get the bike he wants. It's the recognition that racing every race—and the position in the final point standings—only matter to a select few. Like you said, a series of consistent finishes sounds good on paper but rarely moves the needle. We talk more about individual rides at individual events than a quiet, season-long slog. It's that old (sad) fact that holeshotting, leading, fading and crashing will get you more attention that starting tenth and finishing eighth. Most of these riders and teams will tell you they don't care where they finish in the final standings unless it's first, or unless there's a bonus, and even that's usually top three, at best. Maybe that's the new model—be great a few times rather than be good all of the time.
Stallo: And there's a 2015 free-agent frenzy on the horizon, with a ton of riders getting to the end of a contract, and a lot of openings. What better year to do it than now?