It's that unfortunate part of the off-season—the part where we learn that one of the title contenders suffered an injury while getting ready for the opener. In the last week, we learned that both Rockstar KTM's Davi Millsaps and Honda Muscle Milk's Trey Canard were injured while prepping for the 2014 Monster Energy Supercross Championship. They unfortunately join a long list of riders who have been knocked out before lining up for the first drop of the starting gate. Here are a few preseason injuries from yesteryear; surely there have been more, so if we missed some, let us know in the comments.
Ricky Carmichael crashed at The Farm, his private training facility outside Tallahassee, Florida, in the fall of 2003. Carmichael had to pull out of the entire 2004 SX tour with a torn ACL, preventing him from his shot at a fourth straight SX title. The crash also led to his parting with Honda after they could not agree to terms. RC signed with Suzuki in April, then raced his Honda CRF450R to twenty-four straight moto wins and the '04 outdoor title. He was on a Suzuki the day the outdoors ended and added two more SX titles (and two more MX titles) in the years to come.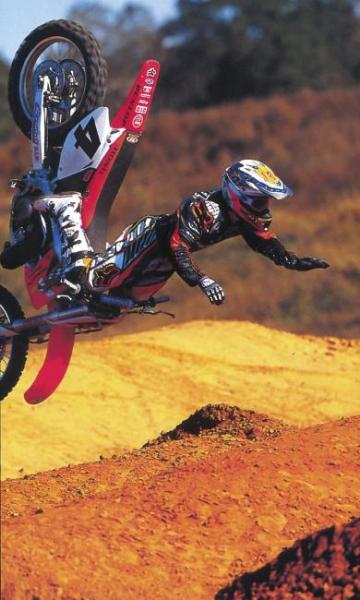 Simon Cudby shot the crash and it appeared in his book American Motocross.
Simon Cudby photo
Chad Reed hurt his shoulder—playing pool with Nathan Ramsey!—prior to the '04 season and missed the December races, which were in Spain and Holland. He returned to dominate Anaheim 1.
Josh Grant won the 2009 Anaheim opener but barely made it to Anaheim 2010 when he crashed and hurt his shoulder days before the race. He made the Anaheim main but didn't finish, then parked it for surgery.
Travis Pastrana suffered that infamous crash over the fence when he was fooling around at Castillo Ranch right before the season opener one year. It did not go over well with then-Suzuki boss Roger DeCoster.
Marvin Musquin was set to start his American career in 2011 after back-to-back FIM MX2 World Championships. But then he blew his knee out at the Bercy SX in Paris and missed the entire 2011 Monster Energy Supercross tour.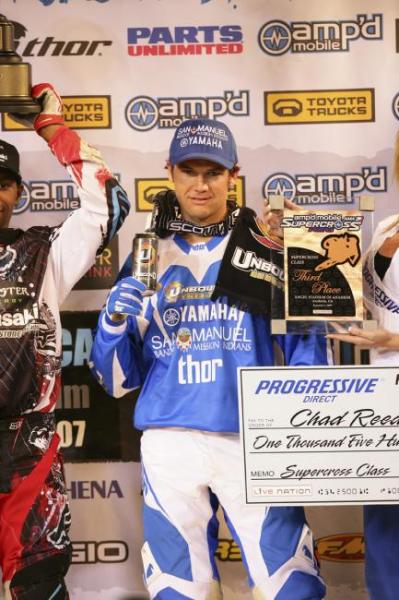 Chad Reed hurt his shoulder prior to the 2004 season, but returned to win A1.
Simon Cudby photo
Ezra Lusk actually made it to Anaheim in 2000, only to bust his shoulder in practice. He sat out the race with what he thought was a mild separation, only to realize it was much worse, causing the Team Honda rider to undergo surgery.
James Stewart injured his knee in the final practice session last year at Anaheim. He also injured himself just before Christmas in 2008. He raced the first two rounds and actually won Phoenix. But then it was apparent that the knee needed surgery, so he dropped out before Anaheim 2 while leading the points.
Ryan Morais was set to make his professional debut at Anaheim in 2002 as Jeremy McGrath's teammate on the Bud Light Yamaha squad. But then he cased a triple during afternoon qualifiers and severely broke his wrist, costing him his entire rookie season.
Jake Weimer broke his arm prior to his rookie 450SX season and was only able to compete in the final two Monster Energy Supercross races in 2011.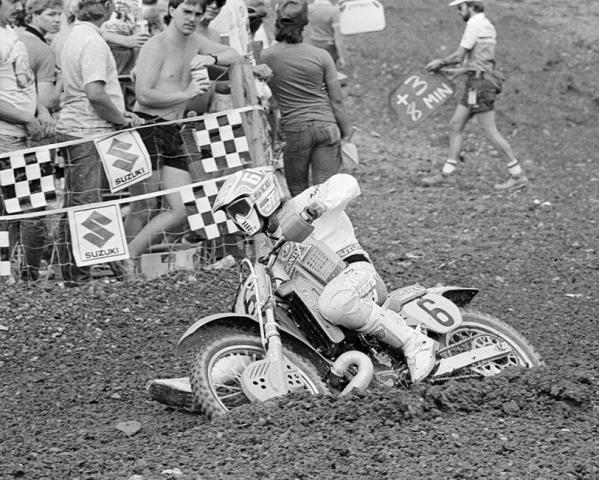 David Bailey suffered a career ending injury in 1987.
Paul Buckley photo
Team Kawasaki's Jeff Ward, two-time AMA Supercross Champion, broke his foot right before the 1989 season and missed nearly half of the season.
Unfortunately for Davi Millsaps, this is the second time he crashed out. Millsaps broke his femur prior to his rookie season in the 450 class, which was 2007. He returned in February of that season.
The most devastating news along these lines that we can remember in our sport came in January of 1987 when Team Honda's David Bailey crashed at a Golden State Series race in California prior to Anaheim. The multi-time champion broke his back, ending his Hall of Fame career when he was still at peak form.