There may not have been a rider more under the microscope at the 2013 42nd Annual Thor Winter Olympics, presented by Pro Circuit, than Amsoil Factory Connection Honda's newest recruit RJ Hampshire. The Mini Os would mark the first big amateur national the Florida native would compete in after signing with the team following his Amateur All-Star win at the Monster Energy Cup. Well, Hampshire surly made the folks at Amsoil Factory Connection look good as he captured five titles at Gatorback Cycle Park over the week. We caught up with Hampshire this morning to talk about his week and much more.
Racer X: You took home five titles at the Mini Os between supercross and motocross. Can you take us through the week?
RJ Hampshire: The week was solid for sure. I had a real consistent week—my worst overall finish was third and I made a goon mistake in that moto. I stalled out on the gate and came from last to third. That being my worst moto of the week, I was pumped on that. I signed with the Amsoil team [Amsoil Factory Connection Honda] a couple weeks before that so I was carrying a lot of confidence coming in. I knew I had the speed to do it, it was just a matter of staying up. I should have wrapped up supercross but I ended up throwing a couple titles away, but I ended up getting a couple [titles] and carried that over to motocross. I only lost one championship there [motocross]. The team was pumped and I was pumped. I'm blessed to be here and am thankful for it all.
You are the newest member of the Amsoil Factory Connection team. With this being your first big race with the team there were a lot of eyes on you. How did it feel to come through in the clutch and bring home five titles?
I know the team kind of took a risk on me—I had a lot of ups and downs. But I felt like I deserved the ride and just to pull through for them … Jordon [Smith] got hurt the first day there so I had a lot more pressure on me. The team has been texting me and I talked with [Jeff] Majkrzak [GEICO Honda co-owner] and everyone. I know they expected a lot from me, but they didn't put any pressure on me at all. I just went out and had fun and that's what we did and we ended up taking home five championships.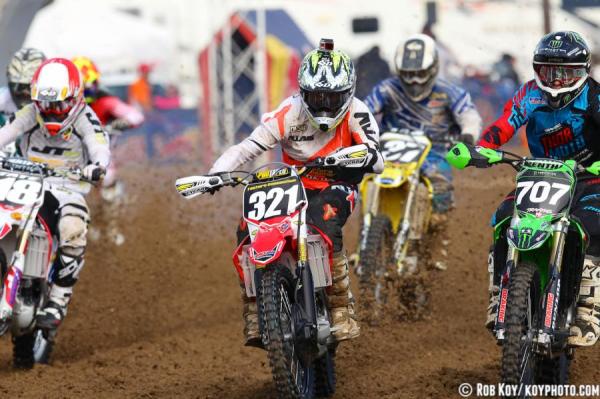 RJ Hampshire (321) captured five titles at the 2013 Mini Os.
Rob Koy photo
Since this event last year, you've been on quite a roll. What's been the big change?
Tim Ferry has been a lot of help to me. Training with him, he has brought me along as a rider and a person. I thank him for everything he's done for me. My family is also there supporting me. I've dedicated a lot to it and I see the hard work paying off. I work hard for what I want and this is what I want in life.
You are from right around that area. How much of an advantage does it provide you?
I live about two and half hours south. It's kind of different. The only time I get to ride there [Gatorback Cycle Park] is during the Winter Ams and the Gold Cups. This year I only raced one time there. Also, it's hard packed. Well, usually it's hard packed. This year was a lot different. They put a lot of sand down, so it was a little more like Loretta's. The ruts were really deep and choppy. You usually don't find that anywhere around here. It was different, but we adapted to it pretty quick and the bikes worked great out there. It all just clicked.
What are your plans for next year and have they changed at all after last week?
The plans for next year are still kind of up in the air. Right now I'm the only one on the team racing because of Jordon getting hurt. I'm pretty sure I'll stay in the amateurs and show up at Loretta's. If anything, the earliest I would come out is the first round of outdoors and the latest I may come out would be after Loretta's. Until then, I have to race some arenacross with the team and I will be doing the spring nationals. So we will see how those go and that will probably determine when I turn pro.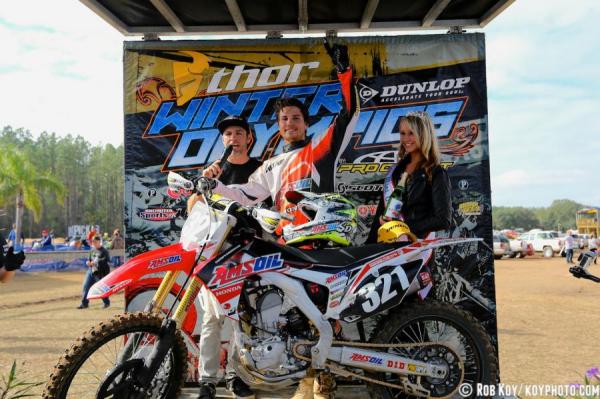 Hampshire made his Amsoil Factory Connection Honda debut at the Mini Os.
Rob Koy photo
You will be part of the first class that is required to do the Ricky Carmichael Road to Supercross. Do you know what rounds you will be racing? And what are you doing to prepare?
Zack Freeburg has a track down here that I'll be training at a lot. So I'll be riding a lot of supercross. It's not arenacross, but it's similar. I'm not positive on which ones I'll be doing yet. I might be doing a couple in the Northeast area like Baltimore and Worcester. Or I may go back out to California and do a couple of the West Coast with [Mike] LaRocco [GEICO Honda team manager] and them.
With the Monster Energy Cup, Mini Os, and now arenacross, amateurs are really offered a chance to compete in supercross before turning pro. Do you feel this will help you a lot more when you do make the jump to supercross?
Yeah, for sure. It builds you as a rider and gives you that pro feeling of being in a stadium and lining up with some of the best guys. [Tyler] Bowers kind of scares me (laughs), but we are still going to go out there and race and hopefully I'll get to battle with him.