We know what the holidays are all about here at Racer X: controlling the kids. Yeah, you'll equip them with brand new toys and yet they'd rather just play with the boxes, watch TV, or, worse, listen in as Uncle Jim is getting hammered and telling dirty jokes. That's not gonna work!
May we suggest a gift that really will hold their attention?  Smooth Industries is the go-to source for moto-flavored kids gifts. Take a gander at this sweet (and smooth) MX Activity Rug ($39.95).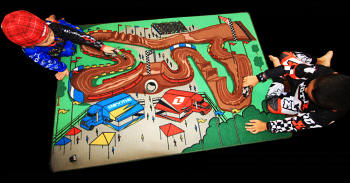 Make the sacrifice and let the kids open the packaging on those Jeff Emig and Greg Albertyn toys you've had since 2000 (they're not going up in value. We all have them, sorry) and set 'em loose on this play rug. Albee and Fro can bang bars while you teach the kids the lost art of the two-stroke sound.
Once the bundles of joy have started pounding out the laps, you and Jim can go back to bench racing over some cold ones—and the ladies won't mind a bit since you'll be running these sick (and smooth) drink coasters ($24.95 for a pack of four).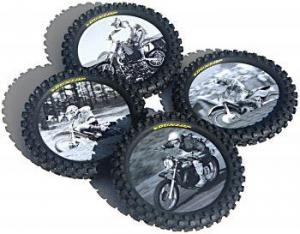 Smooth Industries took those famous Dunlop Legends posters and incorporated them into coasters, featuring David Bailey, Broc Glover, Ricky Johnson, Jeff Ward, Malcolm Smith, Doug Henry, Jeremy McGrath, Jeff Stanton and more. Once the kids are finally bored with the play mat (it's going to take awhile) you'll be well into the, ahem, holiday spirits. You can tell them all about these old-school guys. Forget Christmas folk tales, the little ones will be fascinated with stories of "Let Broc Bye," Henry Hill, "On Any Sunday" and the first NacNac. Categorize this one under educational.
Go to SmoothIndustries.com to dial this all in.