Hello, everyone, and welcome to the Rev Up. The holidays are officially upon us and hopefully everyone is spending Thanksgiving with their friends and loved ones. First and foremost, I'm thankful to be with my entire family today, as we're all going to sit down to yet another traditional feast. It's an off-week of sorts in the middle of the off-season, but I figured I would throw in a small top-ten list of things I was thankful for in 2013.
10. I think we're all thankful to see Trey Canard make it through an entire professional season healthy. He is one of the very best in the world, and I think we'll see him at the front of the pack a lot more in 2014.
9. With a nod to a couple of the gnarlier crashes of the year, it was good to see Zach Bell and Eli Tomac wear the revolutionary 6D helmet in competition. As odd as it is in such a dangerous sport, we don't see advances in safety gear very often, but in recent years the neck braces, helmets, and evolving knee and wrist braces are a welcome sight, one worth being thankful for.
8. We're all big fans and we should all be thankful to see the strong attendance numbers in Monster Energy Supercross and Lucas Oil Pro Motocross. We should be the number two motorsport in America now. Live television and packed stadiums are both something to be thankful for.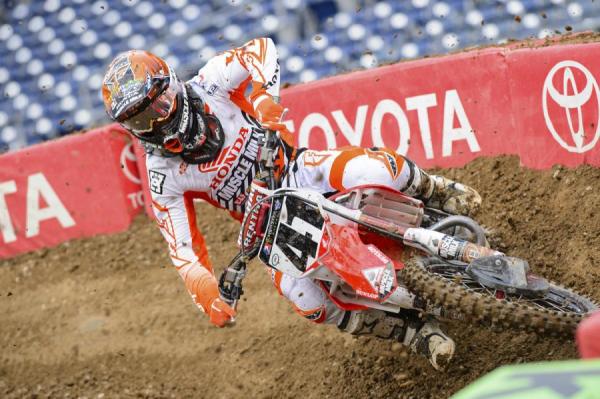 We are all thankful for a full season from Trey Canard, as well as...
Simon Cudby photo
7. I was thankful to see a competitive supercross series with Davi Millsaps leading the way through the halfway point. While RV eventually took control, it was really interesting and entertaining for a long time. Another battle in 2014 can't get here soon enough.
6. I'm thankful for the media in pro motocross. When you look at similar sports we completely blow them out of the water. From videos, photos, and GoPro edits to weekly columns and podcasts, there is so much to offer for moto fans. I'm thankful for the guys that put in the hard work to reward us so much.
5. I'm thankful that I got to participate in the 2014 Racer X 450 Shootout in Pala, California. I had wanted to do that since I was a kid and the experience didn't disappoint. It was work though, as you end up with about fifteen to twenty laps on six different machines. But it was so much fun that I was even thankful for the blisters.
4. The Muddy Creek National was definitely something to be thankful for. It was a quick two-hour drive for me and one of the best days I've ever had as a motocross fan. I didn't do any work there. I just drank some beers with old friends and watched some great racing.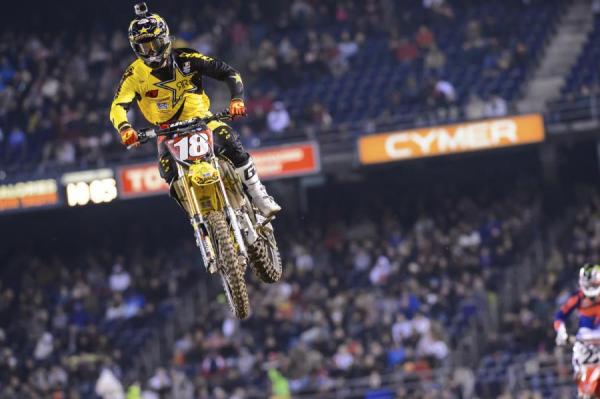 ... Davi Millsaps, who keep things interesting in supercross.
Simon Cudby photo
3. I'm thankful that on my thirty-sixth year as a human I was able to run several 5Ks, ride twenty-minute motos, and be able to beat most of the guys at the practice tracks. Mainly I'm just thankful that my passion for motocross hasn't faded with age.
2. I'm thankful to be watching Racer TV (link) live on my Mac as I'm writing this list. It really blows me away to see how far amateur motocross has come since I used to race. Very cool.
1. You guys. The Rev Up has been on Racer X Online for about a dozen years and I'm extremely thankful to have this little spot on Thursday. It can be tough to fill in the holes during the off-season, but I promise you this will be the spot to land once the season gets under way. As always, thanks for reading.
Have a great Thanksgiving, everyone!