The journey to professional motocross takes on many faces. With the world shrinking alongside the progress of technology, the U.S. motocross scene has a more international flavor than arguably ever before. Riders from as far South as Ecuador, to as far West as Russia are now competing full-time on U.S. soil.
Robert Lind didn't fully commit to a professional career in motocross until the age of 22, as he was committed to finishing his education in his home country of Sweden. But since coming to America in 2012 with MX Heaven he has carved a place in the privateer ranks. In 2014 Lind will compete in his first professional season of Monster Energy Supercross. We caught up with the Swede to talk about his new beginnings.
Racer X: You've been racing in the U.S. for the past couple seasons. Talk about the transition from Sweden and how you got started racing here?
Robert Lind: I was really serious with my school and education in Sweden. I didn't get done with school until I was 22. After that, I put 100 percent into racing motocross. But I'm glad I did school, because now I have something to fall back on if I don't make it. So when I finished school I really began to think about what I wanted to do. I hooked up with MX Heaven in 2012 and pretty much sold everything I had back in Sweden: I sold my apartment, I sold my car, I sold my bikes, I sold everything I had to have the chance to come over to America. I rode my first season with MX Heaven in 2012 and did pretty well. I would go home for six months during the winter and work my ass off so I could race here. I was able to do another season in the nationals this past year and now I have an awesome opportunity to ride both supercross and the nationals for 2014. It was a big gamble coming over here, but I don't regret it at all. Even if I wasn't able to qualify for one round in 2012, at least I gave myself a chance.
What is it like to sell everything you have and follow your dreams?
That was a huge step. From where I was in that time with my riding, I was so far from where I would be able to qualify for a national. But that was because I was always working with school and then as a full-time worker. It was a gamble for sure. Everybody told me: "You have your education, you have a good job, so if it doesn't work you can go home and work the rest of your life." So I do not regret anything about selling everything.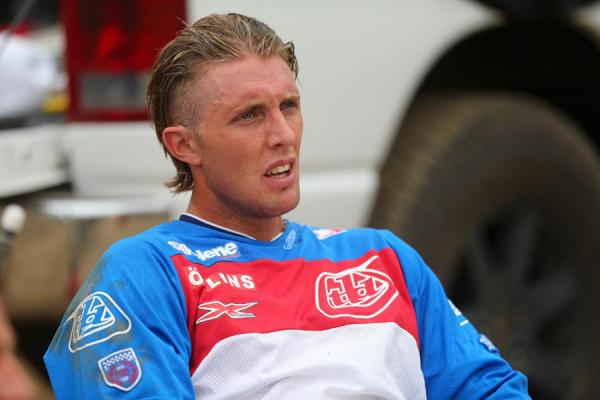 Robert Lind is entering his third professional season.
Steve Giberson/VitalMX.com photo
Around the same time, Fredrik Noren, who is also from Sweden, came over to race. How important was it to have him around during that time?
He came over in 2011, I think. That was one of the things when I was deciding to go with MX Heaven was Freddy being there and the founder, Stefan Elvin, is also Swedish, so it was a lot easier to go that way. To try and go to America and figure everything out by myself wouldn't have worked, so that was really important to have Freddy on the team.
You've had to make some huge adjustments with the tracks—the tracks in Sweden don't have big jumps. How tough was it to adjust to the track conditions here?
It's like night and day. You really can't compare tracks in the U.S. to tracks in Sweden. They are totally different. We are not allowed to have big jumps in Sweden because it gets dangerous, and you add in the heat and humidity, it's difficult. In Texas in 2012 it was so humid, it was crazy to race it. It's a totally different program for sure. The weather is so different from Europe. I had my speed down, in Sweden I could push for 45 minutes, no problem. But it's like 20 degrees different between here and Sweden in the summer, so it was difficult to get used to.
You're embarking on another adventure in 2014—racing supercross for the first time. What will that be like for you?
It's like a dream come true. It was something that was so far away from reality. Just going from Sweden to the nationals was one dream accomplished. Now, to go from riding the nationals to supercross is a big step. This season some opportunities came up with me riding both supercross and the nationals for 2014. I didn't hesitate one second. I started talking with all my sponsors in Sweden that are still helping me out and everyone was positive about it. I have been working hard. So far it's going great, actually.
Supercross is not big in Sweden. How much time have you spent riding it?
I would say I haven't been riding supercross at all until I came to America. The only supercross we ride back home is smaller than arenacross over here. You would probably laugh about it if you could see the tracks we rode before.
How are you preparing for the season?
I will be riding for Team DirtCandy Graphics for both supercross and the nationals and my teammate Ronnie Stewart is out in California as well. We have been working with Billy Laninovich three times a week. Ronnie has two seasons under his belt, but everything is new for me so I try and pick up as much as I can. I'm feeling more confident every time on the track and I think it's all about confidence to ride supercross.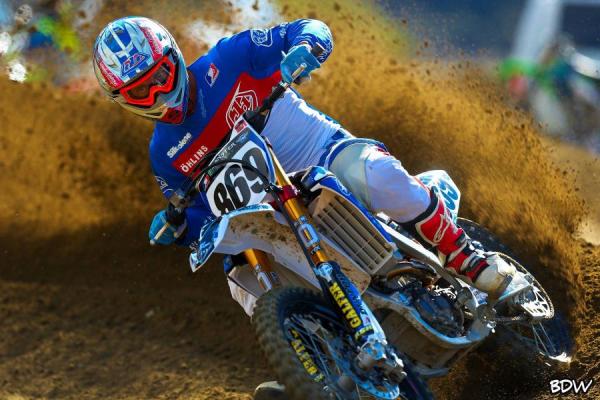 Lind will make his Monster Energy Supercross debut in 2014.
BrownDogWilson photo
What have you been able to pick up on from Ronnie that you will be able to use going into next season?
Everything, really. It's so much. From learning how to carry the momentum through the sections, to riding technique, to where you should have you feet on the pegs through the whoops … it's a lot to learn. This is really just a learning process for me. I'm a self-disciplined rider and I have my goals that I want to achieve and I'm working for it. I'm realistic, though. I don't think I'll come out swinging at Anaheim. I just want to make the night show at Anaheim and go from there and hopefully make some mains later on in the season.
Thanks, Robert. Good luck this season. Would you like to thank anyone for helping you?
I would like to thank Team DirtCandy Graphics, Silkolene, Ohlins Suspension, EKS Brand, Troy Lee Designs, Dunlop, Filtrate Eyewear, Moto Star Clothing, MX Heaven Motocross Holidays, USWE, Galfer, all my Swedish sponsors, all the people and sponsors that have been helping me through the years, my family, and all the supporters. I also want to give a special thanks to Mike and to Team Gus / Godfather of privateers. What Gus is doing for the privateers is amazing and I'm glad I was able to be a part of it in 2013. Thank you all.