Earlier today we confirmed that Christophe Pourcel would be returning to Lucas Oil Pro Motocross in 2014 for the first time since 2011. Pourcel will be riding for Valli Motorsports Yamaha aboard a 250 in Lucas Oil Pro Motocross next year. A panel consisting of Jason Thomas, Davey Coombs and Steve Matthes weighed in on the surprise return of CP377.
JT: Christophe Pourcel has been a threat to win nearly every title he has ever entered. Sure, his last attempt at the 250 Lucas Oil Pro Motocross crown will be nearly four years prior, but I doubt his skills on a motorcycle have evaporated. He won GPs just a year ago and we have seen lately that the level across the pond is definitely high. The biggest concern I had when pondering a return to the 250s was equipment. His last effort in 2011 was aboard a MotoConcepts YZ450F. Nothing against MotoConcepts, or their effort, but in my opinion they would struggle to match the resources and technology available to the powerhouse 250 teams. My concerns look to be alleviated, however, as Yamaha has stepped up to offer CP a factory steed to park underneath the Valli Motorsports awning.
As for the all-new 2014 Yamaha model, early word is that the changes have been extremely positive. The fuel injection offers many more options and possibilities for fine-tuning the factory fire breathers. I feel that the equipment will be up to the task as MyPlash/Star Racing riders Jeremy Martin and Cooper Webb have been hard at work testing and improving the bike as well. The main question for Pourcel's title hopes is the one I opened with—has the time that has passed taken its toll on the former world champion?
My take is this: Christophe has made it abundantly clear that the 2009 and 2010 near misses of the 250 title weighs heavy on him. He has six months from now to prepare, and taking into account he doesn't have to waste time practicing and racing supercross, he should be more than ready. He has far more experience than anyone that will be on the line to face him, and surely knows what it takes to win at that level. When I add it all up and look at the facts, thinking he won't be a serious threat for the championship is foolish at best.
DC: Am I the only one here that feels like this can only go two ways: either a motivated Christophe Pourcel rides like his true, exceptional self—one of the most naturally gifted, fluid and efficient riders of the past twenty years—or he rides like his more recent, unmotivated self. If Pourcel is feeling the bike he's handed (and the Yamaha YZ250F sounds like a winner in all of the tests and reports I've read) and races to prove the point to everyone that overlooked him two years ago for a 450 factory ride, this could be the coolest story since veteran Steve Lamson came out and won Hangtown in 2000 on a privateer CR125, or more recently Chad Reed's TwoTwo Motorsports' successes. If he comes and rides like he did in that mismatched 450 effort that was thrown together with MotoConcepts, it's going to be the exact same story as it was back in 2011, now only with Valli and a 250.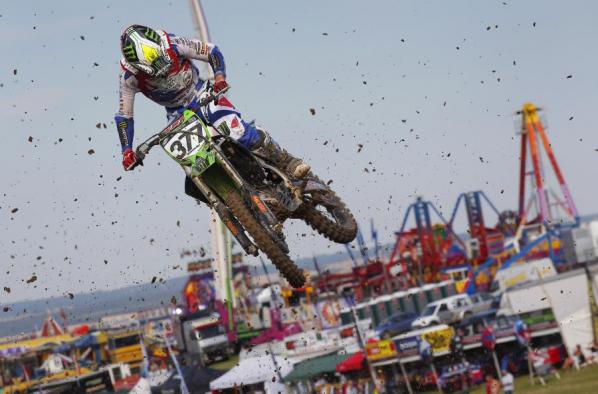 Sarah Guiterrez photo
I have always thought that CP377 got the short end of the deal when he was passed over for 450 rides, but that was the financial realities of those days. Heck, Chad Reed got passed over too. Now Christophe's chances to complete that unfinished business that Jason Thomas referred to are waning. He's been down emotionally, and then hurt bad at the Bercy SX last year. But he's bounced back from even more devastating injuries before (Ireland 2007) and certainly still knows how to ride a motorcycle.
The kids in the 250 Class are fast, no doubt about it, and the fastest—a healthy Baggett, Wilson, or Seely, a driven Musquin or Hahn (outdoors), now-more-seasoned kids like Anderson, Bogle, Martin, Osborne, Webb, Hill, Cianciarulo, newcomer Dean Ferris and so many others we could list here—all know that there's a #1 plate sitting there waiting to be grabbed. They may not have as much experience as Pourcel, but they are all driven by the success they've seen from guys like Eli Tomac and Ken Roczen—both now in the 450 division.
If Pourcel comes in healthy and motivated in May, he will easily be in the mix. If he comes in with any doubts or aches whatsoever, he won't last long. I really hope he's ready, because it could be one amazing motocross story next summer.
Matthes: Everyone loves comebacks. The thought of the older athlete coming back for one last swing for the fences, or whatever, is appealing on so many levels and makes for a great movie. But that's the rub, it only happens in the movies. In our sport, it's been tried over and over and never, ever works.
From Damon Bradshaw to Mike Kiedrowski to Grant Langston, coming back to racing and being successful after taking some time off just isn't done. The sport of motocross marches on and doesn't stop for anyone—it's just too hard to come back into the game when you've been out for a while.
The last time we saw Christophe Pourcel in America, he quit in the middle of the moto while riding for MotoConcepts in 2011 in the 450 Class. From there he went back to Europe, rode for Kawasaki in 2012 and then took last year off. So the "crafty" (whew, got that into an article about Pourcel. Feels good to type that again!) Frenchman hasn't really raced much in three years. In talking to people over there, during his one season of GPs, he didn't put a lot of work in. But of course, at times, he was very good.
When Pourcel was the man and winning two 250SX titles and heartbreakingly losing two 250MX titles, he needed to work harder to match his talent. The fact that his second motos were never as strong as his first ones were a good indicator that he wasn't in the shape he needed to be in and his one year in the GPs didn't do anything to dispel that notion. And as one ages, one needs to work even harder to keep up with the other riders out there.
It's going to be very interesting to see the #377 back out on the track. His talent and line selection will allow him to do okay on the Valli Yamaha, but unless he drastically changes his work habits and gets really serious, I don't see this working out very well. It would be a great story and one for the movie screen, but these things never work out and I don't see it happening in this case either. But I will be watching!