It's been a long week in the motorcycling world. First was the tragic news out of Baja late last Friday that Kurt Caselli died in a crash while leading the SCORE Baja 1000. Confusion and speculation spread quickly, even as the details were still being sorted. It was hard to imagine this great champion was the victim of some kind of foul play along the course. It turned out he wasn't—the team reported evidence that he had collided with some kind of animal. Just a terrible accident in the most rugged of races. He was 30 years old.
One day later there was another tragedy, another terrible accident. This time it wasn't a well-known racer, but rather a well-liked industry friend to many. Ryan Longstreth, the longtime brand manager for Cycra, was riding his motorcycle home in Ohio when he, too, struck an animal. A deer jumped out in front of Longstreth, and the impact was so heavy that it knocked his helmet off. He was 38 years old.
Two lives lost. Motorcycling comes with various amounts of danger, and those of us who ride accept that reality every time we climb aboard our bikes. We can choose to go as fast as we can, to jump the biggest obstacles we can find, to race up and down highways and roads with abandon.… But when things like this happen—the most random moment, a chance intersection with an a wild animal, with tragic consequences—it's just hard to process. Maybe that's why the go-to rationale is "they died doing what they loved." Both taken too soon, both leaving behind many friends and family, having used their time in this world wisely. They are both be missed, and our deepest sympathies go out to their loved ones.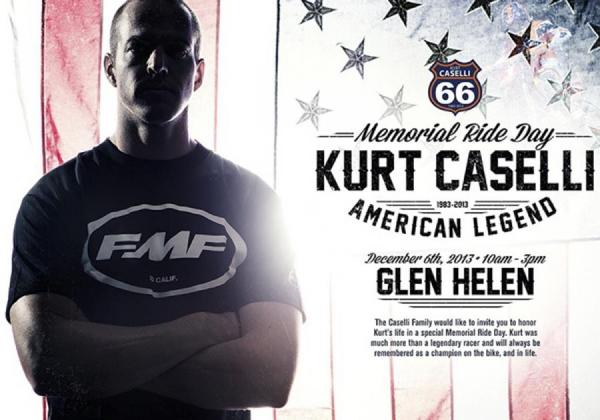 The family of Kurt Caselli has invited all of Kurt's friends and fans to attend his Memorial Ride Day on December 6 at Glen Helen Raceway in San Bernardino, California. It will take place from 10 a.m. to 3 p.m. and is sure to have a whole bunch of star power, bench racing, and great stories about this American motorcycling hero. Also, the National Hare & Hound Series is selling a commemorative KC66 T-shirt, with all proceeds going to the Caselli family.
You can read Jason Weigandt's "The Legacy of Kurt Caselli" here.
Ryan Longstreth's memorial services took place in Zanesville a couple of days ago. I drove over to pay my respects to his wife, Harmony, and daughter, Megan, who is a student at Ohio State University. Lots of Ryan's old friends and fellow riders were there, including former AX #1 Jeff Gibson and former pro Chris Whitcraft, who is now in college and doing quite well after his own awful crash that ended his career. (Chris' advice to young riders thinking about a pro career? Start taking online college courses as soon as you graduate from high school or get a GED, and then keep it up so when the time comes to stop racing—that way you will already be started into the next chapter of life.)
There's more about Ryan Longstreth here.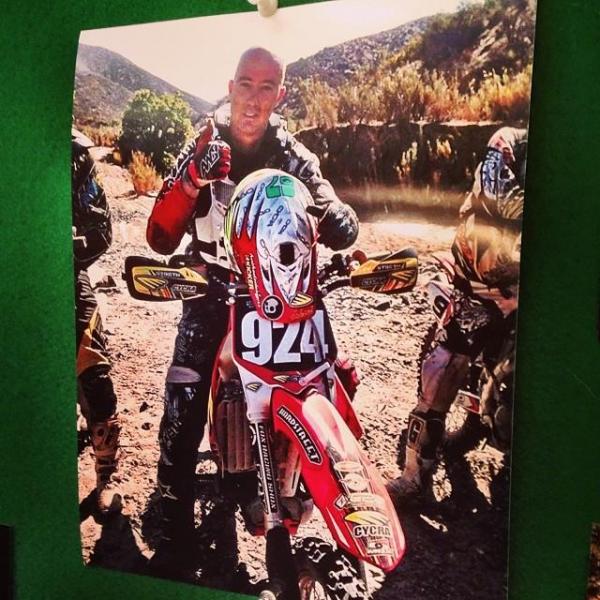 "The Harmony J. Longstreth and Morgan E. Longstreth Benefit Fund has been set up to help care for Ryan's family, as he was the sole supporter, while his wife and daughter are both pursuing an education at Ohio State University. To make a contribution please contact Park National Bank 50N 3rd Street, Newark, Ohio 43055 (Phone: 740-349-8451). At a later date, details about a Memorial ride and auction to celebrate Ryan's life will be announced."
Here's the rest of Racerhead.
RACE WATCHING (Chase Stallo)
While most of the supercross world is hunkering down and getting into the hard work of preparing for Anaheim, there is some racing going on out there. For instance, one of the most entertaining events every fall is the GEICO AMA EnduroCross finale at the Orleans Arena in Las Vegas on Saturday night. And this time the championship is on the line, as Taddy Blazusiak and KTM teammate Mike Brown are tied in points. Here's more on how the final round is shaping up.
Making it even cooler is the EnduroCross fans will be able to access the shows via EnduroCross.com or the Motor Trend YouTube channel. The racing will start at 8:00 p.m. Pacific. Dirt Rider's Adam Booth and our own Jason Weigandt will make up the broadcast team, so it's sure to be fun. You can also get tickets for the Las Vegas GEICO AMA EnduroCross Finals at EnduroCross.com/buytickets or at the Orleans Arena box office.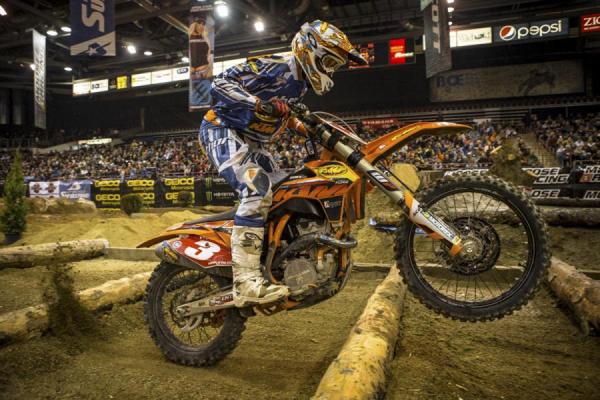 Mike Brown will be battling Taddy Blazusiak tomorrow night at The Orleans in Las Vegas, but you can watch live online.
Drew Ruiz photo
And then next week it's time for the 42nd Annual Thor Winter Olympics from Gatorback Cycle Park in Gainesville, Florida.
RacerTV.com will be streaming live, with twenty hours of coverage spread across five days. Longtime GNCC and Loretta Lynn's announcer Rodney Tomlin will be joined by Jen Kenyon as well as pro motocrosser Sean Hackley, who will be working both the TV booth and the GoPro helmet cam. The shows begin on Tuesday and run through Monday, with starting times changing according to practice and the event schedule. The plan for Tuesday is to start at 2 p.m. Eastern with the SX heats and then mains on Wednesday, followed by motocross on Thursday through Saturday. For more information on the Winter Olympics, please visit www.unlimitedsportsmx.com. And we will keep you posted right here at Racer X Online.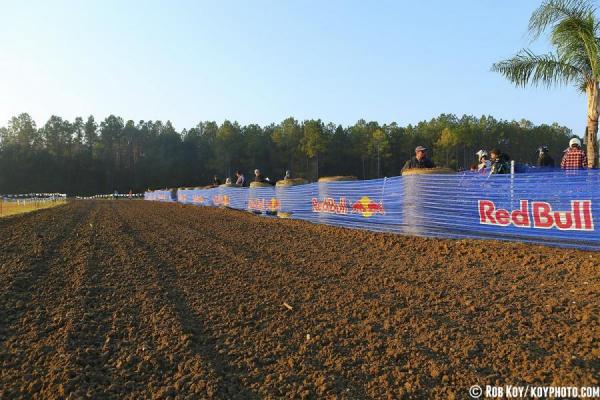 RacerTV.com will provide live coverage of the Mini Os this year.
Rob Koy photo
SAD ANNIVERSARY (DC)
It's hard not to link the tragic, unexpected passing of friends this week with today's 50th anniversary of the death of President John F. Kennedy. You likely know the story and have seen the remembrances all week, leading up to November 22. President Kennedy was struck down in Dallas at a time when he was just starting to bring change to the country and the world. We will never know what might have been, but we do know that the following years were ones of great upheaval and soul-searching for this nation. Vietnam, civil rights, race riots, more assassinations—Martin Luther King Jr. in 1968, followed by Robert F. Kennedy later that summer—Charles Manson, Kent State, Watergate….
Of course, most of that stuff is in the history books to check out, and this is a motocross site, but sometimes my inner history geek takes over. (My parents were both schoolteachers before they went full-time into motocross.) If you happen to find yourself at the Dallas Supercross next February, carve out a couple of hours to go to Dealey Plaza, where Kennedy was shot, and the JFK Museum, which sits in the same sixth floor of the Dallas Book Depository where Lee Harvey Oswald took aim. It's a truly chilling experience to look out the windows, down upon the spot where Kennedy's motorcade rolled through and the president met his fate. I don't shoot guns much, but I can tell you that my first impression was, "Wow, that's a lot closer than I imagined...."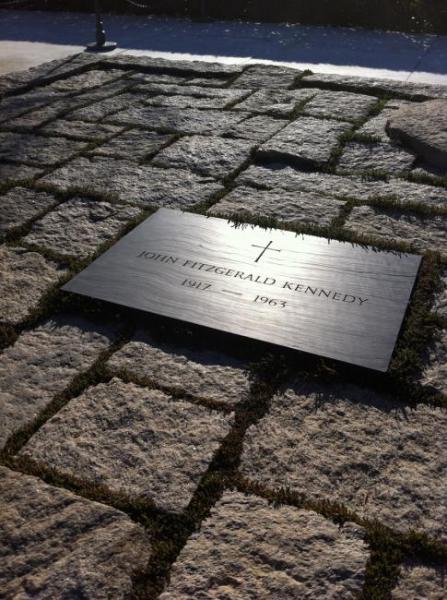 And if you are heading to the Budds Creek National in Maryland next July, there's no more sacred ground in these United States than Arlington National Cemetery in nearby Washington, DC, our nation's capital. That's where the president is buried, marked by the Eternal Flame. Arlington is also the final resting place of RFK, as well as thousands upon thousands of other men and women who served our country. The Tomb of the Unknowns, with its Changing of the Guard, is the most striking of all. It's a trip and an experience you will never forget.
Pardon the interruption. Now back to moto.
SILVER SCREEN PREMIERE (Jordan Roberts)
Exactly one week ago was the much-anticipated MOTO 5 premiere held right here in downtown Morgantown, West Virginia. This was just one of seven stops across the country, and we were certainly thrilled that director Taylor Congdon chose our hometown for one of the screenings. Apparently the Racer X staff weren't the only ones looking forward to the event; the Met Theatre was packed full with 550 of the area's local racers and fans.
The latest installment of the MOTO series packed the same hard-hitting punch as the previous films, delivering the world's best riders, spots we've never seen before, and top-notch cinematography to the big screen. You can catch the teaser here, and if you like what you see, you can pick up the hard copy of the recently released feature-length film here or on iTunes here. MOTO 5 will make a great stocking stuffer for anyone who can resist the urge to unwrap it for a whole month.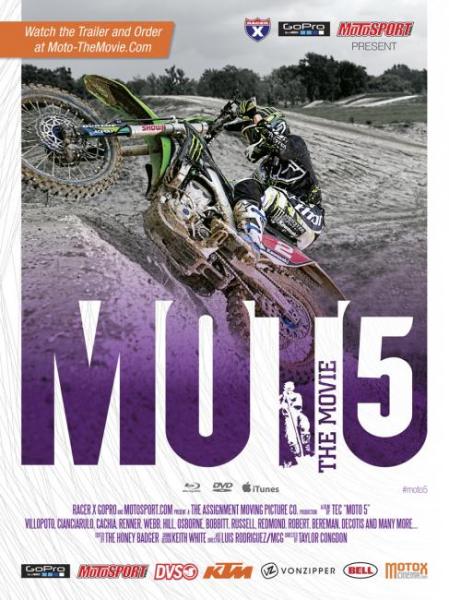 Get your copy today!
POURCEL'S FOR SALE (DC)
Two-time East Region 250 SX champ and MX2 world champ Christophe Pourcel has been off the radar for much of the last year while recovering from the horrible crash he suffered at the Bercy SX last year in France. He's back to riding now, and we may yet see him pop up on a 250 team come next summer's Lucas Oil Pro Motocross Championship. But that's a long time away, and a lot could happen....
In the meantime, Pourcel is living in Florida but planning on moving, and he wants to sell the ranch home and track he has in Groveland, Florida. If you're an aspiring pro prospect or current professional looking for a turnkey way to relocate yourself to the heart of the Florida riding scene—Groveland is just west of Orlando—check out CP377's ranch home/tracks right here. Interested parties can contact Samantha Nicolini through the website.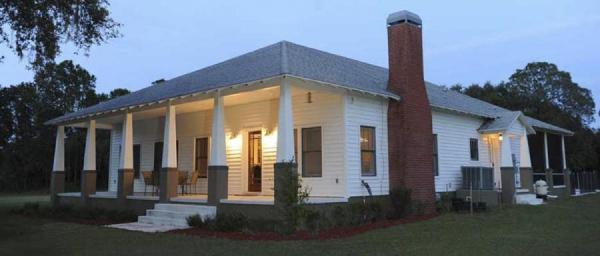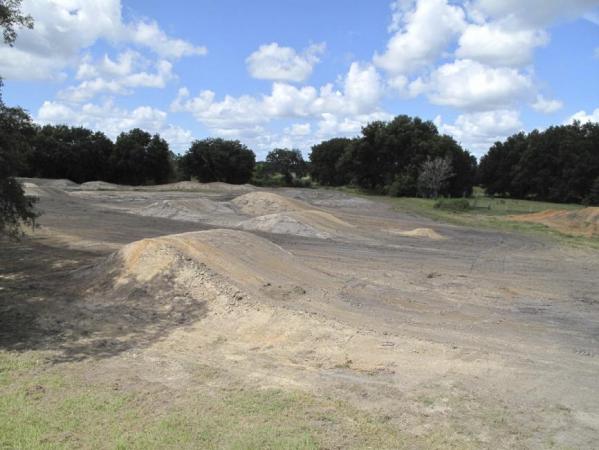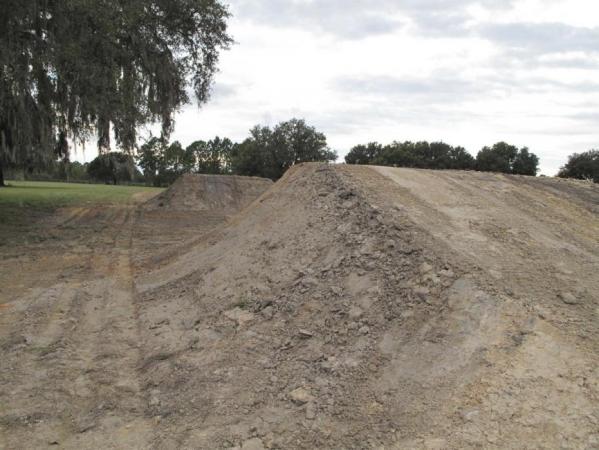 Christophe Pourcel is moving house/track, so his old one in Groveland, Florida, is on the market.
#project90 (Steve Matthes)
This just in: I work a lot. Between Racer X Online, the Pulpmx site, and all the podcasts and shows and freelance magazine articles, it seems I'm never really off the job. So yesterday, I set out to try and remedy that and get some balance in my life. The plan was simple: drive down to Southern California and check out some test tracks, check in with Pro Circuit and Dubya Wheels, and then go pick up my new project to help me get off the couch and off the computer.
Unfortunately, the rains hit SoCal and no one was riding anything other than a JetSki down there. So scratch that plan—I'm sure Jake Weimer will get over not seeing me. So it was on to Pro Circuit to see what was going on. And not surprisingly, there was nothing going on there but a lot of work. The mechanics were all busy building their race bikes, but guess who was hanging out with the guys. Dean Wilson was in the house! Deano just jumped up in my books because of his hanging out with the grease monkeys. And it's always a good time talking to Dean, who's facing a huge 2014 in terms of his career.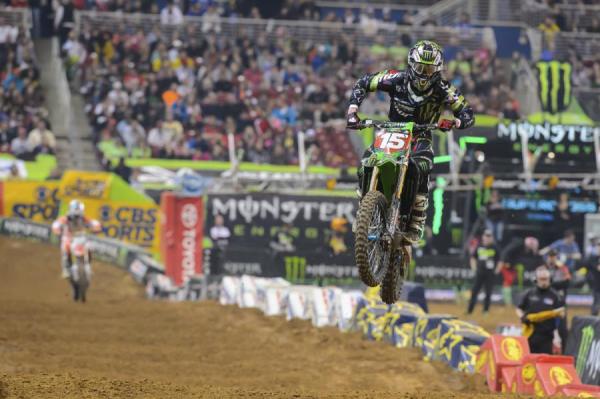 Dean Wilson is hoping to have a much better 2014 than his 2013. Or his 2012.
Simon Cudby photo
From there I ran into Jon Mitcheff, Ryan Villopoto's old mechanic at PC and for a bit at factory Kawi. "Throttle" was just off the dyno with a 2014 Yamaha YZ250F and a '14 Honda CRF250, figuring out the best cam and exhaust configuration for the new bikes.
Nearby, Mitch Payton himself was grinding away on some heads at his porting desk. Yes, he really still does that! It's probably some peace for him to be there doing what he's always done—a working reprieve from the calls and texts and running a racing empire. We spoke about Dean a bit—Payton's very excited about Wilson's "buy-in" with his new trainer Ryan Hughes and thinks it's going to be a good season for #15.
On my way to complete the mission, I stopped in at John and Kristin Anderson's still-new Dubya USA, which supplies the wheel sets to Red Bull KTM, TwoTwo Motorsports, and more. There's even a factory team that buys some product and chooses to use Dubya stuff, but I'm sworn to secrecy. John used to be the mechanic for Spud Walters as well as Paul Carpenter when he worked at White Brothers, and they were the leaders in four-stroke tech back in the day. He's as connected as it comes and knows what these teams and riders need, and they're expanding as well, so business must be good.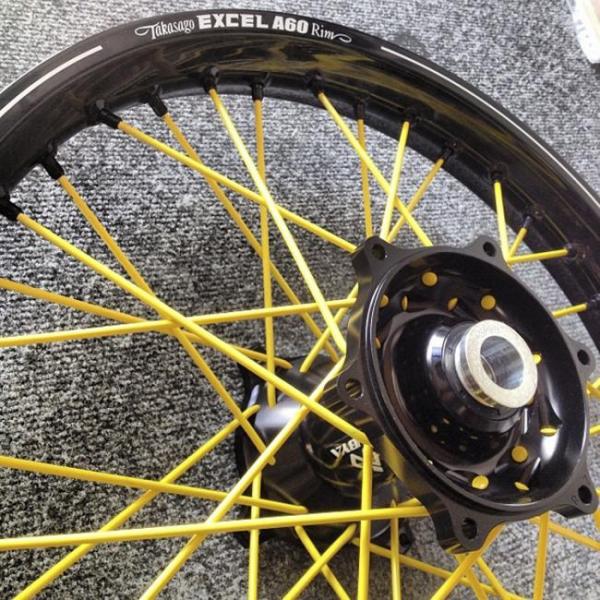 This Dubya customer must like the Steelers, right?
Matthes photo
And from there, it was time for my secret project, my #project90, as I was calling it on Twitter. I figured it would be fun to restore a bike to brand new and have been looking for a while for something that catches my eye. It was either an '87, '88, or '89 Honda or a '90 Kawasaki. And I finally found a Kawi that looked like it wasn't something that was rejected from a Mad Max movie. For $700 I picked up the still-cool-looking, first-year-of-perimeter-frame, space-age 1990 Kawasaki KX250 that I'm (hopefully) going to turn into something that looks like Jeff Ward rode back in the day. Back to spinning wrenches for me (though I think they call this a hobby, I'm not sure). I'll let you guys see the finished product as soon as I can. It's righty-tighty, lefty-loosey, right?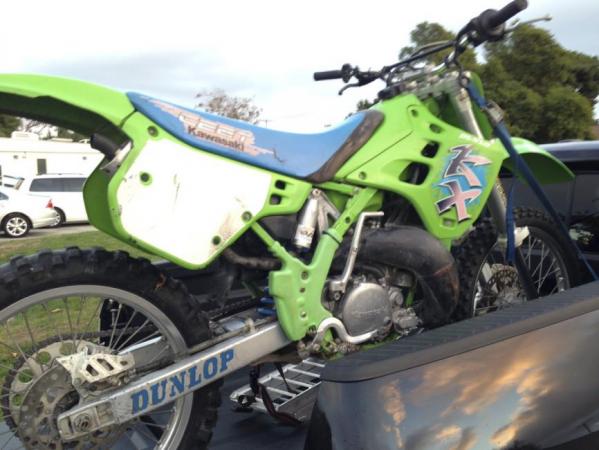 Here she is, before the restore. A 1990 KX250!
Matthes photo
ROCKSTAR KTM QUESTION (Jason Thomas)
I was working on a piece in the magazine that involved the changeover of Rockstar Energy Racing to KTM, as well as some other team changes. We heard that Bobby Hewitt had become much more involved in One Industries and also that Dave Gowland's role with the team may have shifted. So I asked Hewitt, the team owner, to shed some light on what's going on there.
"Well, most of the rumors and talk has been surrounding Dave and how his role has changed," Hewitt said. "What it comes down to is that we wanted to be more involved with marketing something with our racing, whether it be gear or whatever. We wanted to be able to push something and see a return on it. An opportunity arose with One Industries and Dave was approached, along with myself, to get more involved. Dave is still the acting general manager of the team and still has the same role with the team, but Jamie Ellis has taken some of the load off of his shoulders. Some of the day-to-day tasks with ordering parts and organizing autograph signings has fallen to Jamie now, and Dave gets to concentrate on the financial side of the team now, which has always been my responsibility. It is still the same basic structure, but Dave is more involved with One and the sponsor side of the team now than he was."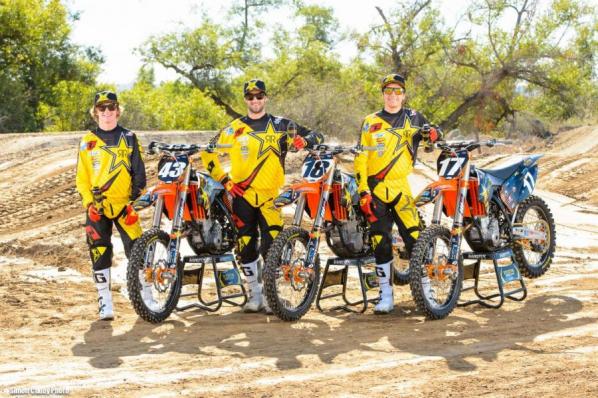 Rockstar Energy Racing has made the switch to KTM for 2014.
Simon Cudby photo
GENEVA SUPERCROSS (DC)
As Matthes mentioned last week, there's one more big off-season international supercross race left on the 2013 calendar, and it's in Geneva, Switzerland, on December 6-7. JGR Racing's Justin Brayton has to be the favorite, as he's won this race—and King of Geneva honors—the last three years in a row. But he will have fast company in Red Bull KTM's Marvin Musquin (who hopefully remembers how to turn after all of those Red Bull Straight Rhythm sets), GEICO Honda's Wil Hahn, multi-time arenacross champ Tyler Bowers, and Lucas Oil/TLD Honda's Malcolm Stewart, plus Darryn Durham, who will become the first Monster Energy/Pro Circuit Kawasaki rider in ten years to ride his race bike in a European SX, according to the PR.
The race will also air on the rapidly growing MAV-TV. We're just waiting on getting the right air dates and times!
HEAD-SCRATCHING HEADLINE OF THE WEEK
From www.vice.com:
This week: A school that banned a cancer patient from their property because her chemo makes her smell bad versus a guy who called 911 because his neighbors wouldn't drink with him.
HEY, WATCH IT!
Kanye and Kim on a dirt bike… Warning: explicit language. WARNING II: EXPLICIT FAKE DIRT-BIKE RIDING.
Here's some very cool old-school "scrambling" that Racer X's Langers spotted online. It's what "motocross" was like some fifty years ago in England, where it was invented…
RANDOM NOTES
Remember the race through the nudist camp we mentioned last week? Larry Witmer went digging through his expansive trophy collection and found this gem: "The Gold from the Summer Bummer! The rider is buck-naked, if you look closer… LOL!"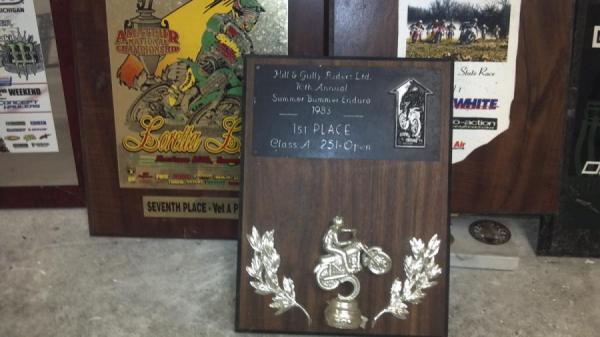 We also received an email this week regarding Ponderosa Sun club race in Indiana.
Davey,
I saw the picture in the Racerhead this week and noticed that it was mentioned that the sender had raced the Summer Bummer in northern Indiana. I can tell you that that race is still going as I have raced it numerous times in recent years. As the event shirt says, "Look out for bares!"
A.J. Stevens
The 2013-14 Bermuda motocross season began last week. Check out some highlights here.
Kevin Cozadd dropped us a line that MXers for Jesus will be at the Winter National Olympics next week in Gainesville, Florida:
"MXers for Jesus will have two main Church Services for families who would like to attend. First service is Sunday evening Nov. 24 at 6:00 p.m. and another one on Wednesday night Nov. 27 at 6:30 p.m. MXers for Jesus will also be doing a youth service and a women's service during the week. Check at event for times on these. MXers for Jesus is a Christian ministry set up to provide Church for the racers and their families at Motocross races. They are currently celebrating 16 years of ministry. (MXers for Jesus was founded by Rev. Kevin Cozadd and his wife Cassie.) More info: www.mxersforjesus.com."
Thanks for reading Racerhead—enjoy your Thanksgiving. See you at the races.