Loretta Lynn Awarded Presidential Medal of Freedom
MORGANTOWN, W. Va.- Country music legend Loretta Lynnwas among 16 Americans who were presented the Presidential Medal of Freedom on Wednesday at the White House. President Obama presented the prestigious award, which is the nation's highest civilian honor.
The Medal of Freedom was established 50 years ago by President John F. Kennedy, and recognizes significant achievements in politics, world peace, science, culture and other fields. The medal has been presented to more than 500 individuals who have made especially "meritorious contributions to the security or national interests of the United States, to world peace, or to cultural or other significant public or private endeavors," according to the White House.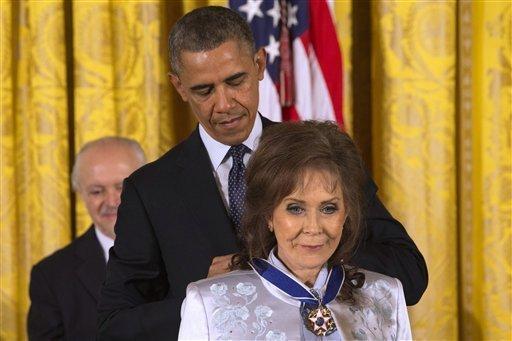 President Obama Awards Loretta Lynn on Wednesday.
Courtesy of the AP Wire
Loretta Lynn has graciously welcomed motorcycle and ATV racers and their families with open arms for over 30 years, as the country music star has hosted the AMA Amateur National Motocross Championship, presented by AMSOIL, the Mtn. Dew ATV Motocross National Championship Series and the AMSOIL Grand National Cross Country Series, sanctioned by AMA, at the historic Loretta Lynn's Ranch in Hurricane Mills, Tenn.
"The entire racing community, especially those of us here in Morgantown, W. Va., are so thankful for the gracious hospitality given by Loretta and the entire Lynn family over the years," said Rita Coombs. "Loretta Lynn is truly a legend, not only in country music but in our hearts."
Recipients of the 2013 Presidential Medal of Freedom included sports champions and scientists, musicians and civil rights leaders, activists and journalists, media moguls and public servants. The honorees are: Ernie Banks, Ben Bradlee, former President Bill Clinton, Daniel Inouye (posthumous), Daniel Kahneman, Richard Lugar, Loretta Lynn, Mario Molina, Sally Ride (posthumous), Bayard Rustin (posthumous), Arturo Sandoval, Dean Smith, Gloria Steinem, Cordy Tindell "C.T." Vivian, Patricia Wald, and Oprah Winfrey.
President Obama paid tribute to each recipient, noting Lynn's humble beginnings as reported by CMT News.
"Loretta Lynn was 19 the first time she won big at the local fair," he said. "Her canned vegetables brought home 17 blue ribbons and made her canner of the year. Now that's impressive. For a girl from Butcher Holler, Ky., that was fame.

"Fortunately for all of us, she decided to try her hand at things other than canning. Her first guitar cost $17 and with it, this coal miner's daughter gave voice to a generation, singing what no one wanted to talk about and saying what no one wanted to think about. Now, over 50 years after she cut her first record and canned her first vegetables, Loretta Lynn still reigns as the rule-breaking, record-setting queen of country music."
For more information on Loretta Lynn and the Loretta Lynn's Ranch, please visit www.lorettalynnranch.net.