By Alex Gobert / MotoOnline.com.au

Jake Moss and Josh Hill were at the center of one of the most controversial moments in modern Australian Supercross at last weekend's season finale in Toowoomba, clashing with the title on the line in the early laps while Jake's twin brother Matt Moss sailed to the championship out front.
Hill entered the final round with a five-point lead over Matt, with Jake a further two in arrears—all three on separate Suzuki teams. With the trio completing the opening lap of the main event in positions 1-2-3, it wasn't long before the fireworks erupted.
Late on lap two Hill made his move on Jake, before a quick counterattack-entering lap three resulted in a turn of events that saw Hill go down and out of the race. Jake raced on to second for the round and series, while Matt eased his way to an unchallenged victory after holeshotting.
The incident has made headlines worldwide, with varying opinions either landing on the side of Moss or Hill. We got Hill's take on Sunday, while MotoOnline.com.au spoke to Campbell Mining Suzuki's Jake Moss Monday about the clash.
Racer X: Jake, thanks for your time this afternoon. First up, the incident, let's speak about it and get your take on it all.
Jake Moss: Well, I mean firstly, it sucks that a lot of people have the opinion that I was in it to help my brother when the whole time I was right there with a chance at the title. I even said to my brother on the line, 'Man, if I have a chance of winning this I'm going to do everything I can.' I said that to Matt and, you know, I haven't won a title in a few years and I had a chance to win.
I had that mindset that I wanted to win, so obviously for all those people saying I was helping my brother… no, I was out there to help myself. I don't want this to overshadow my brother's championship, it had nothing to do with him and he is the deserving champion, no doubt.
As you outlined, many people are overlooking the fact that you were in there with a shot at the championship just two points behind Matt going in, and if you went on to pass Matt, you would have been the champion.
That's exactly right. I felt comfortable in the race once I was in second, although I was struggling in the whoops because I dislocated my shoulder the weekend before, but I got caught up with Brett Metcalfe when he was a lap down, lost some momentum and the race was over.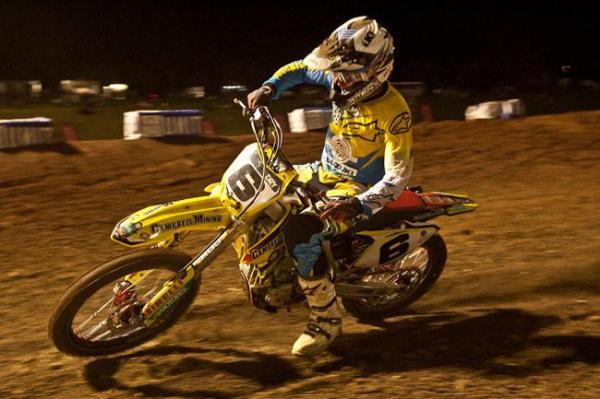 Jake Moss would finish second overall in points after a controversial ending to the championship.
Grant Reynolds/FiftySix Clix photo
I heard there was some conflict between yourself and Hill prior to the main event?
Yeah, that was nothing. We had a little bicker, he thought I blocked him off in qualifying and I said, 'Mate, if you can't do more than one fast lap you've got problems.' That was it. I wasn't angry towards him and didn't say anything. As much as people are going to have their theories, it was never about wanting him to go down or to put him on the ground at all.
Speaking about the incident itself, what was your perspective on it all? Talk us through what you felt on the bike.
Well I was obviously in the race, he landed wide on the jump and I landed on the inside. I was so close to the tough block and I was getting in there hot—I definitely wanted to make the move. There was no intention of hitting him at anytime at all. The only reason it got to where it did was because on the down ramp he decided after we landed to turn a hard left. He actually hit me on the straight even before we got to the brakes or anything, which led to me being off the track, inside the tough blocks.
He was on the inside of the track too, not even on the track, and the only way for me and him to get there is for someone from the outside to push me there. You know, somehow, out of all that we are both off the track, so I held my line, he hit the tough block and I turned left. I was smart enough to see the tough block, I turned left and I avoided it. People say I cut the track, blah, blah, blah, but I had nowhere else to go—he didn't give me the opportunity to get back on the track. He did not want me to get around him. If he'd done the right thing he would have been on the right side of that tough block.
And there was a protest right after from Hill's team, right?
It went through MA (Motorcycling Australia) and they've got different camera angles on it too. They're not allowed to release them for I think it's a couple of weeks—they will show a way better front-on view. The videos that are out now don't actually make me look bad at all or him either. The only reason he crashed is because he hit the tough block. If it wasn't there, we both maybe would have rubbed bars, went around the corner and kept the race going. It was unfortunate he went down, it sucks for him and his followers, and I understand they'll stick by him. That's what sport is, some people won't like me, some people will, but yeah, I'm just thankful for all the people who do stick by me.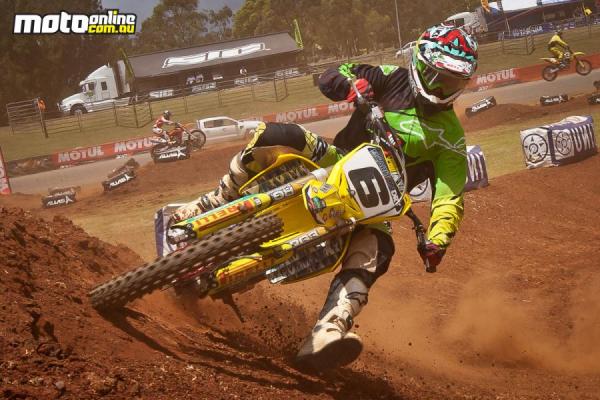 Jake Moss' (pictured above) second place finish was not enough to overtake his brother, Matt, for the championship.
Grant Reynolds/FiftySix Clix photo
The season overall for you despite the last round controversy was a good one though, a really solid campaign on a privateer team. Are you satisfied with it?
It was awesome. I definitely feel like I should have won the championship. I was really sick at Phillip Island with food poisoning and was in hospital the night before, so I was lagging energy and lost a lot of points there. Same with Matt though, obviously he had troubles there and Mount Gambier. The championship probably wrapped up the way it should have, Matt was the aggressor and person to beat from the start.
Thanks for that, appreciate it. Any final comments?
Just that a lot of people were like, "Keep the trophy on Australian soil," which is exactly what we did. We've raced for Australia, done our country proud for years and years, so for them to suddenly turn their backs on me and my brother, when the incident had nothing to do with him, and I think it was fair, is disappointing.
I would have loved to see the Australians stick by me more—if we ever go to war they're probably not the people to pick because they'll probably turn around and shoot us in the back. Thanks to the true Australians supporting the green and gold—the other guys can probably put some stars and stripes on instead.
Apart from that I wish nothing but the best for Hill, I hope he goes home to America and wins because that'll make me feel better since I know I can run with the guy. All the best to him, nothing against him and I'm happy he's not hurt. I think everyone should just move on, as much as the incident's been pretty shitty I think it's been good for the sport. Rubbin's racing and the fans love it—it gets them involved.