ANSR, MSR and Pro Taper STRIDER Bikes
Corona, CA — ANSR, MSR and Pro Taper are pleased to announce that Strider Sports International and their ST-4 No-Pedal Balance Bike for toddlers have joined forces to launch three new motocross inspired STRIDER bikes just in time for the Holidays. Building on the worldwide success of the original STRIDER bike, the new Special Edition ANSR, MSR and Pro Taper STRIDER gives toddlers a bike with the classic motocross look and branding.
"We are all extremely excited about the partnership with STRIDER and having the ability for our brands to have this interaction with the youth is awesome. We all started out by riding our bicycles around making dirt bikes noises and now these kids can have that motocross look as well", states ANSR, MSR and Pro Taper's Nick McBride.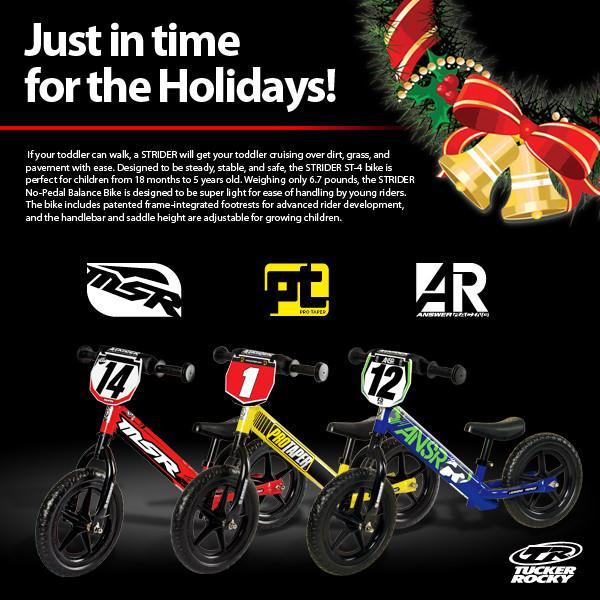 "What a fun collaboration project!  I'm thrilled to have this opportunity to work with such great brands as ANSR, MSR, and Pro Taper," says Ryan McFarland, avid dirt biker and founder of Strider Bikes, "We really hope these custom, moto-inspired STRIDER bikes inspire the next generation of riders and racers!"
Strider No-Pedal balance bikes are the fastest, safest, and easiest way to teach toddlers as young as 18 months to discover the world on two wheels. By using a STRIDER bike, young riders from 18 months to five years get to experience the fun and freedom of riding a bike without relying on restrictive training wheels or tricycles. The newest STRIDER will be available worldwide by November 25, 2013 and will be available at any Tucker Rocky dealer nationwide.