Lots of love for famous European SX races like Bercy, Genoa and Geneva, but the German SX Championship has become a home for many top American riders looking to get in reps while lining their pockets. We asked our own multi-time German SX Champion, Jason Thomas, to tell us what to watch this year.
The 2013-14 ADAC German SX Championship is off and running. The opener kicked off November 8 and 9 in Stuttgart, and as always, international riders came from far and wide in hopes of not only making a name for themselves but also putting a few Euros in their pockets. This is an eight-round series, and riders from the U.S. and France make up the majority of the field, as both countries have established supercross championships in their own right to breed great riders. The series has seen superstars such as Chad Reed, Ken Roczen, Larry Ward, Mike Brown and Ivan Tedesco all throw their hat into the Deutsche ring. Who's chasing the title this year? Glad you asked.
One of my fiercest competitors in my years over there was a Frenchman named Florent Richier. He just also happens to be the reigning champion. He is one of the proficient starters I have ever seen and in German SX that is a HUGE part of the game. "Richie" is one of the more popular riders on the circuit and seems to always be having a good time. He replaced me on the Motorrad Waldmann Suzuki team and is sure to be near the front week in and week out.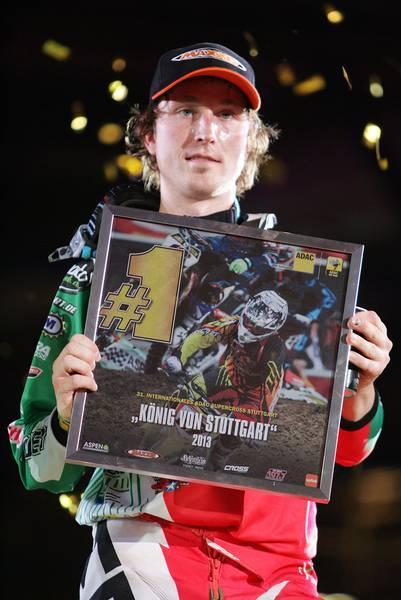 Teddy Maier won the first round of the championship.
ADAC Supercross photo
The King of Stuttgart for this year is Iowa's Teddy Maier, and to be honest, I expected him to be winning in Germany sooner. Every year he was one of the few guys I was truly worried about but he just seemed to struggle to put consistent results together until this year. He switched to Suzukis for this year's championship and it seems to be working for him thus far. A multi-time champ in Canada, Maier is no rookie to title fights and taking the win at the opening round surely did wonders for his confidence. Teddy is one of the nicest guys around and I often traveled with him so it's nice to see him finally standing on top of the box.
Amsoil Arenacross Champion Tyler Bowers figured to be one of the heavy favorites for this year's championship. A big crash on the opening night has put a huge damper on his chances as he wasn't able to ride and left Stuttgart way behind in points. His only chance at this point is to win each round and hope the top-heavy point system can get him back in the hunt. More on that points system in a moment.
Past Dortmund winner Kyle Chisholm surely has to be considered in the mix after a strong showing at round 1. Narrowly missing a win on opening night, he struggled to an eighth place finish on night two just behind night 1 winner Jake Canada. Canada and Chisholm are two of the more accomplished riders in the series and should take up two spots of the podium more times than not. Veteran Cole Siebler had a big crash on Friday and limped through to gain a few points on Saturday night. Cole has numerous wins in Germany and if he can put it together, is capable of winning every time he lines up.
Boris Maillard is new to the SX1 class for 2013 and came out swinging. Hailing from France, he has wreaked havoc on the SX2 class for years and finally is getting his chance to play with the big boys. A 6-2 score at Stuttgart proves that it was a well-timed move. No stranger to winning, he is one of the youngsters to keep an eye on. Richier is France's best shot for the title but Maillard seems to be the next in line to carry the torch.

Check out highlights from the 2012-2013 ADAC Supercross Championships for a better understanding of the racing that will take place.
The Czech Republic's hope rides in the form of Filip Neugebauer. Winning races the past few years, both indoors and out, Neugebauer was very consistent at Stuttgart with a 5-3 showing. Filip hasn't shown the ability to get out front and dominate yet though and with the points system heavily favoring wins, he needs to break through if he wants to win that first title. He definitely put himself squarely in the conversation going into round two, though.
Those are a few of the contenders for the 2013-2014 championship. I would be shocked if the title went to someone not listed here but I have been known to be wrong before. The results in Germany are typically very erratic with big point swings from weekend to weekend. For the favorites like Richier and Maier, the biggest key is to win races. That sounds obvious, but it really is especially large here, because each race holds a nine point differential from first place to third place. Huge point gains are possible by winning main events. Maier is in the driver's seat but everything can change in the blink of an eye over there. With only six points-paying rounds left, there is not much room for error in the small velodromes and hockey arenas. German SX is by no means the star studded American affair we will see come January but it is still a highly competitive series with a lot of cash and pride on the line. I encourage all of you to follow along as these guys chase their hopes of coming home as King of Germany.