Dunlop Introduces Geomax AT81/AT81 RC
November 12, 2013 11:35am
With the development of the Geomax® line of premium off-road tires—the MX71™, MX51™, MX31™ and MX11™—Dunlop has placed a hammerlock on success at the highest levels of racing in the dirt by winning every AMA Supercross and AMA Motocross championship since 2010. Now, that same championship experience and development expertise plus much more has been rolled into the next generation of off-road tires: the all-new Geomax AT81™ and Geomax AT81 RC (Reinforced Construction).
Dunlop has had much success in off-road racing, with titles in Enduro, Hare Scrambles, GNCC and WORCS competition. The AT81 and AT81 RC are an outgrowth of Dunlop's off-road racing success. These additions to the Geomax family offer even more all-around performance, plus a higher level of ruggedness than Dunlop's current D952—just the ticket for the demanding, wide-ranging terrain encountered in off-road riding.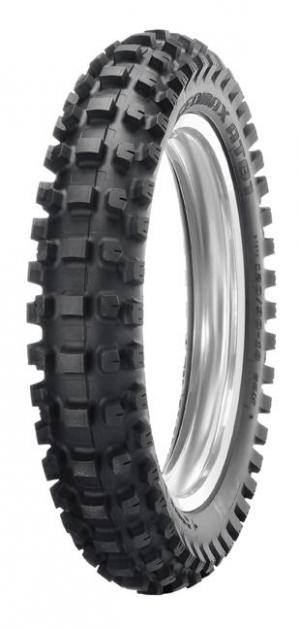 Unlike motocross, where track conditions remain fairly consistent—allowing riders to choose hard, intermediate or soft-terrain tires to suit conditions—off-road riders and racers can encounter wildly varying terrain over the course of a race or a day out riding with friends. It is not unusual at all to encounter hard-packed fire roads, sand, water crossings, mud and loam all in a day's ride, and that's where the new AT81 tires offer an exceptional overall choice. The AT81 and AT81 RC are available in a wide range of sizing options.
Developed at the Dunlop Proving Grounds in Huntsville, Alabama as well as off-road riding areas and races across the country, the AT81 series benefited from input by top national off-road racers. And as soon as the standard-production Geomax AT81 tires became available mid-season 2013, top-level Grand National Cross Country racers put them to work. Factory FMF/KTM Off-Road Racing Team rider Kailub Russell won the first two races in which he used AT81 tires, and he headed up a podium sweep for the new Dunlop Geomax AT81 tires at the Snowshoe Mountain GNCC.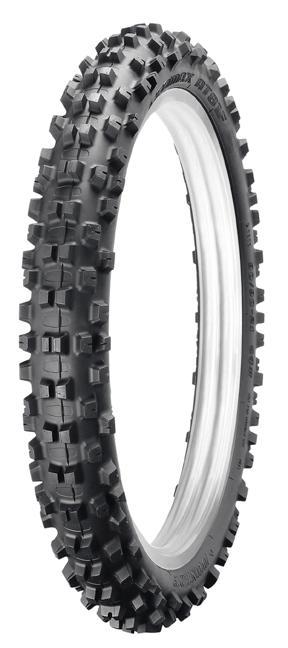 In National Enduro competition, Russell's teammate Charlie Mullins won the Foggy Mountain National Enduro in his first run on the AT81 tires, and went on to win the 2013 National Enduro Championship using the new Geomax AT81 tires.
Both winners offered up high praises for the newly released stock Geomax AT81 tires. Russell said, "The AT81 tires are really impressive in the rocks and roots. They held up great."
Mullins said, "The AT81 works really good and keeps traction the whole race."
To offer the kind of versatility needed for off-road rides or races, the carcass design of the rear Geomax AT81 features two nylon plies, while the Geomax AT81 RC incorporates four nylon plies for added toughness. The AT81 rear block shape and distribution as well as the newly engineered tread knobs—feature a "C-cut" shoulder block shape that helps the tire penetrate down through the surface dirt for extra traction, while the lateral grooves on the shoulder knobs provides additional biting edges. These lateral grooves also allow the knobs to be more flexible without surrendering strength, and this design also helps with impact absorption. The center blocks are arranged in-line to provide a larger contact patch to help maximum traction, and a newly formulated tire compound offers high wear resistance. Between the center blocks is Dunlop's familiar "plush pad" recess design, which enhances compliance characteristics for optimal bump absorption and ride comfort.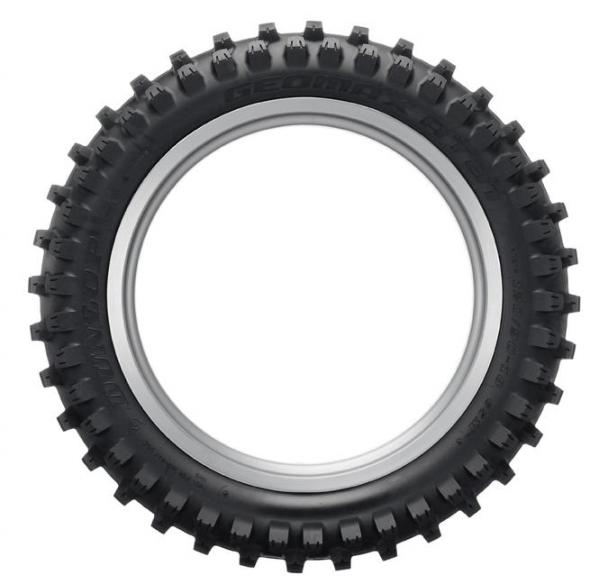 The AT81 front tire design was inspired by the highly popular D756F, and modernized to incorporate lateral grooves on the shoulder knobs that provide additional biting edges while also adding flexibility and impact-absorbing qualities. The front tire construction includes two plies of nylon wrapped with a third ply of polyester; together they form a strong base for the many varied obstacles an off-road tire will encounter. Like the AT81 rear, the front tire incorporates Dunlop's plush pad design in the areas between the center tread blocks for enhanced compliance characteristics that yield a more comfortable ride.
In total, all of these features provide a balanced carcass tension allowing the Geomax AT81 to conform better to changing ground conditions that adds up to a new level of performance for off-road riding. By incorporating Dunlop's latest in off-road tire design elements, the new Geomax AT81 and Geomax AT81 RC deliver championship-level performance that parallels the phenomenal success Dunlop has earned for years in closed-track AMA Supercross and Motocross racing, and adds to the winning formula Dunlop has established in virtually every form of off-road competition.